About Me
Basic Information
Title

Mr

Occupation

Organisation & Position

Worked With Different Process Plants like Cements, Paints, Feeds, Refineries , Oil Field Presently in Environmental Field.

Website or Blog

City / Town

State

Country

Current Location
Eco Profile
My Connection with Ecotourism

My native at Kumbalangi ( Nations First Placed Model Tourism Village),
Cochin, Kerala, India operating a eco- Friendly Home Stay.

I am seeking

Eco-Friendly Healthy Living

I am offering

All my efforts to spread the message to humankind about the prime need for environmental stability in this fast developing World (? ) To Avoid Very Critic Negative Impacts By NATURE.

Favourite Eco Destination

Other Interests

Travel, Long Drive, Fishing, True Friendships, Eco-Tourism ,Martial Arts, Music,Cooking.
Education
Qualifications

Mechanical Engineer

Languages spoken

English,Hindi,Malayalam
Contact Information
Hometown

Skype

Jos Byju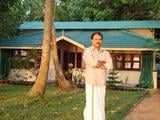 Jojo Paul
Member since
Monday, 03 May 2010 12:54
Last online
8 months ago
Profile views
2,317 views