One of Venezuela's many beautiful sites, La Azulita Caves in Merida State (Tamara Pearson / Venezuelanalysis.com) by Tamara Pearson*
One could argue that there are two types of tourism, and unfortunately the first is much more common than the second. It involves tourists passing through a country or place for a short amount of time in a kind of quick violation of it, taking what they want from it and feeling little need to give much back beyond the money spent. Such tourists stay in hotels beyond the means or dreams of locals, eat supposed local food that the actual locals could never afford, and hop in a taxi or go on a tour to visit the "main sites" – the famous bridge, the giant blue watermelon, the place where some ridiculous star had breakfast, the confusing abstract ball of twisted metal statue in front of some regal building with doors forty times the size of actual human beings – pose in front of them for a tonne of repetitive photos they stick up on Facebook. Most will buy some tacky mass produced "souvenir", possibly something flogged off as "indigenous art"; art they don't understand, sold by people who don't make it but do make money from it, while the indigenous people and artists flounder invisibly in the background in a poverty of power. Then the tourists go home without having learnt very much about the country beyond how cheap its coffee is, but having done a good job at snobbing their way around, condescendingly tipping the locals and expecting the country to bow down to their needs just because they come from a different country, most likely a "first world" one.
The second kind of tourism involves a lot more local dignity, but unfortunately it's not very common. A few individuals practice it, but it's rarely organised or planned on a larger scale. Venezuela's Bolivarian revolution is getting there though. We're slowly constructing tourism for the development of humanity rather than the development of the bank accounts of a few tasteless business owners. Its contextualised tourism aimed at fomenting community organisation, encouraging environmental and ecological awareness and appreciation, rescuing local culture and collective history, and promoting solidarity and knowledge exchange between countries and regions.
"We're socialising tourism, rather than an elite tourism, we're promoting popular [accessible to the majority] tourism, social tourism... a humane, and very ecological and diverse tourism," said President Hugo Chavez, in 2008 at the inauguration of Venezuela's annual International Tourism Fair (FITVEN).
Venezuela, with its Amazon forest, gold-white Caribbean beaches and islands, unique lightening phenomenon, sand dunes, tallest waterfall in the world, Andean snow capped mountains, rare frailejon plants, toucans, hummingbirds, and chiguires, its determined mass revolution, its salsa and hip hop, beautiful murals everywhere, and a population of mostly warm, cheerful, and outgoing people – has a large tourism potential.
It also has the longest and highest teleferico (mountain cable car system) in the world. So I talked to Jose Gregorio Martinez, president of Ventel – the state company that runs the teleferico here in Merida, as well as another one in Caracas - about how those dizzying cable cars almost touching the tip of the 4978m high Bolivar Peak- can be a factor in social change.
During the holiday and peak periods the Merida state government sets up tourist information tents, this one near the teleferico (Tamara Pearson/Venezuelanalysis.com)"This huge project is a lever of social development, that's the main point of it: to transform reality and be an agent of inclusion and grassroots power. It's not just a traditional public work where the important thing is the company, no, it's about awareness raising and articulation between all the different factors involved, the workers, and the communities. It's also going to put Venezuela at the vanguard of mountain architecture," he told me from his office at the base of Merida's teleferico.
Slow start and with huge tourist infrastructure problems, the Venezuelan government is now redefining tourism
The Venezuelan government has been a little slow to comprehend the importance of tourism here, not just as a possible alternative income to petroleum, but also as a means for increasing cultural and awareness levels of Venezuelans, as an activity that is part of every person's right to rest and recreation (as stipulated by the 1999 constitution), but also as a question of sovereignty and equality- where wealthy Venezuelans and private foreign companies often control access to beaches, national parks and other recreation, either directly, or by charging high transport, accommodation, and tour prices.
However slow or late, the government is now spearheading a campaign to make Venezuela for everyone and its natural beauty something to be appreciated and understood, rather than exploited and destroyed for profit.
In 2005 the government established the tourism ministry, which then founded Venezuela's tourism agency, Venetur, which organises travel packages and runs the chain of nationalised hotels. It works with Venezuela's state airline, Conviasa, created in 2004.
Then, after passing the Organic Tourism Law in 2008, the ministry and the government came up with the Strategic National Tourist Plan 2009-2013. The plan analysed tourism at a world level, then the situation in Venezuela, and discusses social and community tourism, training, and improving the quality of tourism and its promotion here. It also recognised a number of weaknesses.
Lack of planning for tourist destinations, lack of basic services and infrastructure to support tourism, inadequate use of technology, such as the internet, for promoting tourism, little importance given to cultural traditions, lack of a tourist culture in terms of receiving tourists, and high airport taxes and flight costs to the country were some of the weaknesses it identified. Venezuela also isn't identified as a tourist destination globally, is given a bad image by international private media, and is more expensive than many other Latin American countries.
Further, in 2008, tourism made up just 3.59% of the economy, an increase of only 0.37 percentage points compared to 1998. Outward bound tourism was 2.3 times greater than inward bound – unusual for a "developing" country, and the former has grown by 132% over the last ten years, while inward bound tourism has hardly grown at all. This reflects economic growth and greater disposable income of Venezuelans, but Venezuela is still not seen as a tourist destination by foreigners. According to Bank of Venezuela and INE statistics, this meant that, in 2008, tourism saw more money going out of the country than coming in, for a loss of US$ 1.1 thousand million.
The tourism law states that tourism should become an "instrument for a new horizon of values where the collective is the axis of touristic management" and conceives of tourism as something that adds substance to people and places, values the environment, and very much related to identity and expression of belonging. Tourism should "rehabilitate our spaces and re-value our history, as well as our material and non-material patrimony" and it should be an "instrument for social inclusion and an opportunity for education".
The law aims to change the conception of tourism as "an industry, where the national executive, through the tourism ministry... has only functioned as an entity that receives projects from a minority sector which has enough resources to carry them out, excluding the vast majority from touristic development. The ministry should encourage the formation of social networks in the communities for presenting tourist projects that improve the quality of life of our population".
Reclaiming tourism from the rich: nationalisations, public investment, and worker participation.
"The teleferico was constructed under the Jimenez dictatorship, and when the dictatorship fell it still hadn't been inaugurated. The punto-fijo governments that followed wanted to dismantle it, but the communities protested and it was decided to finish it, plus it turned out to be more expensive to get rid of it than finish it. It turned into a tool of exclusion, only the wealthiest people could afford it. So there's a social debt because a lot of people here in Merida haven't had a chance to use it," said Martinez.
"The governments didn't bother to invest in it, it was wearing out and in 1991 there was an accident, and over a period of twenty years the teleferico was closed for 11 years 11 months for lack of investment and repairs. Following the line of the IMF, in 1994 and 1995 the government started to privatise it, something the Chavez government reversed when it was elected," he explained.
In 2008 the current government decided to suspend the teleferico service, and began studies to rebuild it with better structures, more towers, larger and faster cabins, larger, more attractive stations with lifts for people with handicaps, and repairs and modernisation, and in 2010 began the construction, with an investment of US$ 318 million. It should be finished in 2013, "normally it would take seven years but we're doing it in three".
"In the rest of the world they are firing people, but here the government is investing money in public works for quality tourism," Martinez said. "The new teleferico will transport more people (320 per hour compared to 160 previously) and that will have an impact on the local economy."
Unlike with most private companies, working conditions are safe and dignified. Many workers were chosen by their communities, and through an agreement with Austria, workers are receiving training in teleferico maintenance, some of them even travelling to Austria and Switzerland to study. This is significant, because normally "developing" countries pay for experts to come from other countries, but the Venezuelan government has prioritised training locals, in order to obtain knowledge sovereignty.
Working conditions are difficult. Apart from the rain, snow, hail, and 40 km/ hour wind at higher altitudes, workers also often work on very steep slopes, suspended from cables, and using explosives.
"It's an engineering and architectural challenge," Martinez said. "But it's important to guarantee the safety of the workers, and in 1.5 years of work we haven't had a single accident."
Over 400 people are working on the project, with 240 directly on the teleferico itself. They work a total of 20 hours / day in three different shifts, and Ventel has constructed a large, three story building for the workers, Aguada Station. At 3,452m altitude, it is roughly half way between Merida city and the mountain peak, so workers don't have to make the 1 hour journey every day. The building accommodates all 240 workers, includes a well equipped kitchen and dining room, heated bed rooms, showers, a recreation room, and a health centre. After construction of the teleferico is complete, the area will become a traditional arts market, with galleries and a museum.
Teleferico workers are organised in a socialist council of workers, and depending on their specialities, they help coordinate the institution's social work with communities, construction strategies, work place safety, as well as a plan for "moral stimulation" (as Martinez called it); their plan of "class consciousness formation" which includes talks, reading circles, and video forums.
The government has also nationalised eight hotels. While these hotels are often used for Mission Milagro eye patients (free of course), for movement and political conferences, and for children or others benefiting from the government's free vacation plans, generally their prices are well out of reach for most Venezuelans.
Then, in September last year, Chavez announced the expropriation of the company Conferry, following its bad record. Conferry had a monopoly on ferry transport between the Venezuelan mainland and the very popular Margarita Island. Taking advantage of that, it would oversell seats, seeing many passengers sleeping or travelling on the boat floors, would usually leave 2 to 8 hours late, would overcharge for a basic meal -50Bs or up to double the normal price, and its actual passenger fares were also very high. Many individuals and groups had already called for its expropriation, describing its "kilometre long queues" (Miguel Angel Maregatti, Aporrea) and the "abuse" of the company.
Since the nationalisation the government has purchased eight buses to take passengers from the Margarita dock to places around the island. It has also been renovating, fixing, and improving the boats and port infrastructure, and says it is now paying the company's 800 workers "a fair wage", as well as providing them with further training courses. The state management of Conferry created a fund, FundaConferry, to comply with its legal obligation of supporting community and social initiatives in the region. In December, Rossana Gonzalez, of the temporary administration committee of Conferry, said boats were now operating "strictly according to schedule".
A month after expropriating Conferry, Chavez also announced that illegal houses on the Venezuelan archipelago Los Roques would be expropriated and converted into low-cost hotels for poorer Venezuelans. The islands were known for being a kind of playground for Venezuela's rich elite and for international tourists, despite being declared a protected area in 1972.
"The upper-class bourgeoisie privatised all of that [Los Roques] and that's what we are going to expropriate," Chavez said at the time, adding that yachts expropriated from fugitive bankers would also be used for sight-seeing tours in the area, and a fishing centre would be built.
Children of the barrio staying in hotels, people with disabilities reaching mountain tops: making tourism accessible
It's shameful that, globally, and especially in the so called less developed countries, locals are often the last ones to be able to take a few days off and travel and appreciate their own country.
As purchasing power has steadily increased since 1998, the number of Venezuelan residents going away for their holidays has drastically increased, with the government now making regular announcements during holiday periods about the hundreds of beaches available in order to avoid overcrowding. The government also organises a school vacation plan, where "recreationers" aged 17 to 25, after receiving "pedagogical training" (as it's called) in themes such as environment and recreation strategies, planning and methodology, culture and identity, sports and integral health, sexual education, and the rights of children and teenagers, take school children on free guided community visits, walks in national parks, and organise other sporting and recreational activities with them. Some children even get to go on trips to the Roques Archipelago or Canaima Park (where the world's tallest waterfall is), all for free, of course.
Each year millions of children get involved in these plans through their communal councils, and registering in response to information provided on community noticeboards, but unfortunately sometimes bureaucracy interferes, with children of workers in institutions related to the plan getting in first.
Likewise, Venetur has organised certain packages, where, for example, workers can put aside 50bs for a year towards a trip to Cuba. Most of Venetur's packages however, while cheaper than private companies, are still out of reach for many Venezuelans, with a 3 day, 2 night Canaima package costing Bs2,975 (US$ 691 at the official exchange rate) and 3 days, 2 night Carribean pack costing 1,610Bs (US$ 374).
The new design of the teleferico guarantees access to people with physical disabilities, including elevators in the different stations. Also, Martinez said that when it opens, there will be various entry rates so that everyone can benefit from it; a standard rate – one that doesn't seek a profit but that helps guarantee the service, as well as a social or subsidised rate, and a free one as well. To be entitled to lower rates, people will get recommendations from their communal councils, or show pensioner ID, proof of disability, and so on.
Increasing historical and ecological awareness with tourism run by organised communities
As my own communal council develops a tourism project to restore what happens to be the first column erected to Bolivar in the world, I've become aware of how involving organised communities in tourism can heighten their sense of local history and communal identity, teaching us to value the area. And that sense of value is something we hope to pass on when we begin the project, giving tours of the area as well as down the side of the slope- previously an indigenous path. We hope to create a small museum with handicrafts for sale as well. The project's finances will be run communally, and should generate some local employment. It's the opposite of the tourism model where souvenir sellers fight and haggle over each tourist and over each tip.
These sorts of projects are sanctioned by the new tourism law, which, in chapter 9 defines tourism as a community activity and says state policies should be "oriented towards encouraging the collective participation of communities in the control of tourist activity and in the appropriate management of natural, patrimonial, and cultural resources".
Likewise, public works projects are legally obliged to involve and financially and technically help nearby communities with whatever projects those communities deem important in what Chavez has referred to as the "circle and dot" method – projects bringing about social transformation that "radiates" out from the work site.
The teleferico is helping us with our restoration-tourism project. One of their workers came to one of our regular Wednesday night meetings and told us, "Ventel is at the service of the communal council, not the other way around," then, after explaining some more, took out a notepad and pencil and listened to what we had to say and what we hoped to do. He encouraged us to call community assemblies, and offered us engineers and lawyers who can help us write up the project.
Los Nevados community with their new tractor (Omar Sánchez Castillo)The rural mountain town of Los Nevados, 2,700 m above sea level, and difficult to reach on the curvy dirt road that leads to it, has both benefited from and helped the teleferico project.
"They have 100 donkeys, and the community has been using the donkeys to transport some supplies for us, it's a form of income for them, and although what they contribute in terms of weight isn't much, what's important to us is their involvement," Martinez said.
The 2000 inhabitants of Los Nevados, mostly farmers, explained to the teleferico that they had no electricity service, and heavy and regular rain was causing land slides, often leaving them cut off from the world. The teleferico gave them a tractor (Caterpillar D6), which is now communal property, and can be used to clear roads, as well as a truck so they can bring gas cylinders, mercal food, and other needs to their town. The community organised an energy committee, received workshops on the importance and meaning of electricity, and Ventel installed 37 solar panels, so the community now has electricity access.
The teleferico also allocated Los Nevados funding to renovate and improve their schools, but the community itself decided it wanted to allocate some of that funding towards teacher training, as some of their teachers weren't qualified and they wanted to improve teaching quality.
The crafts stalls in the plaza that the Barinitas community is organising to improve (Tamara Pearson/Venezuelanalysis.com)The community of Barinitas, located at the base of the teleferico, and a general tourist-hostel hub with a beautiful circular plaza, has also benefited from and worked with the teleferico, with the community receiving social auditing workshops, setting up a communal contracting commission to be able to hire the services of public and private companies, and the approval of a rejuvenation plan for the area. The plan not only includes improvement of plaza furnishings, building a children's park, enhancing the boulevard and so on, but also a transition from informal economy to popular economy, with more dignified stalls for the sixty or so handicraft sellers. The stalls themselves will be communal property, and the community will meet with workers to decide on fair prices, operating hours and other norms.
Finally, in the suburb of Pueblito, below the teleferico, the Ventel has helped with school and drain repairs, renovations to the most vulnerable houses (houses with roof leaks, asbestos, etc) and the acquiring of a plot of land for a communal building, which will include a library (already furnished), a free childcare centre, a small children's park, and a plaza.
In August this year, communal councils, United Socialist Party of Venezuela (PSUV) members, and others will inspect the work being done by the teleferico, talk about their experience with working with the institution, and basically audit the project.
Further, the teleferico system, once finished, will continue working with communities and will promote ecological and environmental awareness. "The idea isn't just to go up and down the mountain, but to get out at the different stations and walk around, explore, and appreciate biological diversity... It will be a better chance to get to know the national park and to use it rationally," he said.
Teleferico workers have walked over and mapped over 23 km of paths within the area, including studying the different ecosystems and biological life in each zone. Once the teleferico is finished, visitors will be able to enjoy a range of walks and activities, all designed to be environmentally sustainable, including walks, galleries, and displays to deepen understanding of the original inhabitants of the Venezuelan Andes; an agricultural crafts market, a room with information about and promotion of the network of rural community tourism, a module for bird information and research, other walking paths to learn about ecosystems or to the houses of historical figures, and more sport orientated enjoyment such as GPS treasure hunts for children, mountain climbing and exploration, and kayaking.
US government and private media demonise Venezuela, put off tourists
Most people who visit Venezuela are surprised by the difference between the reality and the mental image they had of it before coming. The US embassy website describes Venezuela as having a "highly polarised and volatile" political climate, where "violent crime is a serious problem and the capital city of Caracas has been cited as having one of the highest per capita homicide rates in the world. Kidnappings, assaults, and robberies occur throughout the country; no areas are safe from the high levels of crime."
Apparently, "Venezuela's political leadership maintains a fiery Anti-American discourse". Such notions are repeated by private media around the world: the image of violent, chaotic, undemocratic and repressive Venezuela. While crime levels are high in some places, the rest of course is nonsense (to put it mildy) and the US government's lying and fear mongering is unacceptable. No doubt it is part of its general demonising of the Bolivarian revolution, as well as being aimed at putting US residents off from seeing an alternative way of doing things to the disaster in their own country, from seeing a country where even they, as foreigners, can receive free health care and participate in countless free cultural events and activities. Of course, such imagery has been one of the factors that causes many tourists choose "easier" destinations.
On the other hand, tourism minister Alejandro Flemming was visiting China in April for an International Tourism Fair, where he found out that president Chavez is one of the main things that interests the people of China about Venezuela. It also seems the government's work to create more international and bilateral alliances and taking steps towards promoting south-south tourism has paid off somewhat, with the first quarter of this year bringing a record number of foreign tourists at 260,000.
"Merida's teleferico transcends tourism, it's about social, economic, and political life," said Chavez in 2010. Indeed, good tourism goes beyond just exploring our beautiful planet and our culture, to constructing decent and dignified human relations among people within a certain region and between people of different regions.
*
Tamara Pearson has been living in Merida, Venezuela, since 2007. She is active in the Bolivarian revolution, including as a spokesperson for her communal council and collaborating in an alternative education project. The article was originally published in Venezuelanalysis.com
1"Where are you from?, we asked the guides from the village. "From the Moken" they said. Patiently we asked again: "Alright you are Moken, but... where are you from?" Their answer remained the same: "From the Moken".
After a bumpy hour and a half ride on a speedboat and another short ride on a long-tail we have had finally arrived at the Moken Village on Surin Island off the North Andaman coast of Thailand. Andaman Discoveries founder Bodhi Garret was leading the pilot tour organized for our guests (writer Oliver and photographer Catherine) from the BBC's Lonely Planet Magazine.
Bodhi has known the Moken people for some time now and the respect he has for them is mutual and evident from the way they greeted each other with friendly smiles and warm hugs. After all not many 'farang' speak Thai with ease like Bodhi does and are able to communicate directly with the indigenous peoples from this region. We all felt very priviledged to be part of the pilot tour, which was meant to establish AD's 'Life of the Moken' program as a responsible and ethical alternative to the tours, which others operate on the island.
The Moken have provoked interest ever since the tsunami struck this region and these nomadic sea gipsy people had to make a more permanent settlement on the island.
It is no wonder that for us the question 'where you from?' seemed like a logical one, but the answer we received showed just how our perception of ones origin was only limited to indicate a place. For the Moken guides who were showing us around their village and gave us a glimpse of their world, this same question carries the meaning of the people you grew up with, the values that you learned, rather than a physical location.
2Traditionally, the Moken sea nomads traveled to coastal and island areas in the Mergui Archipelago by their "kabang" (boat), which served both as a home and means of transportation. They would spend seven months fishing during the dry season and take refuge on land during the monsoon. After the tsunami the Moken lost many family members as well as their possessions but they are determined to keep their legacy alive.
The Moken guides led us through their village, shared stories of their lives and gave insights into their struggles and dreams. On the "Chok Madah" Nature-Culture Trail through the jungle behind the village, they showed us various types of plants and trees that they use in daily life; edible herbs, healing plants and woods used for the construction of their huts and boats. In Moken language, Chok means a small bay, and Madah is the name of a local man who anchored his boat in the bay to gather shellfish and forest products. The Moken who now live a semi-nomadic life have used this foraging trail for generations. Twenty stations with interpretive signs are placed along the trail, providing information on specific topics and insights into the world of the Moken.
MangroveOn a our second day accompanied by our Moken guides we set off on a long tail boat for a snorkeling dive, at a site known as Nemo bay, frequented by the beautiful clown fish of that name. To observe our Moken guides while snorkeling is an experience in itself, for you would never see someone show such grace and peacefulness while diving down to point at the hiding moray eel. Back on the boat Pi Tao, an elder Moken with a peaceful smile, had just finished brewing delicious coffee for all to enjoy.
A couple of days in the company of these kind hearted and warm people inevitably makes you appreciate their culture and wonder about their future. With no written language, their children are taught to speak, read, and write in Thai. This raises a challenge for passing on the traditional Moken language and knowledge to future generations.
The AD tour is specifically designed to take into consideration the Moken's wishes, encouraging respectful and meaningful encounters between tourists and Moken people.
We spent the night in bungalows on one of the smaller northern islands. The landscape was hauntingly beautiful, the setting sun providing a spectacular background to the mangroves on the beach.
Upcoming tours will allow guests to take home not only picture souvenirs but also lasting memories. We hope to foster a new understanding between the Sea dwellers and us as we have a lot to learn from them.
You can participate in various activities in which your Moken guide will show you how to spear hunt, row a traditional Moken boat, weave small items out of pandanus leaf, and learn about their magical underwater world. You will also learn about their mythology and beliefs; as animists the Moken worship and believe in the spirits of nature.
3Our adventure came to end but we know that we will return one day and hope to share this beautiful encounter with other likeminded people who want to experience the Moken culture and make a much needed contribution that will directly benefit the people you visit.
For more stories on the Moken and community tourism on the Andaman coast of Thailand visit the Andaman Discoveries website.
by Judith Schneider*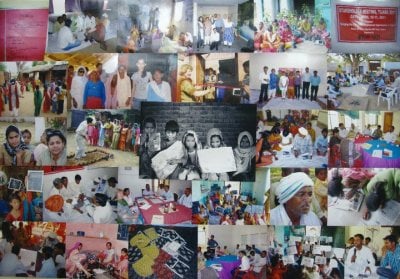 Foto-Collage of End Poverty's projects, mainly women educationI guess everyone would rather like their master's thesis to be of practical use instead of getting dusty on some shelf. I am no exception, so I was thrilled to get (together with my colleague Laura Zwicknagl) the opportunity to work out a real-world feasibility study for an Indian NGO called 'End Poverty' (EP) as part of work towards my MSc Responsible Tourism Management. Through our tutor Dr Simon Woodward, Senior Research Fellow at the International Centre for Responsible Tourism (ICRT) at Leeds Metropolitan University, we were put in touch with the chair of EP's mother organisation, the London-based 'GEN-initiative limited'. End Poverty is a team of nine experienced social development professionals and numerous volunteers, who fight poverty in India through education, health care, livelihood- and rural development. GEN uses its UK and international network to provide EP with financial and technical support.
Our task was to research the opportunity to develop village-based responsible tourism in the Tijara Block - a rural area of Alwar, Rajasthan - as a means of creating business opportunities and employment for local community members. From our base in EP's home town of Gurgaon, we had the chance to contact numerous interviewees, including international tourists, school representatives and travel experts from the area. In addition to a programme of around 50 face to face interviews, and to establish likely demand for tourism in Alwar from regional domestic tourists, we used an online snowball survey, with our numerous Indian contacts assisting the survey by forwarding the questionnaires to their friends by email.
The outcomes of our initial primary research were highly positive, showing a definite level of demand from all three target groups – international backpackers, domestic tourists and school groups. And even though findings from our pilot study cannot be seen as representative for the whole population, the insights into customer requirements and concerns are very valuable in terms of directing future development and can also guide further research in this region.
dried cow dung used for cooking fuel. the right 'house' is like a storage where they cut out the dung whenever needed. Usually, they make little paintings on them.The 6-day village stay in the area of operation was clearly the highlight of the trip. We stayed with a family who hosted one of the educational programs for girls that our client EP had launched to reduce the high illiteracy among females. These family members welcomed us with a sincere cordiality and during the whole time of our stay they did everything they could to make us feel comfortable and happy. It was fascinating watching and participating in their slow way of life, which seemed so much more 'real' to me than the daily routines of European city people where traffic, electronic gadgets and consumption are the main factors of daily routine. Methiabaas and the other villages of the Tijara block, where our research was focussed, are dominated by a very rural lifestyle where agriculture sets the rhythm of people's daily activities. In this rather 'romantic' life, women carry water in stoneware jugs on their head in a majestic way, water buffalos are valuable working animals, children play with everything that nature gives them and people have time, so much more time than we do. I started to question: 'Is it desirable to introduce tourism into this idyll which has been lost in so many parts of the world?' 'Would tourism not destroy the cultural fabric of these communities and create a fertile soil for greed, envy and conflict?' Yes, it could; and it had much too often. But, this 'idyll' is not as beautiful as appears on first impression: Some people live in serious poverty, suffering from malnutrition, anxiety about their children's future or hopelessness. Many youngsters leave their villages as a result of the lack of employment possibilities, as in many other parts of the world. Illnesses often can't be treated and children cannot choose to have an education according to their talents.
Of course, one part of our research was a pilot survey of the local population, asking 25 people what they thought about the potential for developing tourism activities in the area, their associated expectations and concerns. Every single person was in favour of such development, looking forward to employment, education and cultural exchange. Just one of them mentioned the concern of rising prices. Sure enough, this shows a high unawareness of tourism-attached negative outcomes or potential risks. But it also shows that these people are keen for change, opportunities and a connection to the 'outside world'. Who am I to judge that they should stay in their level of development?
a class organised by End PovertyAs part of this thesis, literature around existing Community Based Tourism projects was reviewed and the disillusioning small number of successful projects confirmed once more the importance of research, planning and education connected with such a project. Success factors frequently mentioned by experts and experienced practitioners are accessibility, motivated community members and leading personalities, strategic planning and evaluation, education and training, the right choice of partners (out of private and public sector), a good product, appropriate marketing and the linkage with environmental conservation. Developing tourism in rural areas is fraught with challenges.
Tourism might sometimes be seen as THE solution for high unemployment in rural areas but it is definitely not the right way of development for every village. One cannot recommend the launch of tourism to every community who is interested in it, as risks are too high and challenges way too complex. In the particular case of the Tijara block, there does appear to be a positive way forwards because of the area's accessible location, defined definite level of consumer demand and the overwhelming interest of the villagers. Other important factors were the highly supportive NGO, End Poverty, whose members are committed to assist an embryonic tourism project and, at the macro-level, the forecast of a considerable rise in the volume of domestic and international tourism in this part of the world where there are very few direct competitors to the products that might be developed in the Tijara block.
To plan for and deliver successful tourism development in the Tijara block, the possibility of achieving all the success factors mentioned above must be tested through further research, with local people being involved at every step of the way so that they understand the potential outcomes as well as the risks, as evidenced by the high numbers of failure in this sector around the world. Only then, will the communities of the Tijara block be ready to decide if this is the path they want to run and how they can participate in a way to make this path a sustainably successful one.
*Judith Schneider is a recent graduate of the MSc Responsible Tourism Management course at the International Centre for Responsible Tourism (ICRT) of Leeds Metropolitan University (UK)
With the Tuwa in the Altai
By Trevor Sofield*
Last year I took off for two and a half months in China to teach at Sun Yat Sen University in Guangzhou. In May/June I joined a project team to assess development of Altai Prefecture in northern Xinjiang Province which is northwest of the Gobi Desert, along the border with Kazakhstan, Russia and Mongolia.
Progress on the Plan we had formulated in 2005/2006 was excellent, about 90% completed. This included establishment of a new 10,500 sq km National Park covering the forests and alpine meadows of the Altai Mountains - probably the world's newest largest national park - the participation of the Tuwa semi-nomadic pastoralists in the development, and the preservation of their traditional villages and amazing cantilever log bridges.
They leave their wintering-over log cabins each Spring and head up into the mountains with half a million head of cattle, camels, horses, sheep and goats, following an ancient migration trail they have used for over 1000 years. With the area being opened up for tourism their empty cabins have become an income-earning resource that they can let to entrepreneurs for up to six months as tourist accommodation. The Tuwa have no desire whatsoever to become 'hoteliers' so it is not 'home-stay' in the usual sense: the dwellings are authentic, but the hosts are outsiders. However, the Tuwa welcome horse-riding treks with them up into the mountains where you can stay in their traditional yurts and feast on mare's milk and eat lamb three times a day!
The continued grazing of their herds in the high alpine valleys are essential to maintain the ecosystem that has evolved. Without the annual migration the meadows would revert to conifer forests with a cascading impact on the carnivores (snow leopards, bears, jackals, lynx) that prey on the grass feeders such as deer, hares, and pika (a small rodent related to the rabbit), and other meadow animals and birds, with attendant insects and flowers which would all disappear.
Thus, unlike western parks where people and domesticated herds are incompatible, the overall health of the Altai alpine ecosystem requires interdependence with the Tuwa and their flocks of sheep and goats, and herds of horses, cattle and camels.
Dr. Trevor Sofield is former Foundation Professor of Tourism at the University of Tasmania and a Research Professor of Tourism at Sun Yat Sen University, Guangzhou, China in the Center for Tourism Planning and Research.
After attending the meeting of the country representatives of
The Region Initiative
(TRI) and a one-day conference on November 22-23, 2011 in Tashkent, my next destination was the World Heritage City of Samarkand, a city that wore a blanket of snow when I arrived in the evening. Samarkand has been a stopover of almost every travel writer of ancient times. Early on in the next morning, my journey started towards a small town called Mitan, around 60 Km north of Samarkand on the Samarkand-Bukhara Road. But my final destination was not Mitan but a very small satellite village of Mitan named Kulchara where Silk Road Destinations, a travel and tourism organisation is running an ecotourism project.
River Sahi: Since the river flows in the middle of the village, people were throwing garbage on the river bank.
This we controlled this year and in 2012 we will create a proper garbage dump away from the water source.
Kulchara has an interesting history. Established on the bank of the Sahi River, habitation started here during the great famine of the 1930s when the whole of Eastern Europe and Central Asia faced a severe drought leading to a total crop failure for three consecutive years. People who are today living at Kulchara all descend from one family who used to live in the mountains 60 km to the north of the village. When the drought became unbearable and there was no water left in the mountains, Turakul, the chief of this family brought his relatives and other villagers down to the plains in search of water. They finally found a live river (Sahi) and settled at its bank. So these people know how nature reacts and they have faced the wrath of nature therefore they care and look after the environment. Today it is small village comprising of 82 households and around 800 residents.
When I started my journey it was already raining - I love rain because it is the big shower for people and for the earth. We left the city boundaries and we moved towards Bukhara. I looked around through the car window. The Earth (level fields for crops) prepared for a rest after the paddy crop harvest. On the fields there was only a seasonal crop of cabbage. Small settlements on both sides of the road were a characteristic reminder that the blessings of civilization arrive in these areas a bit later than elsewhere but people have preserved the natural environment and the traditional sights. Such small settlements are called Kishlak in the Uzbeki language, Kishlak signifying a small and remote village. Mitan is a typical example of Soviet-era development when even remote towns had a hospital, school and college and, of course, factories, a complete commune working effectively. Since this area is popular for cotton crops we visited a huge hangar for cotton drying and a cotton factory before we took a left turn from the main road for Kulchara. We then went through the small bridge constructed by the grandfather of the Head of TRI Central Asia Mr. Ravshan who was driving the car. From this place, one can understand and appreciate the investments of each member of a Kishlak in the development of such small place.
We went directly to the house of the Aksakal, the local chief of an area in central Asia. Sitting in his room, I saw a soviet-era mirror and an old-style sofa, called Divan in these areas. We sat on the carpet, on a set of pillows - a traditional Eastern sitting. While we waited for the arrival of the Aksakal, his wife and two sons Murat and Gulam treated us with traditional food, grown in their land including fresh bread, Non. Non (or нон) is an Uzbek bread that is shaped as the sun - the symbol of life, bread also being an icon of life. I did not constrain myself and I started eating peanuts and raisin, big black grapes and a pomegranate. They then brought us hot fritters (гилминди), prepared with oil and stuffed with a sweet semolina in the form of a cream and, of course, traditional Uzbek Plov (плов) very tasty and beautifully decorated with pomegranate berries. It was pleasant to me to know that the products including wheat for bread, rice for plov (плова), meat, milk, cabbage, carrots and fruit were all produced by this family, indicating productivity of this land and hard work of people to produce everything on their own.
From the conversation I learned that this village has produced many important people of the region among whom are diplomats, doctors and teachers but it continues to keep the traditional way of life, skillfully combining it with the requirements of the time. While I was talking to the family of the Aksakal, I saw a a white bearded man with a weather-beaten face enter in the room; everybody stood up and I immediately understood that he was the Aksakal. After shaking hands and hugging each other in typical eastern style, Ravshan introduced me to the Aksakal. I was told his name is Bahriddin and that he is a former teacher. He has been been the Aksakal for over 20 years, one of four Aksakal in Mitan.
The Aksakal post is considered a very prestigious public post, it is necessary to possess excellent qualities and to be an example for others. If one is unable to stand for and infront of the community it is difficult to be reelected next time. The council of the four Aksakals solves public problems and sometimes the personal problems of the community members. If someone needs help, the Aksakal raises money and gives it to the needy person; sometimes support is provided to cover the study costs of youngsters if they are admitted to University. After independence higher education costs a lot more than during the Soviet times. The Aksakal also solves family problems for example a woman who is abused by her husband can ask for his help and protection.
The proposed site for the Norooz rituals, where visitors will see how local artisans make handicrafts and cook Uzbek food
After the conversation we left the house to look at the cleared rice and cotton fields and then we went to the river Sahi to see the proposed site for the extension of our ecotourism project. The area on which young saplings of the Canadian poplar tree are planted ahead is seen. A poplar tree is very valuable tree for building construction and Kishlak inhabitants make a thrifty use of it. The industrial tree should have an equal trunk, therefore they constantly update a grove, using new grades.
I then requested Mr. Ravshan and the Aksakal that I would like to record brief interviews with them so as to inform others how a successful ecotourism project works and what are the prerequisites for it. Below I reproduce the questions and answers, Mr. Ravshan kindly helped me as a translator.
Author interviewing the Aksakal and Mr. Ravshan
Question to Mr. Ravshan: How did you start this project?
Mr. Ravshan: Many times when we accompany tourists around our country, they ask us to see the real life of the Uzbek people. So we invite them to visit local people in the villages. It is both amazing and amusing for tourists and hosts to have an opportunity to communicate. As the Uzbek people are known for their hospitality and open-hearted nature, these services are always successful.
Q: But sometime overexposure to foreign visitors can hamper and harm the cultural fabris of an innocent, remote society like Kulchara. What is your opinion?
A: We understand that these kind of improvised visits are not good for the local people, negative impacts are likely. So we decided to create a tourism service which gives us instruments to avoid negative impacts to the local people and their lifestyle. We are responsible not only for our clients but also for the host communities. Because Tourism like any other industry have huge negative impact to ecology, to society, the lifestyle of local communities, to their education and so many other negative influences. So these are the reasons that Silk Road Destinations have turned to Ecotourism, a responsible tourism that gives us opportunity to preserve our land and our country.
Q: How it is working at ground level?
A: People of this area mostly work in agriculture. They produce silkworm, cotton and other agricultural products. Today families in Mitan Kulchara are working in Tourism along with their main activities of yield production. Simply put, this project provides a supplementary income for local people. Income to the community comes from accommodation and meals it provides to visitors (tourists). Mitan is a new destination and service for our agency and it is an original and comfortable way for western tourists to see the real life of Uzbeks.
Q: But an ecotourism project may not survive only on providing meals and accommodation to visitors. What is your opinion?
A: In Mitan apiculture was present but today this activity has already lost its importance. But Mitan has all possibilities to redevelop this activity, moreover honey is a good product to sell to tourists, or to offer them during the meal. Tourists can take some honey back home as a gift for their relatives. So tourist donations serve to develop apiculture in Mitan. We provide support to families who are involved with apiculture. We provide full information and material for this type of production and we organise trainings for them to explain them the technology of honey production. We are also working on horticulture and livestock development but we will need funds and almost 2 to 3 years for these products.
Q: Sometimes people become living museums for visitors (tourists), this for example happened in Pakistan's Chitral Valley where a community is wearing 2,000 year old clothes and bake bread with a 2,000 year old style just to make the tourists happy. Will not the same happen here?
A: Yes, we very much understand and we had such example here in Uzbekistan also. Our agency has during the past 10 years worked with many receptive host communities all around Uzbekistan. It was different projects, initiatives of local people, in the villages of Sintab, Ayakchi, Tersak and others. We had negative results as tourists did not like to stay there because local people lost their authenticity and their charm. These villages became artificial for visitors and tourists started to feel that they are only considered as a money resource by the villagers. In Mitan we take care of this contact, we organise some exchange between tourists and locals, our plan is that this exchange includes some educational points for both parties, teaching each other. For example, for kids in Mitan, the foreigners are not some unknown animal, the kids understand that traveller is also human with a different language, character and culture. Mitan youngsters have a chance to compare their own life with something different and these boys and girls will become more sociable, more skilful and prepared for a life marked by globalisation and consumption.
Now some questions to the Aksakal:
The Aksakal with the Author
Q: Please tell us what the community is doing and what initiatives the community is undertaking to make it a success?
A: Silk Road Destinations (the company running the project) has constructed toilets and bathrooms in European style for the visitors but providing comfort, respect and keeping these given facilities clean and tidy is of course the responsibility of the community, and this we are doing.
Q: What do you think are the core responsibilities of the Community to make this project successful?
A: The responsibility of the community is also to provide to the travellers frank and open communication, to meet the expectations of travellers who wish to study traditions, culture, life in the family. Also to exchange their understanding of the World, and animate the stay of travellers in Mitan. Our responsibility is also to guarantee the security and safety of travellers in Mitan and provide them high quality accommodation and meals.
Q: Where are you spending the income generated by the ecotours?
A: We are using the profits in favour of a balanced development of the village families and their territories. All profits have to be used to improve the life of Mitan inhabitants, for the future of youngsters and their education. For example, the money we earned last year was invested to pay the high school fee for one student of Kulchara. Also these donations go to the families which have difficulties to manage their everyday life.
Q: What do you expect from visitors (tourists)?
A: Travellers have to respect the prohibitions, particularly in terms of dress (not to wear too bare or too tight). Visitors should take care to respect the rhythm of work of the villagers, and the intimacy of the place during their walks and visits. The visitor should listen and observe, be careful not to judge too quickly, get rid of prejudice in relation to the local population. Water in this area is rare and difficult to draw so travelers must use it with moderation. They must also avoid leaving behind any kind of waste. Consequently, travelers must be attentive to their behavior. They must realise that their attitude and actions on site can play a destabilising role. Travellers should refrain from any attitude and any intervention that may upset social, cultural and ecological balance of the community and that would frustrate its dynamics of development for future generations.
Q: Can a visitor give a gift to children if he/she wishes?
A: No! It is prohibited to make any direct donation or gifts to children. Gifts as a sign of gratitude can be given to me (the Aksakal) and we will share it in equal parts among village families.
After this brief conversation, I took permission from him to leave. Half of a cloudy day in a Kishlak had passed in the warm domestic surroundings. We enjoyed the simple rural life, lovely conversation and ethnic cuisine. I learned many lessons that I could not find in big books of ecotourism development from this old man who told me through his eyes that "only mutual respect and honour for norms of community can make an ecotourism project a success". If I have a possibility to visit Mitan Kulchara and its hospitable inhabitants during the summer I will enjoy their songs and dances directly in a courtyard and my soul will sing and dance together with them.
Certainly, a Kishlak as a small part of society has its problems, but we should not worry too much about it. In overcoming obstacles there is always a positive result and experience. I want to bring home good memories and to tell to people around myself that development theories are born in small, remote areas if we have eyes to read and ears to listen.
I heard the voice of my soul for Kulchara and it said: "I love you and I will return".
*Agha Ekrar Haroon is President of Tri-Region Initiative. He is a former Consultant with the Ministry of Tourism of Pakistan and a past President of the Ecotourism Society of Pakistan.
Culinary tourism represents a rapidly growing field that is increasingly being incorporated into tourism strategies worldwide (ICTA, 2011). New global trends in tourism also indicate a desire for personalized experiences and authenticity (Jahn & Thomson, 2009, p. 142). Savvy destinations have responded to these trends by emphasizing activities and products that are central to the local culture and lifestyle, such as the cuisine. The benefits of promoting culinary traditions in this way are numerous. Some such benefits include the preservation of important traditions that may otherwise have disappeared, and the provision of an avenue for travelers to gain an in-depth and unique understanding of their host culture.
While culinary tourism can be described in a variety of contexts, the International Culinary Tourism Association provides a general definition of the activity as "the pursuit of unique and memorable culinary experiences" (ICTA, 2011). So whether you consider yourself a true "foodie" or not, chances are that you have at some point found yourself seeking an interesting and authentic culinary experience during your travels, either at home or abroad. I myself am a self proclaimed food and wine enthusiast, greatly excited by the prospect of exploring a culture through its food. So it came as no surprise that while on a recent trip to Santorini, Greece, an investigation of the vibrant local food scene quickly became a focal point of the trip. Around every corner I was repeatedly rewarded with outstanding and memorable culinary experiences.
Tourism has had an indelible impact on the economy and lifestyle of Santorini, especially in the time since the island was devastated by an earthquake in 1956 (Miller et al., 2010). Famous for its blue-domed churches and picturesque sunsets, Santorini is one of the most popular destinations in the Mediterranean. Thousands of island hopping travelers and cruise ship "daytrippers" traverse the 12 mile long island every year. These visitors contribute significantly to the local economy, especially during the summer months when the population nearly doubles. However, this annual influx of visitors is not without some negative implications. From a local perspective, tourism can also be seen as a bane to residents, and a strain on the local environment's limited resources (Könemann, 2004). Visitors to Santorini are typically concentrated in the port of Athinios, where the ferry and cruise ships arrive/depart, the central district of Fira, and the famously picturesque town of Oia in the northern tip of the island.
Oia, Santorini
Oia, Santorini
During my experience in Oia I found that the town still maintains its traditional beauty and charm, though the masses of tourists are surely creating a strain on the local environment. Thus, while tourism here is associated with both positive and negative repercussions, one can see that the local economy depends – and thrives even – on this sector. This presents a tricky balance, where tourism exists as a lucrative sector, as well as a threat to the local environment and traditional culture. In Santorini the responsibility of maintaining this balance lies with all stakeholders – local authorities and policy makers, local communities, and of course the traveler.
The ways in which one can travel responsibly are numerous. The demand for authentic local travel experiences has led to a flow of ideas and creativity on the subject of "going local." One way of doing this is through culinary travel. Of course, the benefits of culinary tourism are not inherent in a name, but in practice. A culinary tourist can leave a positive or negative impact depending on the way they conduct themselves, the way they view their surroundings, and the choices they make during their travels. However, the responsible culinary tourist can enjoy a unique channel for deep exploration and understanding of a destination and its people.
Culinary traditions in Santorini
While every place has some form of cuisine that can be explored, there are places where the cuisine is so exceptional, exciting, accessible, and culturally rooted, that it can become a focal point of travel and a primary attraction for the culinary tourist. Santorini is one such place, where the great local food and existing culinary customs can be viewed as a real asset.
The people of Santorini have smartly taken note of foreign interest in their local products, and nearly every menu in Oia features local specialties such as tomato fritters, sautéed wild greens, fava bean puree, grilled octopus, and some form of local white wine -usually of the prominent Assyrtico variety. Other specialties and noteworthy local products that can be found around the island include capers, sweet sun-dried tomatoes, white eggplant, local cheeses, and a special sweet made from almonds soaked in honey (koufeto). Local bakeries and cafes boast cases teeming with inviting pastries – both sweet and savory – such as vegetable pies enveloped in filo dough, spice cakes, and custard filled pastries. A tart called melitinia is available at Easter time, and is unique to the island; molded into a star shape, it is filled with myzithra cheese and flavored with spices, orange, and mastic (Santorini Info, 2011).
The fisherman's catch
In Santorini and elsewhere in the Cyclades, small scale fishing has traditionally represented the lifeblood of the community. In every seaside village or taverna the local 'fisherman's culture' is palpable; small wooden boats bob just offshore, and fishermen congregate in the afternoon sun passing the time.
Seafood supplies here are proving increasingly scarce however, as high tourism demands in the summer months often exceed the level of fish that can be sustainably harvested from local waters (Könemann, 2004). Large commercial fishing operations, no doubt encouraged by touristic demand, create serious competition for local fisherman. These large fleets often encroach on waters traditionally fished by individuals and small communities, lessening the fisherman's daily catch and threatening the long term sustainability of this lifestyle (Könemann, 2004).
Thirasia Port
Thirasia port
On an afternoon excursion to the island of Thirasia, which has been far less touched by tourism than nearby Santorini, I was given an opportunity to support the local fishing community by dining at one of the numerous seaside tavernas that line the shore. Divided from mainland Santorini by volcanic activity around 200 BC, Thirasia now appears as a separate island. These restaurants survive on income generated from the tourists who arrive daily as part of a popular boat tour which includes stops at Nea Kameni (the most recent formation of the volcano, Nea Kameni protrudes from the caldera as a small islet and still spews lava occasionally), a swimming area with natural hot springs, and Thirasia. In Thirasia, a small fishing village with less than 200 residents, visitors can take a donkey ride up the 250 steps leading to the village, or just sit in a taverna by the sea for a couple of hours enjoying delicious local fare and fresh seafood.
Cadouni Taverna, Thirasia
Cadouni Taverna, Thirasia
It is here, in a casual open-air taverna, that I had one of the most memorable experiences of my trip: sitting at a table just inches away from the sea, I ordered a glass of ouzo and the octopus souvlaki (my choice was easy – upon passing through the restaurant I was enticed by a meaty skewer of fresh octopus smoking on the open grill). The meal was unpretentious in portion and appearance, but was indescribably fresh and savory – the best I've ever had. The experience was made all the better by the quintessentially Cycladic setting: warm sunshine, Aegean breeze, and fishermen quietly taking their small colorful boats out to sea. Munching on my perfectly tender octopus, dressing each bite by swirling it in a dish of regional olive oil, I considered my gratitude to the resident fishermen and local cooks for this unique experience.
Santorini's unique terroir yields rich flavors
Back in Oia, I enjoyed the fruits of Santorini's volcanic soil, which is rich in nutrients and agriculturally significant for its ability to retain moisture in an arid environment. This porous volcanic rock absorbs water from the sea, as well as from whatever bit of rain happens to fall during the autumn and winter months, and distributes it gradually to the island's plants and vines. Cultivation in Santorini sets it apart from most other islands in the Cyclades, where the dry climate, rocky soil, and strong Aegean winds limit agricultural production (Könemann, 2004).
Along the main pedestrian walkway of Oia, Nikolaou Nomikou, men and women can be found selling home prepared jars of local products such as sun dried tomatoes, capers, preserved grape leaves, and honey-soaked almonds. When in season, vendors market their prickly pears by offering passersby a sweet sample of the fruit. The prickly pear was introduced to the islands by Spanish sailors around 1600, and has remained for its ability to grow in the dry environment of the Cyclades (Könemann, 2004).
Nikolaou Nomikou, Main road in Oia
Nikolaou Nomikou, Main walkway in Oia
In the markets near the bus stop, shop owners hand out samples of sesame coated almonds and locally grown pistachios. Inside these shops one can find more local products, packaged to take home amidst shelves of souvenirs, as well as a selection of local wines. In one shop, I inquired as to the best of the selection on display, and was directed to try a white wine from Domaine Sigalas which, I was pleased to find out, was 'just down the hill'. The next day I hopped in a taxi and traveled a few kilometers to this small winery which is internationally recognized for its wines, made from regional grapes such as Assyrtico, Aidani, Athiri, Mandilaria and Mavrotragano.
Santorini is unique in the Cycladic region for its ability to produce wine. With the exception of Paros, other islands in this cluster are characterized by soil inadequate for extensive grape growing. Viticulture in Santorini dates back three thousand years continuously (Domaine Sigalas, 2011), and would have extended even further had it not been for the massive eruption in 1600 BC which devastated the island and pre-existing agriculture (Könemann, 2004).
Santorini is best known for its white wines, and indeed these varieties are most prevalent. White wine grapes account for 80% of the region's vineyards. However, my personal favorite was the Mavrotragano, a dry, robust red. This grape, indigenous to the island, has come close to extinction, leading some local wineries to make a concerted effort to revive the species (Domaine Sigalas, 2011). The sweet dessert wines of Santorini are also delicious; they are unfortified, and made from grapes that have been set out in the sun for several days. This process allows the sugars and flavors of the grape to become deeply concentrated. All of the wines I tasted evoked a strong sense of the local terroir. I was happy to later discover that several of the wines I sampled at Sigalas would be available upon my return home through a local distributor. However, I'm sure that no matter how vivid my recollection, I could not replicate the exact experience of tasting these wines at the source of their production.
Domaine Sigalas
Domaine Sigalas
Discovering local treasures
Though there are numerous culinary excursions that one can plan when on Santorini, some of the most memorable moments are to be had when you allow yourself to just sit back and take in the pleasant serendipity of the island. One evening, my travel companions and I encountered a bit of misfortune – nothing serious, just one of the inevitable inconveniences of travel, and one which left us without a room for the night. The hotel owner at Chelidonia Villas took pity on us and offered us a traditional cliff-side villa that happened to be vacant due to a last minute cancellation. A mysterious man of few words, our host's kindness was evident through subtleties. He handed us the key to our new residence with a welcoming smile and kindly informed us that there was a bottle of Sigalas Assyrtico chilling in the fridge, which we should open immediately to "forget all about our troubles". And for tomorrow, perhaps he would bring us a sample of his homemade wine.
A room with a view at Chelidonia Villas
A room with a view at Chelidonia Villas
The next afternoon as we sat on our porch happily gazing at the view over the caldera, our humble host arose from the white steps below with a small carafe of amber-red wine. The wine was sweet and complex, a blend made from three local varieties. We enjoyed it immensely. Knowing that we could not later order a bottle of this delicious wine online, or pick it up from a local distributor upon our return home, we sat back and enjoyed the experience, completely content in the moment. To me, this is a key component to culinary tourism – embracing memorable experiences that are truly evocative of a place and which we cannot necessarily take with us in any form other than nostalgia. These moments are unique to the destination or the trip, and the reason why we travel.
Santorini table with a view
References:
Goeldner, C., & Ritchie, J. R. (2006). Tourism principles, practices, philosophies. Hoboken, NJ: John Wiley & Sons, Inc.
Konemann (2004). Culinaria Greece: Greek Specialties.Tandem Verlag GmbH.
Miller, K., Clark, M., Deliso, C., Hannigan D., Kyriakopoulos V. (2010). Greek Islands. Lonely Planet.
Domaine Sigalas (2011). Retrieved from http://sigalas-wine.com/.
Greeka (2011). Santorini Island. Retrieved from http://www.greeka.com/.
Santorini Info (2011). Local Products and Dishes. Retrieved from http://www.santorini.info/.
The International Culinary Tourism Association (2011). Retrieved from http://www.culinarytraveller.com/.
A typical riadMorocco is an internationally renowned travel destination, and rightfully so, this North African country boasts year-long sun, beautiful beaches and an impressive culture. With its close proximity to Europe, a mere 14km from the coast, Morocco has become an increasingly popular location for Europeans seeking an affordable yet exotic holiday. From 1912 to 1956, the country was a French protectorate and the French influence is still visible. The current King, Mohammed VI, is encouraging further relationships with the English speaking world and its businesses. In an effort to build this connection as well as develop general tourist relations in Morocco, the government initiated a tourism strategy in 2002 called Vision 2010. In a speech addressing the launch of the project, the King acknowledged tourism as a national priority. The initiative was implemented to encourage relations with foreign countries but also to deal with issues of unemployment and underdevelopment around the country. The project identified many ambitious improvements to be made all over Morocco within the next decade (Locum Destination Consulting: 2002). Tourism and hospitality are subsequently among the leading industries in Morocco today.
My research in Morocco aims to make sense of several important aspects of the relationships between foreigners and locals through the initiative of hospitality. Along with the incredible sights and variety of landscapes- guidebooks, blogs, travel and leisure magazines all rave about the friendly and embracing nature of the Moroccan people. Yet, in those same publications are warnings of the Moroccans equally 'cunning nature'. Many experienced visitors of Morocco will advise you on rules of haggling, such as never pay more than half of what someone initially asks. You are told to expect being ripped off. This is especially true in the city of Marrakech, where the majority of my fieldwork took place. The Medina that marks the old city has few roads designed for cars and instead motor bikes and eager sellers flood the streets. The experience can be overwhelming for a first time tourist in the city, but somehow Marrakech continues to hold the love of foreigners who visit. Why is this? How does the Moroccan tourism/hospitality industry engage its visitors and win their loyalty? This essay explores these questions by looking closer into the riad's of Marrakech.
A riad is a traditional Moroccan house with an interior courtyard. These establishments are essentially boutique hotels and are most often family owned. One local guide reported that there are over 3000 riad's in Marrakech all of varying levels of luxury. On my recent trip to Marrakech I stayed at a riad centrally located within the Medina. The house boasted 11 spacious and well decorated rooms all furnished with antiques from the owners store. As with the other riad's we saw while in the city, ours was hidden down a nondescript alley with a simple door and a buzzer to announce our presence. Once inside there were two open courtyards that spanned three stories, an indoor pool, and several lounges. When we arrived on our first day in the city we were warmly greeted and brought to one of the lounges where we were asked to wait. As we waited and admired the displays of antiques and the beautiful architecture, the receptionist prepared the traditional Moroccan tea and several sweet treats for us which we enjoyed over a thorough introduction to the city. The receptionist gave us a map and took the time to chart out the best ways to explore the city and the easiest routes to get back. She patiently answered all our questions, giving us helpful advice and personal recommendations. Then she proceeded to explain the tours that were included in the rate for our room. The first tour was a day trip exploring the Atlas Mountains, a Berber Village, and a Berber Market. The second was a tour of the Souks within the Medina, which are essentially a maze of vendors selling goods ranging from leather to spices. Each tour was private, with only us and a guide, in order for us to have the flexibility to see what we wanted. The importance of flexibility and comfort was a resounding theme throughout our stay. We had planned a cooking class at another riad where some friends were staying for the following day, and the receptionist insisted it would be best to have our souk tour afterwards. She arranged for the guide to pick us up at the other riad so we could spend the rest of the day exploring the medina for the first time in good hands, being shown all the 'best places'. After figuring out the details of times and days the receptionist gave us a tour of the riad. We walked through the courtyards and up the stairs to the expansive roof with a dozen sunning chaises and seating shaded by white draped canopies. Then we were led back down to the ground floor and shown our beautiful room. Before leaving us, the receptionist told us that meals were not in any designated room. We were too call her at the front desk at least three hours before and she could arrange dinner or lunch anywhere we wanted, either the rooftop, one of the lounges, or our room. There was also no set menu. We were given suggestions but they would make whatever we wanted. Breakfast required only five minutes' notice and they were again happy to bring that to whichever venue pleased us. The elaborate welcome, the atmosphere, and the generous and available staff, were all factors in the sense of 'at-homeness' experienced immediately in the riad.
In "Hospitality: A Social Lens", O'Gorman explores the origins of hospitality, focusing mainly on Greek and Roman civilizations. O'Gorman found that hospitality began at home, and as the cities and nation-states grew so did the reaches of the expanding industry (O'Gorman: 2007: 17). Travelers today often find themselves much farther from home than the mere distance between cities. I for example, an American in Marrakech, was researching a continent away from my home. In order to find a loose central meaning from which to reference, I would like to take a moment to specify the meaning of 'home'. Despite the numerous definitions assigned to the word 'home', the underlying sentiment is a sense of belonging, whether it is found in a place or people. Successful hospitality attempts to create an atmosphere in which the guests feel comfortable and at ease, essentially manufacturing the 'at-homeness' feel. Our riad was especially skilled at integrating us into our environment, the day trips and tours as well as the personal touch of the dining service worked to promote this sense of belonging.
Early in the exploration of the study, Smith (1977) defined the anthropology of tourism in terms of 'hosts' and 'guests'. More recently, however, O'Gorman has described hospitality as "friendships and alliances between persons, between communities, and between nations." This idea stresses the reciprocal duties of hospitality. Brotherton similarly suggests that hospitality reflects a "contemporaneous human exchange, which is voluntarily entered into, and designed to enhance the mutual well-being of the parties" (Brotherton: 1999: 165). To further illustrate the idea of hospitality as an exchange over a merely 'host' and 'guest' relationship, O'Gorman identifies five dimensions central to hospitality. The dimensions include: Honorable Tradition, Fundamental to Human Existence, Stratified, Diversified, and Central to Human Endeavor. Honorable Tradition implies that the terms 'host', 'guest', and 'stranger' are essentially coterminous without any important distinction. This dimension also suggests that alliances are built on continued mutual hospitality, and by providing accommodation and/or food for someone, the provider is paying homage to the gods. Fundamental to human existence describes the idea that after the original relationships are formed, eventually the alliance expands to include descendants and then friends of the initial parties involved. This ultimately establishes trust and loyalty. Stratified speaks to the increasingly codified provisions of the hospitality industry. Places of hospitality are often required to meet certain criteria legally or based on the norms of society, and within the management are roles with defined responsibilities. Diversified reflects on the idea that as the guests have become wealthier they have also become more equipped to afford a larger range of needs. Accommodation now seeks to satisfy as many of those needs as possible, and the product of that drive is a wide spectrum of ranging budgeted choices. Finally, Central to Human Endeavor describes the need for mutual exchange of not only goods and services but protection and alliances which are the result of hospitality. These elements civilize societies (O'Gorman: 2007: 28-30).
The notion of belonging, although manifested in different ways, is the common theme represented in O' Gorman's dimensions. Despite the role of 'host' 'guest' or 'management', each party is rightfully included in the alliance of hospitality. Being a part of the alliance involves the inevitable benefit but also the inevitable debt. This process of exchange is described by Graeber in "On the Moral Grounds of Economic Relations: A Maussian Approach." Graeber argues in favor of Mauss' idea that "gifts operate out of transactional logic." Any complex society that involves some sort of currency is open to every social possibility. Therefore, any complex society is capable of all possible models of exchange, but it is the dominant type of transaction that depends on the overriding cultural values and norms. Graeber describes three types of 'fundamentally different moral logics underlying the 'gift.'' First is "communism", which operates according to a balance of needs and abilities. The second is "exchange", which is based on a back and forth process ultimately working for equivalence. The third is "hierarchy", which describes the natural relations between superiority and inferiority (Graeber: 2010). For this essay, and in regards to Morocco, we are concerned with the second logic; "exchange". Exchange is essentially a game based on future expectations. Both sides of the exchange keep count and either party can end the transaction. The transaction is not required, instead it is dependent on a socially expected response. Economists insist that parties work to get the most out of each deal; however anthropologists hold a different view. They believe that when dealing with the exchange of gifts, the transfer of objects reflects the organization of a relationship and the ability of both parties to participate. In concordance with the anthropological perspective, showing off and contests of generosity are the more likely reaction to gift giving (Graeber: 2010: 8-9). It is rare that any society practices only one of these three fundamental types of logics, as Graeber says it is "hard to imagine a society where people were not communists with their closest friends and feudal lords when dealing with small children" (Graeber: 2010: 13). However, for my purposes, I will be looking at Moroccan's and their relationships to visitors in the riads in terms of the dominating logic of Exchange.
As stated earlier in O'Gorman's dimensions, the idea of an alliance is central to hospitality. Successful hospitality results in a deeper relationship than simply that of the 'host' and the 'guest'. There are future expectations for the visitor to return, or to recommend the establishment, and more abstractly the implication of role reversal. Role reversal does not necessarily mean the individual 'guest' becomes the 'host', but rather it speaks to the forged relationship between nationalities and the expected reciprocal treatment in the foreigners country. In Marrakech, the role of the riad is an elaborate mechanism underlying the foundation of these relationships and alliances between visitor and local. Riad's within the Medina are the ideal location for tourists looking for ease of access to the excitement of the city center. They are also the tourist's best contact and source of information, which gives the riads the power to direct their guests to whichever establishments they choose. Guidebooks and word of mouth can be influential, but the members of the riad are locals with personal recommendations and most importantly they are trusted by the visitor. At least some basic and fundamental trust is implicit in the act of accepting accommodation and food. Another aspect basic to this relationship is often language. In my case, English being my only language, I relied heavily on the instructions and advice of the staff of my riad who thankfully also spoke English. Outside the riad however, many of the people I met either spoke no English, or only fledgling English that consisted mainly of phrases like "No, no what's your final price?"
The cooking class we took was an example of the riad's influence and its ability to extend relationships between tourists and other locals. After arriving at our friend's riad and deciding what meal we wanted to learn to cook, we were taken to a street lined with vendors selling vegetables, meat, fruit, bread, spices and anything else possibly needed to cook a Moroccan dish. The woman who was taking us shopping and would later translate our lesson, took us to all her preferred vendors. When asked why she chose each vendor specifically, whether it was based on price or quality, she said it was because she trusted these vendors and she knew them personally. We were introduced and later returned to buy food at the same vendors, because by this association we trusted them too. The tours included in our room rate are also an ideal example of the riads using this position of power to extend visitor relations with locals. In our tour of the souks, we had a western dressed guide who wore familiar brand names such as Ray Ban and Ralph Lauren. He picked us up from our cooking lesson and expertly navigated us through the narrow, crowded, and maze-like streets characteristic of the souks. Each section of the souks houses different goods such as textiles and spices. We passed vendors upon vendors each carrying identical looking products all the while our guide spouted out facts about the city. At each section he would stop to encourage us to look at a vendor of his recommendation. At these stops our guide would sit in the back happily laughing and talking with the sellers as we scoped out the inventory. Although this vendor would always look the same as the other hundreds surrounding, we would peruse for a period and often end up purchasing something, trusting the quality and the sellers based on our guide and indirectly our riad's trust of the seller. The tour of the Atlas Mountains and the Berber village ran in the same fashion. This time our guide was locally dressed. He took us to trusted restaurants that our 'American stomachs' could handle, and the 'best quality' berber carpet sellers. All the while he sat and talked with his friends. In the car and hiking up the mountain our guide would tell us about Moroccan life and the king. He described the people of Morocco as happy people. He made an explicit comparison to Algeria saying that despite their wealth of natural resources they are a poor country, in his opinion, because their people are unhappy. Our guide attributed this unhappiness to the government and their lack of presence in the peoples lives. "In Morocco", our guide would say fondly, "our King is very active". He described a promise made by the government that gives money to subsidize renovations in order to improve the standard of living. The money poured into these residences and schools are long term investments in the people for future generations. In return, the people are expected to work and do their part to increase conditions of the country. This notion of camaraderie so deeply ingrained in the structure of the country and the culture is contagious to visitors. That is not to say that visitors feel indebted to all Moroccan's, it is within their alliance with the riad and the extensions of the riad that this feeling emerges. As an equal party in the alliance, visitors are persuaded to follow the rules of exchange. On the 'free' tours although we were not required to make purchases, there was a pull to do so when we were in the place of friends of the guide. At the riad itself, although we could go out to eat and drink we were often inclined to stay in, not only to be in a place we felt 'at-home', but also because we wanted to express our thanks for such great accommodation by spending our money there rather than somewhere else.
In a final effort to illustrate this idea, I will employ the role of the Melanesian Big Man in a comparison. One important element of the Big Man status is that he is not directly political, yet has sway and influence amassed by his connections and loyal following of 'lesser men'. This group of 'lesser men' as well as wives and other extensions makes up his faction, and as Sahlin says, the making of the faction is the true making of the Melanesian Big-Man. Establishing this basis of loyalty and obligation is vital not only for creating renown, but also for weaving an intricate web of relationships ready for the Big-Man to "capitalize by finessing the relation of reciprocity appropriate" (Sahlin: 1963: 291). In this sense, the role of the Melanesian Big Man is similar to the power behind the riad. The riad is at the center of these webs and the core of the alliance because it gains the trust of the visitors so key to the economy of Marrakech. As with the Melanesian Big Man, the riad is an indispensable force working towards supra-local organization. But more than that, the riad extends this alliance to include visitors, simultaneously fueling the economy and promoting foreign relations. Because of their cunning and economic calculation, Moroccan's acknowledge foreigners as important members of their alliances. Despite the doubtless self interest involved, an underlying truth is still the idea of equality in the alliance and the notion that each party is capable of participation in the transaction. The ideas of belonging and manufactured 'at-homeness' in the hospitality industry are all connected by the social mechanism of exchange which bonds the alliance and extends the relationship outside of the riad. By engaging visitors in all aspects of life in Marrakech, the riad's are a force of social integration.
References
Brotherton, B. Towards a definitive view of the nature of hospitality and hospitality management. International Journal of Contemporary Hospitality Management, 11(4), 165–173. 1999
Graeber, D. On the Moral Ground of Economic Relations: A Maussian Approach. Special issue of La Revue du Mauss. K. Hart (ed.), 2010.
Locum Destination Consulting. Eastern Promise: Cultural Tourism Opportunities in Morocco. London: Colliers International UK.
O'Gorman, Kevin D. Dimensions of Hospitality: Exploring Ancient and Classical Origins. Hospitality: a Social Lens. Compiled by: Conrad Lashley, Paul Lynch, and Alison J. Morrison. Amsterdam: Elsevier, 2007.
Sahlins, M. Poor Man, Rich Man, Big Man, Chief. Comparative Studies in Society and History, 1963.