BRIDGETOWN, Barbados (14 Jan. 2014) – The Caribbean Tourism Organization (CTO) and TravelMole are looking for destinations in the region that are demonstrating that sustainable tourism products and services are viable and exciting travel options for visitors to the region in their annual Sustainable Tourism Awards.
Individuals, groups, organizations and companies in any of the CTO's member countries are invited to submit entries for a number of award categories including the Caribbean Excellence in Sustainable Tourism Award; Destination Stewardship Award; Sustainable Accommodation Award; Community Benefit Award; Heritage Protection Award; and the Biodiversity Conservation Award.
Qualifying entrants will have developed unique and attractive tourism products or are implementing initiatives that embrace sustainable tourism concepts and core values. Entry criteria are aimed at identifying and showcasing sustainable tourism best practices among CTO members that improve long-term competitiveness of tourism businesses and destinations while preserving the inherit quality and authenticity of the product or services. All entries must be submitted via www.onecaribbean.org.

"Winners will demonstrate comprehensive efforts to reduce their carbon footprint, increase use of renewable energy, preserve the natural environment and create exciting, value-added experiences that are also sustainable." said Gail Henry, CTO's sustainable tourism product specialist. "We want our awards to be recognized as a standard bearer that will signal to visitors that the winning entity has reached a level of excellence in its sustainable tourism practices."
TravelMole's publisher and editor-in-chief, Graham McKenzie, encouraged Caribbean destinations to embrace sustainable tourism as the way forward.
"The CTO/TravelMole Sustainable tourism awards have now established themselves as the leading programme of its kind in the region. Genuinely assessed and judged, the awards stand out as a beacon of recognition for sustainability. In a region such as the Caribbean where tourism is such a high revenue earner and employer, it's imperative that the unique attributes that make the region so attractive are preserved and developed sympathetically with the environment". McKenzie said.
The deadline for the entries in the CTO-TravelMole Sustainable Tourism Awards is Friday 31 January, 2014.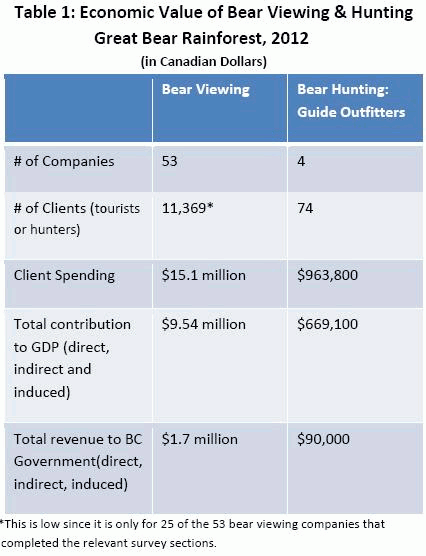 Value of Bear Viewing in BC, CanadaWASHINGTON, DC— 8 January 2014: A new study released today finds that bear viewing ecotourism in British Columbia's Great Bear Rainforest "generates far more value to the economy" in terms of revenue, taxes, and jobs than the older and more well-established trophy hunting of grizzly and black bears.  The study by the Center for Responsible Travel (CREST), Economic Impact of Bear Viewing and Bear Hunting in the Great Bear Rainforest of British Columbia, determined that in 2012, bear viewing in the Great Bear Rainforest, which has been growing rapidly over the last decade, generated 12 times more in visitor spending than bear hunting and over 11 times in direct revenue for BC's provincial government. The study further found that bear-viewing companies directly employed an estimated 510 persons in 2012, while guide hunting outfitters generated only 11 jobs that same year.
The CREST study, the first to compare the economic value of these two sectors of wildlife recreation in the Great Bear Rainforest (GBR), comes in the midst of public controversy over trophy bear hunting.  In 2012, the Coastal First Nations, representing some 20,000 First Nations people who are seeking greater control over the GBR, announced a ban on trophy hunting of bears throughout the region. They argued that, among other reasons, trophy hunting is threatening the growing ecotourism industry centered on bear viewing.  The BC government, contending that the province has the sole authority to regulate hunting, has continued to authorize hunting of black and grizzly bears in the GBR.
"Given the sensitivity of the debate and the range of statistics being cited for the value of hunting and viewing, CREST decided to undertake an impartial, academically rigorous analysis to try to nail down the numbers," says CREST Co-Director Dr. Martha Honey who led the project.  The study was conducted by CREST researchers at Stanford University and in Washington, DC, together with two BC-based experts.  "Our findings clearly show that bear viewing is today of far greater economic value than bear hunting in the Great Bear Rainforest and that bear viewing is a growing, while bear hunting is declining."
Other Key Findings Include:

1. The study identified 53 bear-viewing companies and only four guide outfitter hunting companies operating in the Great Bear Rainforest study area in 2012. The companies involved in bear-viewing said they expect their businesses to grow over the next decade, while most of the hunting outfitters have experienced a decline in business and several are seeking to sell their businesses.  
2. Bear viewing is a key factor bringing international tourists to the GBR from Europe, Asia, and the United States. While the total number of tourists coming to the GBR for bear viewing could not be fully determined, 25 of the 53 companies surveyed reported hosting 11,369 visitors in 2012. That same year, there were 74 hunters from outside BC, 80% of whom are from the United States. Therefore non-resident bear hunting is more dependent on a single market—the U.S.--than is bear viewing, and the number of U.S. hunters coming to BC dropped 20% during the recent economic crisis.
3. The results of a new BC government-commissioned study, Expenditure of British Columbia Resident Hunters "appear inflated in a number of areas" and its estimate that resident hunting generated $230 million in BC in 2012 "may have overinflated the number of hunter days and spending per day." (This study does not provide separate estimates for the GBR) Given these uncertainties, "it is not really possible to say how accurate the [government's] 2013 study is."
4. Whatever the actual amount, resident hunting in BC and the GBR "represents a circulation of already existing money rather than new money entering the province." According to statistician Jim Johnson of Pacific Analytics who is a lead author of the CREST study, "resident hunting therefore should not be viewed as providing any substantive net economic benefit to the BC economy." In contrast, non-resident hunting does bring new revenue into the province.
5. The BC government's administrative apparatus overseeing bear hunting "is complex, cumbersome, and costly." Government technicians said "they had no information on the cost of managing bear hunting" and they were "unable to answer the basic question [posed by the CREST study]: How many bears are hunted and killed each year within the Great Bear Rainforest?"
The CREST study was carried out according to Stanford University's research protocols and used the same National Accounting criteria that Statistics Canada uses to determine the economic importance of all industry sectors. The research included surveys of bear viewing companies, visitors, and guide outfitters; in-depth interviews with government officials, businesses, Coastal First Nation leaders, hunting and wildlife viewing associations and organizations involved in the GBR; and an extensive literature review. In addition, CREST entered into a research agreement with BC's Ministry of Forests, Lands, and Natural Resource Operations to obtain documents, statistics, maps, and other materials related to bear hunting.
The study, Economic Impact of Bear Viewing and Bear Hunting in the Great Bear Rainforest of British Columbia, can be downloaded at www.responsibletravel.org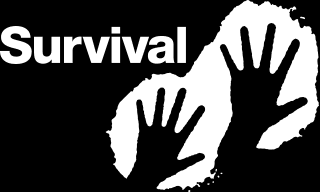 Survival International18 December 2013 - Survival International Press Release
The Ayoreo are outraged at new revelations that Paraguay has granted a license to bulldoze the last refuge of their uncontacted relatives. Paraguay has caused outrage by quietly granting cattle ranchers a license to bulldoze a UNESCO Biosphere Reserve which is also the last refuge of uncontacted Ayoreo Indians.
Paraguay's Environment Ministry (SEAM) has violated national and international law by issuing an environmental license to ranching company Yaguarete Pora S.A. which puts the lives of the uncontacted Indians in extreme danger. Contacted members of the tribe have been working tirelessly to gain legal title to the land inhabited by their uncontacted relatives. Many Ayoreo who were in the past forcibly brought out of the forest now suffer from respiratory diseases such as tuberculosis, and many have died as a result. The Ayoreo expressed their outrage at the revelations and said, 'Our relatives came out of the forest in 2004 because they were under pressure from the ranchers, because they had no peace. If the bulldozers start to make a lot of noise, our uncontacted relatives will be forced to hide where there isn't any food and they will suffer. We want to continue using the forest, and for the ranchers to stop harassing our relatives who remain there.'
Satellite images reveal that Brazilian beef company Yaguarete – owned by Sr. Marcelo Bastos Ferraz – has already started destroying vast stretches of forest inhabited by the uncontacted Ayoreo. The rancher's beef is destined for the European market – prompting Survival International to write to the European Commission over Yaguarete's activities. Ironically, Yaguarete is part of the UN Global Compact, an initiative set up to encourage companies to abide by principles that 'support and respect the protection of internationally proclaimed human rights'.

Survival's Director Stephen Corry said today, 'Government officials risk sacrificing Ayoreo lives in their greedy scrabble for foreign profits. Cattle ranching is steadily destroying the last refuge of Paraguay's only uncontacted tribespeople. Sooner or later, beef produced illegally on the tribe's land will be on supermarket shelves in the EU.'
For more details visit http://www.survivalinternational.org/news/9839
London (26 September 2013) - UNITE Press Release:
Protests against two top London hotels, which refuse to pay some of their staff the London 'living wage' of £8.55 an hour, will be staged tomorrow (Friday 27 September).
Unite, the country's largest union, will be mobilising members in its hospitality branch to demonstrate outside the Radisson Edwardian May Fair, Stratton Street, W1J 8LT from 16.30 to 17.00 and the Holiday Inn Mayfair, 3 Berkeley St, W1J 8NE from 17.00 to 17.30.
Unite will be using tomorrow's United Nations designated World Tourism Day to highlight the plight of the low pay of hotel staff, many of them women and from ethnic minorities, while the number of tourists visiting the capital soars.
Unite said that there are currently no employers within London's hospitality sector which independently endorse and pay their employees the London 'living wage' rate of £8.55 an hour. Many of its members are forced to live on little more than the national minimum wage of £6.19, set to rise by 12p on 1 October.
Unite regional officer Dave Turnbull said: "Our protests tomorrow are focused on two hotels where we believe things should be different.
"The Radisson Edwardian May Fair hotel operates a franchise agreement with Carlson which owns the Radisson brand and the Holiday Inn Mayfair is owned by Intercontinental Hotels (IHG). Neither of these hotels pays its lowest paid workers the London 'living wage'.
"However, both Carlson and IGH are signatories to the United Nations global compact. Employers, who are signatories to this compact, have given an international commitment to standards of decency, including the elimination of discrimination in respect of employment and occupation.
"We call on these two hotels, and all London hotels, to pay the 'living wage', so that some of the lowest paid workers in one of the world's most expensive cities share in the current tourism boom that the capital is enjoying."
In the first quarter of 2013 the tourism sector in London saw 3.4 million overseas visitors, a 4.2 per cent increase on the same period last year. This generated expenditure of £2.1 billion, up 11.5 per cent from already huge expenditure recorded last year during the Olympics and other key events.
In the summer, Unite presented its submission 'Hopelessly Addicted to Low Pay' to the Greater London Authority (GLA), demanding that the hospitality and hotel industries pay the London 'living wage' of £8.55 an hour.

For more details visit www.unitetheunion.org
London (24 September 2013) - ITF Press Release:
The ITF (International Transport Workers' Federation) will push ICAO (the International Civil Aviation Organization) in Canada today for action on flagrant abuses of aviation workers' labour rights by airlines based in Qatar and the UAE.
The ITF will be at ICAO's 38th General Assembly, taking place in Montreal from 24 September - 4 October, where it is proposing that ICAO and the ILO (International Labour Organization) must work together to address the problem. The ITF is already campaigning along with the ITUC (International Trade Union Confederation) for abuses to be remedied.
The ITF states that Emirates, Qatar Airways and Etihad Airways are among the fastest growing airlines in the world. They employ more than 70,000 pilots, cabin crew and ground staff between them. More than 90 percent of their employees are non-UAE/Qatari nationals – all of whom have to rely on obtaining temporary work visas under a sponsorship programme. Although these foreign workers are vital to the success of the airlines, they do not enjoy the basic labour rights (including freedom of association and the right to collective bargaining) which apply in their home countries and in virtually all the nations whose airlines compete with Emirates, Etihad and Qatar Airways.
According to the ITF the case of Qatar Airways is the worst. For example, a standard hiring contract for thousands of the airline's female workers reads: You are required to obtain prior permission from the company, in case you wish to change your marital status and get married. And: The employee shall notify the employer in case of pregnancy from the date of her knowledge of its occurrence. The employer shall have the right to terminate the contract of employment from the date of notification of the pregnancy. Failure of employee to notify the employer or the concealment of the occurrence shall be considered a breach of contract.
ITF president Paddy Crumlin commented: "Earlier this year the ITF and ITUC spearheaded the successful resistance to Qatar's bid to have ICAO moved to Doha*. The same democratic deficit that torpedoed that ridiculous bid is still in place in these airlines. At the time Qatar Airways' CEO even went on record as saying: 'If you did not have unions you wouldn't have this jobless problem in the Western world'. The fact is that these companies are making a fortune from the efforts of hardworking staff who, undefended, can be discharged and deported on a whim."
ITUC general secretary Sharan Burrow added: "Nations and companies cannot continue to turn a blind eye to abuses of workers in Qatar. International pressure is growing, from the ILO to the UN Special rapporteur on migrant rights the spotlight is on companies in Qatar to take responsibility for workers' rights and follow global rules."
This proposal is one of seven working papers the ITF will present during the ICAO assembly. Among the other papers to be presented are the need for the removal of national obstacles to the collection of safety-related information by airline staff; air pollution at airports; and cabin air quality and its impact on cabin crew.

For more information visit: www.itfglobal.org