Washington DC, 19 November 2014: Twenty years ago, Christopher Walker, Gordon Durnin and Tony Avirgan were the first film-makers to tell the story of the fight against Big Oil in the Amazon basin of Ecuador. Their reporting was featured on ABC News, ABC Nightline, NBC Dateline, BBC and CBC, keeping the story in the headlines while their documentary "Trinkets and Beads" was distributed internationally. It was also short-listed for an Academy Award Nomination being named an "outstanding documentary" by the Academy of Motion Pictures Arts & Sciences. Filmed over 3 years, it covered the fight by the Huaorani people to remove the oil companies from their lands and preserve the Yasuni National Park – one of the most biologically diverse regions of the world - and was instrumental in gaining support for the subsequent moratorium on oil drilling in the Yasuni National Park. (Web link: http://icarusfilms.com/cat97/t-z/trinkets.html)
Now Big Oil is back. In 2013 Ecuador's President Correa announced an end to the moratorium on oil drilling in the Yasuni Park, opening it - and Huaorani lands - to oil drilling once again. The stage is set for an oil invasion by companies from the United States, China, Brazil and Argentina in conjunction with the local state oil company. Illegal loggers have already started moving, using oil company roads while oil production is planned to commence in 2016. Most of the oil is destined for the U.S. (previous oil reserves discovered on Huaorani land were estimated to be worth $1.5 billion - enough to keep cars rolling in the U.S. for 13 days).
The "Trinkets and Beads" team have now been invited by local leader Moi Enomenga and the Huaorani community to document their continued struggle to protect their lands and their way of life. A new film can play a major role in publicizing the impacts of oil drilling on the peoples and ecosystems of the Amazon, and the local and international struggle to stop it.
With their expertise in producing documentary films on cutting-edge environmental and social issues over the past 30 years the team are confident of success. Tony, Chris, and Gordon are planning to make a sequel to "Trinkets and Beads" and have launched a Kickstarter campaign to raise the money to get started.
See here for more details:
http://www.kickstarter.com/projects/trinketsandbeads/trinkets-and-beads-the-sequel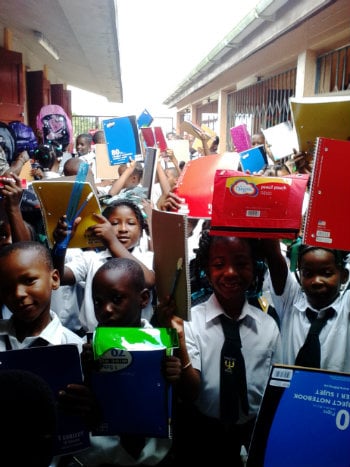 Grand Fond Primary School PupilsRosalie, Dominica - November 11, 2014: A new tourist-powered charity event has taken place at the Grand Fond Primary School. Initiated by the owner of of 3 Rivers & Rosalie Forest Ecolodge Mr. Jem Winston and in partnership with Mrs. Angela Bailey of PackForAPurpose.org and Mr. Sheppee of Sheppee Tours, a group of fifty passengers self-named the "Splendidors" disembarked from a cruise ship on the 5th of November bearing bags and bundles of useful items and gifts for the Grand Fond Primary school and its pupils. The charity event is based on the concept that travellers can fill up any unused baggage allowance with items useful to the local community at their tourism destination.
Mrs. Hatty Leslie the school principal and Mr Jem Winston greeted the generous visitors carrying over 200 lbs of goods.  In addition, the principal created an ingenious rewards programme: each donated item is given a point value while the pupils earn points through work and behaviour and can then choose their gifts according to the number of points they have accumulated. Mrs Leslie believes that this teaches the children how to budget and give value to goods, even gifts.
3 Rivers & Rosalie Forest Eco Lodge encourage all visitors to Dominica to follow this splendid example and help nurture and educate the children of the Nature Isle.
For more details visit http://www.3riversdominica.com
A group of individual tourism activists and representatives of civil society groups from six continents, gathered in Istanbul from 28 to 30 August 2014 to discuss human rights, social justice and sustainability concerns in tourism. The outcome of the meeting was the foundation of the Tourism Advocacy and Action Forum (TAAF) as a first step to rebuild an international network and forum for courageous dialogue on tourism impacts and to develop a proactive global tourism advocacy and action platform.
The meeting was attended by Dr. Freya Higgins-Desbiolles (tourism scholar, Australia), Rami Kassis (Alternative Tourism Group, Palestine), Taisser Maray, (Golan for Development of the Arab Villages, Golan Heights), Navaya ole Ndaskoi (Pastoralists Indigenous Non-Governmental Organisations Forum, Tanzania), Pierrette Nicolosi (Altervoyages, Belgium) and Anita Pleumarom (tourism investigation & monitoring team, Thailand) Rodrigo Ruiz Rubio (Programa Vichama, Peru) and Ranjan Solomon (Alternatives-Badayl-Centre for Responsible Tourism Goa, India).
TAAF also issued its first statement which you may find below:
" TOURISM ADVOCACY AND ACTION FORUM - ISTANBUL STATEMENT - August 30, 2014
RATIONALE
We have gathered in Istanbul because of our shared recognition of the urgent need to rebuild an international network and forum for courageous dialogue on global tourism impacts. We are gravely concerned about today's converging global crises, which are manifesting with particular and increasing intensity through tourism, and include both the biosphere crisis and the numerous intensifying social crises that accompany it. These multiple crises profoundly affect humanity, especially today's children and future generations worldwide, and merit our immediate collective action. We therefore strive for a proactive global tourism advocacy and action platform.
We call attention to the accelerating inequities and injustices characterizing both the global tourism industry and its industrial models for development. This is a historical moment for all actors in the global tourism arena to rethink tourism and recognize that tourism is not a right but a privilege, and increasingly a controversial privilege. Accordingly, we wish to inspire a growing community of care, equipped to engage in advocacy and action for a fundamental shift in tourism policy and practice. From here forward, our endeavour must include naming and confronting the social, economical and political realities, underlying the exploitative relationships characterizing the global tourism industry.
Tourism is a political force which may benefit or harm. Considering the serious and accelerating challenges of tourism such as climate change, destruction of biodiversity, and culture loss - which carry immediate local and global threats for all humanity - we highlight the need to look at the structural underpinnings of these widespread yet often unevenly distributed injustices. We stress the need to support the well-being of vulnerable and oppressed populations affected by tourism, including Indigenous Peoples and other socially marginalized populations, notably women and children.
We also note the need to support those affected by inequities within travel freedoms - such as pastoralists, refugees, and migrant workers. Among these social groups, many are displaced from their ancestral lands, sacred sites, and other places of cultural heritage and dispossessed of basic life necessities (for example, water, shelter, and food). An alarming number of these peoples, communities and individuals are forced by the tourism industry to work in slavery or slave-like conditions. Given these trends, we must dismantle the institutional barriers that prevent the physical and social mobility, continuity in cultural practices, as well as dignified and secure livelihoods which are vital to their well-being. It is our responsibility to work together for harm avoidance.
In recognizing these patterns that must be confronted and changed, we call for the honouring of local peoples whose daily lives are immediately impacted by tourism. Solidarity and concerted action are necessary to lay foundations for ethical pathways for the radical transformation of tourism policy and practice.
VALUES
Recognizing the profound costs of tourism, it is vital to define the values and principles by which we will shift the dominant discourse on tourism.
Our initiative has a distinct vision, shaped by values arising from the realities, experiences, needs, aspirations, and rights of peoples and people's struggles in and/or from developing countries, as well as others experiencing oppression and disparity as a result of tourism.
First, we clarify the values of our initiative which will define our organizing. As a group, we are reflecting on our path of advocacy, both what we have accomplished as global networks, as well as the limitations of our work - especially, in working with and serving the local peoples affected by tourism. We affirm our commitment to being the change that we want to see in the world. Within our network, we strive for collaboration - through a mutually supportive, non-competitive ethic - dedicated to transparent and accountable ways of interacting. We emphasize inclusiveness, based on our common values, principles, and visions. That said, we point out that our work is characterized by independence from corporate interests. We seek respectful engagement with those holding differing viewpoints; however, we shall confront the actors which undermine the values of shared humanity, starting within our own networks of tourism NGOs.
We are determined to promote a holistic approach to tourism. This requires a radical review of the mainstream discourse on tourism. Decolonization of the global tourism debate is necessary. This entails striving for equity and justice within all discourses and processes on tourism. Foremost, we want to open new spaces for peoples vulnerable to tourism to articulate their experiences and needs in their own voices, languages, and customary ways. Our priority is to amplify the voices of affected people(s), especially children and women.
PRINCIPLES
We are calling for a comprehensive decolonization of tourism and all tourism related processes, including institutional frameworks and dialogues on policy and practice. We are guided by the principles of self-determination and care for our fellow humanity. Tourism narratives must put disadvantaged peoples and communities, including today's generation of children, at the centre. It is crucial to discern local forms of tourism which are a political force for good from globalized tourism models that ultimately hurt people(s) and place(s).
We have a shared responsibility to evaluate tourism alternatives across multiple scales, with both an ethic of justice and an ethic of care - understanding the present global challenges through local struggles. Therefore, we emphasize the need to critically reexamine the political and economic structural barriers to genuine sustainable tourism, within both local and global frameworks for governance (for example, in the institutions and processes responsible for policy development).
Our work must assure non-exploitative relationships in tourism. This includes fighting the destructive forces of capitalism, racism, and other forms of discrimination and oppression. This is the basis for our solidarity. It entails caring for both the biosphere that we share and all peoples and living beings residing within it.
We commit to principles for action grounded in social justice, including support for peoples' and communities' rights to say no to tourism. We especially note the historic significance of inter-generational rights today, in light of the biosphere crisis, current rates of culture loss, and the erosion of Indigenous knowledge systems globally.
The misguided development models of the global tourism industry must be corrected. One vital component of this is the degrowth of tourism. Further accumulation of tourism debt (that is, social, cultural, and environmental damage) is not an option. Humanity sits at a juncture where we must reject practices that are inherently unsustainable.
We urge a precautionary approach, grounded in wisdom.
ACTION
Our action is oriented to a profound transformation of the tourism system, to support the emergence of a society which honours justice, equity, diversities, inter-dependence and peace. Central premises for our action include:
· Advocacy highlighting and supporting local struggles, grounded in proactive action research respecting customary law and cultural protocols;
· Making people's voices visible in national and international arenas;
· Linking people(s) so that they can mobilize together to safeguard their rights;
· Acting as 'whistle blowers' to illuminate violations of the rights of people(s), including rights to a healthy biosphere;
· Opposing the cooption of the terminology of social justice, human rights and sustainability - particularly by institutions and agencies whose own mandates undermine these core principles;
· Exposing the UNWTO as an industry-serving body which is inherently unable to develop or oversee a vision of sustainable tourism;
· Symbolic acts and protests to express our concerns and visions.
We stand together, for deeply transformative practice across the tourism sector - premised on mutual care. "
For more information:
Contact the TAAF Secretariat, c/o Equations, at info(at)equitabletourism.org and/or tim-team at timteam02(at)yahoo.com. 
Washington, DC - WASHINGTON, DC— A new meta-analysis by the Center for Responsible Travel (CREST) finds "increasing recognition among both travel professionals and consumers of the importance of responsible travel" and concludes that "green travel is here to stay." CREST's new 2014 report, The Case for Responsible Travel: Trends and Statistics, updates the first edition which was published in January 2013.
The report examines a wide range of surveys and studies done in the past five years to assess consumer and industry commitment to responsible travel, that is, "travel that minimizes negative impacts, brings economic benefits to host communities, and preserves the cultural and natural resources of the destinations." For instance, TripAdvisor surveys find that 79% of travelers globally "think that it's important accommodation providers have eco-friendly practices" and 85% of U.S. hoteliers say they have green practices in place.
"CREST is once again encouraged to find demand for and commitment to socially and environmentally responsible travel remains strong," says CREST Co-Director, Dr. Martha Honey.
CREST's findings coincide with continued growth of international tourism. Over the last year, both international tourist arrivals and tourism receipts grew, with the United States ranking #1 in tourism receipts and #2 in international arrivals, after France. According to the CREST analysis, tourism industry growth is being matched by growing interest in responsible travel among both leisure and business travelers, as well as travel businesses and tourism destinations.
Dr. Dirk Glaesser, Acting Director of the UN's World Tourism Organization (UNWTO) Sustainable Development of Tourism Programme, agrees: "With more than 1 billion people travelling the world each year, the case and demand for responsible tourism is bigger than ever, as both tourism stakeholders and tourists are becoming increasingly aware that the sector's future depends on the preservation of what is essentially tourism's own capital: pristine environments, cultural diversity and a thriving wildlife."
Dr. Glaesser adds that UNWTO welcomes the new CREST study and emphasizes the importance of a responsible tourism sector for sustainable development worldwide: "As UN research has clearly shown, sustainably managed tourism has great potential to boost socio-economic development and job creation while simultaneously being a force for conservation of the world's natural and cultural heritage."
In addition, Hugh Riley, Secretary General of the Caribbean Tourism Organization (CTO) noted, "More and more we're seeing evidence that 'being green' has a growing public appeal. Discerning travelers around the world are seeking out vacation destinations that pay serious attention to the preservation of the environment. Consequently," he continued, " I believe there will come a time when the term 'travel for green' will become so ingrained in the psyche of vacationers, that we in the Caribbean will be proud that we got onboard and paid attention to issues that affect the more responsible use of our resources."
The CREST study is prepared in collaboration with the World Tourism Organization (UNWTO), Caribbean Tourism Organization, and eight other leading tourism organizations and institutions:
Excerpts from "The Case for Responsible Travel: Trends and Statistics, 2014" - Click here for the full report
A 2013 TripAdvisor.com survey of 1,300 U.S. travelers shows that nearly two-thirds "often" or "always" consider the environment when choosing hotels, transportation and meals.

A 2013 Travel Guard survey of travel agents concluded "green travel is here to stay." The survey found "24% of those who responded noted that interest in green travel is currently the highest it's ever been in the last 10 years, and 51% reported that interest has remained constant throughout this time period."

67% of U.S. consumers are now "looking for 'greener' products," according to the 2012 study by MIT Sloan Management Review.

Environmental concern is "the biggest social trend for the rest of our careers." according to Daniel Levine, Executive Director of the Avant-Guide Institute, New York.

"Tourist choices are increasingly influenced by sustainability considerations," states the World Tourism Organization's (UNWTO) 2012 Tourism in the Green Economy Report. Ecotourism, nature, heritage, cultural and "soft adventure" tourism are predicted to grow rapidly over the next two decades and global spending on ecotourism is expected to increase at a higher rate than the tourism industry as a whole.

"Sustainability is not only the right thing to do, but it simply makes good business sense, and will remain central to how we manage our operations," states Constantinos Victoras, Area Operations Manager of the Atlantica Hotels & Resorts.

A 2013 Conference Board survey of over 120 multinational corporations in Europe and the US found that 73% identified "integrating sustainability into their corporate strategy as a top priority for their executive leadership team."

72% of meeting planners say they have 'green' policies in place for at least some of their meetings, and 19% say they have such policies for all meetings, according to a 2013 survey of Successful Meetings readers. In addition, 73% of planners say sustainable policies and procedures have some or a great deal of influence on the hotel they choose.

"The buildup of consumers' socio-environmental awareness of tourism development," states the UNWTO, "is leading to increased scrutiny on the part of the public in destination decision-making and a growing requirement for new tourism developments to be sustainable."

"Sustainable tourism is simply about good business practice – protecting the resources the industry depends on to ensure companies can continue selling holidays and destinations continue to thrive, long into the future," says Sue Hurdle, Special Advisor, The Travel Foundation.
London, UK - Tourism Concern have launched a new report on the impacts of All-inclusive Hotels on working conditions and labour rights in Kenya, Tenerife & Barbados. 
The research, which was supported by the International Union of Food, Agricultural, Hotel, Restaurant, Catering, Tobacco and Allied Workers' Associations (IUF) was undertaken in order to better understand more fully how the all-inclusive model of tourism impacts upon the rights of hotel workers. We undertook field work in three popular holiday destinations (Barbados, Kenya and Tenerife) in order to generate new evidence and understanding about how the all-inclusive holiday model impacts upon pay, working conditions and labour rights of hotel employees in the selected destinations, including comparison with those in other types of hotel.
The research found that:
Workers in all-inclusive hotels were more likely to be on short term contracts which offer fewer benefits and less job security.

Prolonged contact with guests is more likely in all-inclusives, which can be stressful.

Al-inclusive hotel staff also received significantly less in tips.

Staff in all types of hotel are faced with low wages and a range of unfavorable working conditions, from working hours which disrupt home life through to stress and exposure to risk.
Despite these problems, some progress has been made since Tourism Concern's published research in 2004: 'Labour standards, social responsibility and tourism'. This has come about in part as a consequence of collective bargaining, social dialogue and the enforcement of appropriate legislation, including the adoption of international labour standards. Barbados in particular demonstrated a model of social dialogue that appears to have had favourable results and is respected by many of the staff who we interviewed.
For more details visit http://www.tourismconcern.org.uk/index.php?page=news/333/61/All-Inclusive-Report-Launched.html