Washington, DC - WASHINGTON, DC— A new meta-analysis by the Center for Responsible Travel (CREST) finds "increasing recognition among both travel professionals and consumers of the importance of responsible travel" and concludes that "green travel is here to stay." CREST's new 2014 report, The Case for Responsible Travel: Trends and Statistics, updates the first edition which was published in January 2013.
The report examines a wide range of surveys and studies done in the past five years to assess consumer and industry commitment to responsible travel, that is, "travel that minimizes negative impacts, brings economic benefits to host communities, and preserves the cultural and natural resources of the destinations." For instance, TripAdvisor surveys find that 79% of travelers globally "think that it's important accommodation providers have eco-friendly practices" and 85% of U.S. hoteliers say they have green practices in place.
"CREST is once again encouraged to find demand for and commitment to socially and environmentally responsible travel remains strong," says CREST Co-Director, Dr. Martha Honey.
CREST's findings coincide with continued growth of international tourism. Over the last year, both international tourist arrivals and tourism receipts grew, with the United States ranking #1 in tourism receipts and #2 in international arrivals, after France. According to the CREST analysis, tourism industry growth is being matched by growing interest in responsible travel among both leisure and business travelers, as well as travel businesses and tourism destinations.
Dr. Dirk Glaesser, Acting Director of the UN's World Tourism Organization (UNWTO) Sustainable Development of Tourism Programme, agrees: "With more than 1 billion people travelling the world each year, the case and demand for responsible tourism is bigger than ever, as both tourism stakeholders and tourists are becoming increasingly aware that the sector's future depends on the preservation of what is essentially tourism's own capital: pristine environments, cultural diversity and a thriving wildlife."
Dr. Glaesser adds that UNWTO welcomes the new CREST study and emphasizes the importance of a responsible tourism sector for sustainable development worldwide: "As UN research has clearly shown, sustainably managed tourism has great potential to boost socio-economic development and job creation while simultaneously being a force for conservation of the world's natural and cultural heritage."
In addition, Hugh Riley, Secretary General of the Caribbean Tourism Organization (CTO) noted, "More and more we're seeing evidence that 'being green' has a growing public appeal. Discerning travelers around the world are seeking out vacation destinations that pay serious attention to the preservation of the environment. Consequently," he continued, " I believe there will come a time when the term 'travel for green' will become so ingrained in the psyche of vacationers, that we in the Caribbean will be proud that we got onboard and paid attention to issues that affect the more responsible use of our resources."
The CREST study is prepared in collaboration with the World Tourism Organization (UNWTO), Caribbean Tourism Organization, and eight other leading tourism organizations and institutions:
Excerpts from "The Case for Responsible Travel: Trends and Statistics, 2014" - Click here for the full report
A 2013 TripAdvisor.com survey of 1,300 U.S. travelers shows that nearly two-thirds "often" or "always" consider the environment when choosing hotels, transportation and meals.

A 2013 Travel Guard survey of travel agents concluded "green travel is here to stay." The survey found "24% of those who responded noted that interest in green travel is currently the highest it's ever been in the last 10 years, and 51% reported that interest has remained constant throughout this time period."

67% of U.S. consumers are now "looking for 'greener' products," according to the 2012 study by MIT Sloan Management Review.

Environmental concern is "the biggest social trend for the rest of our careers." according to Daniel Levine, Executive Director of the Avant-Guide Institute, New York.

"Tourist choices are increasingly influenced by sustainability considerations," states the World Tourism Organization's (UNWTO) 2012 Tourism in the Green Economy Report. Ecotourism, nature, heritage, cultural and "soft adventure" tourism are predicted to grow rapidly over the next two decades and global spending on ecotourism is expected to increase at a higher rate than the tourism industry as a whole.

"Sustainability is not only the right thing to do, but it simply makes good business sense, and will remain central to how we manage our operations," states Constantinos Victoras, Area Operations Manager of the Atlantica Hotels & Resorts.

A 2013 Conference Board survey of over 120 multinational corporations in Europe and the US found that 73% identified "integrating sustainability into their corporate strategy as a top priority for their executive leadership team."

72% of meeting planners say they have 'green' policies in place for at least some of their meetings, and 19% say they have such policies for all meetings, according to a 2013 survey of Successful Meetings readers. In addition, 73% of planners say sustainable policies and procedures have some or a great deal of influence on the hotel they choose.

"The buildup of consumers' socio-environmental awareness of tourism development," states the UNWTO, "is leading to increased scrutiny on the part of the public in destination decision-making and a growing requirement for new tourism developments to be sustainable."

"Sustainable tourism is simply about good business practice – protecting the resources the industry depends on to ensure companies can continue selling holidays and destinations continue to thrive, long into the future," says Sue Hurdle, Special Advisor, The Travel Foundation.
London, UK - Tourism Concern have launched a new report on the impacts of All-inclusive Hotels on working conditions and labour rights in Kenya, Tenerife & Barbados. 
The research, which was supported by the International Union of Food, Agricultural, Hotel, Restaurant, Catering, Tobacco and Allied Workers' Associations (IUF) was undertaken in order to better understand more fully how the all-inclusive model of tourism impacts upon the rights of hotel workers. We undertook field work in three popular holiday destinations (Barbados, Kenya and Tenerife) in order to generate new evidence and understanding about how the all-inclusive holiday model impacts upon pay, working conditions and labour rights of hotel employees in the selected destinations, including comparison with those in other types of hotel.
The research found that:
Workers in all-inclusive hotels were more likely to be on short term contracts which offer fewer benefits and less job security.

Prolonged contact with guests is more likely in all-inclusives, which can be stressful.

Al-inclusive hotel staff also received significantly less in tips.

Staff in all types of hotel are faced with low wages and a range of unfavorable working conditions, from working hours which disrupt home life through to stress and exposure to risk.
Despite these problems, some progress has been made since Tourism Concern's published research in 2004: 'Labour standards, social responsibility and tourism'. This has come about in part as a consequence of collective bargaining, social dialogue and the enforcement of appropriate legislation, including the adoption of international labour standards. Barbados in particular demonstrated a model of social dialogue that appears to have had favourable results and is respected by many of the staff who we interviewed.
For more details visit http://www.tourismconcern.org.uk/index.php?page=news/333/61/All-Inclusive-Report-Launched.html
Open letter to FAO on the occasion of March 21st 2014 – International Day of Forests:
Defining Forests by their true meaning!
To FAO General Director
José Graziano da Silva
We are a broad group of social movements, NGOs and activists, writing this urgent appeal for FAO to review its present definition of forests. FAO´s definition as it stands reduces a forest to any area covered by trees, discarding the structural, functional and biological diversity of non-tree elements that make up a forest, as well as the cultural importance of the interaction between forests and communities . This FAO definition mainly benefits the interests of the timber lobby and the industrial tree plantation companies for pulp/paper and rubber. The definition fails the at least 300 million women and men worldwide who, according to FAO, directly depend on forests for their livelihoods. These include indigenous and traditional peoples and populations, many of whom are peasants whose food sovereignty depends on practicing agriculture in the forest, complemented by their use of a rich diversity of non-timber forest products. They all not only guarantee their own food sovereignty, they make crucial contributions to feeding the world. Forests play a fundamental role in the lives of these women and men, including peasants, artisans, fisher folk and gatherers, and they must be among the main actors in a review process that FAO should initiate to ensure the organization's definition of forests reflects how forests are seen in the 21st century.
Forests have such an importance in the lives of millions of people, women and men, who worldwide depend on forests in a variety of ways, they often find it difficult to express in words how crucial forests are for them, even in their own language. Sometimes, forest peoples summarize this importance through calling the forest simply their "home"- not just a piece of land covered by trees but a territory where they feel protected and where they can find what they need to live well. These people are often indigenous peoples, including the last remaining about 100 groups of peoples living in isolation. They also include many other forest-dependent groups with a rich diversity of ways of living. Without exception, they show great respect towards the forest on which they depend and feel part of.
While the collection of non-timber forest products is an essential activity for many of the forest-dependent women and men, they are also peasants practicing agriculture with methods transmitted over many generations that have been refined in a way so as to maintain forest functions intact. This form of agriculture, together with fishing and hunting, as well as the collection of a range of non-timber products like honey, fruit, seeds, acorns, tubers, medicinal plants, herbs guarantees the food sovereignty and health of these populations. Peasants further contribute to the livelihoods of an even higher number of people, 1.6 billion according to FAO's own estimate. Also, timber is used by forest peoples mainly for local domestic needs and rarely as a main commercial activity. But if the latter is the case, the trade is mainly done in local markets. Forest-dependent communities are often well aware of the destructive potential of commercial timber extraction. It often results in huge profits for a few outsiders but leaves behind irreparable destruction and severely affects people´s livelihood.
But states and multilateral institutions like FAO and the World Bank still see forests as land where the commercial extraction of valuable timber by private, often foreign companies, is the best way for countries to get on the so called "development" track and take people out of "poverty". This timber-centric perspective is at the root of the present FAO definition of forests: "Land with tree crown cover (or equivalent stocking level) of more than 10 percent and area of more than 0.5 hectares (ha). The trees should be able to reach a minimum height of 5 meters (m) at maturity in situ (...)". (1)
This reductionist definition also justifies the expansion of large-scale monoculture tree plantations as so called "planted forests. Under FAO´s definition, such large-scale monocultures are even considered "reforestation" and are said to compensate for forest loss. In practice, industrial tree plantations and other industrial monocultures like oil palm and soy have contributed immensely to the destruction of forests and other biomes like grasslands and savannas throughout the world. While providing a handful of transnational companies with enormous profits, they have left forest-dependent communities impoverished, often even driven them out their territories. Women, with their specific relation with the forest, tend to suffer most from forest destruction. Communities affected by large-scale monoculture tree plantations never call them forests.
FAO's "state of the world´s forests" report continues to spread the myth that deforestation is less of a problem than it was in the past. The supposedly positive news is the result of FAO confusing forests and plantations, permitting that tens of millions of industrial fast-growing monoculture plantations of eucalyptus, acacia and rubber are counted as "planted forests" in countries' forest statistics. Under FAO's present forest definition, even a genetically modified fast-growing eucalyptus plantation of 100,000 hectares is called a "forest", in spite of all the negative impact it has as a large-scale monoculture crop, not to speak of the risk of contaminating the genetic composition of surrounding trees and forests.
In its founding principles, FAO portraits itself as an organization leading "international efforts to defeat hunger", as well as being a "neutral forum where all nations meet as equals". For this claim to become true, FAO needs to urgently revise its forest definition from one that reflects the preferences and perspectives of the timber, pulp/paper and rubber companies to one that reflects how forest dependent peoples see and use forests.
This Public Letter is an invitation to FAO to take initiative and correct the misleading definition. In such a process of elaborating a new and more appropriate forest definition, FAO should engage effectively with those, women and men, who directly depend on forests. An appropriate forest definition must support their modes of living, their networks and organizations. That is our hope on the International Day of Forests. We are committed to continue this campaign until these initiatives are being effectively taken up by FAO.
(1) http://www.fao.org/docrep/006/ad665e/ad665e06.htm
Signed by:
La Via Campesina
Friends of the Earth International
Focus on the Global South
World Rainforest Movement
BRIDGETOWN, Barbados (14 Jan. 2014) – The Caribbean Tourism Organization (CTO) and TravelMole are looking for destinations in the region that are demonstrating that sustainable tourism products and services are viable and exciting travel options for visitors to the region in their annual Sustainable Tourism Awards.
Individuals, groups, organizations and companies in any of the CTO's member countries are invited to submit entries for a number of award categories including the Caribbean Excellence in Sustainable Tourism Award; Destination Stewardship Award; Sustainable Accommodation Award; Community Benefit Award; Heritage Protection Award; and the Biodiversity Conservation Award.
Qualifying entrants will have developed unique and attractive tourism products or are implementing initiatives that embrace sustainable tourism concepts and core values. Entry criteria are aimed at identifying and showcasing sustainable tourism best practices among CTO members that improve long-term competitiveness of tourism businesses and destinations while preserving the inherit quality and authenticity of the product or services. All entries must be submitted via www.onecaribbean.org.

"Winners will demonstrate comprehensive efforts to reduce their carbon footprint, increase use of renewable energy, preserve the natural environment and create exciting, value-added experiences that are also sustainable." said Gail Henry, CTO's sustainable tourism product specialist. "We want our awards to be recognized as a standard bearer that will signal to visitors that the winning entity has reached a level of excellence in its sustainable tourism practices."
TravelMole's publisher and editor-in-chief, Graham McKenzie, encouraged Caribbean destinations to embrace sustainable tourism as the way forward.
"The CTO/TravelMole Sustainable tourism awards have now established themselves as the leading programme of its kind in the region. Genuinely assessed and judged, the awards stand out as a beacon of recognition for sustainability. In a region such as the Caribbean where tourism is such a high revenue earner and employer, it's imperative that the unique attributes that make the region so attractive are preserved and developed sympathetically with the environment". McKenzie said.
The deadline for the entries in the CTO-TravelMole Sustainable Tourism Awards is Friday 31 January, 2014.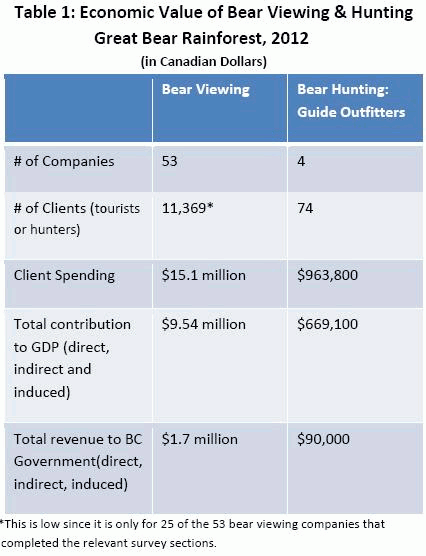 Value of Bear Viewing in BC, CanadaWASHINGTON, DC— 8 January 2014: A new study released today finds that bear viewing ecotourism in British Columbia's Great Bear Rainforest "generates far more value to the economy" in terms of revenue, taxes, and jobs than the older and more well-established trophy hunting of grizzly and black bears.  The study by the Center for Responsible Travel (CREST), Economic Impact of Bear Viewing and Bear Hunting in the Great Bear Rainforest of British Columbia, determined that in 2012, bear viewing in the Great Bear Rainforest, which has been growing rapidly over the last decade, generated 12 times more in visitor spending than bear hunting and over 11 times in direct revenue for BC's provincial government. The study further found that bear-viewing companies directly employed an estimated 510 persons in 2012, while guide hunting outfitters generated only 11 jobs that same year.
The CREST study, the first to compare the economic value of these two sectors of wildlife recreation in the Great Bear Rainforest (GBR), comes in the midst of public controversy over trophy bear hunting.  In 2012, the Coastal First Nations, representing some 20,000 First Nations people who are seeking greater control over the GBR, announced a ban on trophy hunting of bears throughout the region. They argued that, among other reasons, trophy hunting is threatening the growing ecotourism industry centered on bear viewing.  The BC government, contending that the province has the sole authority to regulate hunting, has continued to authorize hunting of black and grizzly bears in the GBR.
"Given the sensitivity of the debate and the range of statistics being cited for the value of hunting and viewing, CREST decided to undertake an impartial, academically rigorous analysis to try to nail down the numbers," says CREST Co-Director Dr. Martha Honey who led the project.  The study was conducted by CREST researchers at Stanford University and in Washington, DC, together with two BC-based experts.  "Our findings clearly show that bear viewing is today of far greater economic value than bear hunting in the Great Bear Rainforest and that bear viewing is a growing, while bear hunting is declining."
Other Key Findings Include:

1. The study identified 53 bear-viewing companies and only four guide outfitter hunting companies operating in the Great Bear Rainforest study area in 2012. The companies involved in bear-viewing said they expect their businesses to grow over the next decade, while most of the hunting outfitters have experienced a decline in business and several are seeking to sell their businesses.  
2. Bear viewing is a key factor bringing international tourists to the GBR from Europe, Asia, and the United States. While the total number of tourists coming to the GBR for bear viewing could not be fully determined, 25 of the 53 companies surveyed reported hosting 11,369 visitors in 2012. That same year, there were 74 hunters from outside BC, 80% of whom are from the United States. Therefore non-resident bear hunting is more dependent on a single market—the U.S.--than is bear viewing, and the number of U.S. hunters coming to BC dropped 20% during the recent economic crisis.
3. The results of a new BC government-commissioned study, Expenditure of British Columbia Resident Hunters "appear inflated in a number of areas" and its estimate that resident hunting generated $230 million in BC in 2012 "may have overinflated the number of hunter days and spending per day." (This study does not provide separate estimates for the GBR) Given these uncertainties, "it is not really possible to say how accurate the [government's] 2013 study is."
4. Whatever the actual amount, resident hunting in BC and the GBR "represents a circulation of already existing money rather than new money entering the province." According to statistician Jim Johnson of Pacific Analytics who is a lead author of the CREST study, "resident hunting therefore should not be viewed as providing any substantive net economic benefit to the BC economy." In contrast, non-resident hunting does bring new revenue into the province.
5. The BC government's administrative apparatus overseeing bear hunting "is complex, cumbersome, and costly." Government technicians said "they had no information on the cost of managing bear hunting" and they were "unable to answer the basic question [posed by the CREST study]: How many bears are hunted and killed each year within the Great Bear Rainforest?"
The CREST study was carried out according to Stanford University's research protocols and used the same National Accounting criteria that Statistics Canada uses to determine the economic importance of all industry sectors. The research included surveys of bear viewing companies, visitors, and guide outfitters; in-depth interviews with government officials, businesses, Coastal First Nation leaders, hunting and wildlife viewing associations and organizations involved in the GBR; and an extensive literature review. In addition, CREST entered into a research agreement with BC's Ministry of Forests, Lands, and Natural Resource Operations to obtain documents, statistics, maps, and other materials related to bear hunting.
The study, Economic Impact of Bear Viewing and Bear Hunting in the Great Bear Rainforest of British Columbia, can be downloaded at www.responsibletravel.org