LIMA, Dec 14 2014 (IPS) - After a 25-hour extension, delegates from 195 countries reached agreement on a "bare minimum" of measures to combat climate change, and postponed big decisions on a new treaty until the 21st Conference of the Parties (COP 21), to be held in a year's time in Paris.
After 13 days of debates, COP 20, the meeting of the parties to the United Nations Framework Convention on Climate Change (UNFCCC), failed to resolve key issues such as the monitoring of each country's commitment to emissions reductions, recognition of loss and damage caused by climate alterations and immediate actions, representatives of observer organisations told IPS.
The agreed document was the third draft to be debated. The Lima Call for Climate Action, as it is known, stipulates that countries must propose national greenhouse gas emission reduction targets by October 2015.
It also "urges" developed countries to "provide and mobilise financial support for ambitious mitigation and adaptation actions" to countries affected by climate change, and "invites" them to pledge financial contributions alongside their emissions reduction targets. This exhortation was a weak response to the demands of countries that are most vulnerable to global warming, and it avoided complete disaster.
But observers complained that the Lima Call pays little attention to the most vulnerable populations, like farmers, coastal communities, indigenous people, women and the poorest sectors of societies.
"There were a number of trade-offs between developed and developing countries, and the rest of the text has become significantly weaker in terms of the rules for next year and how to bring climate change action and ambitions next year," Sven Harmeling, the climate change advocacy coordinator for Care International, told IPS. "That has been most unfortunate," he said.
The 2015 negotiations will be affected, as "they are building up more pressure on Paris. The bigger issues have been pushed forward and haven't been addressed here," he said.
Harmeling recognised that an agreement has been reached, although it is insufficient. "We have something, but the legal status of the text is still unclear," he said. If there is really a "spirit of Lima" and not just a consensus due to exhaustion, it will begin to emerge in February in Geneva, at the next climate meeting, he predicted.
The countries of the South voted in favour of the text at around 01:30 on Sunday Dec. 14, but organisations like Oxfam, the Climate Action Network and Friends of the Earth International (FoEI) were very critical of the result. The Lima negotiations "have done nothing to prevent catastrophic climate change," according to FoEI.
More than 3,000 delegates met Dec. 1-13 for the complex UNFCCC process, with the ultimate goal of averting global warming to levels that would endanger life on Earth.
Peruvian Environment Minister Manuel Pulgar-Vidal, who chaired the COP 20, extended the meeting in order to build bridges between industrialised countries, the largest carbon emitters, who wanted less financial pressure, and developing countries who sought less control over their own reductions.
"Although we seem to be on opposite sides, we are in fact on the same side, because there is only one planet," said Pulgar-Vidal at the close of the COP.
The specific mandate in Lima was to prepare a draft for a new, binding climate treaty, to be consolidated during 2015 and signed in Paris. Methodological discussions and fierce debates about financing, deadlines and loss and damage prevented a more ambitious consensus.
"What countries need now is financing of climate action and what we need is urgent action now, because we need our emissions to peak before 2020 if we are to stay on a safe path," Tasneem Essop, climate coordinator for the World Wide Fund for Nature (WWF), told IPS.
"We need to protect the rights of climate impacted communities," she said. The defencelessness of the most vulnerable people on the planet is what makes action a matter of urgency.
However, the Lima agreement contains few references to mechanisms for countries to use to reduce their emissions between 2015 and 2020, when the new treaty replacing the Kyoto Protocol is due to come into force.
These actions need to start immediately, said Essop, as later measures may be ineffective. "What governments seem to be thinking is that they can do everything in the future, post 2020, when the science is clear that we have to peak before that," she told IPS.
Unless action is taken, year by year extreme climate, drought and low agricultural yields will be harder on those communities, which bear the least responsibility for climate change. Essop believes that governments are waiting for the negotiations in Paris, when there were urgent decisions to be taken in Lima.
Among the loose ends that will need to be tied in the French capital between Nov. 30 and Dec. 11, 2015, are the balance to be struck between mitigation and adaptation in the new global climate treaty, and how it will be financed.
"If we hadn't come to the decision we have taken (the Lima Call for Climate Action), thing would be more difficult in Paris, but as we know there are still many things to be decided bewteen here and December 2015, in orden to resolve pending issues," Laurent Fabius, the French Foreign Minister, said in the closing plenary session.
The goal of the agreement is for global temperature to increase no more than two degrees Celsius by 2100, in order to preserve planetary stability. Reduction of fossil fuel use is essential to achieve this.
Mitigation, adaptation, and loss and damage are the pillars of the new treaty. The last two issues are vital for countries and populations disproportionately impacted by climate change, but faded from the agenda in Lima.
"It's disastrous and it doesn't meet our expectations at all. We wanted to see a template clearly emerging from Lima, leading to a much more ambitious deal," said Harjeet Singh, manager for climate change and resilience for the international organisation ActionAid.
"What we are seeing here is a continuous pushback from developed countries on anything related to adaptation or loss and damage," he told IPS.
These are thorny issues because they require financial commitments from rich countries. The Green Climate Fund, set up to counter climate change in developing countries, has only received 10.2 billion dollars by this month, only one-tenth of the amount promised by industrialised nations.
The Lima Call for Climate Action did determine the format for Intended Nationally Determined Contributions (INDC), for each country to present its emissions reduction targets.
However, the final agreement eliminated mechanisms for analysing the appropriateness and adequacy of the targets that were contained in earlier drafts.
Negotiators feel that the sum of the national contributions will succeed in halting global warming, but observers are concerned that the lack of regulation will prevent adequate monitoring of whether emissions reductions on the planet are sufficient.
Edited by Estrella Gutiérrez/Translated by Valerie Dee
All rights reserved, IPS – Inter Press Service (2014)
Madrid, Spain, 3 December 2014 - Achieving universal accessibility throughout the tourism value chain is the main call for action of the San Marino Declaration of Accessible Tourism, adopted at the First UNWTO Conference on Accessible Tourism in Europe (San Marino, 19-20 November 2014).
The First UNWTO Conference on Accessible Tourism in Europe addressed how to advance quality, sustainability and competitiveness in accessible tourism with a special focus on cultural heritage and the use of smart technologies. Increased accessibility in tourism benefits people with disabilities and special needs while entailing important economic opportunities for the sector.
"Accessible Tourism for All ranks high amongst the ethical challenges we have identified and which require our permanent attention and guidance", said the Chairman of the World Committee on Tourism Ethics, Pascal Lamy, opening the Conference. "Advocating for and advancing universal access in travel and tourism is both a question of rights and a question of ethics, a matter of quality and respect, of freedom and non-discrimination", he added.
Echoing the legitimate right of access to tourism activities by people with disabilities, as established by the United Nations, the San Marino Declaration on Accessible Tourism was adopted unanimously, calling for all stakeholders to ensure universal accessibility in all the components of the tourism value chain. This includes the physical environment, the transportation system and information and communications channels, as well as to strengthen and engage public-private partnerships and other forms of cooperation among entities working in the field of universal accessibility.
UNWTO Secretary-General, Taleb Rifai stressed that "People with disabilities and special needs should be able to actively take part in tourism just as any other traveller. Great strides have been made to advance universal accessibility, particularly in Europe, but there are still many opportunities to be seized. Accessibility for all depends much on the will of all players to work together, and we at UNWTO remain committed to advancing this fundamental agenda and implementing the necessary changes alongside our partners."
While referring to the morphological features of the hilly mediaeval town of San Marino, the Minister of Tourism, H.E. Mr. Teodoro Lonfernini, pointed out that "San Marino is doing its best to make its territory accessible to as many visitors as possible, while also trying to enable an authentic travel experience to people with special needs", adding that "if a country like the Republic of San Marino can achieve that, many other States should be able to follow the same path".
The Conference was jointly organized by UNWTO and the Government of the Republic of San Marino in collaboration with Village for All (V4A) and the ONCE Foundation of Spain.
The full text of the San Marino Declaration: 
San Marino Declaration on Accessible Tourism

The Ministry of Tourism of the Republic of San Marino, the authorities of the member countries of the World
Tourism Organization (UNWTO), members of the World Committee on Tourism Ethics, representatives of the
tourism sector, disabled people's organizations (DPOs) and the related civil society and private sector
stakeholders, intergovernmental and international organizations, universities and experts met in San Marino
on 19/20 November 2014 on the occasion of the First UNWTO Conference on Accessible Tourism in Europe.
Considering the United Nations Convention on the Rights of Persons with Disabilities of 2006 as the global
action framework in the sphere of universal accessibility, whose Article 30 recognizes the legitimate right of
access to sports, cultural, leisure and tourism activities by persons with disabilities;
Whereas the mandate of the UNWTO is "the promotion and development of tourism with a view to contributing
to economic development, international understanding, peace, prosperity, and universal respect for, and
observance of, human rights and fundamental freedoms for all without distinction as to race, sex, language or
religion", as established by the Statutes of the Organization;
Inspired by the Global Code of Ethics for Tourism, adopted by the UNWTO General Assembly in 1999, and
endorsed by the United Nations General Assembly in 2001, whose Article 7 underlines that "...a direct and
personal access to the discovery and enjoyment of the planet's resources constitutes a right equally open to
all the world's inhabitants" and explicitly recommends that "tourism for persons with disabilities should be
encouraged and facilitated".
Referring to the Recommendations on Accessible Tourism, adopted by the 20th UNWTO General Assembly in
2013, as a reference document for tourism stakeholders for making their infrastructures, products and services
accessible to all people, as well as the related Manuals co-produced with civil society organizations - the
ONCE Foundation, ENAT, and the ACS Foundation;
Taking into account the principles contained within the European Disability Strategy 2010-2020, a
comprehensive framework committing the European Commission to the empowerment of people with
disabilities;
Recognizing the wide scope of the multi-stakeholder recommendations emanating from the Declaration from
the World Summit Destinations for All, held in Montreal, Canada, in October 2014;
Commending the efforts carried out by public authorities, private sector and the civil society stakeholders in
making the heritage city of San Marino ever more accessible for all;THOSE PRESENT:
1. Convinced that Tourism for all benefits not only people with disabilities and special needs, but all
people, while entailing major economic opportunities for a myriad of sectors far beyond travel and
tourism;
2. Cognizant of the gradual progress in the sphere of universal accessibility in Europe, but also of the
pressing issues bestowed upon people with disabilities in developing countries and emerging
economies;
3. Aware of the challenges and opportunities of making heritage cities accessible for all without
jeopardizing their monumental integrity and their historical relevance;
4. Mindful of the importance of smart technologies and their future evolution in facilitating the access and
enjoyment of tourism destinations by all;
5. Committed to constructive and more results-based partnerships between the policy makers, local
authorities, the private sector and disabled people's organizations in making tourism and heritage
infrastructure, products and services accessible for all;
UNANIMOUSLY CALL UPON ALL STAKEHOLDERS:
1. To engage in awareness-raising and training actions with the aim to eliminate attitudinal barriers
amongst tourism and heritage professionals at all levels and to persuade the private sector of the
competitive advantages of investing in Tourism for all;
2. To ensure that the right to experience tourism is not hampered by global economic uncertainties and
that the spirit of solidarity and international cooperation for improving accessibility is sustained and
further promoted;
3. To observe the principles of Universal Design when creating new tourism infrastructures, products and
services and improving the existing ones, particularly in case of the cultural heritage of tourism interest;
4. To facilitate the development and application of smart technologies to provide objective information
about all services (regardless of their degree of accessibility), so as to enable travelers to evaluate
their own personal accessibility requirements, and, if necessary, with the involvement of civil society
organizations to propose concrete solutions in order to enhance accessibility and the quality of
hospitality;
5. To mainstream universal accessibility throughout all the components of the tourism value chain,
including the physical environment, the transportation system, information and communications
channels, and a complete range of public facilities and services;
6. To promote and disseminate good practices and case studies in the field of universal accessibility in
travel and tourism; and
7. To strengthen cooperation with all relevant entities working in the field of universal accessibility at
international and regional level, in particular the European Union, and to engage in public-private
partnerships with the travel and tourism industry, non-governmental entities and disabled persons
organizations for the development of new global policies in the field of universal accessibility.
Adopted in San Marino on 19 November 2014
IIPT World Symposium to honour the legacies of Nelson Mandela, Mahatma Gandhi and Martin Luther King, Jr.
IIPT LogoJohannesburg, South Africa – 22 November 2014 –The International Institute for Peace through Tourism (IIPT) is currently organizing a World Symposium on Sustainable and Peaceful Communities and Nations through Tourism, Culture and Sport to be held at Emperors Palace, Johannesburg, 16 – 19 February 2015.
The interactive and action oriented Symposium will honor the legacies of the world's three great champions of Peace and Non-Violent Resistance: Nelson Mandela, Mahatma Gandhi and Martin Luther King, Jr. with the aim of affirming these legacies by building bridges of tourism, friendship and peace in regions throughout the world.
The Symposium, endorsed by Archbishop Desmond Tutu, will also commemorate the 50th Anniversary of the African Union, 20 years of South African Democracy and 50th Anniversary of Civil Rights Legislation in the U.S.
IIPT is using its historical convening power to bring world leaders of the travel and tourism industry to South Africa as keynote speakers for this milestone event including:: Dr. Taleb Rifai, Secretary General, UN World Tourism Organization (UNWTO); Mr. David Scowsill, President and CEO, World Travel and Tourism Council (WTTC); Salih Cene, President, Skal International; Martin Craigs, (until recently) CEO, Pacific Asia Travel Association (PATA); Professor Geoffrey Lipman, President, International Coalition of Tourism Partners (ICTP); Mok Singh, Skal International President (2012 – 2013) and member, IIPT International Advisory Board as well as leading Ministers of Tourism including the visionary Hon. Alain St. Ange, Minister of Tourism, Seychelles and creator of the Carnavales de Carnavales. Host Minister, Hon. Derek Hanekom, Minister of Tourism, South Africa has of course also been invited.
The Symposium will have two basic aims: to identify strategies and best practice in cultivating productive, sustainable, peaceful and welcoming communities through tourism, culture and sports; and to determine lessons learned from countries that have experienced conflict and the potential roles of tourism, culture and sports in reconciliation and post-conflict socio-economic re-development.
Design of the Symposium will be highly interactive with international experts in community development, community tourism, sports, culture and peace engaging with delegates in the exchange of experiences and ideas. Ministers of Tourism from countries that have experienced conflict will share their insights and suggestions related to strategies for reconciliation and healing wounds of conflict and best practices in harnessing tourism, culture and sports in the post-conflict socio-economic re-development process.
In addition to Ministers of Tourism from Africa, selected Ministers from countries of Europe, Asia and South America that have experienced conflict will also be invited to participate in inter-active plenary session panels.
A special action initiative already begun in commemoration of the 50th anniversary of the African Union is an IIPT/Skal Cities, Towns and Villages of Peace Across South Africa project with a goal of 50 cities, towns and villages dedicating themselves to peace in the weeks leading up to the Symposium. Some ten cities, towns and villages have already registered. Other action initiatives will be announced in the weeks prior to and during the Symposium.
As with past IIPT Conferences and Summits, Pre-Symposium Events will include a full day Educators Forum and full day Student/Youth Leadership Forum. As well, following the precedent of IIPT's Fifth African Conference in Lusaka, Zambia, a full day Traditional Leaders Forum is also planned. A full day community tourism training workshop and a half day media workshop will also feature as Pre-Symposium events on 16 February.
Host Partners for the Symposium include: South Africa Tourism, Gauteng Tourism, the Metropolitan Municipalities of Ekurhuleni and Johannesburg, South African Airways and Emperors Palace.
The United Nations World Tourism Organization (UNWTO), which has supported IIPT International events since the First IIPT Global Conference, Vancouver 1988, will again be a partner in the Symposium. Other partners include: Pacific Asia Travel Association (PATA), Africa Travel Association (ATA), Skal International and the International Coalition of Tourism Partners (ICTP.
This is IIPT's seventeenth international event and seventh global summit since its founding in 1986, the UN International Year of Peace.
IIPT is most grateful for the enthusiasm and support being provided by its Host Partners and looks forward to a strong participation of South African tourism professionals taking part in the Symposium. Early Bird registration available till 28 November: http://www.iiptsymposium.com
About International Institute for Peace through Tourism (IIPT)
IIPT is dedicated to fostering and facilitating tourism initiatives that contribute to international understanding and cooperation, an improved quality of environment, the preservation of heritage, poverty reduction, and the resolution of conflict - and through these initiatives, help bring about a more peaceful and sustainable world. IIPT is dedicated to mobilizing travel and tourism, the world's largest industry, as the world's first "Global Peace Industry," an industry that promotes and supports the belief that "Every traveler is potentially an Ambassador for Peace."
Website: www.iipt.org
Washington DC, 19 November 2014: Twenty years ago, Christopher Walker, Gordon Durnin and Tony Avirgan were the first film-makers to tell the story of the fight against Big Oil in the Amazon basin of Ecuador. Their reporting was featured on ABC News, ABC Nightline, NBC Dateline, BBC and CBC, keeping the story in the headlines while their documentary "Trinkets and Beads" was distributed internationally. It was also short-listed for an Academy Award Nomination being named an "outstanding documentary" by the Academy of Motion Pictures Arts & Sciences. Filmed over 3 years, it covered the fight by the Huaorani people to remove the oil companies from their lands and preserve the Yasuni National Park – one of the most biologically diverse regions of the world - and was instrumental in gaining support for the subsequent moratorium on oil drilling in the Yasuni National Park. (Web link: http://icarusfilms.com/cat97/t-z/trinkets.html)
Now Big Oil is back. In 2013 Ecuador's President Correa announced an end to the moratorium on oil drilling in the Yasuni Park, opening it - and Huaorani lands - to oil drilling once again. The stage is set for an oil invasion by companies from the United States, China, Brazil and Argentina in conjunction with the local state oil company. Illegal loggers have already started moving, using oil company roads while oil production is planned to commence in 2016. Most of the oil is destined for the U.S. (previous oil reserves discovered on Huaorani land were estimated to be worth $1.5 billion - enough to keep cars rolling in the U.S. for 13 days).
The "Trinkets and Beads" team have now been invited by local leader Moi Enomenga and the Huaorani community to document their continued struggle to protect their lands and their way of life. A new film can play a major role in publicizing the impacts of oil drilling on the peoples and ecosystems of the Amazon, and the local and international struggle to stop it.
With their expertise in producing documentary films on cutting-edge environmental and social issues over the past 30 years the team are confident of success. Tony, Chris, and Gordon are planning to make a sequel to "Trinkets and Beads" and have launched a Kickstarter campaign to raise the money to get started.
See here for more details:
http://www.kickstarter.com/projects/trinketsandbeads/trinkets-and-beads-the-sequel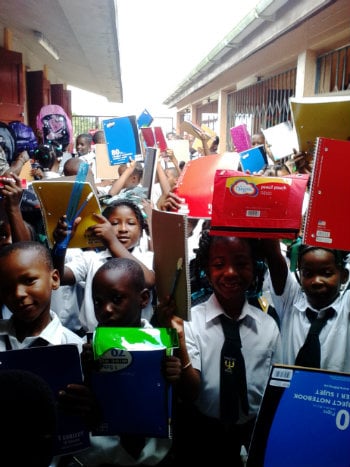 Grand Fond Primary School PupilsRosalie, Dominica - November 11, 2014: A new tourist-powered charity event has taken place at the Grand Fond Primary School. Initiated by the owner of of 3 Rivers & Rosalie Forest Ecolodge Mr. Jem Winston and in partnership with Mrs. Angela Bailey of PackForAPurpose.org and Mr. Sheppee of Sheppee Tours, a group of fifty passengers self-named the "Splendidors" disembarked from a cruise ship on the 5th of November bearing bags and bundles of useful items and gifts for the Grand Fond Primary school and its pupils. The charity event is based on the concept that travellers can fill up any unused baggage allowance with items useful to the local community at their tourism destination.
Mrs. Hatty Leslie the school principal and Mr Jem Winston greeted the generous visitors carrying over 200 lbs of goods.  In addition, the principal created an ingenious rewards programme: each donated item is given a point value while the pupils earn points through work and behaviour and can then choose their gifts according to the number of points they have accumulated. Mrs Leslie believes that this teaches the children how to budget and give value to goods, even gifts.
3 Rivers & Rosalie Forest Eco Lodge encourage all visitors to Dominica to follow this splendid example and help nurture and educate the children of the Nature Isle.
For more details visit http://www.3riversdominica.com