New York, USA / Madrid, Spain, 14 January 2015 (UNWTO): A milestone resolution recognizing the contribution of sustainable tourism to poverty eradication, community development and the protection of biodiversity has been adopted by consensus by the United Nations General Assembly.
Emphasizing the need to optimize the economic, social, cultural and environmental benefits stemming from sustainable tourism, particularly in developing countries, the resolution entitled "Promotion of sustainable tourism, including ecotourism, for poverty eradication and environment protection" calls upon the UN System to promote sustainable tourism as an instrument that can contribute to achieving the Millennium Development Goals.
The resolution, significantly broader in scope than previous ones on the subject, builds on a 2012 UN resolution on ecotourism and draws on a report prepared by UNWTO. In line with UNWTO recommendations, it underlines the importance of appropriate national policies, guidelines and regulations for promoting sustainable tourism, including ecotourism, and encourages UN Member States and regional and international financial institutions to support sustainable tourism projects, enabling the creation of small and medium-sized enterprises, promoting cooperatives and facilitating access to inclusive financial services, including microcredit initiatives for the poor, local and indigenous communities.
The resolution was adopted by consensus and sponsored by an impressive total number of 107 Member States, including Morocco, which, as on previous occasions, was the lead sponsor and in that capacity had steered the whole negotiating process to a successful conclusion.
"UNWTO welcomes this remarkable acknowledgement of tourism's ability to advance sustainable development across the world", said UNWTO Secretary-General Taleb Rifai. "The wide-ranging support to this resolution mirrors the increasing awareness of the vital role tourism plays in a sustainable future for all and opens the doors for supportive national policies and international financing for sustainable tourism."
The resolution places sustainable tourism firmly on the UN post-2015 agenda as it requests UNWTO and other United Nations agencies to develop "... recommendations on ways and means to promote sustainable tourism, including ecotourism, as a tool for fighting poverty and promoting sustainable development ..." to be submitted to the seventy-first session of the UN General Assembly in 2016.
Useful links:
Resolutions from the 69th Session of the United Nations General Assembly
Press release: UN General Assembly: Ecotourism key to eradicating poverty and protecting environment
Press release: Harnessing the power of one billion tourists for a sustainable future
By Saleem Shaikh and Sughra Tunio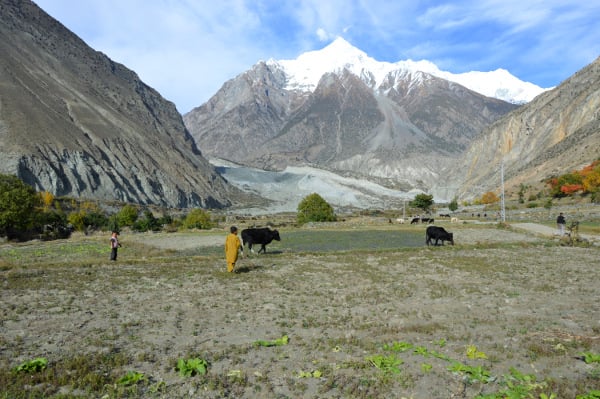 A boy grazes his cattle on farmland close to the site of a landslide in northern Pakistan's Bagrot valley. Credit: Saleem Shaikh/IPSBINDO GOL, Pakistan, Jan 15 (IPS) - Khaliq-ul-Zaman, a farmer from the remote Bindo Gol valley in northern Pakistan's Khyber Pakhtunkhwa province, has long lived under the shadow of disaster.
With plenty of fertile land and fresh water, this scenic mountain valley would be an ideal dwelling place – if not for the constant threat of the surrounding glacial lakes bursting their ridges and gushing down the hillside, leaving a trail of destruction behind.
There was a time when families like Zaman's lived in these distant valleys undisturbed, but hotter temperatures and heavier rains, which experts say are the result of global warming, have turned areas like Bindo Gol into a soup of natural hazards.
Landslides, floods and soil erosion have become increasingly frequent, disrupting channels that carry fresh water from upstream springs into farmlands, and depriving communities of their only source of fresh water.
"Things were becoming very difficult for my family," Zaman told IPS. "I began to think that farming was no longer viable, and was considering abandoning it and migrating to nearby Chitral [a town about 60 km away] in search of labour."
He was not alone in his desperation. Azam Mir, an elderly wheat farmer from the Drongagh village in Bindo Gol, recalled a devastating landslide in 2008 that wiped out two of the most ancient water channels in the area, forcing scores of farmers to abandon agriculture and relocate to nearby villages.
"Those who could not migrate out of the village suffered from water-borne diseases and hunger," he told IPS.
Now, thanks to a public-private sector climate adaptation partnership aimed at reducing the risk of disasters like glacial lake outburst floods (GLOFs), residents of the northern valleys are gradually regaining their livelihoods and their hopes for a future in the mountains.
Bursting at the seams
According to the Pakistan Meteorological Department (PMD), there were some 2,400 potentially hazardous glacial lakes in the country's remotest mountain valleys in 2010, a number that has now increased to over 3,000.
Chitral district alone is home to 549 glaciers, of which 132 have been declared 'dangerous'.
Climatologists say that rising temperatures are threatening the delicate ecosystem here, and unless mitigation measures are taken immediately, the lives and livelihoods of millions will continue to be at risk.
One of the most successful initiatives underway is a four-year, 7.6-million-dollar project backed by the U.N. Adaptation Fund, the United Nations Development Programme (UNDP) and the government of Pakistan.
Signed into existence in 2010, its main focus, according to Field Manager Hamid Ahmed Mir, has been protection of lives, livelihoods, existing water channels and the construction of flood control infrastructure including check dams, erosion control structures and gabion walls.
The project has brought tremendous improvements to people here, helping to reduce damage to streams and allowing the sustained flow of water for drinking, sanitation and irrigation purposes in over 12 villages.
"We plan to extend such infrastructure in another 10 villages of the valley, where hundreds of households will benefit from the initiative," Mir told IPS.
Further afield, in the Bagrot valley of Gilgit, a district in Gilgit-Baltistan province that borders KP, NGOs are rolling out similar programmes.
Zahid Hussain, field officer for the climate adaptation project in Bagrot, told IPS that 16,000 of the valley's residents are vulnerable to GLOF and flash floods, while existing sanitation and irrigation infrastructure has suffered severe damage over the last years due to inclement weather.
Located some 800 km from Pakistan's capital, Islamabad, Bagrot is comprised of 10 scattered villages, whose population depends for almost all its needs on streams that bubble forth from the Karakoram Mountains, a sub-range of the Hindu Kush Himalayas and the world's most heavily glaciated area outside of the Polar Regions.
Residents like Sajid Ali, also a farmer, are pinning all their hopes on infrastructure development that will preserve this vital resource, and protect his community against the onslaught of floods.
An even bigger concern, he told IPS, is the spread of water-borne diseases as floods and landslides leave behind large silt deposits upstream.
Preparing for the worst
Just as risk reduction structures are key to preventing humanitarian crises, so too is building community resilience and awareness among the local population, experts say.
So far, some two million people in the Bindo Gol and Bagrot valleys have benefitted from community mitigation schemes, not only from improved access to clean water, but also from monitoring stations, site maps and communications systems capable of alerting residents to a coming catastrophe.
Khalil Ahmed, national programme manager for the project, told IPS that early warning systems are now in place to inform communities well in advance of outbursts or flooding, giving families plenty of time to evacuate to safer grounds.
While little official data exists on the precise number of people affected by glacial lake outbursts, Ahmed says, "We can safely say that over 16,000 have been displaced, and remain so even after several months."
Over the past 17 months alone, Pakistan has experienced seven glacial lake outbursts that not only displaced people, but also wiped out standing crops and ruined irrigation and water networks all throughout the north, according to Ghulam Rasul, a senior climatologist with the PMD in Islamabad.
The situation is only set to worsen, as temperatures rise in the mountainous areas of northern Pakistan and scientists predict more extreme weather in the coming decades, prompting an urgent need for greater preparedness at all levels of society.
Several community-based adaptation initiatives including the construction of over 15 'safe havens' – temporary shelter areas – in the Bindo Gol and Bagrot valleys have already inspired confidence among the local population, while widespread vegetation plantation on the mountain slopes act as a further buffer against landslides and erosion.
Scientists and activists say that replicating similar schemes across the northern regions will prevent unnecessary loss of life and save the government millions of dollars in damages.
Edited by Kanya D'Almeida
All rights reserved, IPS – Inter Press Service (2015) 
New Worldwatch Institute analysis explores the debate about our planet's future population
Washington, D.C.----The human population nearly tripled from 2.5 billion people in 1950 to 7.3 billion today and will continue growing through 2070, according to two recent demographic projections. After that, demographers disagree on whether populations will begin to shrink or continue to rise into the next century, write Worldwatch Institute Senior Fellow Robert Engelman and Research Assistant Yeneneh Terefe in the Institute's latest Vital Signs Online article (www.worldwatch.org).
Two population projections----one from the United Nations Population Division, the other from the International Institute for Applied Systems Analysis (IIASA)---- agree on how population has grown until now. But their future scenarios document a breakdown in consensus.
U.N. demographers rely on a methodology that applies past behavior and expert opinion about the future to assign quantified probabilities to various population outcomes. Defying a widespread media and public perception that a stationary world population of 9 billion in 2050 is a near certainty, the U.N. analysts report that the most likely long-term future is for continued growth into the 22nd century.
Demographers associated with IIASA, based in Laxenburg, Austria, however, differ with this analysis. They foresee world population peaking around 2070 at 9.4 billion people and then gradually shrinking to 8.9 billion by the century's end.
The disagreement between these two respected groups of population researchers lies in their varying assumptions, mostly regarding two topics: Africa and the future of education. The U.N. demographers point to recent surveys showing that human fertility (defined as the average number of children that women in a population give birth to over their lifetimes) is not falling in some countries as earlier projections had assumed they would.
The IIASA demographers, by contrast, focus largely on educational trends. In every region of the world, including Africa, the proportion of young people enrolled in school has generally been rising. and these rates are likely to continue to rise, the analysts argue. Because even moderately high levels of educational attainment are associated with reductions in fertility, fertility even in high-fertility countries is likely to fall more than current fertility trends on their own suggest, the demographers reason.
Two Australian environmental scientists, Corey J. A. Bradshaw and Barry W. Brook, recently published another set of population projections---- with a twist. They add scenarios in which humanity experiences increases in the deaths of children due to climate change or outright demographic catastrophes due to "global pandemic or war." In their most extreme scenario, 6 billion people die in the early 2040s, in which case human population would decline to about 5 billion by 2100.
The Australian analysts are non-demographers engaging in a one-off thought exercise. But the significant differences among the various projections tell us something important about population and the human future. Despite general perceptions that demographers confidently forecast future population, no one knows when population will stop growing or the level at which it will peak. Moreover, the future of population growth may respond to decisions made today, so ideally these decisions would support a reduced incidence of unintended pregnancy (now about 40 percent of all pregnancies globally) rather than allow environmental and social conditions to deteriorate until death rates reverse their historic decline.
About the Worldwatch Institute:
Worldwatch is an independent research organization based in Washington, D.C. that works on energy, resource, and environmental issues. The Institute's State of the World report is published annually in more than a dozen languages. For more information, visit http://www.worldwatch.org
Analysis by Jeff Conant, International Forests Campaigner for Friends of the Earth-U.S
Berkeley, California, Dec 18 2014 (IPS) - Dercy Teles de Carvalho Cunha is a rubber-tapper and union organiser from the state of Acre in the heart of the Brazilian Amazon, with a lifelong love of the forest from which she earns her livelihood – and she is deeply confounded by what her government and policymakers around the world call "the green economy."
"The primary impact of green economy projects is the loss of all rights that people have as citizens," says Teles de Carvalho Cunha in a report released last week by a group of Brazilian NGOs. "They lose all control of their lands, they can no longer practice traditional agriculture, and they can no longer engage in their everyday activities."
Referring to a state-run programme called the "Bolsa Verde" that pays forest dwellers a small monthly stipend in exchange for a commitment not to damage the forest through subsistence activities, Teles de Carvalho Cunha says, "Now people just receive small grants to watch the forest, unable to do anything. This essentially strips their lives of meaning. "
Her words are especially chilling because Teles de Carvalho Cunha is not just any rubber tapper – she is the president of the Rural Workers Union of Xapuri – the union made famous in Brazil when its founder, Chico Mendes, was murdered in 1988 for defending the forest against loggers and ranchers.
Mendes' gains have been consolidated in tens of thousands of hectares of 'extractive reserves,' where communities earn a living from harvesting natural rubber from the forest while keeping the trees standing. But new policies and programmes being established to conserve forests in Acre seem to be having perverse results that the iconic leader's union is none too happy about.
Conflicting views on the green economy
As Brazil has become a leader in fighting deforestation through a mix of public and private sector actions, Acre has become known for market-based climate policies such as Payment for Environmental Services (PES) and Reducing Emissions from Deforestation and Forest Degradation (REDD) schemes, that seek to harmonise economic development and environmental preservation.
Over the past decade, Acre has put into place policies favouring sustainable rural production and taxes and credits to support rural livelihoods. In 2010, the state began implementing a system of forest conservation incentives that proponents say have "begun to pay off abundantly".
Especially as the United Nations Framework Convention on Climate Change continues to fail in its mission of bringing nations together around a binding emissions reduction target – the latest failure being COP20 in Lima earlier this month – REDD proponents highlight the value of "subnational" approaches to REDD based on agreements between states and provinces, rather than nations.
The approach is best represented by an agreement between the states of California, Chiapas (Mexico), and Acre (Brazil).
In 2010, California – the world's eighth largest economy – signed an agreement with Acre, and Chiapas, whereby REDD and PES projects in the two tropical forest provinces would supply carbon offset credits to California to help the state's polluters meet emission reduction targets.
California policymakers have been meeting with officials from Acre, and from Chiapas, for several years, with hopes of making a partnership work, but the agreement has yet to attain the status of law.
Attempts by the government of Chiapas to implement a version of REDD in 2011, shortly after the agreement with California was signed, met strong resistance in that famously rebellious Mexican state, leading organisations there to send a series of letters to CARB and California Governor Jerry Brown asking them to cease and desist.
Groups in Acre, too, sent an open letter to California officials in 2013, denouncing the effort as "neocolonial,": "Once again," the letter read, "the former colonial powers are seeking to invest in an activity that represents the 'theft' of yet another 'raw material' from the territories of the peoples of the South: the 'carbon reserves' in their forests."
This view appears to be backed up now by a new report on the Green Economy from the Brazilian Platform for Human, Economic, Social, Cultural and Environmental Rights. The 26-page summary of a much larger set of findings to be published in 2015 describes Acre as a state suffering extreme inequality, deepened by a lack of information about green economy projects, which results in communities being coerced to accept "top-down" proposals as substitutes for a lack of public policies to address basic needs.
Numerous testimonies taken in indigenous, peasant farmer and rubber-tapper communities show how private REDD projects and public PES projects have deepened territorial conflicts, affected communities' ability to sustain their livelihoods, and violated international human rights conventions.
The Earth Innovation Institute, a strong backer of REDD generally and of the Acre-Chiapas-California agreement specifically, has thoroughly documented Brazil's deforestation success, and argues that existing incentives – farmers' fear of losing access to markets or public finance or of being punished by green public policies – have been powerful motivators, but need to be accompanied by economic incentives that reward sustainable land-use.
But the testimonies from Acre raise concerns that such economic incentives can deepen existing inequalities. The Bolsa Verde programme is a case in point: according to Teles de Carvalho Cunha, the payments are paltry, the enforcement criminalises already-impoverished peasants, and the whole concept fails to appreciate that it is industrial polluters in rich countries, not peasant farmers in poor countries, who most need to reduce their climate impacts.
A related impact of purely economic incentives is to undermine traditional approaches to forest management and to alienate forest-dwellers from their traditional activities.
"We don't see land as income," one anonymous indigenous informant to the Acre report said. "Our bond with the land is sacred because it is where we come from and where we will return."
Another indigenous leader from Acre, Ninawa Huni Kui of the Huni Kui Federation, appeared at the United Nations climate summit in Lima, Peru this month to explain his people's opposition to REDD for having divided and co-opted indigenous leaders; preventing communities from practicing traditional livelihood activities; and violating the Huni Kui's right to Free, Prior and Informed Consents as guaranteed by Convention 169 of the International Labor Organization.
One of the REDD projects the report documents (also documented here) is the Purus Project, the first private environmental services incentive project registered with Acre's Institute on Climate Change (Instituto de Mudanças Climáticas, IMC), in June 2012.
The project, designed to conserve 35,000 hectares of forest, is jointly run by the U.S.-based Carbonfund.org Foundation and a Brazilian company called Carbon Securities. The project is certified by the two leading REDD certifiers, the Verified Carbon Standard (VCS) and the Climate, Community, Biodiversity Standard (CCBS).
But despite meeting apparently high standards for social and environmental credibility, field research detected "the community's lack of understanding of the project, as well as divisions in the community and an escalation of conflicts."
One rubber tapper who makes his living within the project area told researchers, "I want someone to explain to me what carbon is, because all I know is that this carbon isn't any good to us. It's no use to us. They're removing it from here to take it to the U.S... They will sell it there and walk all over us. And us? What are we going to do? They're going to make money, but we won't?"
A second project called the Russas/Valparaiso project, seems to suffer similar discrepancies between what proponents describe and what local communities experience, characterised by researchers as "fears regarding land use, uncertainty about the future, suspicion about land ownership issues, and threats of expulsion."
The company's apparent failure to leave a copy of the project contract with the community did not help to build trust. Like the Purus Project – and like many REDD projects in other parts of the world whose track record of social engagement is severely lacking – this project is also on the road to certification by VCS and CCB.
Concerns like criminalising subsistence livelihoods and asserting private control over community forest resources, whether these resources be timber or CO2, is more than a misstep of a poorly implemented policy – it violates human rights conventions that Brazil has ratified, as well as national policies such as Brazil's National Policy for the Sustainable Development of Traditional Peoples and Communities.
The report's conclusion sums up its findings: "In the territories they have historically occupied, forest peoples are excluded from decisions about their own future or—of even greater concern – they are considered obstacles to development and progress. As such, green economy policies can also be described as a way of integrating them into the dominant system of production and consumption.
"Yet, perhaps what is needed is the exact opposite – sociocultural diversity and guaranteeing the rights of the peoples are, by far, the best and most sustainable way of slowing down and confronting not only climate change, but also the entire crisis of civilization that is threatening the human life on the planet."
Edited by Kitty Stapp
All rights reserved, IPS – Inter Press Service (2014)
LIMA, Dec 14 2014 (IPS) - After a 25-hour extension, delegates from 195 countries reached agreement on a "bare minimum" of measures to combat climate change, and postponed big decisions on a new treaty until the 21st Conference of the Parties (COP 21), to be held in a year's time in Paris.
After 13 days of debates, COP 20, the meeting of the parties to the United Nations Framework Convention on Climate Change (UNFCCC), failed to resolve key issues such as the monitoring of each country's commitment to emissions reductions, recognition of loss and damage caused by climate alterations and immediate actions, representatives of observer organisations told IPS.
The agreed document was the third draft to be debated. The Lima Call for Climate Action, as it is known, stipulates that countries must propose national greenhouse gas emission reduction targets by October 2015.
It also "urges" developed countries to "provide and mobilise financial support for ambitious mitigation and adaptation actions" to countries affected by climate change, and "invites" them to pledge financial contributions alongside their emissions reduction targets. This exhortation was a weak response to the demands of countries that are most vulnerable to global warming, and it avoided complete disaster.
But observers complained that the Lima Call pays little attention to the most vulnerable populations, like farmers, coastal communities, indigenous people, women and the poorest sectors of societies.
"There were a number of trade-offs between developed and developing countries, and the rest of the text has become significantly weaker in terms of the rules for next year and how to bring climate change action and ambitions next year," Sven Harmeling, the climate change advocacy coordinator for Care International, told IPS. "That has been most unfortunate," he said.
The 2015 negotiations will be affected, as "they are building up more pressure on Paris. The bigger issues have been pushed forward and haven't been addressed here," he said.
Harmeling recognised that an agreement has been reached, although it is insufficient. "We have something, but the legal status of the text is still unclear," he said. If there is really a "spirit of Lima" and not just a consensus due to exhaustion, it will begin to emerge in February in Geneva, at the next climate meeting, he predicted.
The countries of the South voted in favour of the text at around 01:30 on Sunday Dec. 14, but organisations like Oxfam, the Climate Action Network and Friends of the Earth International (FoEI) were very critical of the result. The Lima negotiations "have done nothing to prevent catastrophic climate change," according to FoEI.
More than 3,000 delegates met Dec. 1-13 for the complex UNFCCC process, with the ultimate goal of averting global warming to levels that would endanger life on Earth.
Peruvian Environment Minister Manuel Pulgar-Vidal, who chaired the COP 20, extended the meeting in order to build bridges between industrialised countries, the largest carbon emitters, who wanted less financial pressure, and developing countries who sought less control over their own reductions.
"Although we seem to be on opposite sides, we are in fact on the same side, because there is only one planet," said Pulgar-Vidal at the close of the COP.
The specific mandate in Lima was to prepare a draft for a new, binding climate treaty, to be consolidated during 2015 and signed in Paris. Methodological discussions and fierce debates about financing, deadlines and loss and damage prevented a more ambitious consensus.
"What countries need now is financing of climate action and what we need is urgent action now, because we need our emissions to peak before 2020 if we are to stay on a safe path," Tasneem Essop, climate coordinator for the World Wide Fund for Nature (WWF), told IPS.
"We need to protect the rights of climate impacted communities," she said. The defencelessness of the most vulnerable people on the planet is what makes action a matter of urgency.
However, the Lima agreement contains few references to mechanisms for countries to use to reduce their emissions between 2015 and 2020, when the new treaty replacing the Kyoto Protocol is due to come into force.
These actions need to start immediately, said Essop, as later measures may be ineffective. "What governments seem to be thinking is that they can do everything in the future, post 2020, when the science is clear that we have to peak before that," she told IPS.
Unless action is taken, year by year extreme climate, drought and low agricultural yields will be harder on those communities, which bear the least responsibility for climate change. Essop believes that governments are waiting for the negotiations in Paris, when there were urgent decisions to be taken in Lima.
Among the loose ends that will need to be tied in the French capital between Nov. 30 and Dec. 11, 2015, are the balance to be struck between mitigation and adaptation in the new global climate treaty, and how it will be financed.
"If we hadn't come to the decision we have taken (the Lima Call for Climate Action), thing would be more difficult in Paris, but as we know there are still many things to be decided bewteen here and December 2015, in orden to resolve pending issues," Laurent Fabius, the French Foreign Minister, said in the closing plenary session.
The goal of the agreement is for global temperature to increase no more than two degrees Celsius by 2100, in order to preserve planetary stability. Reduction of fossil fuel use is essential to achieve this.
Mitigation, adaptation, and loss and damage are the pillars of the new treaty. The last two issues are vital for countries and populations disproportionately impacted by climate change, but faded from the agenda in Lima.
"It's disastrous and it doesn't meet our expectations at all. We wanted to see a template clearly emerging from Lima, leading to a much more ambitious deal," said Harjeet Singh, manager for climate change and resilience for the international organisation ActionAid.
"What we are seeing here is a continuous pushback from developed countries on anything related to adaptation or loss and damage," he told IPS.
These are thorny issues because they require financial commitments from rich countries. The Green Climate Fund, set up to counter climate change in developing countries, has only received 10.2 billion dollars by this month, only one-tenth of the amount promised by industrialised nations.
The Lima Call for Climate Action did determine the format for Intended Nationally Determined Contributions (INDC), for each country to present its emissions reduction targets.
However, the final agreement eliminated mechanisms for analysing the appropriateness and adequacy of the targets that were contained in earlier drafts.
Negotiators feel that the sum of the national contributions will succeed in halting global warming, but observers are concerned that the lack of regulation will prevent adequate monitoring of whether emissions reductions on the planet are sufficient.
Edited by Estrella Gutiérrez/Translated by Valerie Dee
All rights reserved, IPS – Inter Press Service (2014)