Urban Ecotourism - The Case of Lac de Maine Leisure Park
by Laetitia de Freslon
Defining ecotourism is a big issue that experts have been trying to solve for the last 20 years - Orams (1995) even suggested that ecotourism is impossible from a purist point of view. The most common definition is the one advocated by The International Ecotourism Society, which describes ecotourism as "Responsible travel to natural areas that conserves the environment and improves the well-being of local people." (TIES, 1990).
The Urban ecotourism concept appeared for the first time in 1996 when Blackstone Corporation defined it as "one of the sustainable ways for travelling in urban areas" (Yi-Yen Wu et al, 2009). Urban ecotourism is said to be a relatively new form of ecotourism that takes place in urban settings. However, Higham & Lück (2002) underlined the fact that "the phenomenon of urban ecotourism demonstrates various inherent contradictions relating to definitions of ecotourism" and therefore has been denied its existence despite successful examples of its implementation.
In this report, I will aim to define the framework of urban ecotourism (concept and implementations) and illustrate the discussion by the study of an urban ecotourism case in France.
1. Is urban ecotourism possible and what is it?
Higham & Lück (2002) underlined the apparent inconsistency between the existing definitions of ecotourism and an urban ecotourism, which is often described as an oxymoron. Indeed, the underlying suggestion of ecotourism definitions is an opposition between the idea of "nature" and the idea of human, civilised, urbanised areas, thought as "unnatural". In the Western world's philosophy, Nature refers to an environment free of, or persisting despite human alterations (Rousseau, 1750; Levi-Strauss, 1964), referred as Culture (Posey, 2002; Higham, 2007).
But is there really a frontier between Nature and Culture as we think? Indeed, in other cultures (especially in Asia and Native American cultures) this vision is radically different from ours (Posey, 2002). For example in China, Nature and Culture are a whole according to the very ancient "Daoist philosophy's tenet 'man and nature in harmony' " (Sofield & Li, 1998; Buckley & Cater, 2008) which reflects a totally different angle of view.
Indeed, why would Nature and Culture necessarily exclude each others? A survey carried out by Chirgwin and Hughes in Australia showed that visitors rated "unnatural areas" as being "highly natural". This study demonstrated that the appreciation of the concept of nature/naturalness is relative and that "modified areas can be acceptable as an ecotourist venue if they are well presented and managed, aesthetically pleasing and provide the opportunity to observe wildlife" (Higham et al, 2002). Therefore, what is considered as highly natural areas is not necessarily human-free (e.g. Scottish Highlands) and Nature does exist in cities (e.g. foxes in city centres).
The concept of urban ecotourism has been refined during the Urban Ecotourism Conference in 2004, when ecotourism specialists agreed that urban ecotourism is "an ongoing opportunity to conserve biological and social diversity, create new jobs and improve the quality of life" (Urban Ecotourism Declaration, 2004) in an urban environment (Yi-Yen Wu et al, 2009), with four principal goals:
- "Restoring and conserving natural and cultural heritage including natural landscapes and biodiversity, and indigenous cultures;
- Maximizing local benefits and engaging the local community as owners, investors, hosts and guides;
- Educating visitors and residents on environmental matters, heritage resources, sustainability;
- Reducing our ecological footprint." (Urban Ecotourism Declaration, 2004)
2. Urban ecotourism: which advantages?
It is argued that ecotourism encounters many difficulties in its implementation - e.g. "non-realization of promised benefits, none or weak development or absence of management, […] a lack of coordination between the stakeholders in tourism" (Higham et al, 2002), or the destruction of its own resources through the development of tourism infrastructures in natural zones (McLaren, 2003). However Higham & Luck (2002) found that urban ecotourism represents several advantages over ecotourism in remote areas in terms of:
- Environmental impacts; urban ecotourists use already existing infrastructures and transports. There is therefore no need to create infrastructures that disrupts the environmental value of remote areas.
- Restoration of natural areas; Higham & Luck (2007), through the study of two ecotourism ventures in Australia and New Zealand, proved that "conservational values can be restored and enhance the quality of the city while providing unique ecotourism experiences. Such project can create habitats for endangered species and support the reintroduction of regionally extinct species".
- Interpretation and education; urban settings provide a wider target and thus promote sustainability at a greater scale and to all social backgrounds (Dodds & Joppe, 2001) in order to change "attitudes and behaviours towards issues of conservation and protection" (Higham & Luck, 2002; Okech, 2009).
- Financial viability; this type of ecotourism may generate more revenues as it attracts a wider audience and is usually less affected by seasonality than other types of tourism, which impacts on employment and revenues (Higham & Luck, 2002; Page & Hall, 2003).
- Urban green tourism also offers advantages in term of destination marketing; urban green tourism is a way to enrich the offer and represents an added value when promoting a city. It is likely to attract a greater potential number of tourists than ecotourism as "many participants in urban ecotours are not ecotourists per se but rather a more generalist visitor-type"(Dodds & Joppe, 2001) and "local tourists" (Weaver, 1997). This rejoins the idea that urban ecotourism is a planning tool for sustainability as well. Accrued green spaces in a city improves the residents' well-being (Donadieu, 1999; Maltbaek, 2002; Maas et al, 2006) and it can also be used as a way to substitute a declining sector by green tourism (Weaver, 1997) or regenerate desindustrialised areas and find new uses for disused areas and buildings (Dodds & Joppe, 2001) as in the example of the High Line in New-York City. This is also a potential planning tool in developing countries' cities as it is suggested by Okech (2009).
3. Case study: Lac de Maine Leisure Park, Balzac Park & St Aubin Island (Angers, France)
For more information about Angers, please refer to Appendix: Quick facts and map.
Formerly floodplains, Lac de Maine Leisure Park was open to the public in 1978 as a recreational space. It is one of the inhabitants' favourite places to walk, jog, cycle, bath, golf, play outdoors games and have BBQ during the summer. The 110ha artificial lake was created in a former sand quarry in the late 60's. It is divided into zones for several purposes:
- water sports (sailing, kayaking, windsurfing),
- bathing (beach nearby the Watersports Centre),
- fishing,
- spawning zone for fishes,
- conservation (27ha).
This leisure park is managed by a partnership of local actors; the City of Angers (Sports, Environment, Landscape Departments), the Watersports Centre and sports associations (Regional & Local Watersports Associations) for maintenance, security, safety, education and events organisation and the Public Organisation of the Leisure Park for all financial activities (camping, hostel, coffee shops).
Source(modified):http://www.lacdemaine.fr/uk/plan.html
The Lac de Maine Park lies within walking distance from the city centre (4km), going through the Balzac Park along the Maine River and is served by two bus lines. The Balzac Park (50ha) was created in 2002 and designed so that it is is naturally colonised by local flora and fauna and works as a natural flood zone for the river. The park encompasses bird observation spots, aquatic wildlife ponds, and thematic areas such as grasses area, wild flowers area, wetlands, Oak wood and prairies where Poitou donkeys and Highland cows graze.
100307-Urban2
Source for both maps: GoogleMaps
Lac de Maine and Balzac Parks are on the way of a major ecotour: the cycle way along the Loire Valley and Castles (see map), attracting a majority of local and national visitors but also international visitors (major nationalities are from the UK, Germany, Holland, Spain and Italy) in the camping and hostel. The project "La Boucle Verte" (the Green Loop) will create a 10km way accessible to roller, cyclists and walkers, linking safely St Aubin Island to Lac de Maine Park and to Angers' castle and railstation.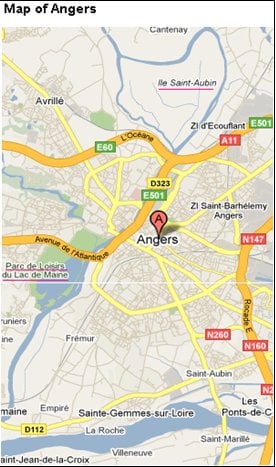 100307-Urban3Lac de Maine attracts over 500 000 visitors/year thanks to a four-star camping (161 spaces), a 155-bed hostel certified "Ethic Etapes" (http://www.ethic-etapes.com/index.php?id=actions) and facilities such as the water sports leisure centre, conference rooms, tennis courts, playgrounds, the House for Environment (Maison de l'Environnement created in 1990) and its Organic Garden opened to schools and general public. The Water Sports Centre and the House for Environment welcome 64 school classes/year.
The House for Environment is dedicated to environmental education and interpretation, and designs important thematic exhibitions on ecosystems, trees, birds, aquatic wildlife, climate change, insects, organic gardening and trips to St Aubin Island. It also manages the zone status of National Wetland Conservation Area.
These parks are also linked by a towpath along the Maine River to St Aubin Island (600ha) within the northern part of Angers. The island is located at the confluence of three rivers (Maine, Sartres, Mayenne) joining the Loire river. It is an important Protected Wetland Area, part of the European network Natura 2000 and classified RAMSAR and SSSI. The site counts 20 000 birds and is also part of the Protected Area of "Basses Vallees" region (Low Valleys, 6000ha) which counts 30 protected species among 239 flora species. The island is still used for sustainable ancient methods of grazing and hunting.
100307-Urban4A ferry gives access to the island where can be found an open-air cafe and a former farm which was transformed into an Interpretation Centre in 2008. Ecotours coordinated by the House for Environment take place for schools and the general public for small fees, when the area is not flooded.
It is managed by a partnership involving the City, a National Association for birds protection (LPO) and the local association for sustainable hunting, which owns the majority of the Island.
Source: http://www.geoportail.fr
4. Conclusion
Angers is the 16th city of France in term of size, but it is the most advanced in terms of sustainability. The city first adopted a chart for urban sustainability in 1992 and has since developed itself according to Agenda 21 principles. In 2005, the French Agency for Environment and Energy Sustainability (ADEME) settled in the city nearby the Balzac Park. This unity of parks along the Maine River is a huge green corridor for wildlife within the city and provides shelter for a great variety of flora & fauna as well as the opportunity to educate the public to its environmental value. This case study embraces all aspects of ecotourism as seen in part 1 and 2 of this report and shows that ecotourism can really help to develop cities in a sustainable and holistic approach, for both local and international tourists. This project also goes beyond the limits of the city, inserting itself in an interregional and international context; international research schemes takes place in the Loire Valley to understand better the relations between heritage and environment and Angers is part of the European network of sustainable cities since 1995.
APPENDIX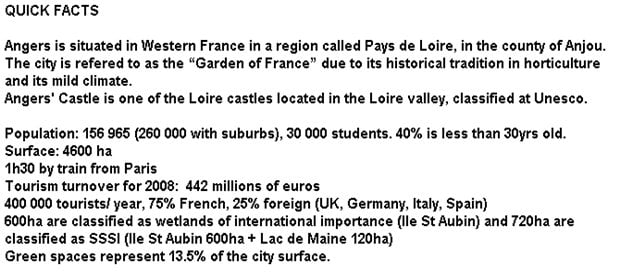 100307-Urban5
100307-Urban6
Source: Google Maps
REFERENCES
Buckley, R., Cater, C., Linsheng, Z., Chen, T., 2008, "SHENGTAI LUYOU: Cross-Cultural Comparison in Ecotourism", Annals of Tourism Research, Vol. 35, No. 4, pp. 945–968.
Dodds, R., Joppe, M., 2001, Promoting urban green tourism: The development of the other map of Toronto, Journal of Vacation Marketing, Volume 7, Number 3, 2001.
Higham, J., 2007, Critical issues in ecotourism, understanding a complex tourism phenomenon, edited by James Higham, 439 pages.
Higham, J., Lück, M., 2002, Urban Ecotourism: A Contradiction in Terms?, Journal of Ecotourism Vol. 1, No. 1, 2002.
Levi-Strauss, C., 1964, Le Cru et Le Cuit, Mythologiques, vol. I, Paris, Plon.
McLaren, D., 1998, Rethinking tourism and ecotravel :the paving of paradise and what you can do to stop it, West Hartford, Conn., USA : Kumarian Press.
Okech, R. N., 2009, Developing urban ecotourism in Kenyan cities: A sustainable approach, Journal of Ecology and Natural Environment Vol. 1(1), pp. 001-006, April 2009.
http://www.academicjournals.org/JENE
Orams, M. B., 1995, Towards a more desirable form of ecotourism, Tourism Management, volume 16, issue 1, pages 3–8.
Posey D. A., 2002, Commodification of the sacred through intellectual property rights, Oxford Centre for the Environment, Ethics and Society, Mansfield college, University of Oxford, accepted March 2002.
Rousseau, J-J., 1761, A Discourse on the Moral Effects of the Arts and Sciences, Online Library of Liberty, http://oll.libertyfund.org/?option=com_staticxt&staticfile=show.php%3Ftitle=638&chapter=71081&layout=html&Itemid=27
Sofield, T. H. B., Li, F. M. S., 1998, Tourism Development and Cultural Policies in China, Annals of Tourism Research, Vol. 25, No. 2, pp. 362-392, 1998.
Wu, Y.-Y., Wang, H-L., Ho, Y-F., 2009, Urban ecotourism: Defining and assessing dimensions using fuzzy number construction, Tourism Management, doi:10.1016/j.tourman, 2009.
Page, S.J., Hall, C. M., 2003, Managing urban tourism, Pearson Education limited, 2003, p54-93.
Weaver, D.B., 1997, A Regional Framework for Planning Ecotourism in Saskatchewan, Canadian Association of Geographers, The Canadian Geographer, volume 41, number 3, 281-93, 1997.
Maltbaek, C., 2002, Green Spaces, Better Places: Final Report of the Urban Green Spaces Taskforce, Proceedings of the Institution of Civil Engineers, Municipal Engineer 151, September 2002, Issue 3, pp165-166.
Donadieu, P., Entre urbanité et ruralité: La médiation paysagiste, Annales de la recherche urbaine (Paris) 85, 6-15, Lavoisier, 1999.
Maas, J., Verheijl, R.A., Groenewegenl, P., de Vries, S., Spreeuwenberg, P., 2006, Green space, urbanity, and health: how strong is the relation?, J Epidemiol Community Health 2006, volume 60, issue 6, pp587-592, doi:10.1136/jech.2005.043125
Websites:
The International Ecotourism Society website (TIES),
http://www.ecotourism.org/site/c.orLQKXPCLmF/b.4832143/k.CF7C/The_International_Ecotourism_Society__Uniting_Conservation_Communities_and_Sustainable_Travel.htm
Planeta.com, http://www.planeta.com/ecotravel/tour/urbandeclaration.html
ECOCLUB.com, http://www.ecoclub.com/news/064/ecofocus.html#1
Wikipedia for the following entries: Parc de Balzac, Basses Vallees
http://www.angers.fr/decouvrir-angers/en-chiffres/angers-en-chiffres/index.html
Press kit on sustainable development in the city "Angers 21: developpement durable"
House of Environment/ Maison de l'Environnement of Angers:
http://www.angers.fr/vivre-a-angers/preserver/lenvironnement/pour-sinformer/linformation-et-la-sensibilisation/la-maison-de-lenvironnement/index.html
Lac de Maine website:
http://www.lacdemaine.fr/html/index2.htm
Regional Tourism Committee:
http://www.maineetloire.cci.fr/eco_angevine/tourisme_49.html
Angers Tourism Committee:
http://www.angersloiretourisme.com/fr/Chiffres_cl%C3%A9_tourisme_%20angevin.aspx
Natura 2000:
http://www.natura2000.fr/spip.php?rubrique50
Cycle way along the Loire Valley:
http://www.loireavelo.fr/tabid/3799/Default.aspx
Many thanks to Mr Christian Beziau, Director of the Watersports Centre in Lac de Maine Leisure Park, for all his answers.
{mainvote}