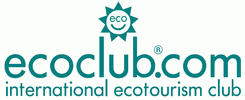 ECOCLUB.com > ECOCLUB.com Ecotourism Awards™

the alternative ecotourism awards funding micro-projects
which promote genuine Ecotourism and ecological & social change in Tourism!
Navigation Menu: Please Enable Flash to Access
Winning Project: From Wild to Web - Guyana Coordinator: Judy Karwacki (Small Planet Consulting, Canada)
"Ecotourism-linked wildlife monitoring activities by the village Wildlife Club will be enhanced by a dedicated laptop and cameras. Village youth will learn to digitally document field projects, to make web pages, and upload them online"

Project Proposal Details, Implementation & Discussion

Progress Report - 1 September 2009

Project Completion Report - 1 November 09:

Rupununi Learners Inc Foundation of Yupukari Village, a Makushi indigenous village in the Central Rupununi Region of Guyana and Small Planet Consulting wish to thank the Members of ECOCLUB.com for choosing our "Web to Wild Project" as a winner in the 6th Annual ECOCLUB.com Ecotourism Awards. We are grateful for your support, and pleased to submit our project completion report.
The project has been completed insofar that the equipment we requested in our original proposal to Ecoclub.com has all been purchased and delivered to Yupukari. The items we purchased are as follows, and the purchase receipt is attached:
1 "HP Pavilion DV7-1450US 17-Inch Entertainment Laptop"
2 "Olympus WS-400 Digital Recorders"
2 "Nikon Coolpix S220 10MP Digital Cameras"
1 "SwissGear Computer Backpack"
In addition, the project has already made strides in meeting the main goal of enhancing the capacity of village youth to participate in the developing local, regional, national and international conversation about the future of threatened Rupununi lands and waters through Yupukari Wildlife Club field projects recently funded by the IUCN. The digital documentation and online publishing training and field monitoring activities using the equipment have been underway since September 2009, and will continue on an on-going basis. We have submitted two videos which show the senior and junior Wildlife Club undertaking these activities.
Following are some highlights of our project activities:
From July to October, on the following dates, we conducted field trips on the trails - walking transects, birding, visiting pit traps, and identifying trees and insects – and using the equipment to take photos and make audio and video records: July 03 (5 people) 20th (4 people) , 21st (3 people) focused on trees, 29th (5 people) August 5th (3 people), 7th (7 people), 9th (4 people) September 3 dates - between 18th - 29th with Rob Gandola - herpetologist Oct 26th 27th - GATBS visit dates - three hikes over two days with Wildlife Club Web design training began in with two sessions in early to mid August aimed at making Wildlife Club members comfortable with using the equipment and posting information online. The training restarted after the start of school in October and is currently ongoing. The equipment is also being used currently on our extended Important Birding Areas programme. The Caiman Monitoring component is now in progress too. The nests are showing, and the Wildlife Club will visit and document activities including nesting, passive observation and night catching and monitoring. We have posted four pages online to illustrate the Wildlife Club's efforts:
---

Copyright © 1999-2009 ECOCLUB S.A. All Rights Reserved. Terms of use
Home Ecolodges News Shop Community Chat Library Events Advertise Join Recommend