Our Crete's Culinary Sanctuaries Network is excited to welcome faculty and students from Utah State University on their May 2016 Study Tour to Crete! Utah State University Study Abroad to Crete, Greece Program And our fantastic annual Study Abroad program for faculty and students from University of Missouri! University of Missouri Study Abroad Program in Greece

New Release The Routledge Handbook of Sustainable Food and Gastronomy Edited by Philip Sloan, Willy Legrand, and Clare Hindley Preface by Roberto Flore, Nordic Food Lab, Copenhagen, Denmark http://www.routledge.com/books/details/9780415702553/ The issues surrounding the provision, preparation and development of food products are fundamental to every human being on the planet. Given the scarcity of agricultural land, environmental pollution, climate change and the exponential growth of the world's population where starvation and obesity are both widespread it is little wonder that exploring the frontiers of food is now a major focus for researchers and practitioners. Based on a multi-disciplinary approach, the handbook provides a systematic guide to the current state of knowledge on sustainable food. 75 expert contributors from around the globe provide results of recent research or discuss industry practices in 40 articles. The handbook begins by examining the anthropology of food and in particular analysing consumer food decisions and the...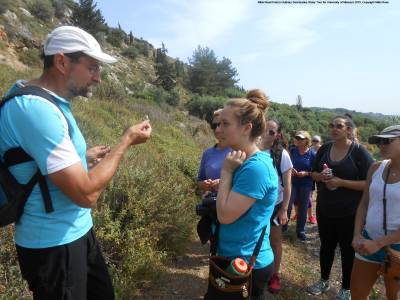 Greetings from Crete, Slideshow highlights of one of our annual Accredited Study Tours for teachers and students from University of Missouri. CCS Photos on Flickr

Mediterranean Immersion Workshop in Crete, GreeceJune 15 – 21, 2015Continuing Education for Food, Nutrition & Health ProfessionalsFocus: Mediterranean Lifestyle for Optimal Health A 7-Day focused immersion into the Mediterranean Diet and lifestyle designed to provide an overview of the culture, nature and cuisine of Crete. Emphasis is on cuisine in helping to maintain optimal health; food as medicine and developing strategies to implement the Mediterranean lifestyle when returning home. Join us for an informative and exciting workshop on the magnificent isle of Crete, the center of the Mediterranean Diet. Our base is in a region where olive oil and wine has been produced for over four thousand years. This historic region is bustling with small-scale agricultural production in communities striving to sustain cherished traditions. We'll visit resident specialists at their "field offices." Classes include private guided tours of archaeological sites, natural parks/botanical hikes, organic farms, markets, olive oil factories and wineries; presentations by...

Workshop in Crete, Greece May 12 - 20, 2014 Lessons from the Mediterranean: Applying Yesterday's Wisdom to Tomorrow's Table Continuing Education for Food, Nutrition & Health Professionals. A 7-day workshop-experiential learning program. Organized by Crete's Culinary Sanctuaries Eco-Agritourism Network and Field to Plate. CPEs: RD/DTR: 49; American Culinary Federation CEHs: 35 http://www.fieldtoplate.com/2014-crete.php

Interview on NPR - National Public Radio in the USA on the new book by Elizabeth Becker entitled "Overbooked" covering the tourism industry I look forward to more conversations on this crucial issue. And also conversations with the many people already working on solutions. http://www.npr.org/2013/04/29/179829147/tourism-today-trample-disrupt-and-destroy

University of Missouri and Crete's Culinary Sanctuaries Study Abroad in Greece: The Mediterranean Diet and Lifestyle 10-Day Accredited Program May 20 – June 1, 2013 A comprehensive experiential learning program designed to provide an overview of the culture, nature and cuisine of Crete. This program is designed for teachers, students and professional researchers of nutrition, cuisine, sustainable living, tourism, and agricultural practices. Explore Crete's cultural and natural treasures with resident specialists. Experiences include private guided tours of archaeological sites, organic farms, natural parks/botanical hikes, food markets, olive oil factories, wineries, as well as demonstrations by artisan food producers, and food preparation classes. Presentations are exclusive to our small group of 20 attendees. This course will be held in several regions of Crete and in Athens on the final day of the program. Learning opportunities will be provided by Chef-Author Nikki Rose, Founder of Crete's Culinary Sanctuaries and her network of over...

Crete's Culinary Sanctuaries 2013 Seminar Update: Our Study Away Program for Missouri State University is full. Registration is now closed. There are a few spaces left for our accredited study tour for the University of Missouri and our fantastic open program covering Historic Food & Wine Routes of Crete from June 22-29, 2013. A rare and fantastic opportunity to explore Crete's magnificent countryside and historic sites with resident specialists; enjoy botanical hikes, visits to organic wineries and tranquil villages. http://www.cookingincrete.com/Schedule.html All the best, Nikki

Food for Thought Symposia: Cretan food and wine event December 10, 6:30 pm, Baltimore, MD The Inn At The Black Olive, The Institute for Integrative Health and Johns Hopkins School of Public Health, introduce the Food for Thought Symposia: A return to the ancient Greek ritual of gathering to partake in good food, fine wine, and communal discourse which, when shared together, provide sustenance for intellectual and cultural growth. Internationally known advocate of Cretan food and lifestyle, Nikki Rose, will be autographing her book Crete: The Roots of the Mediterranean Diet. http://www.examiner.com/article/food-for-thought-symposia-cretan-food-and-wine-event