Written by

Antonis Petropoulos
This was the second live event of the Ecoclub Destinations series, where we showcase eco-friendly destinations without glorifying them. We ask accomplished local sustainable tourism practitioners to present their own work and projects at this destination and explain the challenges they and their colleagues are experiencing in the context of the sustainability of the destination as a whole.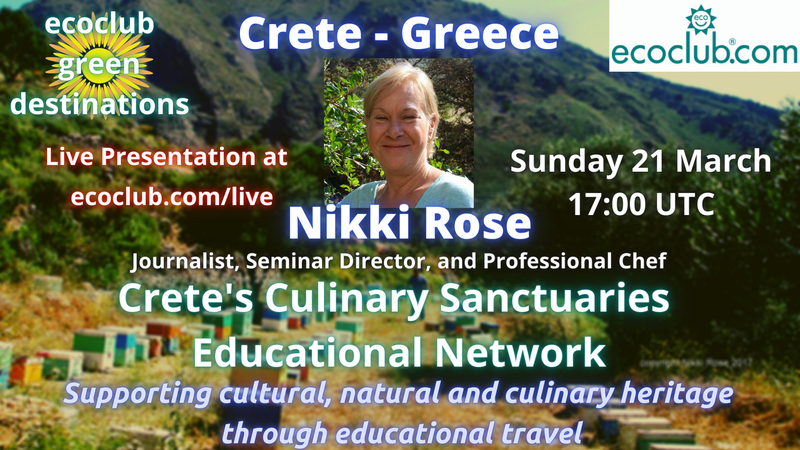 Ecoclub Destinations - 2nd Live Event – Crete, Greece
When: Sunday 21 March at 17:00 UTC (19:00 in Crete, Greece) 
Topic: "Crete's Culinary Sanctuaries Educational Network"
Supporting cultural, natural and culinary heritage protection through educational travel 
Speaker: Nikki Rose
Nikki Rose is a Greek-American journalist, seminar director, and professional chef in Crete, Greece. In 1997, Nikki founded Crete's Culinary Sanctuaries Educational Network to support residents working on action programs to protect and share their heritage. CCS teachers are archaeologists, ecologists, organic farmers, heirloom seed savers, chefs, artists, and many others. CCS organizes accredited educational programs on Crete's culture, nature, organic agriculture and cuisine. Over 3,000 students, teachers and journalists have attended their programs. Their upcoming documentary, Heritage Protectors, is a continuation of their work. CCS is an award-winning program for Best Practices in Responsible/Sustainable Travel, and featured in National Geographic, The New York Times, WTTC, UNWTO, UNCBD, IFOAM-Organics, Agroecology Europe, Routledge Handbooks, Food Tank, and many other organizations, publications and media outlets.
Nikki is a consultant on similar initiatives around the world and has been a most valuable Member of Ecoclub since 2004.
For more details visit www.cookingincrete.com 

Written by

Antonis Petropoulos
The Ecoclub Destination series: 
Live online events are one of the few positive side effects of the pandemic, beyond helping us maintain our sanity, they can help us plan ahead for the great return of tourism, to give real meaning to the catchphrase "building back better". In this context we inaugurated on 28 February 2021, the Ecoclub Destinations series. The meetings are recorded and live streamed and are available on our YouTube channel.
We believe that a green destination is not one that presents a green image to visitors but one that is genuinely green, for visitors and hosts alike, in that its tourism model succeeds in meeting the key needs and aspirations of the local community, supports necessary public infrastructure such as hospitals, schools and public transport without creating an excessive impact on the natural and cultural environment and resources and without becoming a tourism monoculture, crowding out traditional economic sectors such as agriculture, but rather supports it by the exclusive use of local organic products. The destinations that we will be examining in this series are not fully sustainable, very few destinations are if we consider air transport pollution, extra electricity and water consumption by tourists, and waste management, but these destinations, effectively key people in these destinations are making a serious effort. Our intention is to review and encourage these efforts rather than beautify their results. 
Ecoclub wants to showcase eco-friendly destinations without glorifying them, present green accomplishments, remaining challenges and key threats. Highly accomplished local practitioners and green tourism experts are invited to present their projects in the greater context of a particular destination, which also be a route or a village. Thus the presentation is split between what the expert does, where and why for whom and with whom. We are trying to appeal to both discerning tourists and practitioners. We also want to cover how the pandemic has affected the destination and if certain things need to be done differently from now on in the destination, building back truly better!
Ecoclub Destinations - 1st Live Event – Kythera Island, Greece   
When: Sunday 28 February at 19:00 Athens time (17:00 UTC) 
Topic: "Kythera Trails - building a sustainable destination at the heart of the Mediterranean" 
Presentation by Rigas Zafeiriou, a consultant/researcher for the Mediterranean Institute for Nature and Anthropos (MedINA) and local manager of Kythera Trails, the trail network & sustainable tourism development programme of Kythera Island. Rigas is also programmes director at the Kytherian Foundation for Culture & Development while he has worked for Paths of Greece on trail research and design on other islands of Greece. As a tour leader, Rigas has designed and facilitated 30+ multiday trail adventures for various agencies, including REI, Trekking Hellas, Ross Holidays and more.