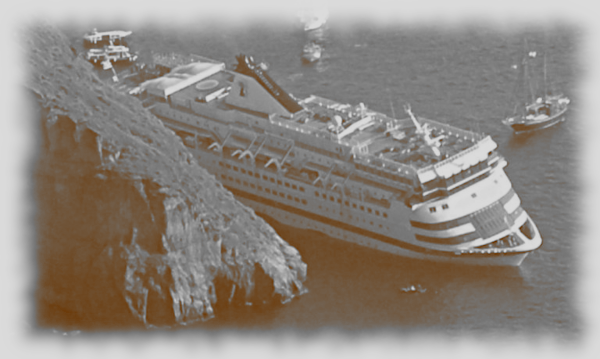 Sea DiamondΚοντεύουν 14 χρόνια από το ατύχημα και την ύποπτη βύθιση του κρουαζιερόπλοιου Sea Diamond στην Σαντορίνη. Μια Ευρωπαϊκή Υπηρεσία Περιβάλλοντος με δόντια θα είχε ήδη ανελκύσει το τοξικό ναυάγιο και θα είχε εισπράξει τα χρήματα από τα πρόστιμα στους εμπλεκομένους... Αντ'αυτού περιμένουμε πότε θα κυλήσει το ναυάγιο στην άβυσσο! Οι Πράσινοι καλέσανε την Κυβέρνηση να ενεργήσει προτού είναι αργά.
Διαβάστε Σχετικά
Πράσινοι: Η Ανέλκυση Του SEA DIAMOND Είναι Ζήτημα Κύρους Του Κράτους!
Nearly 14 years have passed since the accident and the controversial sinking of the Sea Diamond cruiseship in Santorini. Had a powerful European Environment Agency existed, it would
have already lifted the sunken ship using the funds from the fines it would have imposed on all those responsible. Instead, we are just waiting for the toxic wreck to slip deep into the abyss. The Greek Greens are now calling the government to act before it is too late.
Related Reading
Greek Greens: The hoisting of the Sea Diamond is an issue of national prestige!
Update: 1 March 2021
Απάντηση (1/3/21) του Υπουργού Ναυτιλίας & Νησιωτικής Πολιτικής σε ερώτηση στη Βουλή για το θέμα:
«Η υπόθεση του ναυαγίου του κρουαζιερόπλοιου SEA DIAMOND στην Σαντορίνη αποτελεί ζήτημα μείζονος ενδιαφέροντος, η επιτυχής έκβαση του οποίου συνιστά πρωταρχικό σκοπό». Πρόσθεσε, ωστόσο, ότι για το συγκεκριμένο ναυάγιο υπάρχει μια πορεία μακρόχρονων διοικητικών και δικαστικών εξελίξεων, οι οποίες βεβαίως δεν έχουν ακόμα ολοκληρωθεί. Από την πρώτη μέρα του ναυαγίου μέχρι και σήμερα το Υπουργείο Ναυτιλίας και Νησιωτικής Πολιτικής και το αρμόδιο Λιμεναρχείο Θήρας έχουν εκδώσει πάνω από εξακόσιες αποφάσεις και έχουν επιβληθεί πρόστιμα συνολικού ύψους 8.238.094 ευρώ.  Αναφορικά με την απόφαση του Συμβουλίου της Επικρατείας τόνισε ότι την σχετική αρμοδιότητα υλοποίησης νόμου περί ναυαγίων, κατ' αρχήν την έχει το Δημοτικό Λιμενικό Ταμείο Θήρας, αλλά επίσης ανήκει παραλλήλως και στην κεντρική διοίκηση ως αυτοτελής υποχρέωση. Επίσης, ανέφερε ότι έχει συσταθεί ομάδα έργου από ανώτατα στελέχη της Γενικής Γραμματείας Λιμένων και Λιμενικής Πολιτικής και Ναυτιλιακών Επενδύσεων και στελέχη του Λιμενικού Σώματος, προκειμένου να εξετάσουν και να διατυπώσουν άποψη στο τριμελές Συμβούλιο Συμμόρφωσης του Συμβουλίου της Επικρατείας για τις δύο πραγματογνωμοσύνες, οι οποίες έχουν διενεργηθεί δυνάμει των αποφάσεων 51/2017 και 373/2018 του τριμελούς Εφετείου Πειραιώς, καθώς και να παρακολουθήσουν όλες τις απαιτούμενες ενέργειες, οι οποίες θα προκύψουν και αφορούν την ανέλκυση του συγκεκριμένου ναυαγίου και το αμέσως επόμενο χρονικό διάστημα να καθοριστούν οι τεχνικές λεπτομέρειες ανέλκυσης του συγκεκριμένου ναυαγίου και το πραγματικό οικονομικό κόστος. "
Πηγή