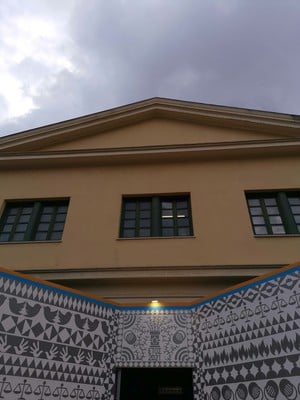 "Nea Xysta" by Navine G. Khan-DossosThe 7th Athens Biennale, titled "ECLIPSE" is currently taking place in the historic centre of Athens featuring local as well as well-known international artists, many of whom are exhibiting in Greece for the first time. It is co-curated by Omsk Social Club and Ghanaian-American Larry Ossei-Mensah under the artistic direction of Greece's Poka-Yio (Polydoros Karyofillis), co-founder of the Athens Biennale.
The exhibition "highlights the obscured perspective of reality caused by the constant state of flux we are experiencing in our society now" and also focuses on changes in Athens itself, "as a rising metropolis located at the intersection of Europe, Asia and Africa both physically and historically." Seeking to "assess the implications of identity, history, and cultural complexity" the 7th Athens Biennale highlights works of artists from the African Diaspora, Queer and other artistic voices that have historically been marginalised, with the aim of encouraging the viewers' imagination of potential parallel worlds and futures, platforming ideas such as co-existence, "radical care", "interspecies friendship" and "sonic viewing", with references to the pandemic social-distancing and isolation, while challenging oppressive mechanisms and "outdated idealism". It deploys various immersive techniques such as real game play, radical gossip, persuasive realities, "emotional hypnosis", bodying, synthesis, and visualization.
Among many striking installations one notes Christoph Draeger's "Black September", a detailed restaging of the kidnapping, execution and massacre of the Israeli Olympic team by members of the terrorist group Black September at the XX Olympiad in Munich 1972,  Navine G. Khan-Dossos's "Nea Xysta" art installation, inspired by Chios island's Xysta decorative wall art tradition, and Simon Denny's "The Extractor" board game, which criticizes data-mining and surveillance Capitalism. 
ECLIPSE offers a unique opportunity to visit the three neighbouring landmark "ghost" buildings in the historic centre of Athens where it is housed: the Former Department Store Fokas, shut down by the economic crisis, the Former "Santaroza" Courthouse in Justice Square (built in 1830, the first public building in Athens after national independence, originally the royal printing house, sealed since 1986), and Schliemann-Mella Hall, a grand, neo-baroque 5-level building of the 1890s, which although abandoned, still houses "Ideal" Athens' oldest cinema and the largest with 2,000 seats when it first opened in 1922. It is also possible and highly recommended to book a guided tour with Bienalle's art experts while there are live performances detailed in the official programme.
"The Extractor" by Simon Denny
The 7th Athens Biennale is co-financed by the Hellenic Republic and the European Union through the Regional Operational Programme of "Attica" in the framework of NSRF 2014-2020, performs under the auspices of the Hellenic Ministry of Culture and Sports and the City of Athens and is realised in partnership with Onassis Culture  of The Onassis Foundation.
For more information visit eclipse.athensbiennale.org/en