"When we initially talk to small accommodation owners about incorporating environmental and also universal access standards, they usually agree conceptually but also tend to get nervous...So we explain that most of the measures can actually help them save money and that we'll support them....the vast majority of small accommodations end up embracing the sustainability standards."
Bradley Weiss is a sustainable tourism development professional who has worked in over 30 countries across Africa, Latin America, and Asia. For over 18 years, he has supported tourism ministries, businesses, and communities to harness the potential of the tourism sector. Much of his work in the United States, Spain, Brazil, Ecuador, Ethiopia, and Mozambique has been through organisations such as the World Bank, USAID, United Nations World Tourism Organization (UNWTO), the German International Cooperation Agency (GIZ), and the Inter-American Development Bank (IDB). His areas of specialisation include: strategic planning, business development, capacity building, product development, destination marketing, community tourism, investment promotion, ecotourism, tourism policy, workforce development, market research, visa facilitation, regional integration, public-private dialogues (PPD), and workshop facilitation. Bradley holds a Masters in International Tourism and Hotel Management from the Polytechnic University of Valencia and a Masters in Tourism Administration from the George Washington University, Washington, DC. In the early part of his career he was an Ecotour Guide in southern Brazil, a travel guidebook writer with Fodor's and Rough Guides, and an executive with Doubleclick (now part of Google) and Igougo.com (now part of Travelocity).  
Ecoclub: What was it that first attracted you to the world of international tourism development consulting, and what is still keeping you motivated?
Bradley Weiss: I first became interested in tourism development consulting before I knew it was even a field. While writing travel guidebooks in Latin America in the late '90s, I saw how tourism can profoundly affect communities. I also saw that many had much room for improvement and could benefit from seeing how things were done in some other destinations. But I didn't know that there were people actually working in this area. Then I met Donald Hawkins, one of the real pioneers in the field of sustainable tourism development. The next year I was enrolled in the tourism Master's program at George Washington University and working as his research assistant. I then started working at the World Tourism Organization (UNWTO), where George Washington University held the chairmanship of the Education Council. After two years in Madrid, I was eager to get to the field, so I became a consultant and immediately went off to work on a USAID-funded project in Mozambique. Thirteen years and many countries later, I'm now back in Mozambique.
During this time, I've never been bored. Within the tourism field, there is a huge range of work so I'm always learning new things. Even a similar assignment in a different country can be quite distinct as each has a unique context and challenges. It's intellectually stimulating work and usually very gratifying. I say "usually" because of course there are cases when a project doesn't get real traction - I think that's just something that's inherent to the field of development. But even in those cases, I still feel I've learned things that I'll be able to apply to future work.
Ecoclub: You were professionally involved with the Internet, nearly 20 years ago, holding important roles in companies which have since been taken over by giants. How do you feel about the way the internet and in particular the online tourism sector has evolved? Are you afraid it may be irreversibly becoming an oligopoly, as small players just cannot keep up with digital innovation or will startups keep constructively disrupting the playing field?
Bradley Weiss: That's true - one of the companies I worked for was bought by Google and the other by Travelocity, which was then acquired by Expedia. While I no longer work in this area, it's clear that the trend has been towards consolidation and market dominance by a relatively small number of players - this seems to be the case across most online sectors. We tend to see this in a negative light because it leaves less space for smaller companies.
So yes, there are some undeniable downsides. But in the case of the online tourism sector, I also see some real positives. If we look at some of the dominant players, such as TripAdvisor and Airbnb, they are providing small businesses and individuals with a direct connection to hundreds of millions of travellers. This is making the sector far more inclusive, which is not just good news for these small businesses, but also destinations and travellers.
Ecoclub: From your experience, and with reference to your current project in Peru, what can prevent the concept/strategy of public-private dialogues (PPDs) from being abused so as to circumvent public opposition to unsustainable mega-tourism projects, and, actually become a safeguard against such projects? 
Bradley Weiss: I actually haven't come across that problem, but it's probably because of the model that I use for PPDs. In places like Mozambique and Peru, I've helped set up small, informal PPDs that are focused on the tourism sector in one specific destination. I've found that formal, hierarchical structures don't work as well because they can take a long time to set up, become very bureaucratic, and easily be dominated by certain figures. I like having small groups (usually 10-12) with dynamic figures that represent key public and private groups.
In the beginning, we establish very clear guidelines and objectives, but nothing is legally binding. We work with minimal budgets - larger budgets are often not sustainable and usually not necessary - we've found that most issues can be resolved just with strong commitment and coordination. There are no transportation costs or per diems and usually members take turns hosting the meetings. The main cost is for the facilitator, whose role is quite crucial. The facilitator needs to be experienced and also be seen as totally impartial.
I'll give a quick example of a PPD I helped set up and facilitated through GIZ in a beautiful beach town in Mozambique called Vilanculos. We had strong support from the mayor and a great group of committed members. The group, which met monthly, decided in the beginning that it wanted to focus on five issues: waste management, security, noise pollution, branding, and electricity provision. We were able to make great strides with the first three issues just through collaboration and coordination between government agencies and members of the private sector - no money was needed. The project only spent a few hundred dollars to hire a designer to develop a destination brand. At the end of the first year, I think we were all amazed at how much we were able to achieve by just getting everyone around the same table together on a regular basis.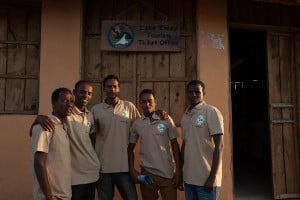 Community tourism manager and tour guides that we trained in Ziway (in Ethiopia's Central Rift Valley)Ecoclub: Based on your worldwide experience as well as your research for your current project in Cape Verde (Cabo Verde) what types of labels for small accommodations are in demand and can actually bring concrete benefits to accommodation providers?
Bradley Weiss: I really like small accommodations quality labels. In the last few years, I have seen some great examples - some privately run and others by government agencies. But it really depends on the country context. In the case of Cabo Verde, the public and private sector felt that improving the quality of small accommodations was key to the country's bid to diversify beyond all-inclusive tourism. A typical classification system didn't seem to make sense given that most accommodations were either very large all-inclusive resorts or small, locally-owned accommodations catering to cultural and eco-tourists - with very little in between.
A quality label for small accommodations can bring other advantages over a standard classification system. Most classifications systems tend to be quite rigid and based on old European systems from decades ago. Less formal quality labels allow for greater flexibility and adaptation to the country context. In Cabo Verde, we decided to make it voluntary and more focused on service and the customer experience rather than equipment and infrastructure, since those can get expensive and are often not the most important determinants of satisfaction.
Actually, some people wonder whether you still need accommodations classification systems or labels in the age of user generated content on sites like TripAdvisor. I agree that it's no longer as important for travellers and to some extent the travel trade, but I believe these systems can still be very useful in terms of creating a framework for accommodations to work on improving the quality of their offering - especially when the systems are paired with targeted training courses and personalised hand-holding sessions. Marketing initiatives linked to the label provide additional benefits for participants.
At the end of the day, it's not about creating a system for the government to maintain control and punish non-compliance. It's about providing a mechanism to support small business owners. And when they do better, the whole destination benefits.
Ecoclub: The complexity and cost of ecolabels, together with doubts over their effects on increased bookings, have been proposed as causes for low adoption by accommodation owners, especially small ones. Do you agree? But would making ecolabels less complex and more affordable risk making them unattractive as the value of a label to a holder diminishes if everyone can easily obtain them?
Bradley Weiss: I do believe that cost and complexity are big deterrents. At the end of the day, ecolabels primarily appeal to businesses with a clientele that appreciates or even demands eco-friendly practices. The businesses also have to be able to make significant investments in terms of time and money. That's just not possible for a lot of small-scale accommodations.
Another approach that I've pursued in countries such as Lesotho and Cabo Verde is to incorporate sustainability standards into accommodation grading or quality label systems. Actually, this seems to be increasingly common in many countries. Certainly the environmental standards aren't as extensive and stringent as they would be in a pure ecolabel, but it's a great way of mainstreaming some of these practices.
When we initially talk to small accommodation owners about incorporating environmental and also universal access standards, they usually agree conceptually but also tend to get nervous - mostly because they are afraid it's going to have major cost implications. So we explain that most of the measures can actually help them save money and that we'll support them to make the changes through training and technical assistance. Also, to make it less daunting, we start out by placing some of the standards in the "bonus point" category. We've found that the vast majority of small accommodations end up embracing the sustainability standards.
Ecoclub: Community Tourism is often praised and presented as an appropriate strategy in 'difficult' or sensitive destinations, but does it really exist in a successful, alternative form (Community-managed/ Community-owned) in any of the countries you have worked? Or should we just be satisfied with mainstream tourism taking place within a "community"- whatever 'community' means around the world - rather than in some all-inclusive, exclusive, tourist enclave or a package-based, sprawling, coastal destination?
Bradley Weiss: I have in fact seen some good examples of community-managed/community-owned tourism ventures in countries like Tanzania, Ecuador, Uganda, etc. But the reality is that if we look at donor-supported community-tourism initiatives over the years, there have definitely been more failures than successes. I spent four years helping develop community tourism in Ethiopia through a USAID project and I must say that it's some of the work I'm proudest of. We focused primarily on four communities and in one it just didn't work, but the other three have done well.
Communities face real challenges in developing tourism products—mostly related to limitations in education, capital, infrastructure, access to internet, exposure to tourism, etc. Some types of ventures, such as accommodations, are particularly challenging and less likely to be successful. In Ethiopia, the products we focused on were guided nature walks, birdwatching tours, horseback riding tours, boat tours, a craft shop, and a basic campsite.
To development agencies or NGOs that are considering new community tourism projects, I would offer a few pieces of advice. First, the right approach is crucial. It must be market-driven, not project driven. You have to do a lot of market research--particularly with tour operators--to figure out what types of products may have real demand. Usually the community tourism products that do best are those located near key attractions, or at least those that are near established itineraries.
Second, it's really important to partner with the right communities. Beyond their attractions and geographic location, they have to be truly committed. If you visit the community and ask if they're interested, they'll probably say yes. But they can't really make an informed decision until you build their awareness about tourism - through meetings, workshops, experience sharing trips, etc. It's also critical to have a champion in the community that has the passion and skills to lead the effort.
You also need to have the right project set-up. You need to put together a strong team with at least one or two people who have real experience in this area. Also, the project needs to have significant financial resources. And you need to have time - I would say that it's not worth even trying if you have less than three of four years because it's a long process with lots of steps: community selection, engagement and awareness building, business planning, training and capacity building, product and infrastructure development, market outreach, and plenty of practice. Without all of that, it's not likely to be sustainable. Another option would be to look for existing community tourism ventures that just need an extra push to be successful.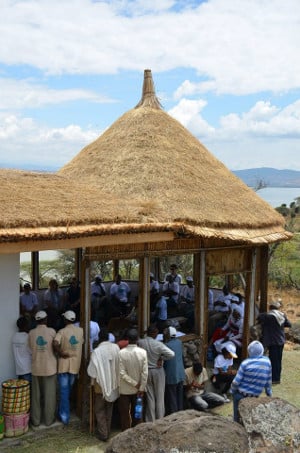 Launch event for the community owned and managed restaurant on the historic island of Tulu Gudo (Lake Ziway in Ethiopia's Central Rift Valley)Ecoclub: Your areas of specialisation include Visa Facilitation, having led the marketing component of the SADC UNIVISA (common tourist visa) project in Zambia and Zimbabwe. What were the key lessons learned from this pilot project and what are the key obstacles preventing a simplified visa regime across Africa which could considerably boost tourism revenue and job creation?
Bradley Weiss: Developing new visa policies or programs is notoriously difficult work. The main reason is that it requires agreement and collaboration across a number of agencies that have very different functions and perspectives. They include those responsible for tourism, immigration, foreign affairs, defence, etc. So you can imagine how tough it is to do it across multiple countries. But through a World Bank project, we were able to help Zambia and Zimbabwe develop the pilot UNIVISA. It made sense for them to collaborate, given their shared border at Victoria Falls and the high potential for multi-country trips that it afforded. There was also urgency because they wanted to have it ready in time for the UNWTO General Assembly. But more than anything, it worked because the country's leaders told their agency heads that it had to work.
The initial idea was to create a single visa for the five countries that are part of the KAZA Transfrontier Conservation Area, which also includes Angola, Botswana, and Namibia. But we decided to start with a small pilot, knowing it would be hard to get all five countries to agree. That was apparent when we saw that SADC had been discussing a common tourist visas for several decades without making real progress. One of the challenges is that in many regions there's a dominant player that does not want to encourage multi-country itineraries. Security is also a big issue for a lot of countries. And in some cases, resistance to visa reforms comes from Foreign Affairs and their embassies, since visa collection is often one of their main sources of income.
But it's worth noting that there's been a fair amount of progress in Africa in recent years. For example, around the same time that the pilot KAZA UNIVISA was launched, a common East Africa Tourist Visa was developed by Kenya, Uganda, and Rwanda. Also, there are now 16 African countries offering eVisas, with several more set to launch this year. There are still quite a lot of barriers to overcome, but trends are encouraging.
Ecoclub: Overtourism or Undermanagement? In other words, do you think that it is a real issue, or just lack of appropriate management frameworks and talent? Or even worse, in most cases, a non-issue caused by a strange alliance of elitists, xenophobes and "overpopulation" alarmists?
Bradley Weiss: Overtourism is not an issue I deal with much - I mostly work in emerging destinations that are doing their best to attract more tourists in the context of a very competitive global industry. But I think it's a real phenomenon and particularly harmful when it affects rural areas with sensitive ecosystems or cultures. In those cases, it can cause lasting damage and needs to be managed effectively. But in some areas - particularly in emerging destinations - management capacity can be limited.
What I hear about most often, though, is overtourism in cities - particularly in Europe. In those places, it may be less of a question of capacity to manage as much as will to manage overtourism. It can become a rather complex issue, particularly because of the diverse set of interest groups who weigh the pros and cons of tourism rather differently. This is often the case with high-profile economic development. I've seen several articles in the last few days about the Amazon.com headquarters backlash happening in New York and Northern Virginia. There are some interesting parallels with overtourism - on one hand, it means more congestion and rising housing prices, but on the other hand it means many new jobs and an expanding tax base. It'll be interesting to see how these issues play out.
Bradley Weiss: The Tourism sector tends to complain that it is still not taken seriously by governments, but is it just the fault of the latter? How satisfied are you with the overall level of governance, strategic planning and communication in the international tourism sector and, with your vast experience in both tourism and development, in its cooperation with the international development sector? Is there something that definitely needs fixing?
Bradley Weiss: This is something we could spend hours discussing and I'm afraid I've already been a bit long-winded. But I'll focus on the strategic planning piece, which is quite foundational and also links to the question about international development. I know a lot of us in this area have seen that many tourism plans quickly end up on shelves—particularly in emerging destinations. So why is that? I would say that there are three main implementation constraints: a lack of buy in, capacity, and financial resources.
In most emerging destinations, tourism plans are written by consulting firms. I think that some do try to work with local counterparts to build their capacity, but it's usually limited by project time constraints. So a plan is produced—and it may be a really good plan—but without a lot of buy in and know-how for implementation. In a World Bank project in São Tomé and Príncipe, I wanted to try a different approach focused on building the planning capacity of the tourism department even before the planning process began. I taught a tourism planning course to all key staff, during which we designed together the planning process to be used, the tools to be used to gather data—like visitor surveys and attractions inventories - and even an outline of the strategic plan document. Then I provided some follow-up technical assistance to conduct the surveys and inventories. Only then was a consultant hired, but the dynamic was quite different. The process had been demystified and the department staff had taken ownership. The consultant was just there to work on some technical pieces and write it up alongside department counterparts.
In the end, they had a plan that they felt was theirs and truly reflected the needs and reality on the ground. So there's buy-in and capacity has been built to some degree, but there is still a need for some additional technical assistance and financial resources for implementation. This is where the international development organisations can play a key role. Instead of them coming to the tourism ministry or department with ideas of projects that fit within their programs, they can be given a copy of the strategic plan and asked to fund specific pieces. Other donors can follow suit with different elements so that they are all working in a coordinated manner, towards common objectives. I think this is one way to make donor assistance to the tourism sector more effective.