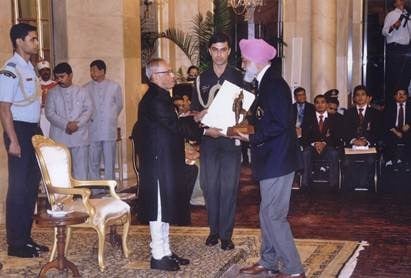 Mandip Singh Soin receives India's highest civilian honour in adventureNew Delhi, India (14 September 2012) - On the 29th of August 2012, the President of India, Shri Pranab Mukherjee, awarded the 'Tenzing Norgay Lifetime Achievement National Award'to Mandip Singh Soin FRGS. He is the first person in the Indian Tourism Industry to receive India's highest civilian honour in adventure.

The award, which carried a bronze sculpture, a scroll with a citation and a cash award, was presented at a formal ceremony at the President's house in New Delhi. The citation reads "In recognition of his unmatched spirit of adventure and pioneering contribution to the field of adventure on land, water and air through expeditions spanning six continents."
A mountaineer & explorer and Founder and Managing Director of Ibex Expeditions, India's pioneering
Adventure Travel Company established in 1979, he is also the Honorary President of the Ecotourism Society of India. Since the age of 15, he has been involved in adventures and explorations completing over 40 years of adventures in India and different parts of the globe over 35 countries and across 6 continents.

These include treks & climbs in the Himalaya including the 400 km Lahul - Zanskar trek and the first ascent of Z1 6400m in Jammu & Kashmir, Mt Kun 7077m and the first Indian ascent of Mt Meru 6180m in the Garhwal Himalaya.

Soin has made first ascents in the French, Swiss and Italian Alps and the Dolomites, was an Instructor in Scotland & Wales and also trained in Mountain Rescue. He undertook an overland cycling expedition of 1500 kms from Delhi to Kathmandu; made the first crossing of the 450 kms Thar Desert on camel back; rode elephants for 101 km in the Kerala jungles and rafted down rivers like the Rogue in USA, Zanskar, Ganges & Beas in India, Padas in Borneo, Findhorn in Scotland & the Vilcanota in Peru. He has participated in an UNEP supported environmental expedition to the Arctic in 1989.

He has also led expeditions to Bhutan, Tibet, Borneo, Mongolia, Madagascar, and is presently working on a project to convert the remaining dacoits (bandits) of the legendary Chambal river valley in Madhya Pradesh into naturalists and propose the area as a World Heritage site.

Mandip Singh Soin is an international speaker, keen environmentalist and judge of several international awards. He has been nominated India's Most Versatile Adventure Person by the Limca Book of Records and is the only Indian to receive the Ness Award from the Royal Geographical Society, UK, for expeditions, explorations and encouraging youth. He is a member of the National Tourism Advisory Council in India; Trustee of the Himalayan Environment Trust and represents India at the UIAA (World Mountaineering & Climbing Federation) in the Access Commission. A former Chair of the South Asia Chapter of the Explorer's Club, USA, he is also a Judge of the Tourism for Tomorrow Awards of the World Travel & Tourism Council (WTTC).