Ecotourism News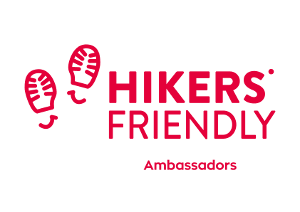 Athens, Greece - 21 November 2017: "Hikers' Friendly", an ecolabel for hiker-friendly hotels, and Trekking Hellas, Greece's largest and oldest adventure tour operator, have signed a cooperation agreement. Their joint mission is to 'enhance the hiking experience through the upgrade of services in each destination' recognising that a great hiking experience starts with great hospitality!
Trekking Hellas has thus become the 1st "Hikers' Friendly Ambassador". Following new trends in the tourism industry and the needs of the modern hiker for specialised accommodation, Trekking Hellas Group undertakes to support the well-being of the hikers, the promotion of hiking activities and the development of responsible tourism in each destination.
Details

Written by

Hikers' Friendly Press Release

Hits: 60
Read more: Hikers' Friendly ecolabel to cooperate with leading Greek Adventure Tour Operator, Trekking Hellas
Delft, The Netherlands - 14 November 2017: In the year 2100, the world's population will be flying nine times as many kilometres as in 2015, and the average travel distance for all tourist journeys is set to double over the same period. Aviation, 90% of which is tourism, will not be able to escape a severe reduction in growth, or even no growth, if we are to meet the climate targets. This conclusion is drawn by Paul Peeters, who will be awarded his PhD for his thesis on this subject at TU Delft on Wednesday 15 November.
Details

Written by

Delft University of Technology

Hits: 628
Read more: New research argues that Paris climate targets are unrealistic due to global tourism's CO2 emissions growth
Washington DC, 1 November 2017 - Every year, the Center for Responsible Travel (CREST), working with leading tourism organizations and institutions, publishes what's come to be known in the shorthand as "Trends & Statistics," a compilation of facts, quotations, data, and resources designed to advance the practice of responsible travel worldwide. This year, in recognition of the United Nations naming 2017 as the International Year of Sustainable Tourism for Development, CREST has modeled the content after the Year's five "pillars" created by the UN World Tourism Organization (UNWTO).
Details

Written by

ECOCLUB.com

Hits: 89
Read more: New CREST Report - The Case for Responsible Travel
Honolulu, 10 Oct 2017 – In keeping with its commitment to foster sustainable tourism in the Hawaiian Islands, the Hawai'i Tourism Authority (HTA) is providing funding of more than $3.5 million to 124 programs that are perpetuating Hawaiian culture, protecting natural resources and showcasing community events in 2018. Recipients of the funding are nonprofit groups, community organizations and individuals statewide who have demonstrated through proposals submitted to HTA their dedication to strengthen the enduring qualities of Hawai'i's legacy that distinguish the islands as a place to live and visit.
Details

Written by

Hawaii Tourism Authority

Hits: 912
Read more: Hawai'i Tourism Authority awarding USD 3.5m to foster community tourism programmes in 2018
Singapore, 11 October 2017 – Mandai Park Holdings (MPH) announced today the appointment of Banyan Tree Holdings (Banyan Tree) as the operator of an eco-friendly resort to be located within the new integrated nature and wildlife destination at Mandai. This partnership marks the debut of the award-winning, Singapore-based hospitality company on home ground after its global success.
Details

Written by

Banyan Tree

Hits: 650
Read more: Banyan Tree to operate new integrated nature & wildlife destination in Singapore
BANGKOK, 12 October, 2017 – The Tourism Authority of Thailand (TAT) and the United Nations Development Program (UNDP) identified four model communities under the 'Follow the King's Wisdom for Sustainable Tourism' project in remembrance of the late King Bhumibol Adulyadej.
Mr. Yuthasak Supasorn, TAT Governor, and Mr. Martin Hart-Hansen, UNDP Deputy Resident Representative, presided over the opening ceremony of the "Follow the King's Wisdom for Sustainable Tourism" exhibition. Held in Bangkok, from 4 to 8 October, 2017, the exhibition highlighted the late King Bhumibol Adulyadej's contribution of to his principles as well as the tourism routes and products from the model communities.
Mr. Yuthasak Supasorn, TAT Governor said, "The project formed part of TAT's marketing plan under the 'Local Experience' concept. It aims at adding value to tourist's itineraries by offering local experiences in these communities' living under the late King Bhumibol Adulyadej's philosophy of Sufficiency Economy."
Details

Written by

TAT

Hits: 560
Read more: Thailand introduces four sustainable tourism communities to honour late King
DUBAI, 11th October, 2017 (WAM) -- 'Responsible Tourism' will be the official theme for the Arabian Travel Market, ATM, 2018 show, which will take place at the Dubai World Trade Centre from 22nd to 25th April, 2018.
Simon Press, Senior Exhibition Director, ATM, said, "The GCC is one of the fastest growing regional hospitality markets on a global scale and is a resource-intensive industry. Its impact on the environment is multi-dimensional, ranging from CO2 emissions, water and energy demand and food waste to noise and light pollution.
"Travellers have become conscious of the carbon footprint they are leaving while visiting destinations, and the subsequent impact on the environment. This growing trend has forced the entire industry to look long and hard at how sustainability and a credible social conscious must drive business strategy."
Details

Written by

WAM

Hits: 140
Read more: Arab Travel Market 2018 to highlight responsible tourism
Sustainability and Corporate Social Responsibility in Hospitality and Tourism
Special issue call for papers from International Journal of Contemporary Hospitality Management
Guest Editors
Babak Taheri, Heriot-Watt University: Edinburgh, UK, This email address is being protected from spambots. You need JavaScript enabled to view it.
Kevin O'Gorman, Dubai, UAE and Putrajaya, Malaysia
Juliette Wilson, University of Strathclyde, UK
Editor-in-Chief
Fevzi Okumus, University of Central Florida, USA, This email address is being protected from spambots. You need JavaScript enabled to view it.
Sustainability and Corporate Social Responsibility (CSR) in hospitality and tourism is laden with contradictions. From the simple "carbon offsetting" of budget flights to the warning from the Maldivian Government that their country will disappear due to rising water levels whilst also building, in one year, at least seven additional airports to service their resort islands. The academic literature does not always help; the continually inconclusive or contradictory findings of financial impact studies, often meaningless CSR reporting, and consumer cynicism over perceived "green-washing" activities (Farrington et al., 2017) further contribute to the lack of clarity in this area.
Details

Written by

IJCHM

Hits: 567
Read more: Sustainability & Corporate Social Responsibility in Hospitality & Tourism, Call for Papers
Edinburgh - 10 October 2017: The Scottish Government is to establish a fund to provide investment in infrastructure to support sustainable growth in rural tourism across Scotland.
The Rural Tourism Infrastructure Fund – which will see £6 million invested over two years (2018/19 and 2019/20) – will help ensure the services and facilities tourists and communities need are provided.
Latest figures indicate notable increases in visitor numbers to rural tourism sites in certain areas, including:
Details

Written by

ECOCLUB.com

Hits: 612
Read more: Scotland establishes fund to support sustainable tourism in rural areas
This October 23-25, 91 banks will meet in São Paulo, Brazil to discuss their social and environmental commitments under the so-called Equator Principles, a set of rules guiding which big infrastructure projects they will and won't finance.
Now is the time for them to act on their supposed principles. They must stop financing climate change and respect Indigenous peoples' rights. Sign now to demand that they make commitments to change.
These "Equator banks" have all promised to avoid or minimize the social, environmental and climate impacts of such projects, and to respect the rights and interests of Indigenous communities affected by them. However...
These Principles for banks to follow sound good – but they're not working.
Details

Written by

Equatorbanksact.org

Hits: 138
Read more: Online Petition: Tell Big Banks to stop financing climate disasters and respect indigenous rights