About the Author
A long time student of Eurasian history, cultures and languages and a committed traveller of various destinations along this vast continent. Worked for a few years in the field of independent tourism and came to acknowledge the blessings and hazards of this trade. At the moment a resident of the city of Lijiang, Yunnan, China while engaging in the field of sustainable development among the communities of the nearby villages.
This email address is being protected from spambots. You need JavaScript enabled to view it. - Author's Blog
By Noam Backner, ECOCLUB.com Correspondent
The city of Lijiang in north west Yunnan has transformed itself in the last two decades from a sleepy town on the Chinese borderland to one of the country's most popular tourist destination, attracting tens of millions of domestic visitors yearly into its maze of inns, bars and karaoke bars. Only a few kilometres away is the Lashi Hai watershed, an important eco-region and a centre of the local Naxi culture. The region was initially designated as a sustainable development zone and a potential source for Ecotourism, but is gradually overrun by mass tourism practices. Many local people are concerned about the rapid development but are rather powerless in face of this ongoing process.
Situated in a fertile valley amidst the mountainous landscape of North-west Yunnan, the town of Lijiang had served as a crucial link in an age old trade network, connecting the Tibetan plateau with the tea-producing regions to the south, while its Naxi inhabitants served as intermediates, much benefiting from the lucrative trade with Tibet and India. These social arrangements had survived well unto the times of the People's Republic, when new borders and new politics have put the trade economy out of use and the region found itself at the very margins of China's economic networks.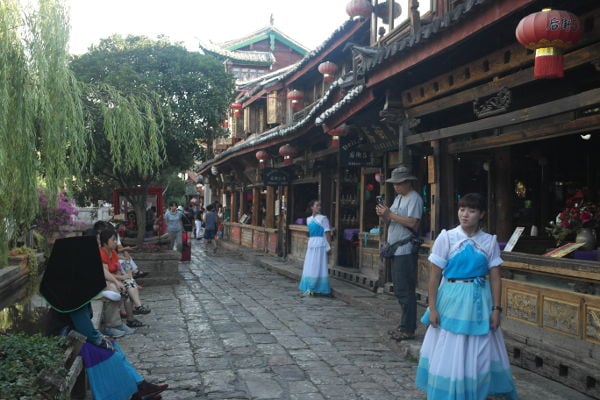 Lijiang Old Town
Famed for its traditional wooden architecture, its serene water canals and exquisite view of the formidable Yulong mountain, Lijiang had became an important tourist destination, starting from the late 1980's, when it was designated as one of Yunnan's four official tourist destinations. With improvement of transportation infrastructure throughout the 1990's and its designation as a UNESCO World Heritage Cultural Site in 1997, Lijiang had increasingly became a popular tourist destination, when the number of visitors had grown from 1.7 million to 11.8 million between 1997 - 2011 and is expected to reach 16 million this year (2015), making it one of China's top destination for domestic travellers (Source: http://www.chinadaily.com.cn/m/lijiang/2012-06/01/content_15451524.htm)
Apart of its appealing natural setting and unique architecture, Lijiang had been capitalizing on its Naxi cultural heritage. The Naxi, a Sino-Tibetan people settling the region for more than a thousand years, hold unique traditional features, notably their Dongba religion (a syncretic belief system derived from Tantric Buddhism with Daoist and local Shamanic influences) as well as the unique pictographic script carrying the same name.
Lijiang's reconstruction as an ethnic "Dreamland", had made it an overwhelmingly popular destination, while changing its character from a sleepy town on the western margins of the Chinese milieu to a dense hub of boutique inns, Karaoke bars and luxury shops, warping together ethnic exotica and consumer experience.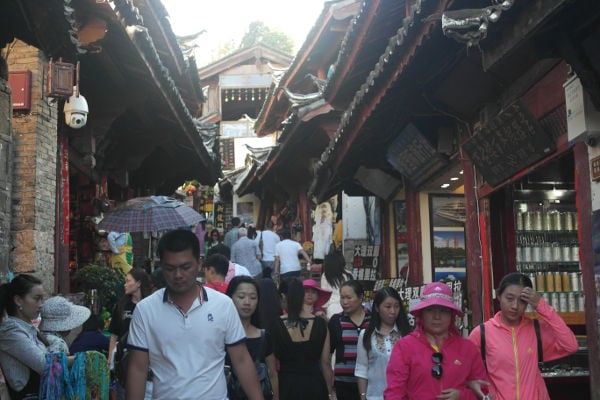 Tourism carrying capacity issues in Lijiang Old TownThe museumification and commercialization of Lijiang old town has been followed by a massive emigration of its original inhabitants. It is easy to judge the Lijiang story as another example of local culture, being overrun by uncontrolled, marginalizing tourism development, mostly conducted by outside knowledge and capital, however it is also important to point out that most of the traditional house owners did not sell their properties but are renting them out to Han entrepreneurs for considerable sums of money, enabling the owners to move out to more specious, modern accommodations in the new city. Although some locals do lament nostalgically about the Lijiang of old with its strong sense of community, and complain about the multitude of tourists hording into the old city during pick season, they still acknowledge the huge contribution of tourism to the development and prosperity of Lijiang, contributing 37.8 billion RMB to the city's economy in 2014, equivalent of roughly 70% of its total GDP (Source: Lijiang tourism bureau interview. All other information is based on interviews conducted May-June 2015, unless mentioned otherwise )
A general view of Lashi lakeAbout eight kilometres to the west of Lijiang is the Lashi watershed, an elevated wetland, dotted with villages along its fringes, mostly inhabited by members of the Naxi ethnic group, but also by other minorities such as the Yi, and Tibetans who mostly serve as monks at the local Zhiyun monastery which dates from the 18th century. Acknowledged for its important ecological services, mostly high quality water supply to the nearby town of Lijiang, and rich biodiversity, a large portion of the Lashi Lake was announced as a nature reserve in 1998, aimed to protect these natural resources. (Source: Xie, Jian. Addressing China's Water Scarcity: A Synthesis of Recommendations for Selected Water Resource Management Issues. World Bank Publications, 2008, pp.106-108).
Local Naxi MusiciansApart of its natural assets, the Lashi Hai region still holds as a centre of rural Naxi culture, featuring villages of few dozen families each, relying mostly on agriculture and fishing as their main income. The villages around Lashi Hai still demonstrate traditional courtyard architecture, shaded by ancient walnut trees and surrounded by inter-cropping vegetable plots. While Lijiang itself, the traditional cultural capital of the Naxi people, had changed tremendously in the last few decades, the city's periphery still offers a glimpse of traditional Naxi culture, before the time of top end hotels, staged folk dancing and souvenir shops. As such, the Lashi Hai region holds a real potential for rural tourism.
In 2002, a local Ecotourism initiative was indeed established with the assistance of The Nature Conservancy, a major US-based NGO, as a means to offer economic alternatives to local logging, hunting, and charcoal production, and substitute these practices with lodging, and nature based travel. More than a decade after, around two dozen families are still engaged with community and nature based tourism in the Lashi Hai region, this model however, is being threatened by leaking of mass tourism practices from nearby Lijiang, while putting Lashi Hai's potential as a significant Ecotourism destination at risk. (Source: Zeppel, Heather. Indigenous Ecotourism: Sustainable Development and Management. Cabi, 2006, pp.243-244).
Horse-riding in the lake regionLashi Hai's proximity to Lijiang old town, make it a convenient outdoor destination for many incoming tourists, looking for a day out in the lake's green surroundings. Most of the tourists come to enjoy horse-riding; a service offered by many newly-established operators, when at the moment hundreds of horses are being kept in the lake's proximity in order to answer the growing demand. While horse riding on itself offers a relatively environmentally friendly transportation, the sheer amount of tourist horse caravans often cause major road blocks, which contribute to accumulation of traffic by the lake side, causing elevated amounts of air and noise pollution. Moreover, the large numbers of horses produce copious amounts of manure, and while some of it is being collected and used as fertilizer in the nearby fields, a considerable part of it find its way to the lake while putting water quality at risk. In the last few years other facilities have been established as well, such as restaurant compounds catering for the many arriving tourists, and even a helipad, used to take tourists for tours above the lake and the nearby mountain range. The increasing activity and development around the lake had already affected the behaviour patterns of migrating birds, abstaining completely or taking to the inner parts of the lake, making bird watching, a potential educational and Ecotourist activity, almost impossible.
Mr. Zhang, a local home stay operator, says that the recent years have seen many improvements in the region infrastructure, especially of the road system, enabling local farmers a better access to Lijiang's markets. He adds, however, that while horse riding and other developments bring about increased income to the lake region, many of the tourists do not actually stay in the region, and go back to Lijiang at the end of the day. Zhang, as other locals, also expresses his concerns regarding the environmental future of the region, and claims that recent development brought about pollution, crowding and noise that are changing Lashi Hai's atmosphere. "We want to see development", he concludes, "but we must think of a way to balance between development and keeping the environment safe".
Lashi Hai's still holds a great potential for rural, culture and nature based tourism, and a real alternative for the mass tourism model of neighbouring Lijiang. However, as mass tourism patterns leak in, as well as outside investments, this model, first introduced more then ten years ago, with the absent of large scale planning, is bound to be overrun.
Edited by Antonis Petropoulos
All rights reserved, ECOCLUB S.A. (2015)