Ecotourism News
Details

Written by

ECOCLUB.com Team

Hits: 2046
A group of individual tourism activists and representatives of civil society groups from six continents, gathered in Istanbul from 28 to 30 August 2014 to discuss human rights, social justice and sustainability concerns in tourism. The outcome of the meeting was the foundation of the Tourism Advocacy and Action Forum (TAAF) as a first step to rebuild an international network and forum for courageous dialogue on tourism impacts and to develop a proactive global tourism advocacy and action platform.
The meeting was attended by Dr. Freya Higgins-Desbiolles (tourism scholar, Australia), Rami Kassis (Alternative Tourism Group, Palestine), Taisser Maray, (Golan for Development of the Arab Villages, Golan Heights), Navaya ole Ndaskoi (Pastoralists Indigenous Non-Governmental Organisations Forum, Tanzania), Pierrette Nicolosi (Altervoyages, Belgium) and Anita Pleumarom (tourism investigation & monitoring team, Thailand) Rodrigo Ruiz Rubio (Programa Vichama, Peru) and Ranjan Solomon (Alternatives-Badayl-Centre for Responsible Tourism Goa, India).
TAAF also issued its first statement which you may find below:
" TOURISM ADVOCACY AND ACTION FORUM - ISTANBUL STATEMENT - August 30, 2014
RATIONALE
We have gathered in Istanbul because of our shared recognition of the urgent need to rebuild an international network and forum for courageous dialogue on global tourism impacts. We are gravely concerned about today's converging global crises, which are manifesting with particular and increasing intensity through tourism, and include both the biosphere crisis and the numerous intensifying social crises that accompany it. These multiple crises profoundly affect humanity, especially today's children and future generations worldwide, and merit our immediate collective action. We therefore strive for a proactive global tourism advocacy and action platform.
We call attention to the accelerating inequities and injustices characterizing both the global tourism industry and its industrial models for development. This is a historical moment for all actors in the global tourism arena to rethink tourism and recognize that tourism is not a right but a privilege, and increasingly a controversial privilege. Accordingly, we wish to inspire a growing community of care, equipped to engage in advocacy and action for a fundamental shift in tourism policy and practice. From here forward, our endeavour must include naming and confronting the social, economical and political realities, underlying the exploitative relationships characterizing the global tourism industry.
Tourism is a political force which may benefit or harm. Considering the serious and accelerating challenges of tourism such as climate change, destruction of biodiversity, and culture loss - which carry immediate local and global threats for all humanity - we highlight the need to look at the structural underpinnings of these widespread yet often unevenly distributed injustices. We stress the need to support the well-being of vulnerable and oppressed populations affected by tourism, including Indigenous Peoples and other socially marginalized populations, notably women and children.
We also note the need to support those affected by inequities within travel freedoms - such as pastoralists, refugees, and migrant workers. Among these social groups, many are displaced from their ancestral lands, sacred sites, and other places of cultural heritage and dispossessed of basic life necessities (for example, water, shelter, and food). An alarming number of these peoples, communities and individuals are forced by the tourism industry to work in slavery or slave-like conditions. Given these trends, we must dismantle the institutional barriers that prevent the physical and social mobility, continuity in cultural practices, as well as dignified and secure livelihoods which are vital to their well-being. It is our responsibility to work together for harm avoidance.
In recognizing these patterns that must be confronted and changed, we call for the honouring of local peoples whose daily lives are immediately impacted by tourism. Solidarity and concerted action are necessary to lay foundations for ethical pathways for the radical transformation of tourism policy and practice.
VALUES
Recognizing the profound costs of tourism, it is vital to define the values and principles by which we will shift the dominant discourse on tourism.
Our initiative has a distinct vision, shaped by values arising from the realities, experiences, needs, aspirations, and rights of peoples and people's struggles in and/or from developing countries, as well as others experiencing oppression and disparity as a result of tourism.
First, we clarify the values of our initiative which will define our organizing. As a group, we are reflecting on our path of advocacy, both what we have accomplished as global networks, as well as the limitations of our work - especially, in working with and serving the local peoples affected by tourism. We affirm our commitment to being the change that we want to see in the world. Within our network, we strive for collaboration - through a mutually supportive, non-competitive ethic - dedicated to transparent and accountable ways of interacting. We emphasize inclusiveness, based on our common values, principles, and visions. That said, we point out that our work is characterized by independence from corporate interests. We seek respectful engagement with those holding differing viewpoints; however, we shall confront the actors which undermine the values of shared humanity, starting within our own networks of tourism NGOs.
We are determined to promote a holistic approach to tourism. This requires a radical review of the mainstream discourse on tourism. Decolonization of the global tourism debate is necessary. This entails striving for equity and justice within all discourses and processes on tourism. Foremost, we want to open new spaces for peoples vulnerable to tourism to articulate their experiences and needs in their own voices, languages, and customary ways. Our priority is to amplify the voices of affected people(s), especially children and women.
PRINCIPLES
We are calling for a comprehensive decolonization of tourism and all tourism related processes, including institutional frameworks and dialogues on policy and practice. We are guided by the principles of self-determination and care for our fellow humanity. Tourism narratives must put disadvantaged peoples and communities, including today's generation of children, at the centre. It is crucial to discern local forms of tourism which are a political force for good from globalized tourism models that ultimately hurt people(s) and place(s).
We have a shared responsibility to evaluate tourism alternatives across multiple scales, with both an ethic of justice and an ethic of care - understanding the present global challenges through local struggles. Therefore, we emphasize the need to critically reexamine the political and economic structural barriers to genuine sustainable tourism, within both local and global frameworks for governance (for example, in the institutions and processes responsible for policy development).
Our work must assure non-exploitative relationships in tourism. This includes fighting the destructive forces of capitalism, racism, and other forms of discrimination and oppression. This is the basis for our solidarity. It entails caring for both the biosphere that we share and all peoples and living beings residing within it.
We commit to principles for action grounded in social justice, including support for peoples' and communities' rights to say no to tourism. We especially note the historic significance of inter-generational rights today, in light of the biosphere crisis, current rates of culture loss, and the erosion of Indigenous knowledge systems globally.
The misguided development models of the global tourism industry must be corrected. One vital component of this is the degrowth of tourism. Further accumulation of tourism debt (that is, social, cultural, and environmental damage) is not an option. Humanity sits at a juncture where we must reject practices that are inherently unsustainable.
We urge a precautionary approach, grounded in wisdom.
ACTION
Our action is oriented to a profound transformation of the tourism system, to support the emergence of a society which honours justice, equity, diversities, inter-dependence and peace. Central premises for our action include:
· Advocacy highlighting and supporting local struggles, grounded in proactive action research respecting customary law and cultural protocols;
· Making people's voices visible in national and international arenas;
· Linking people(s) so that they can mobilize together to safeguard their rights;
· Acting as 'whistle blowers' to illuminate violations of the rights of people(s), including rights to a healthy biosphere;
· Opposing the cooption of the terminology of social justice, human rights and sustainability - particularly by institutions and agencies whose own mandates undermine these core principles;
· Exposing the UNWTO as an industry-serving body which is inherently unable to develop or oversee a vision of sustainable tourism;
· Symbolic acts and protests to express our concerns and visions.
We stand together, for deeply transformative practice across the tourism sector - premised on mutual care. "
For more information:
Contact the TAAF Secretariat, c/o Equations, at info(at)equitabletourism.org and/or tim-team at timteam02(at)yahoo.com. 
Details

Written by

KAMAL THAPA

Hits: 6851
by Kamal Thapa*
The author (centre) in a meeting between local people and ACA staff.In Nepal and in other parts of the Global South where poverty alleviation is high on the agenda, Protected Area (PA) experts and regional development planners seek to integrate PAs into regional development and turn them into regional drivers of sustainable development. Experience shows that in order to receive the local peoples' support for conservation and reduce negative sentiments, Protected Areas (PAs) management should also meet local needs. In the quest for sustainability and balance between nature conservation and development, PA-based tourism can be one of the best options for meeting such needs and for regional development although sustainable development remains a challenge.
PAs worldwide are, in theory at least, established to protect and conserve the last remaining habitats, ecosystems and natural (cultural!) landscapes in different geographical regions. The World Conservation Union (IUCN) defines PAs, ''as clearly defined geographical space that is recognized, dedicated and managed through the legal and other effective means to achieve the long term conservation of nature with associated ecosystem services and cultural values'' (Dudley 2008). There are 6 IUCN categories of PAs ranging from strict conservation (IUCN category I a) to managed resource use in compatible with nature (IUCN category VI).
Besides safeguarding biodiversity and natural ecosystem processes, PAs should provide livelihood and income for the people living in and around the protected areas, and support different forms of environmental services at the local, national and global level. Present day PA management should not be viewed through the concept of an environmental perspective alone but should be able to address a broad area of social and economic issues (Getzner et al. 2012). In practice, very often conflicts arise between conservationists and economic development interests (Munasinghe and McNeely 1994, cited in Getzner et al. 2012) with people residing in the buffer zone of protected areas being ignored by both. Local communities are often reluctant or even opposed to the declaration of any parts of the region as a PA fearing restrictions to traditional or other current land uses and loss of revenue. For example, the establishment of the Carpathian Biosphere Reserve in the Ukraine brought conflict with locals due to restrictions in forest use, loss of agricultural and pasture land and increase in wildlife population (Wallner et al. 2007, cited in Getzner et al. 2010). Such conflicts are more intense in Asian and African parks threatening the long term survival of PAs and raising questions if these are really effective in achieving their conservation objectives (Shrestha 1996, Weladji and Tchamba 2003, Allendorf et al. 2007, Thapa 2013). In addition, as Mark Dowie has examined in 'Conservation Refugees', the establishment of new PAs has sometimes involved the displacement of indigenous peoples.
Strict rules and PA management regulations appear as the most promising way to conserve biodiversity even though benefits have to be compromised at times (Fischer 2008). On the other hand, strict protection may create internal displacement and even lead to tragedies such as in Rara National Park (Nepal) where almost a third of the people who were translocated people from Rara, a mountain region, to lowland Terai died as they did not manage to adapt to this sudden climate change (Khadka and Pradhan 2010). Similar incidents of displacement and relocation are common in most of the lowland Nepalese parks. In fact, strict enforcement of conservation laws have created conservation refugees worldwide, threatening the lives and survival means of many indigenous (and local) people who resided in the area long before the creation of protected areas.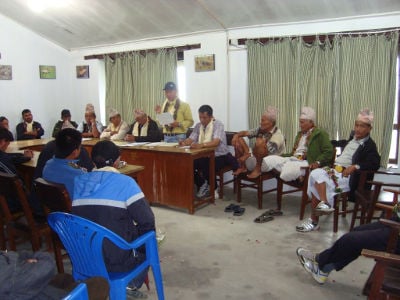 Formation of new conservation area management committee in Sikles, ACAProtected Areas and Regional Economic Impact

Many PAs, especially national parks, are among currently-emerging destinations of tourism. Regional development pressures sometimes lead to proposals to weaken the pro-conservation management goals of PAs and introduce the promotion of sporting activities, establishment of new visitor infrastructure and the lifting of access bans to sensitive areas of a PA (Friedl et al. 2011). Most conservation projects and PAs around the world would face significant economic shortages if they had to rely entirely on declining (national) government funding, so some are introducing park entry fees for visitors and/or a license fee for tourism companies. In the case of Nepal the entry fee for visitors generates more revenue than the license fee.
Studies in several parts of the world indicate that protected areas and national parks can help achieve regional economic development goals. Getzner (2008, cited in Freidl et al. 2011) identified that the establishment of a PA may help to increase tourism activities by 1% to 5%. This may be lower for countries like Nepal where more than a decade of established national parks has not led to any increase in tourism activities. Job (2008) conducted a regional economic impact study of tourism in two national parks in Germany which showed an income sum (direct and indirect) of EUR 6 m. in Berchtesgaden national park and and EUR 3.8 m. in Muritz national park. This economic impact was the income equivalent of 206 persons and 261 persons respectively.
PA-based Tourism is a large and growing part of the economy of many countries. For instance, PAs in the United States and Canada in 1996 had a joint economic impact of between USD 236-370 billion (Eagles et al. 2000, cited in IUCN 1998). In three Victorian national parks (Australia) of Port Campbell, Grampians and Wilson's Promontory the total economic benefit to the state (total output) was AUS$ 486.6 million in 2005 (Driml no date). In US national parks visitors spent $12.13 billion within 60 miles of the park and had a total economic effect (significance) of $14.30 billion in sales, $5.19 billion in labor income, and $8.47 billion in value added. This spending supported over 170,000 jobs in gateway regions. The local region captures 80% of all visitors spending as direct sales, with average multiplier effect of 1.47 (Stynes 2011).
From the touristic point of view in PAs, three components play an important role in regional economic impact: total number of visitors, duration of their visit (days spent) and the average daily visitor expenditure. Beyond tourism activities, local products can also benefit from the presence of PAs from branding or labeling thus contributing to regional development. Through the partner management concept and national park branding local products get much more market exposure. For example, in Austria businesses from national park regions partner with a national park thus making them eligible to use national park partner logo in their marketing activities. However, the prerequisite is to meet all the environmental and quality standards developed and approved by the member companies in the network together with national park administration (Getzner et al. 2012). Wattenmeer National park. (Germany) also has partnership with accommodation providers in the region which in return have to communicate with visitors about the national park, comply with environmental standards and adopt regional products and services (Getzner et al. 2012).
Hammer and Siegrist (2008, p155) identified 3 categories and 14 key success factors of PA tourism that can contribute in regional economy. They are,

General conditions of protected area tourism
1. Adequate resources, especially financial, for the management of protected areas
2. Positive attitude to the protected areas and to protected area tourism on the part of the actions involved

Cooperation between the actors involved
3. Genuine participation
4. Regular contacts between representative of the protected area management and local and regional tourism organizations
5. Project related cooperation between different groups of actors
6. Institutionalization of a responsible body with broad range of different partners
7. Conflict resolution through cooperation and exchange of information
8. Good balance of top-down and bottom-up approaches

Design of tourism services and products
9. Intact landscape
10. Value for money
11. Target group oriented, close to nature services
12. Experience orientation
13. Consistent marketing strategy
14. Integration of services on offer in protected area tourism into the regional tourism services chain
Tea houses along trekking trails in Langtang National Park waiting for trekkersEcotourism in Annapurna Conservation Area, Nepal: Implications for Regional development

The Annapurna Conservation Area (ACA) is the largest PA in Nepal covering an area of 7629 km2 or 762900 hectares (IUCN PA category VI, subject to IUCN verification) that is managed by an autonomous non-governmental organization, the National Trust for Nature Conservation (NTNC). It is also the most-visited PA by foreigners in Nepal (DNPWC 2010), attracting over 60 per cent of the country's total trekkers (Source: forestrynepal.org/project/2923). ACA thus offers very good prospects for regional economic development through tourist expenditure and associated revenue. Among other features, ACA hosts the 10th highest peak in the world, Mt. Annapurna (8,091m) and the world's deepest river valley, the Kali Gandaki gorge (ACAP 1997, cited in Baral et al. 2008). The ACA area is home to over 120,000 residents of different cultural and linguistic groups. ACA is particularly rich in biodiversity harbouring 1,226 species of flowering plants, 102 mammals, 474 birds, 39 reptiles and 22 amphibians (Baral et al. 2008, NTNC 2013). The region contains the world's largest rhododendron forest in Ghorepani region and Tilicho Lake, the world's highest altitude fresh water lake.
The ACA area is rich in cultural diversity as well. Gurung and Magar are the dominant ethnic groups in the south, whereas Thakali, Manange and Loba are dominant in the north. Each of these groups has their own language, culture and tradition. There are also Brahmin, Chhetri and other occupational castes, although, in comparatively smaller numbers. Hindu, Buddhist and pre-Buddhist religions and mixtures thereof are prevalent across the region. The natural and cultural features of ACA have made it the most popular trekking destination in the country, drawing more than 60 percent of the country's total trekkers. Nature-based tourism has been firmly established as one of the most important and competitive sectors of the local economy. There are over 1,000 lodges, tea shops and hundreds of other subsidiary services to cater to the thousands of trekkers, pilgrims and their supporting staff (NTNC, 2013).
Unlike PAs in many major tourism destinations, Nepalese PAs impose a park entry fee to international visitors and Nepalese visitors alike. This entry fee helps generate money needed to carry out park management activities and there is a provision to channel back 30% to 50% of park income to buffer zone communities to support local community development, implementation of conservation programmes, promoting conservation and environmental awareness, skill development and capacity building.
The total number of visitors in ACA in the fiscal year 2011/2012 was 102,570 (GoN/ MoCTCA 2013). ACA management charges a tourist entry fee of NRs. 2000 (approximately US$ 20) per visitor/ entry. Baral (Baral et al. 2008) found that the average daily expenditure of tourists visiting the ACA region is US$ 20.86 and that the average visitor stays for 14.85 days. Since, Nepal is a low income country with a per capita income of USD 721 (GoN/MoF 2013), the income generated from the touristic expenditure and park entry fee (total USD 330) cannot be underestimated. Thus, taking all these statistics into economic impact analysis, the gross turnover from park entry fee, tourist expenditure and income equivalent or number of jobs created by the ecotourism is given below.
Table 1 - Estimation of regional economic impact from tourism in ACA
*Note: The income equivalent was calculated based on the per capita income of Nepal. Total economic activities (or impact) due to tourism is divided by the national average per capita income which gives the number of jobs equivalent. We can say this is the per capita income equivalent.
Note 2: Since this data in the above table is taken from different sources from different time, it may not represent the true scenarios of current ecotourism activities in the ACA region. Furthermore, due to the construction of several district and rural roads within the ACA region, the trekking duration is reduced.
Note 3: Mountain protected areas like ACA are trekking tourism destinations. Besides the park entry fee, there is the provision of Trekkers Information Management System (TIMS) card with additional fee initiated by Nepal Tourism Board and Trekking Agents Association of Nepal. It is compulsory that tourists purchase this card before the onset of trekking. Free and Individual Trekkers (FITs) have to pay US$ 20 and tourists going through trekking company have to pay US$ 10. Since it is not clear how much of the total trekkers are FITs, this extra fee levied to tourists is excluded from the above analysis.

The above Table illustrates in a convincing way that PAs can generate funds to support regional development. Further, the multiplier effect of tourism provides more benefits in the wider scale. In US national parks, this multiplier effect was 1.47. Tourism business in national parks as elsewhere is demand driven which requires an appropriate visitor management plan to reduce any negative impacts (Job 2008). Nevertheless, PAs are not a panacea for regional economic development as some PAs fail to attract tourists. For instance, Khaptad National Park in west Nepal received just five (5) foreign visitors in the fiscal year of 2009/2010 (DNPWC 2010).
Tourism business and animal husbandry go hand in hand in Langtang National ParkDiscussion

The result on gross regional economic impact and income equivalent displayed in the above table from the example of ACA, Nepal should be taken as an illustrative example only and is shown to verify how the protected areas can contribute to regional development. This analysis does not consider value added tax which should be deducted from gross revenue of tourist income and does not consider value added ratio too which should be added to net sales to achieve total income effects and employment effects (according to the Hubert Job Method developed in Germany for analysing the economical effects generated in protected areas, as explained in the Guide To Sustainable Tourism in Protected Areas - Baltic Protected Areas and Tourism - EU Project Final Report – 2011, pp.60-63 available at http://www.parksandbenefits.net/images/stories/
newsletter/final_brochure_parksbenefits.pdf ).
The number of visitors in the ACA region is increasing every year (DNPWC 2010) and its growing international recognition for adventure and nature-based tourism provides the basis for a further increase in visitor numbers. In order to reduce its negative impacts on the environment and local resources an appropriate visitor management tool must be employed. The tourism products and services are not originated in the region itself and the lack of retention of tourism income in a destination is a major concern in Nepal. The majority of the income is often taken away by outsiders or city dwellers (Sharma 1992, Banskota and Sharma 1998, cited in Sharma 1998). The income leakage is as high as 60 % to 65% in ACA region (Sharma, 1995c cited in Sharma 1998) whereas the share of imported goods among lodges in Ghorepani is 76.41% and 68.09% in Ghandruk (Banskota and Sharma 1995a, cited in Sharma 1998).
The majority of income is garnered by a limited number of accommodation providers thus creating economic disparity between hotel owners and non-owners. The average gross income for hoteliers (546 in total) in ACA is US$ 20,212 (Baral et al. 2008) which is far beyond the per capita income of US$ 721 (GoN/MoF 2013). Almost all of the hotel businesses are family business. There is not any per capita income information induced by tourism but assuming the average size of family or household of 4.88 in Nepal (ekantipur, 2012, http://www.ekantipur.com/the-kathmandu-post/2012/11/30/on-saturday/the-rise-of-the-nuclear-family/242311.html ) the per capita income from this figure is US$ 4141.80. which is very much than the national average per capita income.
Visible proof that the local community are benefiting from tourism includes improved village trails, establishment of child day care centers, income generation activities, supply of drinking water, and local level infrastructure development such as micro-hydro power. Another important indicator is the fact that ACA is the first PA in Nepal not to deploy the army to protect its natural resource base and biodiversity. (the Army operates as a de facto, rather than de jure, law enforcement agency and protector of Nepalese parks. Even before the establishment of a formal PA system in Nepal in the 1970s, the Army used to guard the Rhino Sanctuary under Rhino Gasti (Rhino Patrol) while there was also a wildlife/hunting unit of the army based in the palace).
Nepal's National Park and Wildlife Conservation Act (1973) stipulates that 30% to 50% of the park income (from tourism and all other sources) has to be returned back to the community for conservation activities and community development action. According to Baral et al (2008) about 70% of the revenue generated from the visitors entry fee is returned back to the community.
Environmental impact of tourism: there is no proper solid waste management system in Langtang.The income generated by the park entry fee is returned back to the local community in the form of integrated conservation and development projects through which all the people residing within the ACA territory benefit. An increase in the entry fee, as recommended by Baral et al. (2008), could generate more money to invest in conservation and development projects. Baral's study tried to assess the attitude of tourists towards future increment in entry fee (contingent valuation method based on hypothetical market), measuring the international visitors Willingness to Pay an entry fee in ACA. The study found that tourists are willing to pay more than the current fee.
The government of Nepal has recently increased the entry fee in many state-managed PAs. In mountain parks the fee was raised from Nepalese Rupees 1000 to NRs 3000 (abt US$ 10 to 30) in 2012. During this period there has been a slight decrease in visitor numbers, but we can not be sure if this was due to the fee increment or if a further increase would lead to a further decrease in the number of visitors. In a study carried out by the author (in the context of an M.Sc. degree) in Langtang National Park (Nepal), 70% of the respondents were willing to pay more than the current entry fee (USD 30) and 83% were willing to pay same or more than this.
Participatory management of nature conservation and development projects in the region also contributed to a successful PA management in ACA. Participatory PA management in ACA is based on integrated conservation and development programme (ICDP) concept. The main operating principles in ACA are peoples participation (involvement of the local people in all phases of planning, decision-making and delegation of responsibilities), catalytic role ( the project, ACAP, acts as a matchmaker between international and national agencies, and the local community to obtain expertise and resources) and sustainability (projects and programmes that can be managed at the local level once the external fund dries up are implemented, investment by locals in cash and kind for conservation and development activities have ensured its sustainability and gives ownership feeling) ( Mishra, 2003)
Figure 1: Organizational structure of Annapurna Conservation Area Project (ACAP), Nepal
Source: adapted from Huber et al. (2013, p. 88)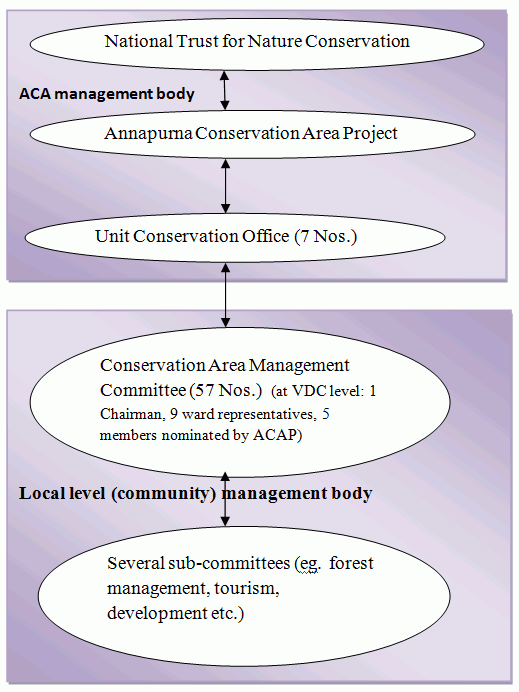 ACA Management Structure
Conclusion
ACA is a good example of participatory PA management and the first PA in Nepal not to deploy the army to protect its natural resource base and biodiversity. Systematic tourism planning and participation of local people in the decision-making process are prerequisites for the sustainable management of PAs, for financial sustainability and contribution to regional economic development. On the contrary PA management which excludes the local community from using the park resources and the decision-making process usually ends up creating conflicts and fails to meet their conservation, social and economic goals.
Mr. Kamal Thapa is a recent graduate with Masters in the Management of Protected Areas from the University of Klagenfurt, Austria. Previously, he has obtained a Masters in Environmental Management from Pokhara University, Nepal. He has also completed post-graduate courses at the University of Bergen, University of Oslo and the University of Helsinki. His professional and academic interests are in ecosystem services, environmental management, park recreation and ecotourism, protected area management and sustainable development.
References
Allendorf, T.D., J.L.D. Smith, D.H. Anderson. 2007. Residents' perceptions of Royal
Bardia National Park, Nepal. Landscape and Urban Planning, 82: 33-40.
Baral, N., M. J. Stern, R. Bhattarai. 2008. Contingent valuation in Annapurna Conservation Area, Nepal: Implications for sustainable park finance and local development. Ecological Economics, 66(2-3): 218-227.
Baral, A. 2014. Personal communication (6 May, 2014).
DNPWC. 2010. Annual Report 2006/ 2007, (2009/2010). Department of National Parks and
Wildlife Conservation, Kathmandu.
Driml, S. no date. The economic value of tourism to national parks and protected areas in
Australia. Technical Report, Sustainable tourism CRC.
Dudley, N. (Ed). 2008. Guidelines for Applying Protected Area Management Categories. IUCN,
Gland, Switzerland.
Fischer, F. 2008. The importance of law enforcement for protected areas. Gaia 17/S: 101-103.
Friedl, B.B., D.A. Behrens, M. Getzner. 2011. Socioeconomics of conservation in the Alps, in Schmidt J.G. (editor): Alpine environment: Geology, Ecology, and Conservation: 135-152. Nova science publishers, ISBN 978-1-61209-392-5.
Getzner, M., M. Jungmeier, S. Lange. 2012. People, Parks and Money, Stakeholder Involvement and Regional Development: A Manual for Protected Areas. Verlag Johannes Heyn, Klagenfurt, ISBN 978-3-7084-0413-4.
Gon/MoCTCA. 2013. Nepal tourism statistics 2012. Ministry of Culture, Tourism & Civil Aviation, Planning & Evaluation Division, Statistical Section, Singha Durbar, Kathmandu.
GoN/MoF. 2013. Economic Survey 2069/70 (2012/13). Ministry of Finance, Kathmandu.
Huber, M. 2014. Personal communication. 6 May, 2014
Gurung, H. 2014. Personal communication (12 May, 2014).
Heinen, J.T. 2014. Personal communication (8 May, 2014).
Heinen, J.T. , S.K. Shrestha. 2006. Evolving Policies for Conservation: An Historical Profile of the Protected Area System of Nepal. Journal of Environmental Planning and Management 49 (1): 41 – 58
Huber, M., M. Jungmeier, S. Lange, S. Chaudhary. 2013. Knowledge, Parks and Cultures, Transcultural Exchange of Knowledge in Protected Areas: Case Studies From Austria and Nepal. Verlag Johannes Heyn, Klagenfurt, ISBN 978-3-7084-0497-4.
IUCN. 1998. Economic values of protected areas: Guidelines for protected area managers. IUCN, Gland, Switzerland and Cambridge, UK.
Job, H. 2008. Estimating the regional economic impact of tourism to national parks: Two case studies from Germany. Gaia 17/S1: 134-142.
Khadka, R., A.S. Pradhan. 2010. An introduction to environmental governance and diplomacy.
NTNC. 2013. Annapurna conservation area project [online]. - URL: www.ntnc.org.np/project/annapurna-conservation-area-project (accessed on 26 November, 2013).
Parks and Benefits. No date. Guide to sustainable tourism in protected areas. Publication of the
Parks and Benefits project, Baltic Sea region programme 2007-2013.
Republica . 2014 January 10. Number of Trekkers in Annapurna Region Up [online]. –URL: http://www.myrepublica.com/portal/index.php?action=news_details&news_id=67750 (accessed on 10 April, 2014).
Sharma, P. 1998. Sustainable tourism in the Hindu-kush Himalayas issues and approaches. In East, P., Inmann, K. and Luger, K (editors): Sustainability in mountain tourism perspective for the Himalayan countries, 47-69. Book faith New Delhi/ India and Studienverlag Innsbruck/Vienna.
Shrestha, B. 1996. Park people conflict around the Royal Chitwan National Park. Journal of Natural History Museum, Vol. 15. Natural History Museum, Kathmandu.
Stynes, D. J. 2011. Economic benefits to local communities from national park visitation and payroll, 2010. Natural resource report NPS/NRSS/EQD/NRR—2011/481. National Park Service, Fort Collins, Colorado [online]. –URL: http://www.nature.nps.gov/socialscience/docs/NPSSystemEstimates2010.pdf (accessed on 26 November, 2013).
Thapa, K. 2010. Protected area people relationship: A case study of Parsa Wildlife Reserve, Nepal. Master's Thesis School of Environmental Science and Management, Pokhara University, Kathmandu.
Weladji, R.B., M.N. Tchamba. 2003. Conflict between people and protected areas within the Benoue Wildlife Conservation Area, North Cameroon. Oryx 37: 72-79.
Mishra, P.N. (2003). Conservation of the Nature and Natural Resources in Nepal: Traditional Versus Modern Approaches and Management Issues in Protected Areas. Journal of Natn. Sc. Foundation Srilanka 31 (1&2): 125-137 [online].- URL: http://www.sljol.info/index.php/JNSFSL/article/download/3028/2420 (accessed on 6 May, 2014)
Malla, R. 2014. Personal communication (6 May, 2014).
 
Details

Written by

Robert Hirons

Hits: 1777
Kayak the Rio GrandeThe Heart of Toledo adventure Trail is a collaboration between the Destination Planning department at the Belize Tourism Board and BTIA members and other small businesses owners in central Toledo. Rob Hirons from the Lodge at Big Falls who has been involved with the project from its inception said, "It is a great example of collaboration between the Tourism Board and small business owners in the area. BTB has the resources and the locals have the knowledge and this project brings the two together in a way that could be a model for future tourism trail developments." Kevin Gonzalez, Director of Destination Planning along with his colleagues Clive Myers and Arlo Cansino worked on bringing the project to fruition at the Belize Tourism Board.
The trail comprises a range of cultural, adventure and natural history experiences located around the loop that runs north from Big Falls village, west through the villages of Silver Creek, San Miguel and San Pedro Columbia around to the Dump junction at mile fourteen and back to Big Falls. There is a brochure that includes a map with the locations of each home or business and a description of what to expect. Once on the road each place is indicated by a green Toledo Adventure Trail sign. These two things make it really easy for visitors from Belize or overseas to design their self-guided route taking in the attractions that appeal to them.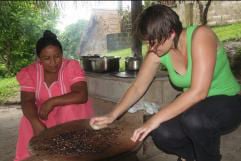 Roasting Cacao beansIf you are looking for pure adventure then Big Falls Extreme Adventures offers its sixstage zip line, while the Lodge at Big Falls offers kayaking trips from San Miguel village downstream to the lodge itself using its siton- top Hobie kayaks. Both Extreme Adventures and the lodge offer river tubing along the same stretch of river. At one place a creek enters the river from a hot spring on the hillside. Guests can get out and wallow in the warm pools just above the point where the two waters join. One mile north of Big Falls you take a left turn off the Southern Highway on to the dirt road that leads to Lubaantun. The first village you reach after half a mile is Silver Creek where you can visit the home of Florentina and Miguel Choco a Kek'chi Mayan organic farmer and member of the Toledo Cacao Growers Association. He has a kitchen garden of about an acre that has an enormous variety of fruits and vegetables. These include two types of cocoa (cacao). The first is the one cultivated for export to make an international brand's 'Mayan Gold' chocolate. The second is called Balaam and is the same variety that was used as a form of currency by the ancient Maya.
Living Maya Experience LunchFurther along the road in the village of San Pedro Columbia there is another Mayan organic cacao grower, Eladio Pop, who runs the Agouti Farm. Eladio's house is in the village and his plantation just a little way outside. Guests can eat lunch at his home and have the opportunity to roast and grind cacao to make a cacao drink.
The Toledo Botanical Arboretum of Alfredo and Yvonne Villoria is a fascinating collection with a huge variety of fruiting and flowering plants and trees.  The Cal and Chiac families of The Living Maya Experience offer fascinating and fun cultural experiences while, between San Miguel and San Pedro Columbia, Florencio Mes keeps alive Mayan musical traditions and instrument making and is pleased to welcome guests.
Guests with Florencio Mes in San Pedro ColumbiaLisa White Kile of Columbia River Co-operative offers the only butterfly farm open to the general public in Toledo and visitors can walk among the Blue Morpho butterfly and other species and learn about their life history. Look for their sign close to the turn off to Lubaantun Mayan site. Birders can contact the Lodge at Big Falls to go birding with Steven Choco their local Kek'chi Mayan guide whose membership of the Belize Bird Records Committee is testament to his expertise.
The trail includes places to eat. There are four in Big Falls itself. Call and make an appointment to visit the Cal's Living Maya Experience and you can help in the preparation of a delicious Mayan vegetarian meal.
Further along the road Coleman's restaurant offers a Belizean buffet from midday until around five in the afternoon. Big Falls Extreme Adventures is another spot to find a traditional Belizean lunch. Otherwise call The Lodge at Big Falls and visit them for a lunch menu with a focus on salads and sandwiches, pizzas and burgers.
If you are looking for accommodation then try The Lodge at Big Falls, Bak-a-Bush guest house and the Toledo Ecotourism Association Guesthouse in San Miguel village. These are all along the Heart of Toledo trail. Outside the area of the eco-trail you can also find rooms at the Farm Inn another twelve miles further west near San Antonio village or at Tranquility Lodge in Jacintoville closer to Punta Gorda.
The Heart of Toledo Adventure Trail brings many exciting experiences together in one accessible sixteen mile circular loop. Contact the Tourism Information Center in P.G. (+501-722-2531) for more information and to get individual phone numbers for businesses along the trail. The brochure will be published very soon and be available from the information centre.
A previous version of this article appeared in The Toledo Howler, the voice of tourism in southern Belize.

Details

Written by

Patrick Mills

Hits: 2675
by Patrick Mills, ECOCLUB.com Correspondent
Entrance to the Hang En-Back cavePhong Nha-Ke Bang National Park recognized as a UNESCO World Heritage Site in 2003 for its incredible high-rising geological features, harbours hundreds of fascinating cave systems including Hang Son Doong, the world's largest, and Hang Phong Nha, one of the longest underground rivers. As such, Phong Nha village (AKA Son Trach Commune), located in a region often considered one of the poorest in Vietnam, has boomed in the last 20 years, catapulting an impoverished people into modern Vietnam and turning the village into a popular destination. Alongside this growth there has been a steady increase in solid waste volume. Inefficient local waste management initiatives, the rampant consumption by both international and domestic tourists in purchasing take-away (and the food packaging that comes with it), crisp bags, cigarette packets etc. combined with tourists' disregard for littering, have left visible marks on the local environment. This report will look at some of the causes for increased solid waste volumes in Phong Nha and will focus on a current project put in in place by local tourism ventures and its future potential in curbing solid waste volumes locally, nationally and globally.
Tourism in Phong Nha has been ongoing for almost 20 years yet it was only recently that it really started to pick up. From 2011 to 2013 total visitor numbers rose 35% from 438,000 to 662,000 according to a study conducted by Quang Binh University. Domestic Tourism represented 97.4% of the total. A fast-developing country and growing expendable incomes have led to a rise in domestic tourism in popular Vietnamese destinations. Domestic tourists have a visible contribution to solid waste volumes and have a lack of environmental awareness about the effects of plastic, styrofoam, bottles and snack packets. This is evident in the trail of litter left behind by the busloads of domestic tourists who swarm to visit the Phong Nha Cave.
Son River banks - fly tippingThere is little information on Phong Nha western tourism trends but from observation, it seems that most western visitors to Phong Nha are backpackers. Arguably more aware of the waste's environmental impact, backpackers who come to see the Phong Nha natural landscape seem less likely to litter. Having said this they do still contribute to waste volumes. The consumerist culture brought on by international tourists in the form of street food, snacks and drinks certainly adds to the solid waste volumes.

As aforementioned, tourism is relatively new in the Quang Binh region, as is the use of plastic and styrofoam. Recycling initiatives do exist and local women push carts down the streets sorting cans and plastic bottles which in turn are sold to larger recycling companies within Quang Binh province. Yet polyethylene (thin plastics such as shopping bags), as well as styrofoam, have little value in recycling and the same applies to snack packets and fertilizer bags. As such, rubbish is left along the banks of the Son river or taken to the local dump where it is burned. It is also not uncommon for families living by the riverbanks to throw their bags in the Son river. As an effect, waste is washed out to sea or into the National Park where plastic bags have even been found in the river caves. It seems that a lack of knowledge on the non-biodegradability of synthetic waste as well as lack of clear initiatives in solid waste management means little is done to tackle the issue.

In 2011, Son Trach had a population of 10,653 inhabitants (source: www.quangbinh.gov.vn). Average daily tourist numbers in the same year were a total of 438,007 (source: Quang Binh University) representing more than 40 times the local population number. Currently there is little literature on the volume of solid waste in Phong Nha and so it is difficult to show any correlation between tourist numbers and said volumes. However, by taking these tourist figures into account one can understand that the sheer number of daily tourist influx compared to local inhabitant numbers must contribute to local solid waste.
Recycling in Phong Nha VillageHaving said this, although tourism plays its part in waste, it can also be a part of the solution: a group of expats in Phong Nha are currently working together on a way around the burning and dumping of certain types of non-biodegradable waste. The idea originated from Texas-based inventor and humanist Harvey Lacey and his Ubuntu Blox Project (web: ubuntublox.com). Lacey is an entrepreneur in waste management alternatives, his first project was based in Haiti and the issues in waste, lack of employment and affordable housing. The Ubuntu Blox Project has tackled these with one solid idea; taking styrofoam and thin plastic bags and compressing these into blocks which in turn can be used in construction. They have proven to have great insulating qualities as well as being wind and earthquake resistant. The blocks are compressed through a manual machine, again designed by Harvey Lacey, whose designs are freely available for those who are interested on his website.
Manual press machineLocal expat hotel owners have decided to build a manual press machine and begin tackling the Phong Nha waste issue head on. The ultimate goal is for these blocks to be used in construction, replacing cement blocks where possible. Expat tourism ventures are looking to use these first hand in constructions, acting as prime examples to surrounding communities on the potential alternative uses for solid waste. Ideally the local government could play a role in funding for the Ubuntu Blox, however, given political constraints often apparent in the global south, seeking government attention or aid can take time and money. As such, the first press was funded by local expats. However, in the future, tourists themselves can also play a part in funding such projects through ways such as crowdfunding. By raising tourist awareness on the issues of tourism and solid waste as well as on the possible solutions, tourists themselves may contribute to the future production of these manual presses in the form of donations.
Block after compressionThe Ubuntu Blox Project overall is still at a very young stage and at this point it is difficult to grasp exactly what share of the solid waste volume it will absorb. The scale of the project mainly depends on the location, the volume and type of waste as well as who chooses to take the project on. In the context of Phong Nha, each building block is currently using about 3 feet of waste, more or less equivalent to 3 full plastic carrier bags. Initiatives like this may not present a major solution for solid waste management, yet, when solid waste management is inefficient for particular forms of waste, and is leading to burning or dumping; relatively cheap and inexpensive solutions are welcome.

Ha Long Bay, one of Vietnam's most popular destinations, is known for being hugely polluted and littered, as are plenty of beaches along the Vietnamese coast. The same is apparent in many other popular tourism destinations such as Goa, India, and Bali, Indonesia. The manual press machine limits itself to building blocks, however reusing non-recycled waste in tourism can and has been initiated in various ways across the world. In Santiago, Chile, local women were taught by the local government how to make decorative souvenirs from waste (see http://santiago-city.com/village-women-undergo-training-on-recyclable-materials/). This not only helped tackle Santiago's waste volumes but also provided another source of income for the women. These projects can serve as examples to other destinations that tourism stakeholders can take up such initiatives and in doing so are improving their own image, cleaning the environment and aiding the local communities, whilst all the while ensuring a better overall experience for visitors.
Patrick Esteves Mills has a bachelor's degree in Tourism and Geography. Primarily in Asia, he has engaged in sustainable, adventure-based and community-based tourism development. Patrick's focus is in establishing a career in international responsible tourism consulting..
Details

Written by

CREST

Hits: 2587
Washington, DC - WASHINGTON, DC— A new meta-analysis by the Center for Responsible Travel (CREST) finds "increasing recognition among both travel professionals and consumers of the importance of responsible travel" and concludes that "green travel is here to stay." CREST's new 2014 report, The Case for Responsible Travel: Trends and Statistics, updates the first edition which was published in January 2013.
The report examines a wide range of surveys and studies done in the past five years to assess consumer and industry commitment to responsible travel, that is, "travel that minimizes negative impacts, brings economic benefits to host communities, and preserves the cultural and natural resources of the destinations." For instance, TripAdvisor surveys find that 79% of travelers globally "think that it's important accommodation providers have eco-friendly practices" and 85% of U.S. hoteliers say they have green practices in place.
"CREST is once again encouraged to find demand for and commitment to socially and environmentally responsible travel remains strong," says CREST Co-Director, Dr. Martha Honey.
CREST's findings coincide with continued growth of international tourism. Over the last year, both international tourist arrivals and tourism receipts grew, with the United States ranking #1 in tourism receipts and #2 in international arrivals, after France. According to the CREST analysis, tourism industry growth is being matched by growing interest in responsible travel among both leisure and business travelers, as well as travel businesses and tourism destinations.
Dr. Dirk Glaesser, Acting Director of the UN's World Tourism Organization (UNWTO) Sustainable Development of Tourism Programme, agrees: "With more than 1 billion people travelling the world each year, the case and demand for responsible tourism is bigger than ever, as both tourism stakeholders and tourists are becoming increasingly aware that the sector's future depends on the preservation of what is essentially tourism's own capital: pristine environments, cultural diversity and a thriving wildlife."
Dr. Glaesser adds that UNWTO welcomes the new CREST study and emphasizes the importance of a responsible tourism sector for sustainable development worldwide: "As UN research has clearly shown, sustainably managed tourism has great potential to boost socio-economic development and job creation while simultaneously being a force for conservation of the world's natural and cultural heritage."
In addition, Hugh Riley, Secretary General of the Caribbean Tourism Organization (CTO) noted, "More and more we're seeing evidence that 'being green' has a growing public appeal. Discerning travelers around the world are seeking out vacation destinations that pay serious attention to the preservation of the environment. Consequently," he continued, " I believe there will come a time when the term 'travel for green' will become so ingrained in the psyche of vacationers, that we in the Caribbean will be proud that we got onboard and paid attention to issues that affect the more responsible use of our resources."
The CREST study is prepared in collaboration with the World Tourism Organization (UNWTO), Caribbean Tourism Organization, and eight other leading tourism organizations and institutions:
Excerpts from "The Case for Responsible Travel: Trends and Statistics, 2014" - Click here for the full report
A 2013 TripAdvisor.com survey of 1,300 U.S. travelers shows that nearly two-thirds "often" or "always" consider the environment when choosing hotels, transportation and meals.

A 2013 Travel Guard survey of travel agents concluded "green travel is here to stay." The survey found "24% of those who responded noted that interest in green travel is currently the highest it's ever been in the last 10 years, and 51% reported that interest has remained constant throughout this time period."

67% of U.S. consumers are now "looking for 'greener' products," according to the 2012 study by MIT Sloan Management Review.

Environmental concern is "the biggest social trend for the rest of our careers." according to Daniel Levine, Executive Director of the Avant-Guide Institute, New York.

"Tourist choices are increasingly influenced by sustainability considerations," states the World Tourism Organization's (UNWTO) 2012 Tourism in the Green Economy Report. Ecotourism, nature, heritage, cultural and "soft adventure" tourism are predicted to grow rapidly over the next two decades and global spending on ecotourism is expected to increase at a higher rate than the tourism industry as a whole.

"Sustainability is not only the right thing to do, but it simply makes good business sense, and will remain central to how we manage our operations," states Constantinos Victoras, Area Operations Manager of the Atlantica Hotels & Resorts.

A 2013 Conference Board survey of over 120 multinational corporations in Europe and the US found that 73% identified "integrating sustainability into their corporate strategy as a top priority for their executive leadership team."

72% of meeting planners say they have 'green' policies in place for at least some of their meetings, and 19% say they have such policies for all meetings, according to a 2013 survey of Successful Meetings readers. In addition, 73% of planners say sustainable policies and procedures have some or a great deal of influence on the hotel they choose.

"The buildup of consumers' socio-environmental awareness of tourism development," states the UNWTO, "is leading to increased scrutiny on the part of the public in destination decision-making and a growing requirement for new tourism developments to be sustainable."

"Sustainable tourism is simply about good business practice – protecting the resources the industry depends on to ensure companies can continue selling holidays and destinations continue to thrive, long into the future," says Sue Hurdle, Special Advisor, The Travel Foundation.
Details

Written by

Tourism Concern

Hits: 1535
London, UK - Tourism Concern have launched a new report on the impacts of All-inclusive Hotels on working conditions and labour rights in Kenya, Tenerife & Barbados. 
The research, which was supported by the International Union of Food, Agricultural, Hotel, Restaurant, Catering, Tobacco and Allied Workers' Associations (IUF) was undertaken in order to better understand more fully how the all-inclusive model of tourism impacts upon the rights of hotel workers. We undertook field work in three popular holiday destinations (Barbados, Kenya and Tenerife) in order to generate new evidence and understanding about how the all-inclusive holiday model impacts upon pay, working conditions and labour rights of hotel employees in the selected destinations, including comparison with those in other types of hotel.
The research found that:
Workers in all-inclusive hotels were more likely to be on short term contracts which offer fewer benefits and less job security.

Prolonged contact with guests is more likely in all-inclusives, which can be stressful.

Al-inclusive hotel staff also received significantly less in tips.

Staff in all types of hotel are faced with low wages and a range of unfavorable working conditions, from working hours which disrupt home life through to stress and exposure to risk.
Despite these problems, some progress has been made since Tourism Concern's published research in 2004: 'Labour standards, social responsibility and tourism'. This has come about in part as a consequence of collective bargaining, social dialogue and the enforcement of appropriate legislation, including the adoption of international labour standards. Barbados in particular demonstrated a model of social dialogue that appears to have had favourable results and is respected by many of the staff who we interviewed.
For more details visit http://www.tourismconcern.org.uk/index.php?page=news/333/61/All-Inclusive-Report-Launched.html
Details

Written by

World Rainforest Movement

Hits: 1181
Open letter to FAO on the occasion of March 21st 2014 – International Day of Forests:
Defining Forests by their true meaning!
To FAO General Director
José Graziano da Silva
We are a broad group of social movements, NGOs and activists, writing this urgent appeal for FAO to review its present definition of forests. FAO´s definition as it stands reduces a forest to any area covered by trees, discarding the structural, functional and biological diversity of non-tree elements that make up a forest, as well as the cultural importance of the interaction between forests and communities . This FAO definition mainly benefits the interests of the timber lobby and the industrial tree plantation companies for pulp/paper and rubber. The definition fails the at least 300 million women and men worldwide who, according to FAO, directly depend on forests for their livelihoods. These include indigenous and traditional peoples and populations, many of whom are peasants whose food sovereignty depends on practicing agriculture in the forest, complemented by their use of a rich diversity of non-timber forest products. They all not only guarantee their own food sovereignty, they make crucial contributions to feeding the world. Forests play a fundamental role in the lives of these women and men, including peasants, artisans, fisher folk and gatherers, and they must be among the main actors in a review process that FAO should initiate to ensure the organization's definition of forests reflects how forests are seen in the 21st century.
Forests have such an importance in the lives of millions of people, women and men, who worldwide depend on forests in a variety of ways, they often find it difficult to express in words how crucial forests are for them, even in their own language. Sometimes, forest peoples summarize this importance through calling the forest simply their "home"- not just a piece of land covered by trees but a territory where they feel protected and where they can find what they need to live well. These people are often indigenous peoples, including the last remaining about 100 groups of peoples living in isolation. They also include many other forest-dependent groups with a rich diversity of ways of living. Without exception, they show great respect towards the forest on which they depend and feel part of.
While the collection of non-timber forest products is an essential activity for many of the forest-dependent women and men, they are also peasants practicing agriculture with methods transmitted over many generations that have been refined in a way so as to maintain forest functions intact. This form of agriculture, together with fishing and hunting, as well as the collection of a range of non-timber products like honey, fruit, seeds, acorns, tubers, medicinal plants, herbs guarantees the food sovereignty and health of these populations. Peasants further contribute to the livelihoods of an even higher number of people, 1.6 billion according to FAO's own estimate. Also, timber is used by forest peoples mainly for local domestic needs and rarely as a main commercial activity. But if the latter is the case, the trade is mainly done in local markets. Forest-dependent communities are often well aware of the destructive potential of commercial timber extraction. It often results in huge profits for a few outsiders but leaves behind irreparable destruction and severely affects people´s livelihood.
But states and multilateral institutions like FAO and the World Bank still see forests as land where the commercial extraction of valuable timber by private, often foreign companies, is the best way for countries to get on the so called "development" track and take people out of "poverty". This timber-centric perspective is at the root of the present FAO definition of forests: "Land with tree crown cover (or equivalent stocking level) of more than 10 percent and area of more than 0.5 hectares (ha). The trees should be able to reach a minimum height of 5 meters (m) at maturity in situ (...)". (1)
This reductionist definition also justifies the expansion of large-scale monoculture tree plantations as so called "planted forests. Under FAO´s definition, such large-scale monocultures are even considered "reforestation" and are said to compensate for forest loss. In practice, industrial tree plantations and other industrial monocultures like oil palm and soy have contributed immensely to the destruction of forests and other biomes like grasslands and savannas throughout the world. While providing a handful of transnational companies with enormous profits, they have left forest-dependent communities impoverished, often even driven them out their territories. Women, with their specific relation with the forest, tend to suffer most from forest destruction. Communities affected by large-scale monoculture tree plantations never call them forests.
FAO's "state of the world´s forests" report continues to spread the myth that deforestation is less of a problem than it was in the past. The supposedly positive news is the result of FAO confusing forests and plantations, permitting that tens of millions of industrial fast-growing monoculture plantations of eucalyptus, acacia and rubber are counted as "planted forests" in countries' forest statistics. Under FAO's present forest definition, even a genetically modified fast-growing eucalyptus plantation of 100,000 hectares is called a "forest", in spite of all the negative impact it has as a large-scale monoculture crop, not to speak of the risk of contaminating the genetic composition of surrounding trees and forests.
In its founding principles, FAO portraits itself as an organization leading "international efforts to defeat hunger", as well as being a "neutral forum where all nations meet as equals". For this claim to become true, FAO needs to urgently revise its forest definition from one that reflects the preferences and perspectives of the timber, pulp/paper and rubber companies to one that reflects how forest dependent peoples see and use forests.
This Public Letter is an invitation to FAO to take initiative and correct the misleading definition. In such a process of elaborating a new and more appropriate forest definition, FAO should engage effectively with those, women and men, who directly depend on forests. An appropriate forest definition must support their modes of living, their networks and organizations. That is our hope on the International Day of Forests. We are committed to continue this campaign until these initiatives are being effectively taken up by FAO.
(1) http://www.fao.org/docrep/006/ad665e/ad665e06.htm
Signed by:
La Via Campesina
Friends of the Earth International
Focus on the Global South
World Rainforest Movement
Details

Written by

Helen Klimmek

Hits: 5317
Introduction
Scuba diving is considered to be one of the fastest growing recreational activities in the world (Hunt et al., 2013). While statistics on current diver numbers vary, it has been estimated that approximately one million new divers are trained every year (Davenport and Davenport, 2006). The Professional Association of Diving Instructors (PADI), just one of several global dive training organisations, has issued more than 21 million certifications since 1967 and, in 2012, granted more than 900,000 entry level and continuing education diving certifications (PADI, 2013a).
Given that the majority of scuba divers reside in the northern hemisphere and some of the most popular diving destinations are located in the Global South (Garrod and Gössling, 2008), international travel constitutes a major part of scuba diving. Dive tourism, which involves individuals travelling abroad to engage in scuba diving activities, has thus become an increasingly lucrative industry that has come to play a particularly important economic role for many less developed countries (Daldeniz and Hampton, 2012).
Interestingly however, despite constituting a growing segment of the tourism industry, there is a general lack of research into the impacts of scuba diving on local host communities. Academic research has been almost exclusively preoccupied with examining the environmental impacts of this increasingly popular recreational activity. This contrasts with the general trend within academic tourism literature which has given more equal consideration to the economic, socio-cultural and environmental impacts of tourism development.
The current article seeks to address this deficit by exploring the social impacts of scuba diving in Flores, Indonesia. More specifically, it focusses on determining the extent to which dive tourism contributes to local community participation and empowerment, and explores the potential for dive tourism stakeholders to engage in socially responsible practices. It is hoped that the findings will identify ways in which dive tourism could become more inclusive and thereby more sustainable, not only in Flores, but also in other parts of the world.
The scuba diving industry and local communities
Dive tourism is commonly categorized as a form of niche tourism (Daldeniz and Hampton, 2012; Mograbi and Rogerson, 2007), which typically implies a tailored and individualised type of travel targeted primarily at elite, higher spending tourists (Novelli, 2005).1 Although dive tourism is part of the general tourism industry and therefore partially depends on related players such as transport and accommodation providers, it also includes specialist service providers such as dive centres, certification/training agencies and equipment manufacturers. Thus, in this article, the term 'dive industry' will be used to refer to businesses and organisations directly linked to scuba diving activities, while the term 'dive tourism industry' also includes general tourism players, and stakeholders, such as governments and NGOs.

Although niche tourism is often regarded as a sustainable form of tourism (Novelli, 2005), there has been very little research into whether this holds true for dive tourism. Existing studies primarily focus on the environmental impacts of dive tourism from a natural science / biology perspective (Hawkins and Roberts 1992; Hawkins et al., 1999; Tratalos and Austin, 2001); studies that do consider the social impacts of scuba diving tend to take an economic perspective by focussing on marine tourism as a source of revenue (Cesar and Van Beukering, 2004; Fabinyi, 2008), tourists' willingness to pay for access to marine parks (White and Rosales, 2003) or the more general topic of marine tourism and its wider impacts on coastal areas (Shaalan, 2005). Academic research into scuba diving has therefore failed to give equal consideration to the 'three pillars' of sustainable tourism (see table in section 2.1).
One notable exception is Daldeniz and Hampton's (2012) research on the socio-economic effects of scuba diving in Malaysia. This two-year project resulted in various outputs examining community participation in dive tourism (Daldeniz and Hampton, 2012) and the varying attitudes of dive tourism stakeholders towards sustainability (Haddock-Fraser and Hampton, 2012). Overall, the study found dive tourism to have both positive and negative impacts on host communities by encouraging education and environmental awareness on the one hand, while excluding local people from the socio-economic benefits and decision-making processes, on the other hand. Mograbi and Rogerson's (2007) case study on dive tourism in Sodwana Bay, South Africa, came to a similar conclusion; although the industry created local employment and business opportunities, poorer, predominantly black members of the community were excluded from decision-making processes and the socio-economic benefits of tourism.
Based on these findings, it could be argued that in terms of the potential impacts on local communities, dive tourism is not very different from tourism in general, in that it can have a positive and negative effect (Townsend, 2008), and therefore does not merit further research. The dive tourism industry seems to distinguish itself from other types of tourism however, in that it poses particularly high barriers to local involvement due to the high cost of dive training, equipment, and the need for language skills (Townsend, 2008).
Furthermore, as Townsend (2008) points out, while the scuba diving industry has been found to play an active role in promoting environmental protection and awareness, it "has not been singled out for criticism over social impacts in the same way that other industries, or even the tourism industry as a whole, have been" (p.143). While there are several positive examples of dive centres, certification agencies and resorts attempting to maximise the benefits of dive tourism to local communities, there has not been a "global, industry-wide move towards or understanding of social issues and dive tourism" (Townsend, 2008, p.143) and there seems to be a severe lack of effort on behalf of, and cooperation between stakeholders to maximise the potential of dive tourism to bring lasting benefits to local communities (Townsend, 2008).
Research location

The study was conducted in the town of Labuan Bajo, located in the West Manggarai regency of Flores. Flores is part of Indonesia's Nusa Tenggara Timur (NTT) province and consists of eight regencies (kabupaten): Manggarai Barat (West Manggarai), Manggarai, Manggarai Timur (East Manggarai), Ngada, Nagekeo, Ende, Sikka and Flores Timur (East Flores), each of which is governed by a regency head (bupati).
Figure 1
Figure 1 Map of Flores and the surrounding area (Erb, 2012)
A key tourist attraction in western Flores is the Komodo National Park (KNP). KNP is one of Indonesia's oldest national parks and comprises the three islands of Komodo, Rinca and Padar, several smaller surrounding islands and 1,214 square kilometres of marine habitat (PKA and TNC, 2000). While the park is perhaps best known for the Komodo monitor, or 'komodo dragon', it is also one of the world's richest marine environments and a biodiversity hotspot (Gustave and Borchers, 2008), home to more than 1,000 species of fish, 385 species of coral and 70 species of sponges, as well as dolphins, whales, turtles, dugongs, sharks, and rays (Heighes, 2011). It therefore offers an attractive destination for nature-based tourism such as snorkelling, kayaking, bird watching and fishing (Borchers, 2009) and has evolved into a world-class diving destination attracting a growing number of divers every year. The number of visitors to the area has more than doubled during the past five years, from 20,069 in 2007 to 41,972 in 2012 (Swisscontact, n.d.) a large proportion of whom (approximately 80%) are scuba divers (Makur, 2013a).

With limited accommodation for tourists within the national park, most tourism development has taken place in the two gateway towns of Sape (located in Sumbawa, West Nusa Tenggara) and Labuan Bajo (Flores); the majority of tourists pass through either of these towns during their visit (Walpole and Goodwin, 2001). Labuan Bajo, in particular, has grown into a popular tourist destination and Flores' main scuba diving base.
Despite the significant growth in tourism, Flores continues to belong to one of Indonesia's poorest and most underdeveloped regions (Eco Flores, 2012) and the socio-economic gains from tourism have yet to reach those people who need it most. The unequal distribution of financial benefits has been a particularly contentious issue within the Komodo National Park; previous studies have found that most of the revenue is "generated outside the local economy" (Borchers, 2009, p.273) while local communities, living within the park (a population of approximately 4,000 people) and in rural areas outside of the gateway towns, have reaped very few benefits (Gustave and Borchers, 2008). These characteristics make Labuan Bajo a suitable location for an exploration of barriers to community participation in the scuba diving industry and an examination of how stakeholders could overcome these barriers and contribute to sustainable tourism development.
A note on defining 'local community'

Defining who is 'local' and part of a 'community' is problematic as it inevitably means including some people, while excluding others (Cole, 2006). Broadly, a community can be defined as "a social network of interacting individuals, usually concentrated in a defined territory" (Johnston, 2000, p.101), however, as Scheyvens (2002a) points out, this still leaves several questions open, relating to scale and diversity:
"would 'the community' include only people from a village adjacent to a new tourism attraction, or villagers from the surrounding area who may also want to benefit from the attraction? Does it include just 'locals', or migrant workers? Does it include only the poorer classes, or also the minority of elites?" (pp. 15-16)

The task of finding an appropriate definition is not only complicated by the fact that communities are usually understood to denote much more than geographical entities, and to refer to more intangible concepts such as shared values, identity and 'community spirit' (Cole, 2006; Scheyvens, 2002a).
These definitional problems become particularly apparent in places such as Labuan Bajo, which has been identified as "one of the most 'ethnically' diverse places on the island of Flores" (Erb, 2004, p.8). Prior to its development as a popular tourist destination, Labuan Bajo was predominantly made up of sea-faring immigrants from other islands of Indonesia such as Sumbawa and Sulawesi. According to Erb (2004), it was not until later, particularly as a result of a growth in tourism, that people from the Manggarai region and other parts of Flores began to settle and look for employment in the town (Erb, 2004). Thus, the population of Labuan Bajo changed from:
"being a place of predominantly coastal fishing folk, descendent from Bimanese on Sumbawa Island, Bajau, a far flung fishing folk in Indonesia, or Bugis, from Sulawesi, all Muslim, to a population at least half comprised of mountain bred, Catholics, descendent of farmers and not at all proficient in matters of the sea"
(Erb, 2004, p.11).
The populations living on the islands within KNP are also a mixture of fisher-folk from Sulawesi and Manggarai from western Flores (Komodo National Park Authority, 2009). Defining 'local' and 'community' is thus complicated by the large variations in ethnic backgrounds, religions and cultures found in and around Labuan Bajo.
For the purposes of this article, the term 'local community' refers to the fishing communities living on the islands within the Komodo National Park and people living in Labuan Bajo who, when asked, identified themselves as being from western Flores (Manggarai). This definition was chosen as it includes a geographic element (the region of western Flores) as well as subjective feelings of identity and community spirit (i.e. someone who may have been born in a different region but who had lived in the area long enough to identify him/her-self as Manggarai would be included within this understanding of 'local community'). Nevertheless, while it was conceptually necessary to provide this definition, it must be remembered that it represents a somewhat restrictive understanding of a multifaceted and contested concept that automatically leads to the exclusion of some individuals. This relates back to the criticisms directed at community participation typologies and the subjective issue of which groups must participate in a tourism venture for it to be categorized as 'active participation'.
Economic Impacts of dive tourism on the local community:
Labuan Bajo has seen substantial tourism development over the past few years. Once a small fishing village, the town is now home to numerous hotels, travel agencies, shops, restaurants and dive centres. Tourism infrastructure, particularly dive-tourism related infrastructure (e.g. dive centres), has primarily developed along the 'main road', which stretches along the waterfront and eventually leads to the town of Ruteng 140 kilometres away. Some hotels and restaurants are located on the hills overlooking the harbour or 1-2 kilometres south of the harbour along the coast. A sitemap of the area (see figure below) shows fifteen dive centres scattered along the main road, with the rest located just outside, close to some of the bigger, resort-like hotels. Older dive shops are predominantly located towards the northern part of the road, with newer ones developing to the south.
Figure 2
Figure 2 Map of Labuan Bajo (not to scale) showing dive centre locations and areas under construction (based on Heighes, 2011 and field notes)
Several interviewees noted uncontrolled land use and management as a problematic issue in Labuan Bajo; one interviewee noted: "everybody is building everything everywhere, there is no guidance". While a local NGO has tried to promote a building and site management plan for the area, and this has already been signed and approved by the regency head (bupati), it has yet to be properly enforced.

The lack of legal building- and business permits, and skyrocketing land prices due to speculative investments from outside agents, were mentioned as particularly worrisome developments by several respondents. Although these changes have not directly led to any forced resettlements, they have led to the economic exclusion of many locals who cannot afford the rising rent and real-estate prices. In particular dive centre and NGO staff expressed general concern regarding the uncontrolled and rapid growth of tourism businesses while other business owners and community members viewed infrastructure developments, such as the government's investment in building a new waterfront promenade (see photograph below) or a second airport terminal, as positive. This finding mirrors results from Malaysia, where dive professionals were generally worried about the speed of development and rising real-estate costs, but local interviewees viewed the development of roads or buildings in a positive light and as signs of modernity (Daldeniz and Hampton, 2012).
Figure 3
Figure 3 Image showing construction of new tourism businesses (see scaffolding on right hand side) along the newly developed promenade (dirt track at centre of image) (Photograph taken by author)
Overall it would seem that the community is benefiting from tourism development in terms of improvements in roads and infrastructure, which could be seen as signs of economic empowerment. Involvement in decision-making, however, is limited to Level 1 on Tosun's (1999; 2006) participation ladder as the local community lacks control over the speed or type of development occurring and are left to come to terms with decisions made on their behalf. The rise in land prices  could also be seen as a sign of economic disempowerment as local elites and outside investors are, arguably, the prime beneficiaries of the booming real-estate market.
Employment and business opportunities

Daldeniz and Hampton's (2012) study in Malaysia found a severe lack of trained local dive staff throughout their research locations. A large majority of dive professionals were found to be expatriates, and dive businesses were predominantly foreign-owned. Dive shop owners cited lack of hospitality training and work ethic as prime reasons for not employing more local dive professionals. Other key barriers to local employment were cost of training, the lack of course material in the local language and the availability of international 'volunteers' (Daldeniz and Hampton, 2012).

Research in Labuan Bajo generally supports these findings. Boat staff (e.g. captains and deckhands) were found to be exclusively from Flores or other parts of Indonesia and there were some local and Indonesian dive guides. The majority of dive professionals (e.g. divemasters and instructors), however, were international expatriates. Lack of English language skills, the high cost of dive training, and limited availability of course material in Bahasa Indonesia beyond the Open Water (beginner) level, were cited as key obstacles to greater involvement. Some expatriate dive shop owners gave poor work ethic and lack of loyalty as additional reasons for not employing more local dive professionals. Other interviewees also mentioned international volunteers willing to work 'for free' in return for accommodation as problematic because local dive guides, needing to earn a steady income to support themselves and their families, are unable to compete with the low cost of employing self-funded volunteers.

As in Malaysia, the majority of dive businesses in Labuan Bajo are foreign-owned by expatriates from Europe, Australia and the USA. While there are some dive shops under local and Indonesian ownership, it was difficult to ascertain the exact number, as some of these businesses operate on an informal, word-of-mouth basis or specialize in live-aboard trips (trips where guests spend one or more nights on board the dive boat) and do not have a physical office-presence in Labuan Bajo. Nevertheless, it can be safely said that a large majority of the dive centres based in Labuan Bajo are foreign-owned. This coincides with the pattern within the general tourism industry in Labuan Bajo; smaller, less capital-intensive businesses such as warungs (eateries/foodstalls) are largely owned by locals, while large hotels and restaurants are owned by western expatriates or Indonesians from outside Flores. Respondents identified the lack of financial resources and limited access to credit or loans as a key barrier to greater local ownership of dive businesses, which corresponds to findings from previous studies (Daldeniz and Hampton, 2012; Townsend, 2008; Mograbi and Rogerson, 2007).

Daldeniz and Hampton (2012) introduce a 'non-participation category' to describe the low level of business ownership and employment, which is not coerced or imposed but due to a lack of opportunities, financing and training. This also applies to Labuan Bajo. Although there seem to be more locally owned businesses and higher levels of employment in Labuan Bajo than in the research sites in Malaysia, local participation is still severely hampered by lack of capital, and English language and diving skills. This suggests a degree of economic disempowerment as the majority of local people lack the skills and specific training needed to take part in the higher-level jobs in the dive industry and therefore miss out on significant economic benefits.
Economic linkages
The creation of economic linkages is often cited as a key strength of the tourism industry (Telfer and Sharpley, 2008; WTTC, 2012). The sector has the potential to provide a significant source of income not only for directly related operations, such as accommodation and transportation providers, but also for secondary and tertiary providers of related goods and services, such as food, power and water (Telfer and Sharpley, 2008). Ideally, tourist expenditure should result in the 'multiplier effect' as the money originally spent by tourists is multiplied by making its way through different levels of the economy (Telfer and Sharpley, 2008).

However, critics argue that in reality, a large portion of tourism income is in fact generated outside the local economy, primarily by large transnational corporations based in the west, which reinforces inequalities between the global North and South (Mowforth and Munt, 2009). Particularly mass-scale tourism, which tends to feature large resorts and hotel-chains, has been found to cause high levels of economic leakage as goods and services are often imported from overseas and profits primarily go to foreign owners instead of the local economy (Hampton, 2003; Mowforth and Munt, 2009).
Daldeniz and Hampton (2012) study in Malaysia also included an analysis of the economic linkages between dive centres and supporting tourism infrastructure. They found dive centres in two of three research locations, to have a very low economic link to other businesses due to the physical distance between dive shops and the villages and the all-inclusive nature of many resorts, which meant tourists only made limited purchases from the villages.
In Labuan Bajo, there are several resort-like hotels offering inclusive services, however, tourist accommodation mainly consists of smaller hotels and guesthouses located close to the main road. Guests at these hotels tend to eat in the restaurants and warungs dotted along the main road and sometimes visit the local market to buy fresh fruits, vegetables and meat. Food served in restaurants is primarily bought in the local market or supplied from Ruteng, while some products are imported from Lombok and Bali. The food available on the diving boats operating from Labuan Bajo is also sourced from the local market or from local restaurants. One dive centre was found to be particularly active in explicitly promoting local produce on its boats and selling locally-made products such as coffee or souvenir items such as necklaces, in the dive centre shop.

The comparably small number of high-end resort hotels in Labuan Bajo has ensured that tourist expenditure is invested into the local economy, however, the rising number of live-aboard companies based outside of Labuan Bajo was identified as a problematic development. Live-aboard tourists are often shuttled directly from the airport to the boat on which they spend several days or weeks, after which they are transferred back to the airport. One respondent also mentioned the growth in 2-day-1-night snorkel trips, which involves guests flying to Labuan Bajo from Bali, spending the night on the trip-providers' boat, one day snorkelling within the national park and then flying straight back to Bali. These types of trips could be viewed as 'enclave tourism' (Britton, 1982) as they encourage very little, if any, interaction between tourists and the local community. Because many of the companies offering live-aboard services are based outside Flores, they also bring very few economic benefits to the local economy. 
Socio-cultural impacts

While tourism can have a positive social impact by, for example, increasing employment opportunities and supporting infrastructure development, it can also have a negative influence on society and culture. It can, for example, encourage the commodification of local customs and traditions, cause tensions between those socio-economic groups benefiting from tourism and those excluded from it, and, in some cases, contribute to a rise in crime levels (Telfer and Sharpley, 2008).

Daldeniz and Hampton (2012) found significant cultural tensions between local people, and expatriate dive professionals and dive tourists, particularly with regards to excessive drug use and alcohol consumption, crime and immodest dress. Furthermore, dive centres were found to be doing very little in terms of promoting local culture and heritage by, for example, drawing attention to evening performances or encouraging tourists to purchase locally produced handicrafts.

Inappropriate behaviour, in terms of dress code or alcohol and drug consumption, was not identified as a significant problem in Labuan Bajo. One expatriate interviewee who had previously lived in Thailand noted: "I'm still surprised and offended when I see someone walking down the street with a beer bottle; it's that uncommon". Lacking adherence to appropriate dress-code, a problem in other, more remote areas of Flores (Cole, 2008b), was also not identified as an issue by interviewees.

Several interviewees opined that Flores' remote location might play a role in deterring many budget tourists, who 'just want to drink and have fun', from visiting the island and suggested that this might be the reason for the lack of socio-cultural problems. Such statements correspond to the negative, stereotypical image of budget, and particularly backpacker tourists, as "unkempt, immoral, drug-taking individual[s]" (Scheyvens, 2002b, p.145) which is often adopted in fictional and academic literature (Scheyvens, 2002b). In fact, a large portion of visitors to Labuan Bajo and the surrounding area are 'backpackers' on a break from work or university, who plan their trips independently and want to explore the area in their own time (Erb, 2005). However, these individuals seem to fit in with the archetypal image of backpackers as 'travellers' whose primary aim is to escape overcrowded 'tourist areas' such as Bali (Erb, 2005) rather than the party-going and drug-taking type alluded to by the respondents.
The only clearly definable socio-cultural issue identified during this study related to the differing income levels of foreigners and local people. As one interviewee noted: "there is the general tension that you are essentially seeing foreigners making more money". This could be seen to denote a degree of resentment on behalf of local people towards foreign business owners, who, according to Erb (2013) have felt "increasingly marginalized by the presence of foreigners involved in tourism businesses" (n. pag.). It could therefore be argued, that the dive tourism industry has potentially resulted in a degree of psychological and social disempowerment; local people, who do not share in the benefits of tourism, are confused and frustrated which can cause jealousy rather than cooperation between different socio-economic groups (Scheyvens, 2002a). It should however, be noted that this particular respondent also said that he generally felt very welcome within the community and, although local interviewees mentioned that foreign investors and business owners were major beneficiaries of the tourism industry, they did not allude to any tensions or jealousies resulting from this. Thus, the conclusion that dive tourism may have led to a degree of psychological and social disempowerment can only be drawn tentatively.

In terms of encouraging cultural awareness, research did not indicate any significant efforts on behalf of the dive industry to make a positive social impact by encouraging pride in local culture and heritage. Only one dive centre was found to display information booklets on the various tribes and cultures of Flores, and promote the purchase of locally-produced handicrafts. Thus, the dive industry contributes very little in terms of social and psychological empowerment in this respect. As the following section demonstrates, however, the industry does play a major role in encouraging awareness of and appreciation for the natural, underwater environment.

Environmental impacts

Most research on the environmental effects of scuba diving focuses on the degradation of coral reefs due to diver contact and careless anchoring (Davenport and Davenport, 2006). The dive industry has generally been found to have a negative environmental impact in regards to these issues (Hunt et al., 2013). However, it also takes a prominent role in promoting environmental awareness through conservation initiatives such as Project AWARE (Aquatic World Awareness, Responsibility and Education), environmental guidelines such as the Green Fins code of conduct (a project coordinated by the Reef-World Foundation and the United Nations Environment Programme), and smaller-scale, environmental awareness projects promoted by dive centres and organisations around the world (Daldeniz and Hampton, 2012; Townsend, 2008).
A concern for environmental protection was also observed in Labuan Bajo. Dive centres were found to take an active role in addressing some of the environmental stresses facing the Komodo National Park such
as destructive/unsustainable fishing and pollution through rubbish and plastic waste. The majority of dive centres participate in regular beach-clean-ups and promote the reduction of plastic waste by, for example, supplying customers with water dispensers to refill their bottles. Several dive centres have also been involved in efforts to promote the development of a Manta Ray sanctuary and visit local schools to give talks and presentations on marine life and general environmental awareness. Some have also provided swimming and snorkelling lessons to children attending nearby schools. These visits have been very popular, and according to a local teacher, resulted in a growth in pupils' enthusiasm for learning about the underwater world and possibly working in the dive industry in the future. This could be seen as a sign of the dive industry contributing to the community's psychological empowerment, as they become increasingly aware and proud of their natural resources.

Dive centres have also attempted to limit damage to coral reefs by fixing boat moorings to prevent careless anchoring, and one dive centre has been providing guests with environmentally friendly soaps and shampoos on some of its live-aboard boats. Another dive centre owner has managed to set up an informal marine protected area by striking a deal with fishermen living on one of the small islands off the coast of Labuan Bajo; in return for refraining from fishing in certain areas they are provided with sports equipment and school material, and the dive centre sometimes sponsors small sporting events for the villagers.
Thus, the dive industry appears to be having a positive impact in terms of promoting environmental awareness/conservation, and social and psychological empowerment through school visits and educational programmes.
Summary of dive tourism impacts and barriers to local participation

These results generally support findings from previous studies on dive tourism and local community participation. Dive centres in Labuan Bajo were found to be actively involved in environmental conservation and protection efforts yet local employment and business ownership in the industry was generally quite low. Key barriers to more active participation in the dive industry were lack of training, language skills and limited financial capital. With the exception of live-aboards, the economic linkages between the dive industry and the wider economy were generally found to be quite high.

Having established the level of, and barriers to, local community participation in the dive industry in Labuan Bajo, the following section will analyse the role various dive tourism stakeholders are playing in supporting sustainability and local participation.
Stakeholder roles in overcoming barriers to local community participation

The importance of tourism stakeholders working together in order to facilitate community participation and empowerment has been increasingly recognized within academic literature. As Timothy (2003) observes, the tourism industry is a complex domain "where no single individual or group can resolve tourism issues by acting alone" (p.373). This domain is made up of interdependent stakeholders such as governments, NGOs and the private sector who all have a role to play in supporting sustainable tourism. These roles include capacity building through skills training, networking, development of infrastructure and provision of funding for small and medium enterprises (see figure on following page).

More specific to dive tourism, Townsend (2008) identifies a number of key roles various stakeholders can play to support community involvement. Governments should work in coordination with the industry to identify skills required and promote training opportunities and improve chances of local employability. Dive centres could play an important role by working with schools and training centres to raise awareness for career opportunities in the diving industry and to encourage local involvement. They can also help develop language and diving skills of employees in non-diving positions and give them the opportunity to come into more regular contact with tourists and thereby develop their customer service and language skills. Training and certification organisations such as PADI and Scuba Schools International (SSI) can increase the availability of training materials in local languages and draw attention to social issues through sustainability labels and dive centre certification schemes, while NGOs can emphasise the link between conservation and poverty reduction and encourage communities and private businesses to work together (Townsend, 2008).
Figure 4
Figure 4 Potential roles of governments, NGOs and the private sector in supporting community involvement (Adapted from Simpson, 2008 and Scheyvens, 2002a)
This research revealed several promising initiatives seeking to overcome barriers to local participation in Flores' dive tourism industry, particularly lack of training, language skills and financial resources. One local NGO has, with the support of a major dive certification agency, been able to subsidise the dive instructor training course enabling four local divers to become certified instructors. Two of these instructors are now part of the local Dive Guide Association which seeks to, among other things, increase levels of local employment in dive centres. These instructors have also been involved in certifying fishermen living within KNP and helping them to find internship positions within dive centres in Labuan Bajo where they have the chance to gain work experience and possibly continue their dive training in the future. The NGO has also provided some villagers from Komodo Island with access to capital through the creation of a co-operative, which opens up opportunities for future business ownership. Another NGO, while not directly involved in initiatives to increase local involvement in the dive industry, has been very active in bringing tourism stakeholders together and creating a forum for discussing sustainability issues related to tourism.

While most dive centres have supported these NGO efforts by, for example, agreeing to employ interns, some businesses were found to be particularly active in supporting community development and pursuing initiatives of their own. One dive centre devotes part of its budget to community projects and employs a staff member who dedicates 50% of her time to local education and training programmes. One of these projects involves offering students at a local school the opportunity to take part in swimming and diving lessons. While it is hoped that this programme will result in employable dive professionals in the future, the aim is also to give children and young adults the opportunity to go into the water to 'see what's out there' and increase awareness of, and admiration for, the marine environment within the community. Although this programme is in its early stages, the dive centre plans to make it "open source and replicable" so that other businesses who want to take part in the initiative can do so.

In terms of encouraging wider skills training, research revealed a number of dive centres, NGOs and hotels offering English language training to staff members, although it was noted by interviewees that the development of language skills was a key issue requiring more attention.
Obstacles to stakeholder success

Despite these positive examples of stakeholders working towards improving local participation in the dive industry, the study also highlighted some issues requiring more attention, and several barriers to successful project implementation. The following section outlines key issues facing the government, NGOs and the private sector in encouraging sustainability in the dive industry:
Government

The government's role in supporting sustainable tourism development seemed to be a particularly contentious issue in Labuan Bajo. Interviews and informal conversations with community members revealed distrust towards the government and little confidence in its ability to implement successful, sustainable tourism policies. The Indonesian government recognizes tourism as one of the biggest sources of foreign exchange earnings and a major contributor to local welfare (FIRST Magazine, 2012) and has, in an effort to further increase the tourism flow and its associated benefits targeted some regions as priorities for tourism-related investment. According to Indonesia's Master Plan of Expanding and Accelerating Economic Development 2011-2025 Flores is part of the 'gateway for tourism' which spans from Bali to West Nusa Tenggara (Coordinating Ministry for Economic Affairs, 2011) and is also home to two of sixteen 'strategic national tourism areas' which have been prioritized for tourism development from 2012-2014 (FIRST Magazine, 2012).

Officially, sustainable tourism development is central to these plans and the national government works in close cooperation with the eight districts of Flores to help ensure an "integrated action plan to develop sustainable tourism" (FIRST Magazine, 2012, p.55). In reality, however, there is a lack of collaboration between Flores' districts and there is a concern that the national and provincial government primarily focusses on promoting the area as an attractive tourist destination, while giving little consideration to how a growth in visitor numbers will be dealt with locally.

Sail-Komodo, an international maritime event due to take place in September 2013 which will see hundreds of yachts and cruise ships sailing through KNP, was mentioned as a prime example of the provincial and national government's lack of concern for local issues. While the event has been marketed as an opportunity to boost tourism to the Nusa Tenggara Timur province, the local community has largely been excluded from the planning stages of the event (Makur, 2013b). One local tour guide noted that the promotional banners and advertisements lining the streets of Labuan Bajo were the only source of information available to local community members and even expressed uncertainty as to whether the event was still taking place. Several interviewees wondered how the small harbour would cope with a sudden influx of boats and yachts and doubted that the event would bring any economic benefits to the local community. These observations could be seen to demonstrate the government's focus on macroeconomic issues and attracting foreign investors but a disregard for local empowerment and participation (Scheyvens, 2002a). A general lack of trust in the local government was also conveyed through comments such as "government employees get a salary no matter what... so they don't care about these things".
NGOs

Unlike governments, NGOs are often seen as neutral providers of community support given their not-for profit status and the fact that they do not directly represent state interests (Scheyvens, 2002a). The NGOs working in Labuan Bajo were found to play an active role in disseminating information, bringing stakeholders together and pushing for greater local empowerment and participation. Generally, interviewees thought highly of these efforts, although some noted a lack of cooperation between NGOs and two interviewees conveyed a feeling of distrust towards the organisations' goals and motivations. As Simpson (2008) points out: "NGOs have often been criticized when involved in tourism initiatives for their lack of transparency, lack of commitment and excessive focus on self-promotion" (p.8) and the attitudes and actions of foreign-based NGOs can run the risk of being interpreted as neo-colonialism. This was, to a certain extent, evident in Labuan Bajo as one foreign-based NGO was criticised for investing in unnecessary and expensive new offices throughout Flores, bringing in outside consultants to "tell us what to do" and working on projects without coordinating with other locally-run initiatives.
Private Sector

According to Simpson (2008) "a combination of conscience, pressure (legislative and lobbyist), necessity and a desire for capturing a maturing and growing market" (p.9) has led to an increasing focus on behalf of the private sector for sustainable approaches to tourism. This is reflected in the existence of industry associations such as the Association of Independent Tour Operators (AITO) and private sector initiatives such as responsibletravel.com, which promote sustainable business practices within the tourism sector (Simpson, 2008).

The diving industry has also demonstrated a growing concern for sustainability issues through certification schemes such as PADI's Green Star Award or SSI's Ocean Ranger Code. However, as this research and previous studies have noted, such schemes are almost exclusively concerned with environmental sustainability and any efforts to include social elements take place on a smaller scale and are primarily driven by the passions of individual dive business owners. Generally, the competitive nature of the dive industry means that the profit-motive stands as a key barrier to pursuing more sustainable and ethical business practices, which are not perceived as 'business critical' by the majority of dive business owners and training agencies.
Recommendations

The community's low level of trust in the government's ability to prioritise local interests, act transparently and enforce regulations, means that NGOs and the private sector play a particularly important role in promoting responsible practices within the dive tourism industry in Labuan Bajo. As outlined above, NGOs have been successful in providing networking opportunities for tourism stakeholders and have even been investing in dive instructor training. However, there are also signs that the social impacts of the dive industry are being overlooked; one foreign-based NGO, which has been actively supporting the sustainable development of Flores' tourism industry, has devoted little attention to the dive industry in its projects because tourist exit-surveys have revealed high-visitor satisfaction with the services provided by dive operators. The NGO has therefore chosen to focus on issues relating to accommodation providers, restaurants and tour guides (R1). This implies a lack of awareness of the dive industry's significant role within western Flores' tourism industry and its socio-economic impacts on the local community.

Given that not everyone wants to, or can be trained to work as a dive professional (Townsend, 2008), NGOs should not only invest in training local dive staff but also encourage dive businesses to engage in business practises that support the local community in other ways. The provision of English language training, for example, is not only beneficial to the operation of dive centres but also increases the general employability of local people. While dive professionals willing to work 'for free' in return for accommodation were seen to have a negative effect on the community, they could make a positive impact by getting involved in English language/conversation classes for local people. Encouraging dive centres to display locally produced handicraft and products could also go a long way towards promoting investment in the local economy.
Furthermore, while the efforts by individual dive operators are laudable and to be encouraged, it would seem that wider changes within the dive industry cannot take place without larger scale initiatives (Scheyvens, 2002a). Given that the profit-motive prevents many business owners from exploring more sustainable business practice alternatives, NGOs could play a key role in providing independent research and guidance on how dive centres can support the local community in commercially viable ways. The Green Fins code of conduct (Hunt et al., 2013) demonstrates the potential for NGO-private sector collaboration within the dive industry. Funded and managed by the United Nations Environment Programme (UNEP) and The Reef World Foundation, the programme provides consultation and incentives to dive centres to limit their impact on marine life (Hunt et al., 2013) and demonstrates the potential for a similar programme that includes issues of social sustainability. Rigid codes of conduct that impose local employment quotas would be overly restrictive and presumably be looked upon unfavourably by business owners and would also be difficult to enforce and implement. However, the development of a 'best practice' guideline describing how dive centres can support local communities as well as mitigate their environmental impact could be the first step towards encouraging more responsible behaviour in the dive industry. Such practices could include training local staff, participating in local education workshops and providing members of the local community with work experience opportunities.

Finally, dive certification and training agencies have the potential to act as major contributors towards an industry-wide recognition of the social impacts of dive tourism. Their potential to influence practices within the dive industry is extensive, considering that they not only certify thousands of dive professionals every year, but also act as a certification system for dive businesses (most reputable dive centres are rated by organisations such as PADI, according to instructor capabilities and facilities) (Mograbi and Rogerson, 2007). This means that these agencies not only certify thousands of dive professionals and recreational divers, but are also represented by a large number of dive centres around the world (PADI, for example, is represented by more than 6200 dive shops and resorts) (PADI, 2013b).

Given this level of influence, simply making dive training materials available in more languages, could be key to increasing local employment in the industry. Drawing attention to guidelines for responsible tourism behaviour that include environmental and social issues could also play a part in making the dive industry more sustainable by promoting responsible behaviour not only on behalf of dive businesses but also dive tourists. Importantly, given the growing tourist demand for sustainable tourism alternatives (CREST, 2013), such moves would not only be beneficial to local communities but also commercially realistic and could therefore coincide with the profit-maximizing focus of many private sector players. This is supported by the example of a dive centre in Labuan Bajo, which, while charging slightly higher prices than other centres in the area, attracts a large percentage of its customers due to its ethical approach to dive tourism. As the dive centre founder put it: "It is my intention, completely and totally to embarrass the other shops, to show not only profitability but growth by doing operations like this. I can financially show and prove the benefits of doing these things".
 
Conclusion

On the whole, this research supports findings from previous studies on the impacts of dive tourism on local communities. While dive centres in Labuan Bajo were generally found to contribute little in terms of social and psychological empowerment, they do play a major role in encouraging local awareness of and appreciation for the natural, underwater environment. Furthermore, in terms of community participation, it was found that although there are some locally owned dive businesses and a few local dive professionals in Labuan Bajo, limited language skills and the high cost of dive training are the most significant barriers to greater local employment in the industry.

In addition, the investigation revealed several promising examples of NGO and private sector initiatives seeking to increase local involvement in the dive tourism industry and identified several obstacles reducing the likelihood of long-term success. It was argued that NGOs could play a greater role in providing independent research and guidance on how dive centres can support the local community in commercially viable ways, and that the private sector, especially dive training organisations, could adopt a leading role in the promotion of responsible practices. Thus, the paper successfully identified initiatives in Labuan Bajo that could be replicated in similar contexts and described potential complications, and their possible solutions, to consider when starting similar initiatives.

Importantly, this dissertation has focussed on NGOs, the government and the private sector as key tourism stakeholders, but has not given much consideration to the role tourists themselves play in the tourism development process. NGO's and businesses can influence tourist actions by providing them with guidelines for responsible behaviour and information on ways they can support the local community, however tourists can also exert influence by pressuring tourism operators to adopt sustainable practices and by supporting ventures that involve the local community (Scheyvens, 2002a). While research in Malaysia indicated a low awareness on behalf of dive tourists for social and environmental issues (Haddock-Fraser and Hampton, 2012), conversations with tourists in Labuan Bajo indicated that sustainable business practices did sometimes feature as a prominent reason for choosing one dive centre over another. Given dive tourists' close interaction with the underwater environment, it could be argued that they have a vested interest in maintaining a healthy underwater environment and therefore might value sustainable practices more than other tourists who do not come into direct contact with the underwater world. Further research into dive tourists' views on sustainability could give more insight and potentially make dive industry leaders aware of the value of adopting responsible practices that include environmental and social issues.

Another potential topic for further research is the socio-economic impact of live-aboards. While live-aboards were identified as problematic by interviewees due to their enclave nature, time and practical constraints did not allow more in-depth research into the subject. It would, however, be interesting to explore how live-aboard operators view issues of environmental and social sustainability and what measures could be implemented in order to ensure greater live-board tourist interaction with the local economy. Given the growth in popularity of live-aboard operations in Labuan Bajo, this topic would be particularly worth addressing and might also be relevant to other remote locations in the world.

Helen Klimmek is currently an Intern with IUCN. She has a BA in Politics and an MA in Tourism, Environment and Development. Ms Klimmek is particularly interested in sustainable tourism and marine conservation and has worked as a dive instructor in Egypt and Palau. She has also completed internships with the UNDP, Blue Ventures and the IUCN. The author may be reached through her LinkedIn profile.
This article is based in a dissertation submitted as part of a MA degree in Tourism, Environment and Development at King's College London.
References
Arnstein, S. R. (1969) A ladder of citizen participation. Journal of the American Institute of Planners, 35(4), 216-224.
Ashley, C., Boyd, C. and Goodwin, H. (2000) Pro-poor tourism: Putting poverty at the heart of the tourism agenda. Natural Resources Perspective, No. 51. London: ODI.Borchers, H. (2009) Dragon Tourism Revisited: The sustainability of tourism development in Komodo National Park. In: M. Hitchcock, V.T. King, and M. Parnwell (eds.) Tourism in Southeast Asia: Challenges and New Directions. Copenhagen: NIAS, 2009, 270-285.
Britton, S. G. (1982) The Political Economy of Tourism in the Third World. Annals of Tourism Research, 9(3), 331-358.
Bryman, A. (2008) Social Research Methods (3rd ed.) Oxford: Oxford University Press.
Butcher, J. (2007) Ecotourism, NGOs and Development: a critical analysis. London: Routledge.
Cesar, H. S. and Van Beukering, P. (2004) Economic valuation of the coral reefs of Hawai'i. Pacific Science, 58(2), 231-242.
Chambers, R. (1983) Rural Development: Putting the Last First. London: Longman.
Cloke, P., Cook, I., Crang, P., Goodwin, M., Painter, J. and Philo, C. (2004) Practising Human Geography. London: Sage.
Cole, S. (2006) Information and Empowerment: The Keys to Achieving Sustainable Tourism. Journal of Sustainable Tourism, 14(6), 629–644.
Cole, S. (2008a) Living in hope: Tourism and poverty alleviation in Flores. In: P. Burns and M. Novelli (eds.) Tourism Development: Growth, Myths and Inequalities. Oxford: CABI, 2008, 272-289.
Cole, S. (2008b) Tourism, culture and development: Hopes, dreams and realities in East Indonesia (Vol. 12)
Clevedon: Channel View Books.Coordinating Ministry for Economic Affairs (2011) Masterplan for Acceleration and Expansion of Indonesia Economic Development 2011 – 2025. Jakarta: Coordinating Ministry for Economic Affairs.
Cope, M. (2010) Coding Qualitative Data. In: I. Hay (ed.) Qualitative Research Methods in Human Geography (3rd ed.) Don Mills, Ontario: Oxford University Press, 2010, 281-294.
CREST (2013) The Case for Responsible Travel: Trends and Statistics. Available from: http://www.responsibletravel.org/news/Fact_sheets/Crest_RTI_TrendStats_print_1_4%20%283%29.pdf. [Accessed on 14 August 2013].
Cronon, W. (1992) A Place for Stories: Nature, History and Narrative. Journal of American History, 78(4), 1347-76.
Daldeniz, B. and Hampton, M.P. (2012) Dive Tourism and Local Communities: Active Participation or Subject to Impacts? Case Studies from Malaysia. International Journal of Tourism Research, 15(5), 507-520.
Davenport, J. and Davenport, J. L. (2006) The impact of tourism and personal leisure transport on coastal environments: A Review. Estuarine, Coastal and Shelf Science, 67(1), 280-292.
Dunn, K. (2010) Interviewing. In: I. Hay (ed.) Qualitative Research Methods in Human Geography (3rd ed.) Ontario: Oxford University Press, 2010, 50-81.
Eco Flores (2012) Eco Flores Report of a Congress, September 2012. Labuan Bajo: Ecoflores.
Erb, M. (2004) Miscommunication and cultural values in conflict: Reflections on morality and tourism in Labuan Bajo, Flores, Indonesia. Tourism (Zagreb), 52(1), 75-89.
Erb, M. (2005) Limiting Tourism and the Limits of Tourism: The Production and Consumption of Tourist Attractions in Western Flores. In: C. Ryan, and M. E. Aicken (eds.) Indigenous Tourism: The Commodification and Management of Culture. Oxford: Elsevier, 2005, 155-180.
Erb, M. (2012) The dissonance of conservation: Environmentalities and the environmentalisms of the poor in Eastern Indonesia. The Raffles Bulletin of Zoology, 25, 11-23.
Erb, M. (2013) Gifts from the Other Side: Thresholds of Hospitality and Morality in an Eastern Indonesian Town. Oceania, In Press.
Fabinyi, M. (2008) Dive tourism, fishing and marine protected areas in the Calamianes Islands, Philippines. Marine Policy, 32(6), 898–904.
FIRST Magazine (2012) Unleashing tourism potential: Interview with Mari Elka Pangestu, Minister of Tourism and Creative Economy. First Magazine: Special Report on Indonesia, 2012, 52-56. Available from: http://www.firstmagazine.com/Publishing/SpecialReportsDetail.aspx?RegionId=4&SpecialReportId=105 [Accessed on 15 August 2013].
Garrod, B. and Gössling, S. (ed.) (2008) Introduction. In: B. Garrod and S. Gössling (eds.) New Frontiers in Marine Tourism: Diving experiences, sustainability, management. London: Elsevier, 2008, 3-30.
Geertz, C. (1973) The Interpretation of Cultures: Selected Essays. New York: Basic Books.
Gustave, R. and Borchers, H. (2008) Conservation and conflict in Komodo National Park. In: N. S Sodhi, G. Acciaioli, M. Erb and A. K. J. Tan (eds.) Biodiversity and human livelihoods in protected areas: case studies from the Malay Archipelago. Cambridge: Cambridge University Press, 2008, 187-202.
Haddock-Fraser, J. and Hampton, M. P. (2012) Multistakeholder values on the sustainability of dive tourism: Case studies of Sipadan and Perhentian Islands, Malaysia. Tourism Analysis, 17, 27–41.
Hampton, M. P. (2003) Entry points for local tourism in developing countries: evidence from Yogyakarta, Indonesia. Geografiska Annaler: Series B, Human Geography, 85(2), 85-101.
Hawkins, J. P. and Roberts, C. M. (1992) Effects of recreational SCUBA diving on fore-reef slope communities of coral reefs. Biological Conservation, 62(3), 171-178.
Hawkins, J. P., Van'T Hof, T., De Meyer, K., Tratalos, J. and Aldam, C. (1999) Effects of Recreational Scuba Diving on Caribbean Coral and Fish Communities. Conservation Biology, 13(4), 888-897.
Heighes, S. (2011) Flores: Diving Around Komodo. Bali: Swisscontact
Hoggart, K., Lees, L. and Davies, A. (2002) Researching Human Geography. London: Arnold.
Hollinshead, K. (2004) A primer in ontological craft: the creative capture of people and places through qualitative research. In: J. Phillimore and L. Goodson (eds.) Qualitative Research in Tourism: Ontologies, Epistemologies and Methodologies. London: Routledge, 2004, 63-82.
Hunt, C. V., Harvey, J. J., Miller, A., Johnson, V. and Phongsuwan, N. (2013) The Green Fins approach for monitoring and promoting environmentally sustainable scuba diving operations in South East Asia. Ocean & Coastal Management, 78, 35-44.
Jackson, P. (2001) Making sense of qualitative data. In: M. Limb, and C. Dwyer (eds.) Qualitative Methodologies for Geographers: Issues and Debates. London: Arnold, 2001, 199-214.
Jafari, J. (2001) Research and Scholarship: The basis of tourism education. The Journal of Tourism Studies, 1(1), 33-41.
Johnston, R. (2000) Community. In: R. Johnston, D. Gregory, G. Pratt and M. Watts (eds.) The Dictionary of Human Geography. Oxford: Blackwell, 2000, 101-2.
Komodo National Park Authority (2009) Komodo National Park Visitor Guide Book. Labuan Bajo: Komodo National Park Authority.
Makur, M. (2013a) West Manggarai set for more local diving instructors. The Jakarta Post. 28 February 2013. Available at: http://www.jakpost.travel/news/west-manggarai-set-for-more-local-diving-instructors-8eWilL6BACVPwIHu.html [Accessed on 15 August 2013].
Makur, M. (2013b) West Manggarai 'unprepared' for Sail Komodo Even. The Jakarta Post. 16 May 2013. Available at: http://www.thejakartapost.com/news/2013/05/16/west-manggarai-unprepared-sail-komodo-event.html [Accessed on 15 August 2013].
Mograbi, J. and Rogerson, C. M. (2007) Maximising the Local Pro-Poor Impacts of Dive Tourism: Sodwana Bay, South Africa. Urban Forum, 18(2), 85–104.
Mowforth, M. and Munt, I. (2009) Tourism and Sustainability: Development, Globalisation and New Tourism in the Third World (3rd ed.) London: Routledge.
Mullings, B. (1999) Insider or outsider, both or neither: some dilemmas of interviewing in a cross-cultural setting. Geoforum, 30(4), 337-350.
Novelli, M. (ed.) (2005) Niche Tourism: Contemporary Issues, Trends and Cases. Oxford: Elsevier, 2005.
PADI (2013a) Worldwide Corporate Statistics 2013, Data for 2007-2012. Available from: http://www.padi.com/scuba/about-padi/PADI-statistics/default.aspx [Accessed on 13 August 2013].
PADI (2013b) About Padi. Available from: http://www.padi.com/scuba/about-padi/default.aspx [Accessed on 26 August 2013].
Phillimore, J. and Goodson, L. (2004) Progress in qualitative research in tourism: Epistemology, ontology and methodology. In: J. Phillimore and L. Goodson (eds.) Qualitative Research in Tourism: Ontologies, Epistemologies and Methodologies. London: Routledge, 2004, 3-29.
PKA and TNC (2000) 25 Year Master Plan for Management of Komodo National Park, Book 1: Management Plan. Jakarta: Direktorat Perlindungan dan Konservasi Alam. Available from: www.komodonationalpark.org [Accessed on 20 August 2013].
Pretty, J. (1995) The many interpretations of participation. Focus, 16, 4–5.
Rogerson, C. M. (2006) Pro-poor local economic development in South Africa: The role of pro-poor tourism. Local Environment: The International Journal of Justice and Sustainability, 11(1), 37-60.
Sayer, A. (1992) Methods in Social Science: A Realist Approach. London: Routledge.
Scheyvens, R. (2002a) Tourism for Development: Empowering Communities. London: Prentice Hall.
Scheyvens, R. (2002b) Backpacker tourism and third world development. Annals of Tourism Research, 29(1), 144-164.
Shaalan, I. M. (2005) Sustainable tourism development in the Red Sea of Egypt - threats and opportunities. Journal of Cleaner Production, 13(2), 83–87.
Simmons, D. G. (1994) Community participation in tourism planning. Tourism Management, 15(2), 98–108.
Simpson, M. C. (2008) Community benefit tourism initiatives—A conceptual oxymoron? Tourism Management, 29(1), 1-18.
Swisscontact (n.d) WISATA Project Progress Report 01.01-31.12.2012. Unknown place of publication: Swisscontact.
Telfer, D. T. and Sharpley, R. (2008) Tourism and Development in the Developing World. London: Routledge.
Tosun, C. (1999) Towards a typology of community participation in the tourism development process. Anatolia, 10(2), 113-134.
Tosun, C. (2000) Limits to community participation in the tourism development process in developing countries. Tourism Management, 21(6), 613–633.
Tosun, C. (2006) Expected nature of community participation in tourism development. Tourism Management, 27(3), 493-504.
Tosun, C. and Timothy, D. J. (2003) Arguments for Community Participation in the Tourism Development Process. The Journal of Tourism Studies, 14(2), 2–15.
Townsend, C. (2008) Dive Tourism, Sustainable Tourism and Social Responsibility: A Growing Agenda. In: B. Garrod and S. Gössling (eds.) New Frontiers in Marine Tourism: diving experiences, sustainability, management. London: Elsevier, 2008, 139-152.
Tratalos, J. A. and Austin, T. J. (2001) Impacts of recreational SCUBA diving on coral communities of the Caribbean island of Grand Cayman. Biological Conservation, 102(1), 67-75.
UNEP and WTO (2005) Making Tourism More Sustainable: A Guide for Policymakers. United Nations Environment Programme and World Tourism Organization. Available from: http://www.unep.fr/shared/publications/pdf/DTIx0592xPA-TourismPolicyEN.pdf [Accessed on 16 August 2013].
Walpole, M. J. and Goodwin, H. J. (2001) Local attitudes towards conservation and tourism around Komodo National Park, Indonesia. Environmental Conservation, 28(2), 160-166.
Watt, D. (2007) On Becoming a Qualitative Researcher: The Value of Reflexivity. The Qualitative Report, 12(1), 82-101.
WFP Indonesia (2013) East Nusa Tenggara (NTT) Profile. Jakarta: World Food Programme. Available from: http://www.wfp.org/sites/default/files/NTT%20factsheet%20Jan%202013.pdf [Accessed on 20 August 2013].
White, A. and Rosales, R. (2003) Community-oriented marine tourism in the Philippines: Role in economic development and conservation. In: S. Gössling (ed.) Tourism and Development in Tropical Islands: Political Ecology Perspectives. Cheltenham: Edward Elgar Publishing, 2003, 237-263.
Wilson, E., Harris, C. and Small, J. (2008) Furthering Critical Approaches in Tourism and Hospitality Studies: Perspectives from Australia and New Zealand. Journal of Hospitality and Tourism Management, 15(1), 15-18.
WTTC (2012) The Comparative Economic Impact of Travel and Tourism. London: WTTC. Available from: http://www.wttc.org/site_media/uploads/downloads/The_Comparative_Economic_ Impact_ of_Travel__Tourism.pdf [Accessed on 15 August 2013].
Details

Written by

ECOCLUB.com Team

Hits: 1284
BRIDGETOWN, Barbados (14 Jan. 2014) – The Caribbean Tourism Organization (CTO) and TravelMole are looking for destinations in the region that are demonstrating that sustainable tourism products and services are viable and exciting travel options for visitors to the region in their annual Sustainable Tourism Awards.
Individuals, groups, organizations and companies in any of the CTO's member countries are invited to submit entries for a number of award categories including the Caribbean Excellence in Sustainable Tourism Award; Destination Stewardship Award; Sustainable Accommodation Award; Community Benefit Award; Heritage Protection Award; and the Biodiversity Conservation Award.
Qualifying entrants will have developed unique and attractive tourism products or are implementing initiatives that embrace sustainable tourism concepts and core values. Entry criteria are aimed at identifying and showcasing sustainable tourism best practices among CTO members that improve long-term competitiveness of tourism businesses and destinations while preserving the inherit quality and authenticity of the product or services. All entries must be submitted via www.onecaribbean.org.

"Winners will demonstrate comprehensive efforts to reduce their carbon footprint, increase use of renewable energy, preserve the natural environment and create exciting, value-added experiences that are also sustainable." said Gail Henry, CTO's sustainable tourism product specialist. "We want our awards to be recognized as a standard bearer that will signal to visitors that the winning entity has reached a level of excellence in its sustainable tourism practices."
TravelMole's publisher and editor-in-chief, Graham McKenzie, encouraged Caribbean destinations to embrace sustainable tourism as the way forward.
"The CTO/TravelMole Sustainable tourism awards have now established themselves as the leading programme of its kind in the region. Genuinely assessed and judged, the awards stand out as a beacon of recognition for sustainability. In a region such as the Caribbean where tourism is such a high revenue earner and employer, it's imperative that the unique attributes that make the region so attractive are preserved and developed sympathetically with the environment". McKenzie said.
The deadline for the entries in the CTO-TravelMole Sustainable Tourism Awards is Friday 31 January, 2014.
Details

Written by

Martha Honey

Hits: 5120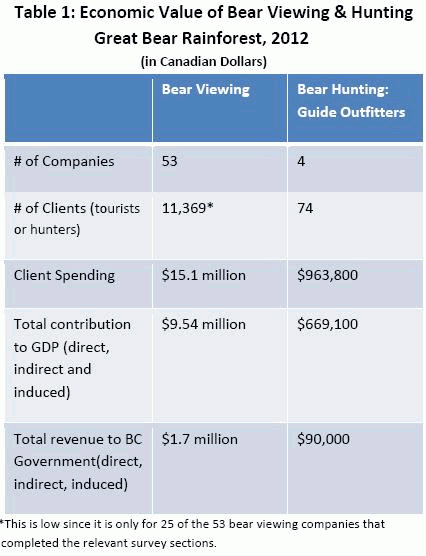 Value of Bear Viewing in BC, CanadaWASHINGTON, DC— 8 January 2014: A new study released today finds that bear viewing ecotourism in British Columbia's Great Bear Rainforest "generates far more value to the economy" in terms of revenue, taxes, and jobs than the older and more well-established trophy hunting of grizzly and black bears.  The study by the Center for Responsible Travel (CREST), Economic Impact of Bear Viewing and Bear Hunting in the Great Bear Rainforest of British Columbia, determined that in 2012, bear viewing in the Great Bear Rainforest, which has been growing rapidly over the last decade, generated 12 times more in visitor spending than bear hunting and over 11 times in direct revenue for BC's provincial government. The study further found that bear-viewing companies directly employed an estimated 510 persons in 2012, while guide hunting outfitters generated only 11 jobs that same year.
The CREST study, the first to compare the economic value of these two sectors of wildlife recreation in the Great Bear Rainforest (GBR), comes in the midst of public controversy over trophy bear hunting.  In 2012, the Coastal First Nations, representing some 20,000 First Nations people who are seeking greater control over the GBR, announced a ban on trophy hunting of bears throughout the region. They argued that, among other reasons, trophy hunting is threatening the growing ecotourism industry centered on bear viewing.  The BC government, contending that the province has the sole authority to regulate hunting, has continued to authorize hunting of black and grizzly bears in the GBR.
"Given the sensitivity of the debate and the range of statistics being cited for the value of hunting and viewing, CREST decided to undertake an impartial, academically rigorous analysis to try to nail down the numbers," says CREST Co-Director Dr. Martha Honey who led the project.  The study was conducted by CREST researchers at Stanford University and in Washington, DC, together with two BC-based experts.  "Our findings clearly show that bear viewing is today of far greater economic value than bear hunting in the Great Bear Rainforest and that bear viewing is a growing, while bear hunting is declining."
Other Key Findings Include:

1. The study identified 53 bear-viewing companies and only four guide outfitter hunting companies operating in the Great Bear Rainforest study area in 2012. The companies involved in bear-viewing said they expect their businesses to grow over the next decade, while most of the hunting outfitters have experienced a decline in business and several are seeking to sell their businesses.  
2. Bear viewing is a key factor bringing international tourists to the GBR from Europe, Asia, and the United States. While the total number of tourists coming to the GBR for bear viewing could not be fully determined, 25 of the 53 companies surveyed reported hosting 11,369 visitors in 2012. That same year, there were 74 hunters from outside BC, 80% of whom are from the United States. Therefore non-resident bear hunting is more dependent on a single market—the U.S.--than is bear viewing, and the number of U.S. hunters coming to BC dropped 20% during the recent economic crisis.
3. The results of a new BC government-commissioned study, Expenditure of British Columbia Resident Hunters "appear inflated in a number of areas" and its estimate that resident hunting generated $230 million in BC in 2012 "may have overinflated the number of hunter days and spending per day." (This study does not provide separate estimates for the GBR) Given these uncertainties, "it is not really possible to say how accurate the [government's] 2013 study is."
4. Whatever the actual amount, resident hunting in BC and the GBR "represents a circulation of already existing money rather than new money entering the province." According to statistician Jim Johnson of Pacific Analytics who is a lead author of the CREST study, "resident hunting therefore should not be viewed as providing any substantive net economic benefit to the BC economy." In contrast, non-resident hunting does bring new revenue into the province.
5. The BC government's administrative apparatus overseeing bear hunting "is complex, cumbersome, and costly." Government technicians said "they had no information on the cost of managing bear hunting" and they were "unable to answer the basic question [posed by the CREST study]: How many bears are hunted and killed each year within the Great Bear Rainforest?"
The CREST study was carried out according to Stanford University's research protocols and used the same National Accounting criteria that Statistics Canada uses to determine the economic importance of all industry sectors. The research included surveys of bear viewing companies, visitors, and guide outfitters; in-depth interviews with government officials, businesses, Coastal First Nation leaders, hunting and wildlife viewing associations and organizations involved in the GBR; and an extensive literature review. In addition, CREST entered into a research agreement with BC's Ministry of Forests, Lands, and Natural Resource Operations to obtain documents, statistics, maps, and other materials related to bear hunting.
The study, Economic Impact of Bear Viewing and Bear Hunting in the Great Bear Rainforest of British Columbia, can be downloaded at www.responsibletravel.org