Eco News
Details

Written by

Worldwatch Institute

Hits: 1196
New Worldwatch Institute analysis explores the debate about our planet's future population
Washington, D.C.----The human population nearly tripled from 2.5 billion people in 1950 to 7.3 billion today and will continue growing through 2070, according to two recent demographic projections. After that, demographers disagree on whether populations will begin to shrink or continue to rise into the next century, write Worldwatch Institute Senior Fellow Robert Engelman and Research Assistant Yeneneh Terefe in the Institute's latest Vital Signs Online article (www.worldwatch.org).
Two population projections----one from the United Nations Population Division, the other from the International Institute for Applied Systems Analysis (IIASA)---- agree on how population has grown until now. But their future scenarios document a breakdown in consensus.
U.N. demographers rely on a methodology that applies past behavior and expert opinion about the future to assign quantified probabilities to various population outcomes. Defying a widespread media and public perception that a stationary world population of 9 billion in 2050 is a near certainty, the U.N. analysts report that the most likely long-term future is for continued growth into the 22nd century.
Demographers associated with IIASA, based in Laxenburg, Austria, however, differ with this analysis. They foresee world population peaking around 2070 at 9.4 billion people and then gradually shrinking to 8.9 billion by the century's end.
The disagreement between these two respected groups of population researchers lies in their varying assumptions, mostly regarding two topics: Africa and the future of education. The U.N. demographers point to recent surveys showing that human fertility (defined as the average number of children that women in a population give birth to over their lifetimes) is not falling in some countries as earlier projections had assumed they would.
The IIASA demographers, by contrast, focus largely on educational trends. In every region of the world, including Africa, the proportion of young people enrolled in school has generally been rising. and these rates are likely to continue to rise, the analysts argue. Because even moderately high levels of educational attainment are associated with reductions in fertility, fertility even in high-fertility countries is likely to fall more than current fertility trends on their own suggest, the demographers reason.
Two Australian environmental scientists, Corey J. A. Bradshaw and Barry W. Brook, recently published another set of population projections---- with a twist. They add scenarios in which humanity experiences increases in the deaths of children due to climate change or outright demographic catastrophes due to "global pandemic or war." In their most extreme scenario, 6 billion people die in the early 2040s, in which case human population would decline to about 5 billion by 2100.
The Australian analysts are non-demographers engaging in a one-off thought exercise. But the significant differences among the various projections tell us something important about population and the human future. Despite general perceptions that demographers confidently forecast future population, no one knows when population will stop growing or the level at which it will peak. Moreover, the future of population growth may respond to decisions made today, so ideally these decisions would support a reduced incidence of unintended pregnancy (now about 40 percent of all pregnancies globally) rather than allow environmental and social conditions to deteriorate until death rates reverse their historic decline.
About the Worldwatch Institute:
Worldwatch is an independent research organization based in Washington, D.C. that works on energy, resource, and environmental issues. The Institute's State of the World report is published annually in more than a dozen languages. For more information, visit http://www.worldwatch.org
Details

Written by

IPS

Hits: 1266
Analysis by Jeff Conant, International Forests Campaigner for Friends of the Earth-U.S
Berkeley, California, Dec 18 2014 (IPS) - Dercy Teles de Carvalho Cunha is a rubber-tapper and union organiser from the state of Acre in the heart of the Brazilian Amazon, with a lifelong love of the forest from which she earns her livelihood – and she is deeply confounded by what her government and policymakers around the world call "the green economy."
"The primary impact of green economy projects is the loss of all rights that people have as citizens," says Teles de Carvalho Cunha in a report released last week by a group of Brazilian NGOs. "They lose all control of their lands, they can no longer practice traditional agriculture, and they can no longer engage in their everyday activities."
Referring to a state-run programme called the "Bolsa Verde" that pays forest dwellers a small monthly stipend in exchange for a commitment not to damage the forest through subsistence activities, Teles de Carvalho Cunha says, "Now people just receive small grants to watch the forest, unable to do anything. This essentially strips their lives of meaning. "
Her words are especially chilling because Teles de Carvalho Cunha is not just any rubber tapper – she is the president of the Rural Workers Union of Xapuri – the union made famous in Brazil when its founder, Chico Mendes, was murdered in 1988 for defending the forest against loggers and ranchers.
Mendes' gains have been consolidated in tens of thousands of hectares of 'extractive reserves,' where communities earn a living from harvesting natural rubber from the forest while keeping the trees standing. But new policies and programmes being established to conserve forests in Acre seem to be having perverse results that the iconic leader's union is none too happy about.
Conflicting views on the green economy
As Brazil has become a leader in fighting deforestation through a mix of public and private sector actions, Acre has become known for market-based climate policies such as Payment for Environmental Services (PES) and Reducing Emissions from Deforestation and Forest Degradation (REDD) schemes, that seek to harmonise economic development and environmental preservation.
Over the past decade, Acre has put into place policies favouring sustainable rural production and taxes and credits to support rural livelihoods. In 2010, the state began implementing a system of forest conservation incentives that proponents say have "begun to pay off abundantly".
Especially as the United Nations Framework Convention on Climate Change continues to fail in its mission of bringing nations together around a binding emissions reduction target – the latest failure being COP20 in Lima earlier this month – REDD proponents highlight the value of "subnational" approaches to REDD based on agreements between states and provinces, rather than nations.
The approach is best represented by an agreement between the states of California, Chiapas (Mexico), and Acre (Brazil).
In 2010, California – the world's eighth largest economy – signed an agreement with Acre, and Chiapas, whereby REDD and PES projects in the two tropical forest provinces would supply carbon offset credits to California to help the state's polluters meet emission reduction targets.
California policymakers have been meeting with officials from Acre, and from Chiapas, for several years, with hopes of making a partnership work, but the agreement has yet to attain the status of law.
Attempts by the government of Chiapas to implement a version of REDD in 2011, shortly after the agreement with California was signed, met strong resistance in that famously rebellious Mexican state, leading organisations there to send a series of letters to CARB and California Governor Jerry Brown asking them to cease and desist.
Groups in Acre, too, sent an open letter to California officials in 2013, denouncing the effort as "neocolonial,": "Once again," the letter read, "the former colonial powers are seeking to invest in an activity that represents the 'theft' of yet another 'raw material' from the territories of the peoples of the South: the 'carbon reserves' in their forests."
This view appears to be backed up now by a new report on the Green Economy from the Brazilian Platform for Human, Economic, Social, Cultural and Environmental Rights. The 26-page summary of a much larger set of findings to be published in 2015 describes Acre as a state suffering extreme inequality, deepened by a lack of information about green economy projects, which results in communities being coerced to accept "top-down" proposals as substitutes for a lack of public policies to address basic needs.
Numerous testimonies taken in indigenous, peasant farmer and rubber-tapper communities show how private REDD projects and public PES projects have deepened territorial conflicts, affected communities' ability to sustain their livelihoods, and violated international human rights conventions.
The Earth Innovation Institute, a strong backer of REDD generally and of the Acre-Chiapas-California agreement specifically, has thoroughly documented Brazil's deforestation success, and argues that existing incentives – farmers' fear of losing access to markets or public finance or of being punished by green public policies – have been powerful motivators, but need to be accompanied by economic incentives that reward sustainable land-use.
But the testimonies from Acre raise concerns that such economic incentives can deepen existing inequalities. The Bolsa Verde programme is a case in point: according to Teles de Carvalho Cunha, the payments are paltry, the enforcement criminalises already-impoverished peasants, and the whole concept fails to appreciate that it is industrial polluters in rich countries, not peasant farmers in poor countries, who most need to reduce their climate impacts.
A related impact of purely economic incentives is to undermine traditional approaches to forest management and to alienate forest-dwellers from their traditional activities.
"We don't see land as income," one anonymous indigenous informant to the Acre report said. "Our bond with the land is sacred because it is where we come from and where we will return."
Another indigenous leader from Acre, Ninawa Huni Kui of the Huni Kui Federation, appeared at the United Nations climate summit in Lima, Peru this month to explain his people's opposition to REDD for having divided and co-opted indigenous leaders; preventing communities from practicing traditional livelihood activities; and violating the Huni Kui's right to Free, Prior and Informed Consents as guaranteed by Convention 169 of the International Labor Organization.
One of the REDD projects the report documents (also documented here) is the Purus Project, the first private environmental services incentive project registered with Acre's Institute on Climate Change (Instituto de Mudanças Climáticas, IMC), in June 2012.
The project, designed to conserve 35,000 hectares of forest, is jointly run by the U.S.-based Carbonfund.org Foundation and a Brazilian company called Carbon Securities. The project is certified by the two leading REDD certifiers, the Verified Carbon Standard (VCS) and the Climate, Community, Biodiversity Standard (CCBS).
But despite meeting apparently high standards for social and environmental credibility, field research detected "the community's lack of understanding of the project, as well as divisions in the community and an escalation of conflicts."
One rubber tapper who makes his living within the project area told researchers, "I want someone to explain to me what carbon is, because all I know is that this carbon isn't any good to us. It's no use to us. They're removing it from here to take it to the U.S... They will sell it there and walk all over us. And us? What are we going to do? They're going to make money, but we won't?"
A second project called the Russas/Valparaiso project, seems to suffer similar discrepancies between what proponents describe and what local communities experience, characterised by researchers as "fears regarding land use, uncertainty about the future, suspicion about land ownership issues, and threats of expulsion."
The company's apparent failure to leave a copy of the project contract with the community did not help to build trust. Like the Purus Project – and like many REDD projects in other parts of the world whose track record of social engagement is severely lacking – this project is also on the road to certification by VCS and CCB.
Concerns like criminalising subsistence livelihoods and asserting private control over community forest resources, whether these resources be timber or CO2, is more than a misstep of a poorly implemented policy – it violates human rights conventions that Brazil has ratified, as well as national policies such as Brazil's National Policy for the Sustainable Development of Traditional Peoples and Communities.
The report's conclusion sums up its findings: "In the territories they have historically occupied, forest peoples are excluded from decisions about their own future or—of even greater concern – they are considered obstacles to development and progress. As such, green economy policies can also be described as a way of integrating them into the dominant system of production and consumption.
"Yet, perhaps what is needed is the exact opposite – sociocultural diversity and guaranteeing the rights of the peoples are, by far, the best and most sustainable way of slowing down and confronting not only climate change, but also the entire crisis of civilization that is threatening the human life on the planet."
Edited by Kitty Stapp
All rights reserved, IPS – Inter Press Service (2014)
Details

Written by

Neena Bhandari

Hits: 1230
William Clark Enoch of Queensland. Aboriginal and Torres Strait Islander people, who comprise only 2.5 per cent of Australia's nearly 24 million population, are part of the oldest continuing culture in the world. Credit: Neena Bhandari/IPS
CAIRNS, Queensland, Dec 17 2014 (IPS) - As a child growing up in Far North Queensland, William Clark Enoch would know the crabs were biting when certain trees blossomed, but now, at age 51, he is noticing visible changes in his environment such as frequent storms, soil erosion, salinity in fresh water and ocean acidification.
"The land cannot support us anymore. The flowering cycles are less predictable. We have to now go much further into the sea to catch fish," said Enoch, whose father was from North Stradbroke Island, home to the Noonuccal, Nughie and Goenpul Aboriginal people.
"Our communities don't have to rely on handouts from mining companies, we can power our homes with the sun and the wind, and build economies based on caring for communities, land and culture that is central to our identity." -- Kelly Mackenzie
Aboriginal and Torres Strait Islander people, who comprise only 2.5 per cent (548,400) of Australia's nearly 24 million population, are part of the oldest continuing culture in the world. They have lived in harmony with the land for generations.
"But now pesticides from sugarcane and banana farms are getting washed into the rivers and sea and ending up in the food chain. We need to check the wild pig and turtles we kill for contaminants before eating," Enoch told IPS.
With soaring temperatures and rising sea levels, indigenous people face the risk of being further disadvantaged and potentially dislocated from their traditional lands.
"We have already seen environmental refugees in this country during the Second World War. In the 1940s, Torres Strait Islander people were removed from the low-lying Saibai Island near New Guinea to the Australian mainland as king tides flooded the island", said Mick Gooda, Aboriginal and Torres Strait Islander Social Justice Commissioner at the Australian Human Rights Commission.
Global sea levels have increased by 1.7 millimeters per year over the 20th century. Since the early 1990s, northern Australia has experienced increases of around 7.1 millimetres per year, while eastern Australia has experienced increases of around 2.0 to 3.3 millimetres per year.
For indigenous people, their heart and soul belongs to the land of their ancestors. "Any dislocation has dramatic effects on our social and emotional wellbeing. Maybe these are some of the reasons why we are seeing great increases in self-harm," Gooda, who is a descendant of the Gangulu people from the Dawson Valley in central Queensland, told IPS.
Displacement from the land also significantly impacts on culture, health, and access to food and water resources. Water has been very important for Aboriginal people for 60,000 years, but Australia is becoming hotter and drier.
2013 was Australia's warmest year on record, according to the Bureau of Meteorology's Annual Climate Report. The Australian area-averaged mean temperature was +1.20 degree Centigrade above the 1961–1990 average. Maximum temperatures were +1.45 degree Centigrade above average, and minimum temperatures +0.94 degree Centigrade above average.
"On the other side, during the wet season, it is getting wetter. One small town, Mission Beach in Queensland, recently received 300mm of rain in one night. These extreme climatic changes in the wet tropics are definitely impacting on Indigenous lifestyle," said Gooda.
Researchers warn that climate change will have a range of negative impacts on liveability of communities, cultural practices, health and wellbeing.
Dr. Rosemary Hill, a research scientist at the Commonwealth Scientific and Industrial Research Organisation (Ecosystem Sciences) in Cairns said, "The existing poor state of infrastructure in indigenous communities such as housing, water, energy, sewerage, and roads is likely to further deteriorate. Chronic health disabilities, including asthma, cardiovascular illness and infections, and water, air and food-borne diseases are likely to be exacerbated."
Environmental and Indigenous groups are urging the government to create new partnerships with indigenous Australians in climate adaptation and mitigation policies and also to tap into indigenous knowledge of natural resource management.
"There is so much we can learn from our ancestors about tackling climate change and protecting country. We have to transition Australia to clean energy and leave fossil fuels in the ground. Our communities don't have to rely on handouts from mining companies, we can power our homes with the sun and the wind, and build economies based on caring for communities, land and culture that is central to our identity," says the Australian Youth Climate Coalition (AYCC) communications director, Kelly Mackenzie.
AYCC is calling on the Australian government to move beyond fossil fuels to clean and renewable energy.
Indigenous elder in residence at Griffith University's Nathan and Logan campuses in Brisbane, Togiab McRose Elu, said, "Global warming isn't just a theory in Torres Strait, it's lapping at people's doorsteps. The world desperately needs a binding international agreement including an end to fossil fuel subsidies."
According to a new analysis by Climate Action Tracker (CAT), Australia's emissions are set to increase to more than 50 per cent above 1990 levels by 2020 under the current Liberal-National Coalition Government's climate policies.
The Copenhagen pledge (cutting emissions by five per cent below 2000 levels by 2020), even if fully achieved, would allow emissions to be 26 per cent above 1990 levels of energy and industry global greenhouse gases (GHGs).
It is to be noted that coal is Australia's second largest export, catering to around 30 per cent of the world's coal trade. Prime Minister Tony Abbott has declared that coal is good for humanity. His government has dumped the carbon tax and it is scaling back the renewable energy target.
The United Nations Intergovernmental Panel on Climate Change (IPCC) in its fifth and final report has said that use of renewable energy needs to increase from 30 per cent to 80 per cent of the world's energy supply.
Dr. Hill sees new economic opportunities for indigenous communities in energy production, carbon sequestration, GHG abatement and aquaculture. "Climate adaptation provides opportunities to strengthen indigenous ecological knowledge and cultural practices which provide a wealth of experience, understanding and resilience in the face of environmental change," she told IPS.
With the predicted change in sea level, traditional hunting and fishing will be lost across significant areas. A number of indigenous communities live in low-lying areas near wetlands, estuaries and river systems.
"These areas are important culturally and provide a valuable subsistence source of food, particularly protein, unmet by the mainstream market," said Andrew Picone, Australian Conservation Foundation's Northern Australia Programme Officer.
Picone suggests combined application of cultural knowledge and scientific skill as the best opportunity to address the declining health of northern Australia's ecosystems. Recently, traditional owners on the Queensland coast and WWF-Australia signed a partnership to help tackle illegal poaching, conduct species research and conserve threatened turtles, dugongs and inshore dolphins along the Great Barrier Reef.
The Girringun Aboriginal Corporation and Gudjuda Aboriginal Reference Group together represent custodians of about a third of the Great Barrier Reef.
Elaine Price, a 58-year-old Olkola woman who hails from Cape York, would like more job opportunities in sustainable industries and ecotourism for her people closer to home.
"Our younger generation is losing the knowledge of indigenous plants and birds. This knowledge is vital to preserving and protecting our ecosystem," she said.
Edited by Kitty Stapp
All rights reserved, IPS – Inter Press Service (2014)
Details

Written by

Diego Arguedas Ortiz

Hits: 1001
LIMA, Dec 14 2014 (IPS) - After a 25-hour extension, delegates from 195 countries reached agreement on a "bare minimum" of measures to combat climate change, and postponed big decisions on a new treaty until the 21st Conference of the Parties (COP 21), to be held in a year's time in Paris.
After 13 days of debates, COP 20, the meeting of the parties to the United Nations Framework Convention on Climate Change (UNFCCC), failed to resolve key issues such as the monitoring of each country's commitment to emissions reductions, recognition of loss and damage caused by climate alterations and immediate actions, representatives of observer organisations told IPS.
The agreed document was the third draft to be debated. The Lima Call for Climate Action, as it is known, stipulates that countries must propose national greenhouse gas emission reduction targets by October 2015.
It also "urges" developed countries to "provide and mobilise financial support for ambitious mitigation and adaptation actions" to countries affected by climate change, and "invites" them to pledge financial contributions alongside their emissions reduction targets. This exhortation was a weak response to the demands of countries that are most vulnerable to global warming, and it avoided complete disaster.
But observers complained that the Lima Call pays little attention to the most vulnerable populations, like farmers, coastal communities, indigenous people, women and the poorest sectors of societies.
"There were a number of trade-offs between developed and developing countries, and the rest of the text has become significantly weaker in terms of the rules for next year and how to bring climate change action and ambitions next year," Sven Harmeling, the climate change advocacy coordinator for Care International, told IPS. "That has been most unfortunate," he said.
The 2015 negotiations will be affected, as "they are building up more pressure on Paris. The bigger issues have been pushed forward and haven't been addressed here," he said.
Harmeling recognised that an agreement has been reached, although it is insufficient. "We have something, but the legal status of the text is still unclear," he said. If there is really a "spirit of Lima" and not just a consensus due to exhaustion, it will begin to emerge in February in Geneva, at the next climate meeting, he predicted.
The countries of the South voted in favour of the text at around 01:30 on Sunday Dec. 14, but organisations like Oxfam, the Climate Action Network and Friends of the Earth International (FoEI) were very critical of the result. The Lima negotiations "have done nothing to prevent catastrophic climate change," according to FoEI.
More than 3,000 delegates met Dec. 1-13 for the complex UNFCCC process, with the ultimate goal of averting global warming to levels that would endanger life on Earth.
Peruvian Environment Minister Manuel Pulgar-Vidal, who chaired the COP 20, extended the meeting in order to build bridges between industrialised countries, the largest carbon emitters, who wanted less financial pressure, and developing countries who sought less control over their own reductions.
"Although we seem to be on opposite sides, we are in fact on the same side, because there is only one planet," said Pulgar-Vidal at the close of the COP.
The specific mandate in Lima was to prepare a draft for a new, binding climate treaty, to be consolidated during 2015 and signed in Paris. Methodological discussions and fierce debates about financing, deadlines and loss and damage prevented a more ambitious consensus.
"What countries need now is financing of climate action and what we need is urgent action now, because we need our emissions to peak before 2020 if we are to stay on a safe path," Tasneem Essop, climate coordinator for the World Wide Fund for Nature (WWF), told IPS.
"We need to protect the rights of climate impacted communities," she said. The defencelessness of the most vulnerable people on the planet is what makes action a matter of urgency.
However, the Lima agreement contains few references to mechanisms for countries to use to reduce their emissions between 2015 and 2020, when the new treaty replacing the Kyoto Protocol is due to come into force.
These actions need to start immediately, said Essop, as later measures may be ineffective. "What governments seem to be thinking is that they can do everything in the future, post 2020, when the science is clear that we have to peak before that," she told IPS.
Unless action is taken, year by year extreme climate, drought and low agricultural yields will be harder on those communities, which bear the least responsibility for climate change. Essop believes that governments are waiting for the negotiations in Paris, when there were urgent decisions to be taken in Lima.
Among the loose ends that will need to be tied in the French capital between Nov. 30 and Dec. 11, 2015, are the balance to be struck between mitigation and adaptation in the new global climate treaty, and how it will be financed.
"If we hadn't come to the decision we have taken (the Lima Call for Climate Action), thing would be more difficult in Paris, but as we know there are still many things to be decided bewteen here and December 2015, in orden to resolve pending issues," Laurent Fabius, the French Foreign Minister, said in the closing plenary session.
The goal of the agreement is for global temperature to increase no more than two degrees Celsius by 2100, in order to preserve planetary stability. Reduction of fossil fuel use is essential to achieve this.
Mitigation, adaptation, and loss and damage are the pillars of the new treaty. The last two issues are vital for countries and populations disproportionately impacted by climate change, but faded from the agenda in Lima.
"It's disastrous and it doesn't meet our expectations at all. We wanted to see a template clearly emerging from Lima, leading to a much more ambitious deal," said Harjeet Singh, manager for climate change and resilience for the international organisation ActionAid.
"What we are seeing here is a continuous pushback from developed countries on anything related to adaptation or loss and damage," he told IPS.
These are thorny issues because they require financial commitments from rich countries. The Green Climate Fund, set up to counter climate change in developing countries, has only received 10.2 billion dollars by this month, only one-tenth of the amount promised by industrialised nations.
The Lima Call for Climate Action did determine the format for Intended Nationally Determined Contributions (INDC), for each country to present its emissions reduction targets.
However, the final agreement eliminated mechanisms for analysing the appropriateness and adequacy of the targets that were contained in earlier drafts.
Negotiators feel that the sum of the national contributions will succeed in halting global warming, but observers are concerned that the lack of regulation will prevent adequate monitoring of whether emissions reductions on the planet are sufficient.
Edited by Estrella Gutiérrez/Translated by Valerie Dee
All rights reserved, IPS – Inter Press Service (2014)
Details

Written by

Malini Shankar

Hits: 1117
By Malini Shankar 
PICHAVARAM, India, Dec 10 2014 (IPS) - When the Asian tsunami washed over several Indian Ocean Rim countries on Boxing Day 2004, it left a trail of destruction in its wake, including a death toll that touched 230,000.
Millions lost their jobs, food security and traditional livelihoods and many have spent the last decade trying to pick up the pieces of their lives. But for a small tribe in southern India, the tsunami didn't bring devastation; instead, it brought hope.
Numbering some 25,000 people, the Irulas have long inhabited the Nilgiri Mountains in the states of Tamil Nadu and Kerala, and have traditionally earned a living by ridding the farmland of rats and snakes, often supplementing their meagre income by working as daily wage agricultural labourers in the fields.
Now, on the eve of the 10-year anniversary of the tsunami, the Irulas in Tamil Nadu are a living example of how sustainable disaster management can alleviate poverty, while simultaneously preserving an ancient way of life.
Prior to 2004, the Irula people laboured under extremely exploitative conditions, earning no more than 3,000 rupees (about 50 dollars) each month. Nutrition levels were poor, and the community suffered from inadequate housing and sanitation facilities.
But when the giant waves receded and NGOs and aid workers flooded to India's southern coast to rebuild the flattened, sodden landscape, the Irulas received more than just a hand-out. They were finally included on the government's List of Scheduled Tribes, largely thanks to the efforts of a government official named G.S. Bedi from the tsunami-ravaged coastal district of Cuddalore in Tamil Nadu.
Inclusion on the list enabled the community to become legal beneficiaries of state-sponsored developmental schemes like the Forest Rights Act and other sustainable fisheries initiatives, thereby improving their access to better housing, and bringing greater food and livelihood security.
More importantly, community members say, the post-tsunami period has marked a kind of revival among Irulas, who are availing themselves of sustainable livelihood schemes to conserve their environment while also increasing their wages.
Edited by Kanya D'Almeida
All rights reserved, IPS – Inter Press Service (2014)
Details

Written by

UNWTO Press Release

Hits: 1288
Madrid, Spain, 3 December 2014 - Achieving universal accessibility throughout the tourism value chain is the main call for action of the San Marino Declaration of Accessible Tourism, adopted at the First UNWTO Conference on Accessible Tourism in Europe (San Marino, 19-20 November 2014).
The First UNWTO Conference on Accessible Tourism in Europe addressed how to advance quality, sustainability and competitiveness in accessible tourism with a special focus on cultural heritage and the use of smart technologies. Increased accessibility in tourism benefits people with disabilities and special needs while entailing important economic opportunities for the sector.
"Accessible Tourism for All ranks high amongst the ethical challenges we have identified and which require our permanent attention and guidance", said the Chairman of the World Committee on Tourism Ethics, Pascal Lamy, opening the Conference. "Advocating for and advancing universal access in travel and tourism is both a question of rights and a question of ethics, a matter of quality and respect, of freedom and non-discrimination", he added.
Echoing the legitimate right of access to tourism activities by people with disabilities, as established by the United Nations, the San Marino Declaration on Accessible Tourism was adopted unanimously, calling for all stakeholders to ensure universal accessibility in all the components of the tourism value chain. This includes the physical environment, the transportation system and information and communications channels, as well as to strengthen and engage public-private partnerships and other forms of cooperation among entities working in the field of universal accessibility.
UNWTO Secretary-General, Taleb Rifai stressed that "People with disabilities and special needs should be able to actively take part in tourism just as any other traveller. Great strides have been made to advance universal accessibility, particularly in Europe, but there are still many opportunities to be seized. Accessibility for all depends much on the will of all players to work together, and we at UNWTO remain committed to advancing this fundamental agenda and implementing the necessary changes alongside our partners."
While referring to the morphological features of the hilly mediaeval town of San Marino, the Minister of Tourism, H.E. Mr. Teodoro Lonfernini, pointed out that "San Marino is doing its best to make its territory accessible to as many visitors as possible, while also trying to enable an authentic travel experience to people with special needs", adding that "if a country like the Republic of San Marino can achieve that, many other States should be able to follow the same path".
The Conference was jointly organized by UNWTO and the Government of the Republic of San Marino in collaboration with Village for All (V4A) and the ONCE Foundation of Spain.
The full text of the San Marino Declaration: 
San Marino Declaration on Accessible Tourism

The Ministry of Tourism of the Republic of San Marino, the authorities of the member countries of the World
Tourism Organization (UNWTO), members of the World Committee on Tourism Ethics, representatives of the
tourism sector, disabled people's organizations (DPOs) and the related civil society and private sector
stakeholders, intergovernmental and international organizations, universities and experts met in San Marino
on 19/20 November 2014 on the occasion of the First UNWTO Conference on Accessible Tourism in Europe.
Considering the United Nations Convention on the Rights of Persons with Disabilities of 2006 as the global
action framework in the sphere of universal accessibility, whose Article 30 recognizes the legitimate right of
access to sports, cultural, leisure and tourism activities by persons with disabilities;
Whereas the mandate of the UNWTO is "the promotion and development of tourism with a view to contributing
to economic development, international understanding, peace, prosperity, and universal respect for, and
observance of, human rights and fundamental freedoms for all without distinction as to race, sex, language or
religion", as established by the Statutes of the Organization;
Inspired by the Global Code of Ethics for Tourism, adopted by the UNWTO General Assembly in 1999, and
endorsed by the United Nations General Assembly in 2001, whose Article 7 underlines that "...a direct and
personal access to the discovery and enjoyment of the planet's resources constitutes a right equally open to
all the world's inhabitants" and explicitly recommends that "tourism for persons with disabilities should be
encouraged and facilitated".
Referring to the Recommendations on Accessible Tourism, adopted by the 20th UNWTO General Assembly in
2013, as a reference document for tourism stakeholders for making their infrastructures, products and services
accessible to all people, as well as the related Manuals co-produced with civil society organizations - the
ONCE Foundation, ENAT, and the ACS Foundation;
Taking into account the principles contained within the European Disability Strategy 2010-2020, a
comprehensive framework committing the European Commission to the empowerment of people with
disabilities;
Recognizing the wide scope of the multi-stakeholder recommendations emanating from the Declaration from
the World Summit Destinations for All, held in Montreal, Canada, in October 2014;
Commending the efforts carried out by public authorities, private sector and the civil society stakeholders in
making the heritage city of San Marino ever more accessible for all;THOSE PRESENT:
1. Convinced that Tourism for all benefits not only people with disabilities and special needs, but all
people, while entailing major economic opportunities for a myriad of sectors far beyond travel and
tourism;
2. Cognizant of the gradual progress in the sphere of universal accessibility in Europe, but also of the
pressing issues bestowed upon people with disabilities in developing countries and emerging
economies;
3. Aware of the challenges and opportunities of making heritage cities accessible for all without
jeopardizing their monumental integrity and their historical relevance;
4. Mindful of the importance of smart technologies and their future evolution in facilitating the access and
enjoyment of tourism destinations by all;
5. Committed to constructive and more results-based partnerships between the policy makers, local
authorities, the private sector and disabled people's organizations in making tourism and heritage
infrastructure, products and services accessible for all;
UNANIMOUSLY CALL UPON ALL STAKEHOLDERS:
1. To engage in awareness-raising and training actions with the aim to eliminate attitudinal barriers
amongst tourism and heritage professionals at all levels and to persuade the private sector of the
competitive advantages of investing in Tourism for all;
2. To ensure that the right to experience tourism is not hampered by global economic uncertainties and
that the spirit of solidarity and international cooperation for improving accessibility is sustained and
further promoted;
3. To observe the principles of Universal Design when creating new tourism infrastructures, products and
services and improving the existing ones, particularly in case of the cultural heritage of tourism interest;
4. To facilitate the development and application of smart technologies to provide objective information
about all services (regardless of their degree of accessibility), so as to enable travelers to evaluate
their own personal accessibility requirements, and, if necessary, with the involvement of civil society
organizations to propose concrete solutions in order to enhance accessibility and the quality of
hospitality;
5. To mainstream universal accessibility throughout all the components of the tourism value chain,
including the physical environment, the transportation system, information and communications
channels, and a complete range of public facilities and services;
6. To promote and disseminate good practices and case studies in the field of universal accessibility in
travel and tourism; and
7. To strengthen cooperation with all relevant entities working in the field of universal accessibility at
international and regional level, in particular the European Union, and to engage in public-private
partnerships with the travel and tourism industry, non-governmental entities and disabled persons
organizations for the development of new global policies in the field of universal accessibility.
Adopted in San Marino on 19 November 2014
Details

Written by

IIPT Press Release

Hits: 1123
IIPT World Symposium to honour the legacies of Nelson Mandela, Mahatma Gandhi and Martin Luther King, Jr.
IIPT LogoJohannesburg, South Africa – 22 November 2014 –The International Institute for Peace through Tourism (IIPT) is currently organizing a World Symposium on Sustainable and Peaceful Communities and Nations through Tourism, Culture and Sport to be held at Emperors Palace, Johannesburg, 16 – 19 February 2015.
The interactive and action oriented Symposium will honor the legacies of the world's three great champions of Peace and Non-Violent Resistance: Nelson Mandela, Mahatma Gandhi and Martin Luther King, Jr. with the aim of affirming these legacies by building bridges of tourism, friendship and peace in regions throughout the world.
The Symposium, endorsed by Archbishop Desmond Tutu, will also commemorate the 50th Anniversary of the African Union, 20 years of South African Democracy and 50th Anniversary of Civil Rights Legislation in the U.S.
IIPT is using its historical convening power to bring world leaders of the travel and tourism industry to South Africa as keynote speakers for this milestone event including:: Dr. Taleb Rifai, Secretary General, UN World Tourism Organization (UNWTO); Mr. David Scowsill, President and CEO, World Travel and Tourism Council (WTTC); Salih Cene, President, Skal International; Martin Craigs, (until recently) CEO, Pacific Asia Travel Association (PATA); Professor Geoffrey Lipman, President, International Coalition of Tourism Partners (ICTP); Mok Singh, Skal International President (2012 – 2013) and member, IIPT International Advisory Board as well as leading Ministers of Tourism including the visionary Hon. Alain St. Ange, Minister of Tourism, Seychelles and creator of the Carnavales de Carnavales. Host Minister, Hon. Derek Hanekom, Minister of Tourism, South Africa has of course also been invited.
The Symposium will have two basic aims: to identify strategies and best practice in cultivating productive, sustainable, peaceful and welcoming communities through tourism, culture and sports; and to determine lessons learned from countries that have experienced conflict and the potential roles of tourism, culture and sports in reconciliation and post-conflict socio-economic re-development.
Design of the Symposium will be highly interactive with international experts in community development, community tourism, sports, culture and peace engaging with delegates in the exchange of experiences and ideas. Ministers of Tourism from countries that have experienced conflict will share their insights and suggestions related to strategies for reconciliation and healing wounds of conflict and best practices in harnessing tourism, culture and sports in the post-conflict socio-economic re-development process.
In addition to Ministers of Tourism from Africa, selected Ministers from countries of Europe, Asia and South America that have experienced conflict will also be invited to participate in inter-active plenary session panels.
A special action initiative already begun in commemoration of the 50th anniversary of the African Union is an IIPT/Skal Cities, Towns and Villages of Peace Across South Africa project with a goal of 50 cities, towns and villages dedicating themselves to peace in the weeks leading up to the Symposium. Some ten cities, towns and villages have already registered. Other action initiatives will be announced in the weeks prior to and during the Symposium.
As with past IIPT Conferences and Summits, Pre-Symposium Events will include a full day Educators Forum and full day Student/Youth Leadership Forum. As well, following the precedent of IIPT's Fifth African Conference in Lusaka, Zambia, a full day Traditional Leaders Forum is also planned. A full day community tourism training workshop and a half day media workshop will also feature as Pre-Symposium events on 16 February.
Host Partners for the Symposium include: South Africa Tourism, Gauteng Tourism, the Metropolitan Municipalities of Ekurhuleni and Johannesburg, South African Airways and Emperors Palace.
The United Nations World Tourism Organization (UNWTO), which has supported IIPT International events since the First IIPT Global Conference, Vancouver 1988, will again be a partner in the Symposium. Other partners include: Pacific Asia Travel Association (PATA), Africa Travel Association (ATA), Skal International and the International Coalition of Tourism Partners (ICTP.
This is IIPT's seventeenth international event and seventh global summit since its founding in 1986, the UN International Year of Peace.
IIPT is most grateful for the enthusiasm and support being provided by its Host Partners and looks forward to a strong participation of South African tourism professionals taking part in the Symposium. Early Bird registration available till 28 November: http://www.iiptsymposium.com
About International Institute for Peace through Tourism (IIPT)
IIPT is dedicated to fostering and facilitating tourism initiatives that contribute to international understanding and cooperation, an improved quality of environment, the preservation of heritage, poverty reduction, and the resolution of conflict - and through these initiatives, help bring about a more peaceful and sustainable world. IIPT is dedicated to mobilizing travel and tourism, the world's largest industry, as the world's first "Global Peace Industry," an industry that promotes and supports the belief that "Every traveler is potentially an Ambassador for Peace."
Website: www.iipt.org
Details

Written by

Martha Honey, Director, CREST

Hits: 1393
Washington DC, 19 November 2014: Twenty years ago, Christopher Walker, Gordon Durnin and Tony Avirgan were the first film-makers to tell the story of the fight against Big Oil in the Amazon basin of Ecuador. Their reporting was featured on ABC News, ABC Nightline, NBC Dateline, BBC and CBC, keeping the story in the headlines while their documentary "Trinkets and Beads" was distributed internationally. It was also short-listed for an Academy Award Nomination being named an "outstanding documentary" by the Academy of Motion Pictures Arts & Sciences. Filmed over 3 years, it covered the fight by the Huaorani people to remove the oil companies from their lands and preserve the Yasuni National Park – one of the most biologically diverse regions of the world - and was instrumental in gaining support for the subsequent moratorium on oil drilling in the Yasuni National Park. (Web link: http://icarusfilms.com/cat97/t-z/trinkets.html)
Now Big Oil is back. In 2013 Ecuador's President Correa announced an end to the moratorium on oil drilling in the Yasuni Park, opening it - and Huaorani lands - to oil drilling once again. The stage is set for an oil invasion by companies from the United States, China, Brazil and Argentina in conjunction with the local state oil company. Illegal loggers have already started moving, using oil company roads while oil production is planned to commence in 2016. Most of the oil is destined for the U.S. (previous oil reserves discovered on Huaorani land were estimated to be worth $1.5 billion - enough to keep cars rolling in the U.S. for 13 days).
The "Trinkets and Beads" team have now been invited by local leader Moi Enomenga and the Huaorani community to document their continued struggle to protect their lands and their way of life. A new film can play a major role in publicizing the impacts of oil drilling on the peoples and ecosystems of the Amazon, and the local and international struggle to stop it.
With their expertise in producing documentary films on cutting-edge environmental and social issues over the past 30 years the team are confident of success. Tony, Chris, and Gordon are planning to make a sequel to "Trinkets and Beads" and have launched a Kickstarter campaign to raise the money to get started.
See here for more details:
http://www.kickstarter.com/projects/trinketsandbeads/trinkets-and-beads-the-sequel
Details

Written by

Jeremy Winston

Hits: 983
Grand Fond Primary School PupilsRosalie, Dominica - November 11, 2014: A new tourist-powered charity event has taken place at the Grand Fond Primary School. Initiated by the owner of of 3 Rivers & Rosalie Forest Ecolodge Mr. Jem Winston and in partnership with Mrs. Angela Bailey of PackForAPurpose.org and Mr. Sheppee of Sheppee Tours, a group of fifty passengers self-named the "Splendidors" disembarked from a cruise ship on the 5th of November bearing bags and bundles of useful items and gifts for the Grand Fond Primary school and its pupils. The charity event is based on the concept that travellers can fill up any unused baggage allowance with items useful to the local community at their tourism destination.
Mrs. Hatty Leslie the school principal and Mr Jem Winston greeted the generous visitors carrying over 200 lbs of goods.  In addition, the principal created an ingenious rewards programme: each donated item is given a point value while the pupils earn points through work and behaviour and can then choose their gifts according to the number of points they have accumulated. Mrs Leslie believes that this teaches the children how to budget and give value to goods, even gifts.
3 Rivers & Rosalie Forest Eco Lodge encourage all visitors to Dominica to follow this splendid example and help nurture and educate the children of the Nature Isle.
For more details visit http://www.3riversdominica.com
Details

Written by

Pina Wu

Hits: 2967
By Pina Wu, ECOCLUB.com Correspondent
Map of Taiwan showing the A-Lang-Yi Trail

About the Author
Pina Wu is an Environmental Services Professional based in Taipei, Taiwan.  Her specialties include Urban Planning, Community Engagement and International Development. She has a Master in Public Policy and Urban Planning from Harvard University and an M.S. in Building & Planning from National Taiwan University. She currently teaches Environmental Education and English for Tour Guiding in Wenshan and Tainan Community Colleges.
Even though Taiwan may not come across as a top destination for ecotourism, the island actually has a biodiversity density (number of species per square kilometres) which is second only to Madagascar's. Taiwan is situated at the Western Pacific Rim, lying at the confluence of two tectonic regions, the Eurasian and Philippine Plates. It encompasses four climate zones (tropical, sub-tropical, temperate, and frigid) and has the highest density of mountains over 3000 meters in the world.
Heavily industrialized and populated, Taiwan, like most other highly-developed economies, has achieved economic success at the expense of its environment. With the gradual growth of environmental awareness, the government started to raise the bar for environmental protection, so far creating 17 Wildlife Reserves, 35 National Forests, 19 Environmental Protected Areas, 9 National Parks, and 13 National Scenic Areas. With the "Wetland Conservation Act" enacted in 2013, and the "Coast Act" currently going through legislation, nearly 20% of the land area in Taiwan is under some protection. Taiwan is surrounded by a coastline of 1,172 kilometres only a small portion of which is not transgressed by the highway network and remains natural.
A Lang Yi TrailIn 2006, a proposed 11.8 km highway project in south-eastern Taiwan ignited "the battle for the last 1% of natural coastline". The majority of local people, around 3,000 in various villages along the A-Lang-Yi trail, mostly employed in the public sector and in agriculture, lobbied in favour of this highway project. The remoteness of the south-eastern region has delayed development as people had little access to hospitals and schools and there was a lack of local economic opportunities. Below is a map of the area. In the south you can see Kenting National Park, visited by over 6.5 million each year. So supporters of the highway argued that it could bring tourists directly to the region up north.
On the other hand, environmental groups saw the area's remoteness as an asset for biodiversity. With the natural coastline forest remaining intact, the area had become an important habitat for wildlife, with over 46 protected species including the endangered coconut crab and green sea turtle. Furthermore, the coastline used to be a historical travelling route used by the indigenous people over the centuries. Missioners, traders from the west, and people from mainland China had all set foot on the A-Lang-Yi trail in the 19th century during the exploration of what was then called 'Formosa' island. Conservationists argued that the proposed highway project would not only destroy the delicate ecosystem in the area, but also ruin the heritage trail. To make things more complicated, the A-Lang-Yi trail belongs to two counties. Taitung, the county in the north felt Pingtung county had no right to declare the region an environmental protection area on its own behalf and appealed to the central government to revoke the decision.
One other possible reason for creating the highway was that in 2007, Da-ren, the township north of the trail was confirmed to be selected as a potential site for radioactive waste storage because it is a remote and sparsely populated place. Environmental groups suspected that the real purpose of the highway was to connect the nuclear power plant in the south to the storage site.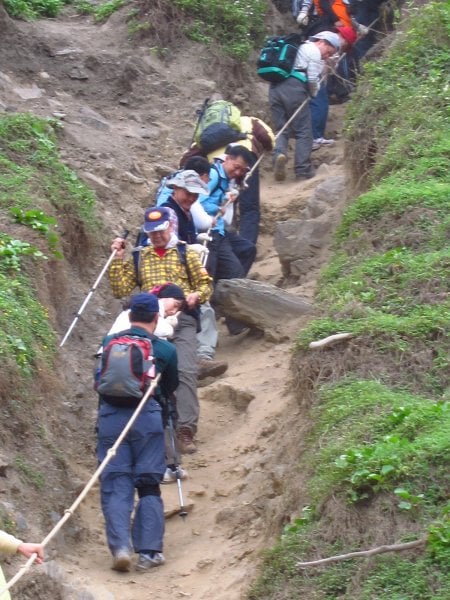 Hikers found shortcuts cutting through the steep slop of the trail. Large number of visitors have caused soil erosion and the situation was worsen in the rainy season. The government and a trail maintenance NGO actually have worked on improving the trail. http://news.ltn.com.tw/news/An Environmental Impact Assessment review of the highway project was set up in 2010. In order to generate more public awareness, "Pingtung Environmental Protection Union", a local NGO, held eight sessions of fam tours, providing interpreted walks on the ecology and history along the trail, between March and May 2011. The tours attracted more than 250 people in total. Media reporters, scholars, students, opinion leaders all came to the area and spoke on the issue, while over 50,000 people signed a petition to conserve A-Lang-Yi trail. All of a sudden, this little known remote trail had become the centre of attention nationwide. Visitors trickled in the area and many would spend a night in the local communities as it can take up to 7 hours to walk the whole trail.
Although a local majority were protesting against conservation and for the new highway there were exceptions: in Ansui, an indigenous village at the north end of the trail, a local school teacher was advocating for preserving the trail. The village had also organized ecotourism tours since 2008 (still ongoing) that provided in-depth cultural experiences and included walking the A-Lang-Yi. People teamed up to form an ecotourism service centre, and they even agreed to a collect a small common fund. But according to a study by Huang Chung-Ren1 the villagers found it hard and tourism did not create full-time jobs.
In order to give local people a different vision for development, environmental groups including small local groups such as Syuhai Community Association and Pingtung Environmental Protection Union and national NGOs such as the "Thousand Mile Trail Planning Centre" begun in 2011 to host workshops and training sessions to promote the idea of slow travel and ecotourism. The environmental groups were trying to prove that there is a market for ecotourism in the area and that, if done right, ecotourism could bring more economic gain to the community than the highway development. In public debates, such rationale was explained in numbers: an ecotourist on average would "spend USD 70 on food, lodging and tour activities per day" according to Hung Xiang-hui2, the chairman of Pingtung Environmental Protection Union, and the leader of the preservation campaign. Hung estimated that there would be 300,000 slow tourists in the region per year, that the communities could collect a revenue of over USD 7.5 million per annum and that this would be higher than under the highway scenario, in which 4.95 million travellers would just pass by and spend only an average of "USD 4 per person" while leaving the area with the impact of traffic and unregulated development. It is unclear how Hung estimated these numbers although in one TV program Hung mentioned that he used statistics from the Tourism Bureau of Taiwan.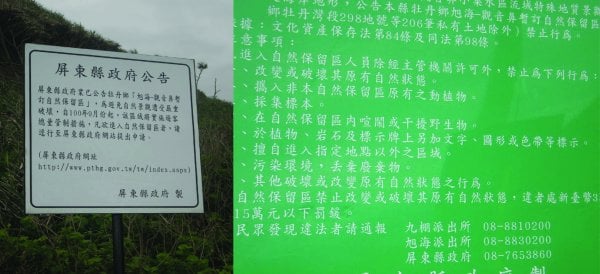 The sign on the left says the area is under the jurisdiction of the Pingtung County Government and is a protected area. There is a cap on the number of visitors entered per day and visitors need to obtain permits through the government website. The green sign on the right states the laws and regulations in the protected area. Visitors may not engage in activities that change the landscape of the area, disturb the fauna and flora, and collect stones from the area. (as the stones along the beach are often collected in large quantity and sold on the market for landscaping). These prohibited activities are subject to a 5,000 USD fine. However, the sign is a passive warning as the government does not have regular staffing to monitor the trail. Finally, in 2012, the Directorate General of Highways decided to postpone the highway project while the local Pingtung Government declared A-Lang-Yi Trail as a Protected Area. A cap of 300 visitors per day was established to protect the area from overcrowding. Visitors had to ask for permits, free of charge, from the Pingtung County website3. In addition it was obligatory for visitors to hire a certified guide with a standard fee of USD 100. The guide, which could take up to 20 people in one group, was usually a local thus generating local employment opportunities. Currently there are 24 guides on duty, a majority of whom are locals. The local government also set up a compulsory ecotourism guide training program for local guides which has so far been completed by 68 guides. A new medical emergency station was built and bus services expanded leading to better medical and transportation services to the local communities. It was also announced by Magistrate Tsao Chi-hung in 2011 that, in the future, an "entrepreneurial fund" would be set up to encourage local ecotourism start-ups but this has not yet materialised.
Currently there is a modest but steady stream of visitors to the area. According to the Pingtung County Government website, the 300 people quota is often used-up on the weekends but there are only 30 to 100 people on the trail on the weekdays. The scale and types of ecotourism activities are still very limited. Most of the tourists are hosted by individual homestays and private tour companies haphazardly, with little relations with the community as a whole. The homestays are run by the locals but there is little coordination, and certainly not the scale and quality that could attract "300,000 tourists per annum" as envisioned by the conservationists. Furthermore, the County Government does not have enough personnel nor funding to guard and maintain the trail and there is a lack of parking lots, rest-rooms, and trash cans. All along the A-Lang-Yi trail, the path is suffering from erosion, with trash scattered by the roadside. In facing the many challenges, the local environmental groups are hoping to attract more public and private investors and tour operators to the area to work with the locals so as to create a better model of ecotourism development.
Walking along the coastStill, the case of A-Lang-Yi is considered by the environmental groups, civic sector, academia as one of the big successes in Taiwan's environmental protection movement as it brought the heated "development vs. conservation" debate to the centre of people's attention and proposed Ecotourism as the solution. However, conflicts between the local communities and the environmental groups still linger. Many local people, especially from Manjhou and Mudan townships, feel that the conservation of the area was a "top-down" decision that was forced upon them, hampering their right for development4. What the government has done has not compensated their losses and was not enough to jump-start ecotourism development in the area. As general elections are to be held at the end of 2014, one wonders if the current conservation policies will be continued. One candidate has already promised to continue the highway project by removing the environmental protection status of this area while another candidate remains ambiguous about this issue. Thus, the fate of A-Lang-Yi Trail is uncertain.
There are alternatives and solutions: the highway can follow a longer route circumventing the trail, the weekend quota or permit price could be increased, while some of the tax funds originating in environmentally-destructive industries elsewhere in Taiwan could be used to subsidise the local economy so as to encourage conservation. But it is clear, that Ecotourism cannot be just a slogan for conservationists; it also needs to make economic sense for the local people so that they will in turn support conservation in the long run. There is a need for coordinated efforts to create successful ecotourism models in Taiwan, a need for more expertise and exchange on information on best practice cases.
Notes:
1. quoted in Sustainable Tourism Development in an Indigenous People's Village: A Case Study on A-Lang-Yi Tribe, Huang Chung-Ren, 2012
2. see http://alangyi.blogspot.tw/p/blog-page_25.html and in the book "Walking along A-Lang-Yi Trail"
3. see http://175.99.86.233/syuhai/index.php?page=apply
4. UDN.com News, 2011.07.12
References:
Website: http://alangyi.blogspot.tw
Book: Walking Along A-Lang-Yi Trail, Pingtung Environmental Protection Union, Jade Mountain Publishing, 2014