Eco Publications
Written by

Ecoclub Team
A new, free report, tackles the so-called 'overtourism' phenomenon in 6 cities in a calm and methodic way.  It is written by Greg Richards, Professor of Placemaking and Events at Breda University and Lénia Marques, Assistant Professor of Cultural Organisation and Management at the Erasmus University in Rotterdam and is published by the United Cities and Local Governments (UCLG) network. The report examines how cultural policy can contribute to the management and development of tourism, and how tourism can contribute to supporting urban cultures. It concentrates on the cities of Amsterdam, Barcelona, Copenhagen, Lisbon, Montreal and Rome, and seeks to add new perspectives to current debates on 'overtourism' and the growth of the sharing economy.  It concludes that "the relationship between culture and tourism can be shifted from providing 'culture for tourists' to attracting 'tourists for culture' who can help to support the cultural ecosystem of the city".
Richards, G. and Marques, L., (2018) "Creating synergies between cultural policy and tourism
for permanent and temporary citizens". Barcelona: UCLG.
Written by

Ecoclub Team
"Principles of Sustainable Project Management"
Author: Mohamed Salama, Associate Professor and Director of Corporate Executive Relations within the School of Management and Languages, Heriot Watt University, Dubai Campus.
Goodfellow Publishers ISBN: 9781911396857 HBK; 9781911396864 PBK; 9781911396871 eBook
In an era of digital transformation and sharing economy, it is quite challenging moving to such vibrant future with past-tense methodologies. Principles of Sustainable Project Management provides a unique approach to managing projects by combining the principles of sustainable management theory with the main processes and areas of knowledge in the currently established project management theory, in an applied context. Taking a truly international viewpoint, this important text:
Read more: New from GoodFellow Publishers: "Principles of Sustainable Project Management"
Written by

UNWTO
Madrid, Spain, 24 October 2018 – A new report by the World Tourism Organization (UNWTO), produced in collaboration with UNWTO Affiliate Member globaldit, presents a model for inclusive tourism destinations. 'Global Report on Inclusive Tourism: Model and success stories" is launched on the occasion of the UN Day 2018 celebration in Madrid, Spain.
Modelling inclusive tourism destinations on the capacity of tourism to integrate disadvantaged groups and benefit from its activity, is at the centre of this report. Showcasing how tourism can function as a vehicle for sustainable development, and the reduction of poverty and inequality, in the context of the 2030 Agenda and the 17 Sustainable Development Goals (SDGs).
Read more: New from UNWTO: Global Report on Inclusive Tourism Destinations
Written by

UNWTO
Published: September 2018
eISBN: 978-92-844-1999-9 | ISBN: 978-92-844-1998-2
The management of tourism flows in cities to the benefit of visitors and residents alike is a fundamental issue for the tourism sector. It is critical to understand residents' attitude towards tourism to ensure the development of successful sustainable tourism strategies. This report analyzes the perception of residents towards tourism in eight European cities – Amsterdam, Barcelona, Berlin, Copenhagen, Lisbon, Munich, Salzburg and Tallinn – and proposes 11 strategies and 68 measures to help understand and manage visitor's growth in urban destinations. The implementation of the policy recommendations proposed in this report can advance inclusive and sustainable urban tourism that can contribute to the New Urban Agenda and the Sustainable Development Goals.
Read more: 'Overtourism'? – Understanding and Managing Urban Tourism Growth beyond Perceptions - New Publication by UNWTO
Written by

Switch to Green
The European Commission Directorate General for International Cooperation and Development just released a new Reference Document in the Tools and Methods series, entitled "The inclusive green economy in EU development cooperation – An innovative approach at the intersection of the EU's Planet, People and Prosperity objectives."
The document responds to calls for more guidance on the green economy and on lessons learnt, received during the recent evaluation of EU international cooperation on sustainable consumption and production. It aims to promote a better understanding of the green economy, give policy and operational guidance and present best practices.
Read more: New Publication: "The inclusive green economy in EU development cooperation"
Written by

Routledge
Political Ecology of Tourism - Community, power and the environment
Edited by Mary Mostafanezhad, Roger Norum, Eric J. Shelton, Anna Thompson-Carr
Routledge, January 2016, 328 pages, ISBN 9781315717227 (also available as eBook)
Why has political ecology been assigned so little attention in tourism studies, despite its broad and critical interrogation of environment and politics? As the first full-length treatment of a political ecology of tourism, the collection addresses this lacuna and calls for the further establishment of this emerging interdisciplinary subfield.
Read more: Political Ecology of Tourism - Community power and the environment
Written by

Routledge
Political Ecology and Tourism
Edited by Sanjay Nepal, Jarkko Saarinen
Routledge, 278 pages, March 2016, ISBN 9781138547162
Political ecology explicitly addresses the relations between the social and the natural, arguing that social and environmental conditions are deeply and inextricably linked. Its emphasis on the material state of nature as the outcome of political processes, as well as the construction and understanding of nature itself as political is greatly relevant to tourism. Very few tourism scholars have used political ecology as a lens to examine tourism-centric natural resource management issues. This book brings together experts in the field, with a foreword from Piers Blaikie, to provide a global exploration of the application of political ecology to tourism. It addresses the underlying issues of power, ownership, and policies that determine the ways in which tourism development decisions are made and implemented. Furthermore, contributions document the complex array of relationships between tourism stakeholders, including indigenous communities, and multiple scales of potential conflicts and compromises.
Written by

CABI
Mountain Tourism - Experiences, Communities, Environments and Sustainable Futures
Edited by Harold Richins and John S. Hull (Thompson Rivers University, Canada)
CABI, February 2016 / Hardback / 404 Pages / ISBN 9781780644608
Mountains have long held an appeal for people around the world. This book focusses on the diversity of perspectives, interaction and role of tourism within these areas. Providing a vital update to the current literature, it considers the interdisciplinary context of communities, the creation of mountain tourism experiences and the impacts tourism has on these environments. Including authors from Europe, Asia-Pacific and North America, the development, planning and governance issues are also covered.
Read more: Mountain Tourism - Experiences, Communities, Environments and Sustainable Futures
Written by

Goodfellow Publishers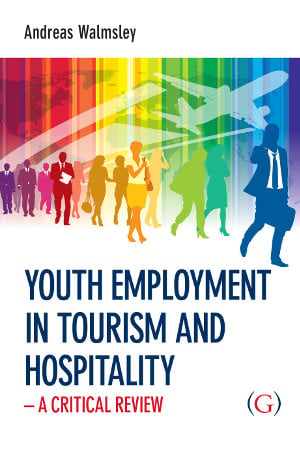 Youth Employment in Tourism and Hospitality - A Critical Review
Author: Andreas Wamsley 
Goodfellow Publishers, November 2015, ISBN: 978-1-910158-37-1 pbk, 204 pages.
First comprehensive overview of key concepts, theories and knowledge relating to youth employment in the Tourism and Hospitality sector;
Explores barriers to youth employment, from both supply and demand-side perspectives including providing examples of inititatives designed to foster youth employment
Reviews the relationship between responsible tourism and youth employment, as well as the transition into employment to include a focus on graduate entrepreneurship and SME employment.
In an era of continued globalisation and economic-restructuring youth employment constitutes what many commentators regard as one of the key policy issues of our time. This important new book gives the first comprehensive overview of key concepts, theories and knowledge relating to youth employment in the Tourism sector.
Read more: Youth Employment in Tourism and Hospitality - A Critical Review
Written by

Antonis Petropoulos
"Lost in the Wilds of Greece: A Love Story"
Author: Penny Turner
Lycabettus Press ISBN 978-960-7269-56-0 2017. Paperback, 247 pages. 
A rider and a writer! This is adventure travel literature at its best - as far from glossy travel advertorials and the places they promote you can get! It will act as a revelation to most travellers who have never realised or come anywhere close to the majestic, densely forested, Alps of Central and Northern Greece. Even though adventure travel by horse concerns only a tiny minority, this book will entice a far broader green audience who is fascinated by and care about preserving the last remaining wild places.
The author arrived in Greece 40 years ago and worked as an English teacher and examiner, based in Thessaloniki and as a conservationist with Arktouros, a leading Greek NGO that focuses on bear and wolf conservation. Through the daring adventures analysed in this book she earned the coveted title of Member of the Long Riders' Guild, having completed a single journey of 1,000 miles for the first time in Greece and was also accepted as a Fellow of the Royal Geographical Society.
Read more: Book Review: "Lost in the Wilds of Greece: A Love Story"