Ecotourism Books
Written by

ECOCLUB
"Country of Contradictions, Costa Rica: Early Ecotourism"
Author: Rexford Govorchin
Amazon, Kindle eBook Edition & Paperback, August 2016, ISBN: 978-1520715193
An engaging, first-person narrative of Costa Rica's budding Tourism sector during 1979-1984, a particularly turbulent time for Central America, a mix of business history and historical novel. It reveals the close connection between the emergence of Costa Rican Ecotourism and the boom and bust fortunes of Lineas Aereas Costariccenses (LACSA), the flag carrier at the time. We follow the author's exertions at an incredibly detailed, almost daily, level - most probably based on well-organised diary notes. Rex Govorchin, the narrator, was a Marketing Manager for LACSA from 1979 until he was dismissed in 1984 as the airline was about to go bust, hit by competition in the context of the new US Open Skies policies as well as higher oil prices after the Second Oil Shock.
Read more: Book Review: "Country of Contradictions: Costa Rica - Early Ecotourism"
Written by

ECOCLUB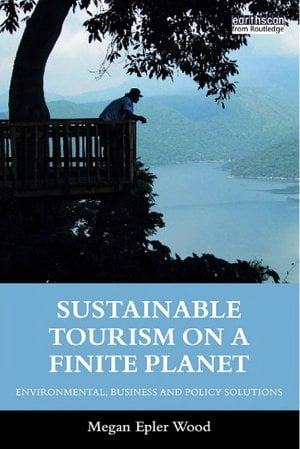 Sustainable Tourism on a Finite Planet. Environmental, Business and Policy Solutions.
Author: Megan Epler Wood
Routledge, ISBN 978-1-138-21761-4, January 2017, Hardback/Paperback/E-book, 327 pages.
If you were elected to public office and suddenly installed as head of the tourism ministry without previous professional experience of the travel sector (it does happen) and only a vague idea of sustainability, then this densely written book can be your crash course on how the tourism sector works and what exactly it would take – and how difficult it really is - to make it sustainable. But it is an equally useful and thought-provoking work for seasoned and aspiring tourism sustainability professionals, as it includes detailed praise and criticism of a wide range of stakeholders trying, some harder than others, to make tourism greener.
Read more: Book Review: "Sustainable Tourism on a Finite Planet"
Written by

ECOCLUB
The Encyclopedia of Sustainable Tourism
Edited by Carl Cater, Brian Garrod and Tiffany Low
CABI International, ISBN 9781780641430, October 2015, Hardback, 662 pages.
This, like many quality encyclopaedias, is a fine example of "crowdwriting", in this case a collaborative effort by 163 Contributors from 28 countries in 5 continents. This reference work was originally meant for publication in 2013, to follow the release of the Global Sustainable Tourism Criteria in 2012 but there were delays as at least two members of the editorial board, we are told, had to peer-review each entry. But it paid off as the style is on the one hand largely consistent and on the other hand you can refreshingly still detect subjective opinions e.g. "the world's largest concentration of tourist traps is Las Vegas".
Read more: Book Review: "The Encyclopedia of Sustainable Tourism"