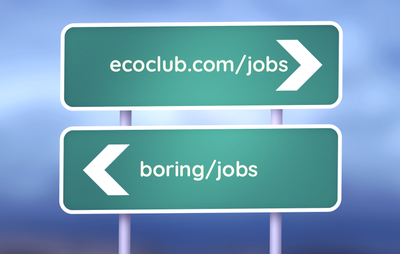 Find an exciting role, take control of your life and be the change!
Ecoclub.com unites and supports ecological tourism practitioners and academics since 1999. Among many other benefits, Members have access to handpicked, quality, progressive green jobs and opportunities in Tourism and related sectors and opportunities, a Member CV Database, and our CV Review service and Career advice. Membership is Free!
Our Team and our Members monitor and share opportunities worldwide, focusing on progressive, eco-related, high-quality, full-time & part-time vacancies, paid internships, and business and academic opportunities in Tourism, Hospitality and in a wide range of Green sectors and sub-sectors including Ecology & Wildlife Conservation, Protected Areas Management, Field Biology, Environmental Management, Environmental Education, Environmental Policy, Sustainable Development, Sustainable Transport, Climate Change, Corporate Social Responsibility, Green Marketing & Communications, Green Supply Chains, Human Rights, Labour Rights, Animal Rights, Refugee Rights, Organic Farming, Organic Products, Fair Trade, Green Technology, Waste Management, Renewable Energy and Sustainability. 
For Access: Join Ecoclub - It's Free!
A selection of opportunities closing soon:

Intern, Sustainability - Singapore
Manager, Conservation - Zambia
Expert, Protected Areas - Saudi Arabia
Manager, Digital Marketing - Spain
Officer, Online Content - United Kingdom
Intern, Destination Sustainability - Netherlands
Director, Tourism Development - France
Sales Manager, Tours - Guatemala
Director, Tourism Development - Canada
Head, Sustainability, Hotel Group - United States
Director, Tourism Association - Canada
Multiple Vacancies, Ecotours - Malaysia
Receptionist, Hotel - Chile
Tour Leader - Greece
Coordinator, Sustainability, Tour Operator - Vietnam