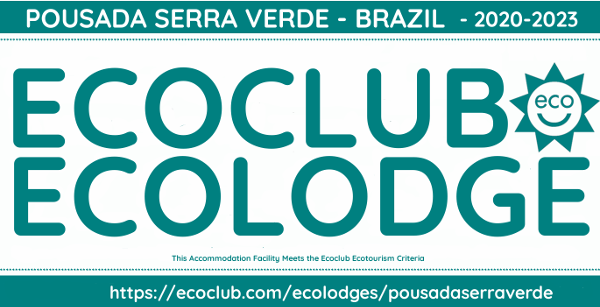 Ecoclub Ecolodge™ is a free, genuine ecolabel for genuine Ecolodges! It is offered to eligible accommodation facilities following the successful completion of the Ecoclub Ecolodge™ Audit process. You may find the facilities currently recognised as Ecoclub Ecolodges™ here.
Our system keeps evolving but from day 1 our aim was to create something meaningful and genuine by:
(a) avoiding greenwashing! 
(b) being transparent
(c) minimizing our rating system's environmental footprint
(d) avoiding conflicts of interest
The terms, conditions, criteria and procedures of the Ecoclub Ecolodge™ ecolabel are as follows:

(last update: 21 September 2023)
BENEFITS
1. Recognition as an Ecoclub Ecolodge™
2. Personalised Logo with the name of your Ecolodge, Country and the current year.
3. Listing in the Ecoclub Ecotourism Directory, in the 'Ecolodges' and 'Ecoclub Recommended' sections. 
4. Promotion on our social media.
CRITERIA
The Ecoclub Ecolodge™ ecolabel is offered according to specific Eligibility and Impact Criteria as follows:
A. Eligibility Criteria:
Accommodation facilities should:
1. be licensed as a legal accommodation business.
2. comply with all local labour and environmental legislation.
3. be open at least 6 months every year in the same location.
4. have completed 1 Year in operation as an accommodation facility under the current ownership.
5. not feature or promote captive wild animal displays/enclosures, nature-consumptive leisure activities including "game hunting" or "sport fishing", riding animals or swimming with marine mammals.
6. not be up for sale. 
7. appear to meet our Political criteria, see below.
8. do not appear to violate any of our other Impact criteria, as listed below: 
B. Impact Criteria:
We advocate an Ecological, Worker-Controlled Tourism which progresses further and deeper than Sustainable Tourism and Ecotourism and includes the following key criteria:
Political: It is owned, controlled and dominated by the employees, the self-employed, small-family businesses, cooperatives, municipal and public organizations. Offers fair wages and good working conditions. Respects Human Rights and Labour Rights. Democratic, Local, Decolonised, Worker Ownership & Economic Democracy. Workers/employees participate in organizational decision-making and have the right to join and form unions. Takes place with the full consent and participation of the local community in decision-making. 


Environmental: Minimises its environmental impact, respects animal rights. It is based on renewable energy, recycling, upcycling, reusing, the circular economy. It supports a conservation model that fully respects the rights of indigenous people.
 
Economic: Workers/employees receive living wages, enjoy good working conditions and receive full health & insurance coverage. Maximizes benefits to the local community. Equitable. Aims & helps eliminate poverty & injustice. Meets real local needs & aspirations. Inclusive, Accessible, Affordable, Non-discriminatory. Economically Democratic.
 
Educational: Increases knowledge and intercultural understanding. Supports and participates in scientific research, cultural activities and heritage preservation. 
 
AUDIT PROCESS

STEP 1: Application & Eligibility Check 
The Accommodation Owner (or the Director of the company owning the accommodation) completes the Application Form. The Ecoclub Ecolodge™ Auditor may ask for supporting evidence to decide if the Accommodation meets the Eligibility Criteria. If the Eligibility Criteria are met, we proceed to the next step.

STEP 2: Audit Questionnaire Text Evidence
The Applicant is asked to complete the Ecoclub Ecolodge™ Audit Questionnaire which contains detailed questions divided into four sections corresponding to the four Impact Criteria. The Questionnaire must be completed and signed by the Accommodation Owner or the Director of the company owning the Accommodation. It is the responsibility of the Applicant to collect all necessary information and evidence and to present it in an orderly fashion.

STEP 3: Audit Questionnaire Pictorial & Video Evidence
The Auditor reviews the text evidence provided and requests specific pictorial and video evidence to support a number of key points.

STEP 4: Audit Report Preparation & Assessment
The Auditor checks the returned, completed Questionnaire for completeness and then prepares the Ecoclub Ecolodge™ Audit Report (see an example) for the Accommodation facility. The Auditor reserves the right to edit text and images for grammar, typos, clarity and space but never enhances or improves replies. The Auditor, assesses the Ecoclub Ecolodge™ Audit Report as follows: each section in the Questionnaire is of equal weight. The maximum score that the Auditor can award in each section is 4, and the minimum 0; when a criterion is fully met, 4 points are awarded, 2 points if it is partly met, and no points if it is not at all met. The maximum total is 16 points. If the Applicant achieves at least 8 points the Accommodation is accepted and recognised as an Ecoclub Ecolodge™ for 3 years.
 
IMPORTANT NOTES
1. The Audit Reports of successful Applicants are permanently displayed in full detail.
2. The Audit Reports of successful Applicants will clearly state which criteria have been fully met, and which have been partly met as well as the total points awarded.
3. The Ecoclub Ecolodge™ Ecolabel is valid for 3 years, counted from the date of the successful completion of the Audit. 
4. The Ecoclub Ecolodge™ Listings in our Directory do not expire as long as the Ecolodge continues to be in operation under the same owner(s). The Audit reports continue to be published online irrespective of the Directory listing. A new logo can only be issued after a new, successful, Audit.
5. When there is a new Ecoclub Ecolodge™ Audit Report for a property, the old Audit Report will also be displayed for comparison purposes. 
6. Successful Applicants may request a new Audit, free of charge, at least 3 years after the previous one. Unsuccessful, eligible Applicants may also request a new Audit, free of charge, 1 year after the previous one as long as they are still eligible and significant improvements have been made. There is a maximum of three unsuccessful Audits in a row, after which no further Audit requests will be accepted.
7. Successful Applicants who wish to display a personalised Ecoclub Ecolodge™ logo on their website, social media or other online locations should link it, or provide a link next to it, to their Audit page on Ecoclub for verification and transparency purposes.
8. We reserve the right to decline an Ecoclub Ecolodge™ Application for any reason and/or to cancel and recall an Ecolabel and Certificate if credible evidence which contradicts claims in the Application process emerges, or if improper use of the Ecoclub Ecolodge™ logo is detected. We also reserve the right to suspend the process if there was a significant change in the business details or surrounding area circumstances (e.g. war, civil unrest or violence), or if the business ceases to operate or is sold to new owners. The new owner(s) is/are welcome to apply one full fiscal year after acquiring and operating the property.
 
FEES
There are no fees! All is for All!


TO APPLY
Please complete the Ecoclub Ecolodge™ Application Form. 
Do you have any questions before applying? Would you like to recommend someone we should invite? Contact us!
---
Ecoclub Ecolodge™ Ecolabel Terms (last updated 18 November 2022):  (1) "Ecoclub Ecolodge™ Ecolabel" (hereafter 'the Service') is an online Service offered by ECOCLUB S.A. (hereafter 'We', 'us') to an Individual (hereafter 'You') who is the official, legal owner of an eligible accommodation facility which completes the Service procedure, as stated on this page (https://ecoclub.com/join/ecolodge). (2) Service Benefits, Fees, Details and Conditions are as stated on this page (https://ecoclub.com/join/ecolodge) and may be amended at any time without notice.  (3) We make no guarantees as to the quality, non-interruption, availability, performance or benefits of the Service. Our website and all our (online) services are subject to availability and depend on factors outside our control. We do not guarantee any potential or speculated business profits or benefits attached to the Service. (4) Information that appears on the ecoclub.com website and email communications and in any Member sections, is provided for your own personal and direct use only and it should not be resold in any way, retransmitted, reproduced, broadcast or copied online or in any other form, without written permission. Violators will be instantly and permanently banned from the Service. (5) You agree to receive regular email communications from us from which you may opt-out at any time. (6) You agree not to hold us responsible in relation to any damages caused by offering or failing to offer the Service or a component of the Service. (6) Refund policy: We do not issue any refunds. (7) The provision of fraudulent information by you in your application form will lead to immediate termination of the Service, with no refund. (8) Upon expiry or termination of the Service, you will immediately remove and destroy all information and promotional material related to the Service. (9) You agree to indemnify ECOCLUB S.A. against all claims made in relation to you and/or your Company. The payment of such indemnity shall not prevent us from seeking any and all damages suffered by us as a result of your illegal behaviour or breach of contract. (10) Your failure to meet any of these terms and conditions or your engagement in illegal acts will lead to the immediate termination of the Service, without refund. (11) We will make no refund in case our website and/or company cease operations. (12) These terms and benefits can be updated and/or amended at any time without notice by posting at https://ecoclub.com/join/ecolodge. It is your responsibility to periodically check this page for changes. (13) Any dispute arising from this Agreement will be referred to the Law Courts of Athens, Greece, according to the Greek Laws. (14) You indicate and acknowledge that you have read, understood and accepted the above Terms & Conditions.