R190325-PT: Quinta do Arco-Iris - Hotel For Sale - Portugal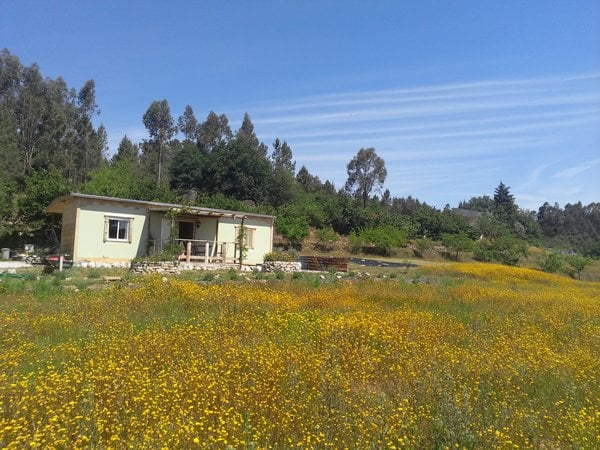 Barroca do Cabo, Azere, Tabua, Coimbra, Portugal
Categories:
Business Details

Map

Gallery
Posted: 25 March 2019
Sale by: The Owner
Company Name: n/a 
Property Name: Quinta Do Arco Iris
Sale Price and Currency: EUR 320,000
Property Address: Quinta do Arco-Iris, Barroca do Cabo, Azere, Tabua, Coimbra, 3420-011
Fully licensed as an Accommodation Facility? No. The property has planning permission for a Casa do Campo, which is a rural tourism project.
Currently in operation as an Accommodation Facility? No.
Number of Rooms: 4 separate accommodation properties.
Number of Bathrooms: 4 
Room Facilities: There are 4 separate accommodation properties, currently off grid, with a 5kw, 12 panel Solar System, water mine and a well. Mains electricity is only 3 poles away, there is a soak-away sewerage system, and a bore hole for additional water can be drilled. None of these 4 building/units can be seen by the other, making it very private.
Casa Rosa is a beautiful old stone barn, renovated to a high specification. This building has approval to be extended further, to obtain the Casa do Campo accreditation. The stone part comprises of an Oak fitted Kitchen, rising up to a Solar room, which can be used as a lounge/bedroom/office. There is a newly stone built wet room, combined with a utility area, leading back to a section housing the controls for the Solar system. Above this area is a covered balcony measuring approximately 6.5 meters by 3.5, with views to the Serra do Estrella mountain range. No other property can be viewed from any part of this farm.
Hazelnut Lodge is a self contained 2 bed roomed chalet, it sleeps 4. It was designed and build from a converted Lorry body, and it is suitable for wheelchair usage. There is a disabled wet room, ramps, sliding doors etc. All confirming to EU Building Regulations. It is fully furnished and kitted out, and is set is a flower filled meadow.
The Barn is stone built, with double glazed units, a new roof, a wooden staircase leading up to a mezzanine floor, suitable for a large bedroom. It has water and electricity connected, it can be extended, and needs finishing internally. It has it own accessible roadway, making it ideal for a long term let or as a private section of the farm.
South Park also has a separate access, and is home to a 2 berth Caravan, useful for farm workers, or lower rental accommodation.
Common Area Facilities: 
Total Land Area: 3 Hectares
Built-up Area:
Is it allowed to add more buildings to the property? The Casa Rosa building has approval to be extended further, to obtain the Casa do Campo accreditation.
Year of Construction: Started 2016, ongoing.
Year of Last Renovation: Ongoing.
Key Materials of Construction: Stone, concrete, bricks.
Eco-Architectural Features: Old stone buildings renovated a high specification with double glazed units. Planned as a Start-Up Permaculture and Lavender Project, we have managed the farm in a sustainable way, and were also planning to apply for Organic Accreditation. The land has not been treated with any chemical fertilizers or pesticides for the last 4 years, we have not tilled the soil, allowing it to be rested.
Energy Sources & Energy-Saving Features: All accommodation properties are off-grid, with a 5kw, 12 panel Solar System. Mains electricity is only 3 poles away.
Water Sources & Water-Saving Features: Water mine and well. A bore hole for additional water can be drilled.
Waste-Management Facilities: There is a soak-away sewerage system.
Awards and Guidebook mentions: n/a
Description of Location: Situated 53 km north east of Coimbra, on the outskirts of the village of Azere, tucked away in the center of Portugal, surrounded by tree covered mountains, rivers and lakes, Quinta Do Arco-Iris is a unique Eco-Tourism Business opportunity. The 3-hectare land has a varied terrain, from flat meadows, to granite outcrops, ancient stone walls to forested slopes. The walled terraces have fruit and nut trees, Hazelnut, Peach, Olive, Apple, Plum, Fig, Pear, Cherry, plus areas of newly planted citrus trees. 2 of the 3 hectares are virtually flat, which is unusual in this area. Set high in a forest of Oak, Eucalyptus and Pine trees, 48 miles from the Atlantic Sea, so the air is pure and clear.
Distance from Nearest Beach: Unspoilt river/lake beaches in the local village, Atlantic ocean beaches at 77km.
Nearby Attractions (within 50 km): For lovers of nature, walking/cycling, in the scented Pine and Eucalyptus forests is unforgettable.  Nearby you can try the EcoPista do Dao, a cycle trail situated on an abandoned railway track, stopping off for a swim along the way, in the Rio Mondego.
For lovers of good food, the Beira area has famous Dao vineyards, sheep and goat cheese festivals, and Chorizo sausages to rival their Spanish counterparts. The village of Piodao is one in a collection of historical Schist villages that are a unique tourist destination, along the Serra da Lousa mountains. The ancient city of Coimbra is 53 km away, the Roman ruins of Conimbriga a short drive further. Along the Rio Mondego, the local water is bottled at Penacova and Luso, the latter is a Spa village. This is part of the Serra do Bucaco mountain range. Situated on the outskirts of a village, the only traffic you hear is the local farmer going to tend his bees once a day, and the passing of sheep's bells. The local village has un-spoilt river/lake beaches. Barragem of Aquieira, along with the Marina resort of Senhora Da Ribeira is 11 km away, where you will find a number of restaurants, hotels, water-sports, and boat mooring.
Nearest Airports: Porto (90 minutes drive), Lisbon (2.5 hrs drive)
Nearest Train Station: Santa Comba Dão, 12 km.
Nearest Hospital: Coimbra, 53 km.
Nearest School: