(2.a) Lodge Siting (how was location chosen):
The area was farmland, now most of it is a nature reserve.
(2.b) Policy followed during construction:
1. We build only as many houses as are absolutely necessary for economic viability to prevent the area from returning to agricultural use. The size of the whole meadow is 15 ha. There is room for several hundred holiday homes; we have decided to build no more than 30 .
2. The houses must be in harmony with nature, so we have used untreated and unpainted wood on the exterior. These exterior surfaces will, with time, bleach and become silver grey. All the houses have green roofs and are thus adapted to the surrounding landscape as much as possible.
3. There are neither tarmac streets nor brick footpaths running through the village. What traffic there is, keeps to gravel-grass or sandy paths. Obviously we can't claim that such surfaces are completely natural but at least they haven't destroyed all that was there before. We hope they remain in harmony with the existing paradise.
4. Yes, paradise does still exist - on four fifths of the area. This was key to our vision. The 12 ha space that had only survived by the skin of its teeth has now been preserved for the long term. And there is more: This area used to be governed by temporary fallowing methods of farming; now it can and will be governed and maintained by conservation principles. The most effective use of the final fifth of the site i.e. the building of the 30 holiday homes ensured the long-term protection of the area. The added value achieved by changing the use of the land offers immediate rewards to environment protection - another part of the beach village concept. The tourists benefit greatly from this "gift" to nature of 120,000 square metres of land as it adds a special attraction to the Augustenhof beach village. There were no losers in the giving of this gift - it was rather a win/win situation.

2b: Natural paths
(2.c) Lighting:
Using only low energy bulbs.

2c: Installing the solar panels

(2.d) Heating:
Central energy plant for all buildings which includes a pellet burner next to solar collectors. In November 2004 the local energy plant at the Augustenhof beach village became a demonstration plant for SOLLET ("European network strategy for combined solar and wood pellet heating systems for decentralised applications"), a EU-project. Monitors were placed at every relevant point and connected to a data collector.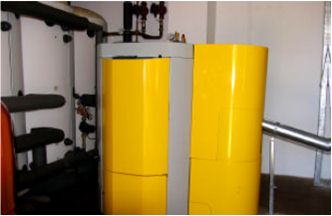 2d: Inside the local energy plant (solar/pellets)
(2.e) Cooling:
No Cooling needed.

(2.f) Cleaning:
We try to use only environmentally-friendly cleaning.

(2.g) Water Management:
No water problems in the area, however we are partners of the SWAMP project (Sustainable Water Management and Wastewater Purification in Tourism Facilities) see section 5h below.

2g: Nearby field
(2.h) Cooking:
Self catering. There is an organic food store within the beach village.

2h: Organic Food Store

(2.i) Waste management:
Normal recycling.

(2.j) Insect, pest control:
No control.
(2.k) Energy Sources, Use & Saving Measures:
We have our own energy plant (solar) on the roof top.
(2.l) Noise Protection:
We have no problems with noise, all the cars are parking aside and there is no traffic in the beach village.

(2.m) Accessible by public transport?: (If yes, please provide instructions from nearby city.)
You can come by train to "Oldenburg /Holst.". There is a very cheap bus shuttle (Anrufbus) to the Stranddorf.

(2.n) What is the recommended way of reaching your Lodge from the nearest International airport?
Most of our guest are families and are travelling by car.

(2.o) Distance from nearby village / city:
2000 m to "Dahme"

(2.p) Architectural Features:
All houses have a green roof and no paint. They are perfectly isolated.

2p: Green roofs, no paint

(2.q) Construction Materials:
Most out of timber, no PVC or chemicals leading to allergy problems. We avoided using PVC-based materials during construction of the holiday homes, especially as we were aware that there were PVC free alternatives readily available for almost all building materials, including underground sewage pipes and green-roof foil, both of which are usually made from PVC. In the bedrooms the floors are covered with traditional linoleum. We have gone out of our way to make sure that all other materials have the lowest possible pollutant content. We did not want the therapeutic effect of staying by the sea ruined by our guests breathing in all kinds of solvents and other chemical additives from the building materials. Another unique aspect was our use of very traditional materials: some of the houses have two layers of clay plastering on the inside. The clay plastering is about 2cm deep and regulates the air in the rooms, i.e. it absorbs excessive moisture and releases it when the air becomes too dry, e.g. when the radiators have been turned on. Clay plastering also helps to keep a constant temperature - when the fire is roaring it absorbs some of the heat to release back into the room later at night when all the logs have burnt down

2q: Natural materials - Clay plastering

(2.r) Landscape Management:
Most of the area is reserved for nature.