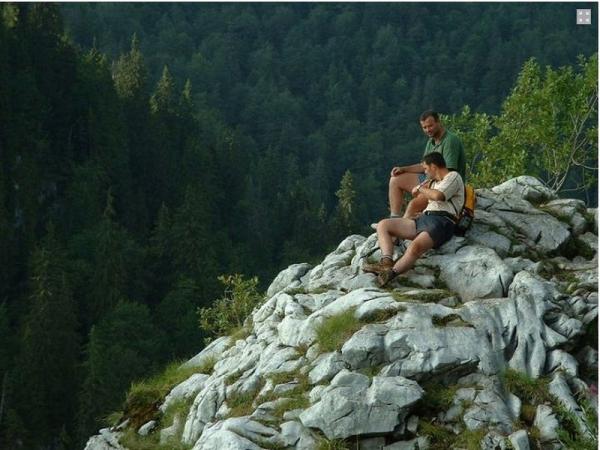 Oradea, Bihor, Romania, Romania
Categories:
Details

Map

Gallery

Videos

Sustainability
Apuseni Experience is a responsible travel initiative developed with pride and passion in Apuseni Mountains (Western Carpathians) of Romania by a group of young enthusiasts, who made a way of life from their common passion for these unique mountains. Apuseni Experience is a follow-up of an EU Life project. Eco Transilvania Ltd. was established in 2006 to run the Apuseni Experience Programme on a business basis. The company employs specialists in running outdoor activities, climbing, environment protection, conservation and community development.
The Apuseni Experience team, consisting of specialists in outdoor activities, climbing, conservation and community development, is committed to sharing its knowledge and love of Apuseni Mountains while supporting sustainable development of their communities. In this respect, our team strives to provide best interpretative cultural and natural experiences and use responsible business to preserve the unique heritage of Apuseni Mountains.
We offer standard and tailor-made ecotourism and adventure tourism programmes, guided and self-guided, for all ages and levels of experience throughout they year. They include: caving, hiking, trekking, cultural programmes, nature photography, flora and fauna observation, biking trips, alpine touring-ski, snow-shoe hiking, canyoning and many more. We arrange the transportation of your luggage from one place to the next, all you need to take with you is your camera, waterproofs, picnic and drinks.
Our tailor made trips have a simple philosophy: do what you like, like what you do!
1. Minimise your Environmental Impact:
Leave No Trace: we work hard to leave fewer footprints in our office and in the outdoors. We take special care of the waste management in our trips, we use as much as possible sustainable ways for transport and eat and consume local products.
Invest money and effort in conservation: we pledge between 5 to 10 % of our incomes after taxes into local projects that support nature and local culture conservation. We are active partners of the Apuseni Nature Park, Padurea Craiului Natura 2000 site and other protected areas and landscapes.
Small groups: we promote travel in small groups: 4 to 12 people and very rarely to 15 people. That allows us to interact with you much easier and to keep a good quality of the entire trip. The group's dynamic is much better and you enjoy your holiday in a small, friendly group, instead in a large one.
In the office, we use recycled paper for all of our docs, bike or walk to work and use only electronic brochures instead of printed ones.
We provide travellers with an updated Codes of Conduct (responsible travel guidelines) in which we suggest different ways to reduce natural resource use in their destination as well as to minimize damage to the environment, wildlife and local culture.
During our trips, we provide suggestions to travellers to actively support local projects which tackle issues related with local environment and/or local culture. Several ways of support local project are available: donations, voluntary work or transfer of know-how.
Plastic. In order to reduce single use plastic, we encourage tourists to bring their reusable water bottles – the water we drink in the mountains is from mountain springs, crystal clear and absolutely safe and we can refill the bottles any time we need. The tap water at the accommodations is from same mountain springs.
Also, during the daily trips we use reusable sporks for eating. No plastic plates, bags or other objects.
Wildlife: We believe wildlife is a very precious nature resource and we treat it with much responsibility. Our guides are trained also on basic wildlife watchingand tracking (some of them have got specialized on wildlife), they are very aware of interacting with wildlife in a responsible way and always share this approach with the travelers.
Carbon emissions: We are aware of the importance or reducing our carbon print during our tourist activities. In this respect, except the transfers from airport to the mountains and back when we do it by cars (due to the long distances from the city to the mountain area) during our trips we use only local means - for transporting people and/or transferring luggage from a pension to another – which are usually horses or horse pulled carts. Horses are still used a lot in the Western Carpathians.
During our trips from spring to autumn we travel in the mountain area only on foot. We also promote biking during trips we run and we constantly work on extending the biking routes network in the areas where we run our trips.
2. Respect Human Rights, Labour Rights and Animal Rights
In all of our trips we use more than 50 % local services (in terms of accommodation, meals, local transport and local guiding), mostly family run businesses, in which locals are self employed.
Respect for local communities and their environment. Our guides and staff help tourists to understand and respect the places and people they are visiting, so they'll be more comfortable and enriched visiting them.
Fair trade travel - we pay people with the fair wage for the services that they provide to us and we make sure that nothing we do in the mountains or in our office exploits people.
We do respect human rights and encourage them to be expressed and practiced.
During our horse drawn carts trips we make sure the horses are treated with very good care. The local services providers we work with are people who do care about the domestic animals they have in their households and this is an important criteria for us when choosing these providers. 
3. Meet Real Local Needs and helping eliminate Poverty & Injustice
Local guides and local services – we use in our programs as much as possible, local services (at least 50% of the services included in the itinerary are owned and operated by local people/businesses) and local people (local guides besides the tour leader). This is good for the local communities, because we support them to become self sustainable and reliable and is good for you too, because you can have a better interaction with the locals, and experience their way of life in a direct manner. Please note that we never combine groups (unless you want this) together, so you'll always have your own personal guide, taking care only of you and nothing else.

In all of our trips we use more than 50 % local services (in terms of accommodation, meals, local transport and local guiding), mostly family run businesses, in which locals are self employed.
The accommodations we stay at are run by local families. These families have their own farms, usually they breed cows, pigs and hens and some have horses or sheep. The food is produced in home. The leftovers are given to the animals so there is a circle for food and no food waste. Nothing is thrown out. The families work their land in a traditional way and use manure as natural fertiliser so the grass, herbs, are clean. The herbs they use for teas, the gems they make, the milk have a very good taste. They collect mushrooms and blueberries for home use but never to sell, it's only for family and tourists' meals.
4. Increase Knowledge & Intercultural Understanding 
We encourage learning about local cultures- our trips have an educational component, both for the traveler and for the local people. We encourage you to learn about local culture and we design our trips according with this principle. We believe that our trips are designed in order to facilitate you not merely to see but to understand.
In the Travelers' Code of Conduct as well as during our preparatory communication with the travelers we ensure that enough and accurate information is provided to them in what regards the social, environmental and economic situation in the Apuseni Mountains (The Western Carpathians) and Romania.
In the Travelers' Code of Conduct, we provide travellers with suggestions of several ways to minimize their impact on local culture and during the trip, the tour leader or the local guide provides suggestions to support local projects (environmental and social) or initiatives which benefit the host communities and their well being.