New on Ecoclub
Written by

Antonis Petropoulos - Ecoclub
One thing I learned there was to simplify my life as much as possible and try not to get distracted by less important things. That is a lesson I try to constantly remind myself of.
Dan Balluff grew up in Minnesota. He received a degree in Wildlife from the University of Minnesota. He was a Peace Corps volunteer in Niger West Africa during the late 1980's. While working as a biologist for the USEPA in Washington DC, he went back to school and received a degree in film and video from the American University. He moved back to Minnesota and started a video production business called Light Beam Productions - Minnesota. He went to Africa several times to make documentaries in Niger, DR Congo, and Zambia. Next he worked for the Minnesota Department of Health until he returned to the Peace Corps and spent a year in Comoros, where he filmed "Building Eco-tourism in Comoros". He moved to western Minnesota and worked as a videographer/editor for Pioneer Public Television on the Prairie Sportsman show. Currently he makes conservation videos for the Natural Resources Conservation Service in Minnesota.
Ecoclub: Before focusing on Ecotourism, you produced acclaimed documentary films in Niger, DR Congo, and Zambia that helped raise awareness about the suffering of street children (homeless children) and the root causes of this tragedy. What was your original motive and aims and did you end up identifying any practical solutions? 
Dan Balluff: I was a Peace Corps volunteer in Niger during the late 1980s. There I saw first-hand the huge scale of the poverty and challenges that the people of Niger faced. In 2006 I went back to Niger to make a documentary about the food crisis that was happening in the country at that time. I focused on food banking and tourism as potential solutions for Niger's many challenges. A couple of years later I traveled to DR Congo to make a documentary about street children who, because of intense poverty, were being accused of performing witchcraft and were thrown out of their homes onto the streets. I focused on a few organisations in Kinshasa that were trying to bring the children off the streets. I also flew out to Eastern DR Congo and filmed how the people of Goma were trying to get their lives back together following a devastating volcano eruption, while at the same they were dealing with the ongoing conflict in the region. The Zambia documentary is about the tragic lives of street children in Lusaka and the heroic efforts of a few organizations trying to help get the children off the streets, get them off drugs, and improve their lives.
Ecoclub: Can Tourism and Hospitality (Community, Pro-poor, Volunteer, Solidarity Tourism etc) in particular, offer solutions for these children or is too much to expect from any one economic sector given the magnitude, complexity and depth of the problem? 
Dan Balluff: When it comes to trying to figure out what is the best way to solve these immense problems I think it is important to remember that there is no one silver bullet. Many things have to happen at the same time to solve these deeply ingrained problems. I think it starts with better education for the children in these countries and at the same time increasing the economic opportunity. As a Peace Corps Volunteer in Niger, I saw first-hand how the many devastating diseases like malaria, amoebic dysentery, giardia, AIDS, and many others, make it very hard for the people to live, learn, and work. I personally came down with several of these diseases, but I had the benefit of the Peace Corps healthcare facilities to get back on my feet, so I could continue my volunteer work.  Many of the people of Niger do not have that luxury. They have to live with the diseases and try to continue to work or go to school. Combating government corruption and exploitation from more developed countries are also large obstacles to progress in these African countries. But the bottom line is that all of these things and many others need to be dealt with simultaneously in order to solve the problems. 
Ecoclub: What attracted you to volunteering in Africa with the Peace Corps and what is your overall evaluation of the experiences, skills and knowledge you have gained? Would you recommend such volunteering programmes to tourism and hospitality students before they seek their first job? 
Dan Balluff: I had just graduated from college with a degree in Wildlife when I went into the Peace Corps. I was stationed in a small village at the entrance of a national wildlife park, where I did small-scale research and large mammal censusing. I also worked on some small village development projects. The wildlife work was a dream job for me but I was surprised to find out that I liked working on the small development projects just as much. I would definitely recommend that people go into the Peace Corps. It was a great adventure. Very difficult, but very fun. I learned more from the people of Niger than I was able to teach them. Family and friends are very important to them. Even though they were very poor, they were very happy. They had a lot fewer distractions so they tended to focus on more important things in life. Although they definitely did not have everything they needed. They lacked adequate healthcare, food, clothes, shelter etc. But one thing I learned there was to simplify my life as much as possible and try not to get distracted by less important things. That is a lesson I try to constantly remind myself of.
Ecoclub: No good deed goes uncriticized! Critics maintain that the Peace Corps is just a cold war-era winning-hearts-and-minds geopolitical instrument, while harsher criticism, from former volunteers, includes labels such as "neocolonial' and "white-saviourism". Had it been successful, some critics maintain, the Peace Corps should have already worked itself out of existence nearly 60 years after JFK founded it. We imagine that you strongly disagree, but in your personal experience, what could the Peace Corps improve on so that it better serves local needs in Africa, besides those of volunteers and of the US government?
Dan Balluff: At a minimum, Peace Corps service often benefits the Peace Corps volunteers who go off to live in another culture and learn from, and teach the local people. Following their service, Peace Corps volunteers come back to the United States and communicate new ideas and have new perspectives for the rest of their lives. I have life-long friendships from the time I spent in Niger and I feel it has benefited me greatly. Additionally, I do think the Peace Corps has a positive impact on the countries where they serve. Back in the 1980's I felt like the people in the African countries where I lived and traveled, for the most part, loved Americans. In DR Congo, Zambia, and Comoros, I feel like there is more suspicion of Americans now than there was 30 years ago. I think the war on terror has had some negative impacts on how Africans, in general, view Americans. When I compare the two times I was in the Peace Corps in Africa, first in Niger then in Comoros, the big differences were that I had already lived in Africa for over two years by the time I went to Comoros, so I knew how to communicate in French. When I first arrived in Niger, I had to learn both French and the local language of the area of Niger where I lived. So the first year there was more of a struggle. The second year was much easier and more productive. In Comoros I could use my French right away, so I hit the ground running, so to speak. Also, in Comoros I had a budget to work with. We had about $8,000 to use that year to work on building the ecotourism site in the Karthala rainforest. That $8,000 went a long way. We were able to pay workers above the going wage and we had a lot of volunteers to help with the work as well. I have always thought that if I had had a small budget to work with in Niger, we could have gotten a lot more done there than I was able to.
Ecoclub: Your latest film documents ecotourism development in Comoros. In an increasingly crowded international destination marketplace, do the Comoros have a real, unique selling point? 
Dan Balluff: The major selling point of the ecotourism site on Grand Comore Island is the active Karthala volcano, which has one of the world's largest craters. And the amazing Karthala Rainforest that surrounds the volcano. There is also the colonial plantation historical site at Nyoumbadjou which serves as the jumping off point  for the trailhead to the rainforest up to the summit of Mt. Karthala.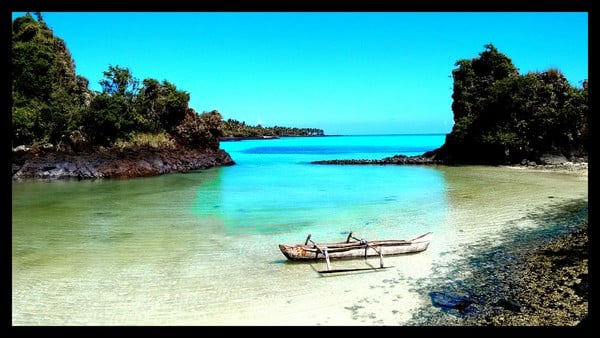 Ecoclub: Do you feel that the government and other stakeholders have fully grasped what it takes to protect, develop and promote the archipelago as a green destination? 
Dan Balluff: Comoros is a very tranquil place with low crime and is quite safe for tourists. It is a very poor country but there are a few nice hotels on the island. Moroni, the capital, has its own charms and history to explore. The Comoros government is welcoming to tourism. It is a Muslim country and tourist should always try to respect their customs, but all the while I was there, I always felt welcomed, respected, and safe.
Ecoclub: Your film informs us that there is pressure on the remaining rainforest, in particular in Mt. Karthala, an active volcanic area. Are any steps being taken to mitigate the problem, essentially deforestation, and who is taking them? 
Dan Balluff: Deforestation in Comoros is a very serious problem. By some estimates the country is undergoing deforestation at the quickest rate of all the rainforests in the world. That is why it is imperative that steps be taken now to stop the cutting of trees for firewood, construction and for making charcoal. Some steps have already been implemented. Many Comorians know to use the more prolific tree species to make charcoal. They often use spieces they call Mbilli and Mbeara which are very fast growing trees. By using these species to make charcoal, they can open up the rainforest canopy and enable other less prolific rainforest tree spices to grow.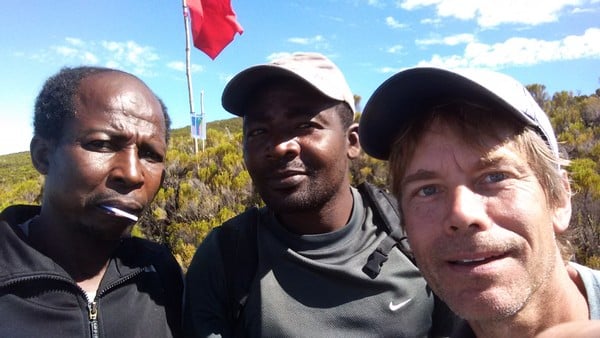 Ecoclub: Who is funding and who should or could also be funding this important ecotourism and conservation work in Comoros? 
Dan Balluff: Much of the funding for the ecotourism site in Nyoumbadjou on Grade Comore Island has been provided by the United Nation Development Program (UNDP). More funding is needed to complete the work in Nyoumbadjou. The hiking trail from Nyoumbadjou to the top of the Karthala volcano is in need of additional enhancements. Many of the colonial historical buildings at Nyoumbadjou need additional restoration. And the botanical garden there is also in need of additional work.
Ecoclub: Are independent Conservation & Educational Tourism Documentaries such as yours perfectly suited for the YouTube and social media era, or is there too much online noise and competition from heavily promoted fancier but lower-quality material? Do independent film platforms have a role to play and a chance to survive? 
Dan Balluff: I'm not sure how well social platforms like YouTube will work to help spread the word that there is a new ecotourism site in Comoros. I think it can be an effective source but the more sources we have to get the word out, the better.
Ecoclub: Thank you very much for your invaluable insight on Ecotourism in Comoros and Volunteering in Africa. We are honoured to feature your latest documentary: Building Eco-tourism in Comoros (see below)
Written by

Antonis Petropoulos - Ecoclub
"...the pandemic has given us the time and space to re-think tourism. At a time when radical, systemic change and transformation have become the order of the day, we need to foster a fertile space for new conceptualisations of alternative tourism to emerge... " 
Fiona Eva Bakas is a critical tourism researcher and lecturer with international teaching experience. She holds a PhD in Tourism (Otago University, 2014), has 20 years of varied work experience (corporate and academic), and is currently a tourism lecturer at Lusófona University, Lisbon. In 2017-2020 she was a contracted postdoctoral researcher in a nation-wide project on creative tourism in rural areas and small cities (CREATOUR), at the University of Coimbra and in 2014-2017 she conducted research into gender in tourism labour; festivals; and events at the University of Aveiro. Fiona is a collaborating researcher of CCarq (Centre for Social Studies, University of Coimbra) and a member of research groups GOVCOPP (University of Aveiro, PT), and ETEM (University of the Aegean, Greece). Her research interests are: creative and cultural tourism, educational technologies, active learning, gender in tourism labour, events and festivals, qualitative and action-research methodologies, cultural mapping, entrepreneurship, ecotourism and traveling as an intention to learn a foreign language. For the last two years, together with her partner, Fiona also hosts numerous Workaway and HelpX volunteers on their off-grid project in the mountains of Central Portugal.  
Ecoclub: Tourism is a vast, diverse and dynamic global industry and socioeconomic phenomenon, interconnected with many others, thus this results in a continuous generation of adjectival tourisms, with networks, institutes and businesses to match. Some end up being commercially successful, even if academically nebulous and vice versa. A relatively new entrant is Creative Tourism. Which emerging needs or processes is it trying to cover, what are its key tenets, and in what ways is it different or similar to other tourism types such as Educational Tourism, Cultural Tourism and Activity Tourism? Is it inherently more resilient for the post-pandemic era?
Fiona Bakas: Creative Tourism is a type of cultural tourism, that focuses more on media, narratives and storytelling, than on built heritage (e.g., castles) as cultural tourism does. Building on the current consumer trends for transformative experiences that leave oneself a better version of themselves, creative tourism give tourists the opportunity to take part in tourist experiences that contain the elements of: creative self-expression, learning, community engagement and active participation. All these elements are underpinned by a connection to place, where place is understood as the physical environment and the people. Creative tourism covers the need to connect people to the locales which they visit in meaningful ways, engaging in everyday experiences. It allows for expressions of local culture to be revived and made visible, hence promoting cultural sustainability of places. Creative tourism also creates a link between culture and tourism that is often lacking. Cultural planning is mainly for locals, rather than visitors and creative tourism attempts to make this link, so that tourists can also experience local culture as defined by local people, rather than the often heavily commodified versions of culture that tourists are fed. What we have found that works best, through research in the CREATOUR project (www.creatour.pt), is for creative tourism activities to act as add-on activities to existing tourism or culture organisations. For example, a tourist accommodation provider can offer its guests a creative tourism activity as an additional attraction. Or an artisan who has as her main business selling what she creates (e.g. sculptures), can also offer a short workshop on how to make her creations. As creative tourism has community engagement as one of its tenets, it is similar to ecotourism in that it aims to promote inclusive local development through tourism. Since creative tourism aims not only to teach participants about the craft or local cultural experience that tourists are engaging in, but also about the wider historical and cultural aspects of the place they are in, creative tourists are also effectively engaging in a type of educational tourism.
Ecoclub: Voluntourism has become more mainstream in recent years and has thus attracted criticism on various grounds, ranging from including encouraging orphanage-related exploitation, disrupting the local economy by displacing local workers and draining local resources such as food and energy, to more complex accusations such as cultural imperialism. But at its most basic level, isn't hosting guests in return for their assistance, for example, with maintaining one's home or organic farm, a genuine, moneyless and honourable form of hospitality?
Fiona Bakas: This is a very interesting question as I myself, having frequently received and hosted volunteers over the last two years (before the pandemic), have also thought about the meaning of the word 'Voluntourism'. Like greenwashing, volunteer tourism has come to represent images of affluent youths building schools for impoverished communities who have not been consulted on what their needs are. These actions cause the effects that you mention in your question. This is why there is a need to distinguish between the various types of volunteer tourism that exist – the volunteer tourism that people pay for a commodified experience and the volunteer tourism where no money exchanges hands and there is no tour operator organising the whole thing. We received volunteers through Workaway or HelpX who stayed for a minimum of two weeks and worked for 4 hours helping us in our off-grid project, 5 days a week in exchange for food and accommodation. This experience was enriching both for the visitors and for us the hosts, as it created an exchange of culture, ideas, foods and knowledge. People have various motivations for volunteering through Workaway/HelpX (what I think is 'genuine' voluntourism), such as learning, e.g. sustainable building techniques and permaculture methods, wanting to spend some relaxing time in nature, away from the city sounds (we live in a very remote place in the middle of a mountain range, next to a river), wanting to see if they can survive in a remote place like this, wanting to go hiking, wanting to train physically for some event, wanting to be away from many people. For us, our motivations are to get some help with the work that needs to be done, share our knowledge, exchange ideas with people from other countries and offer them hospitality. Although, since there is an exchange going on, I am not sure if hospitality would be the right word, as hospitality to me implies a lack of exchange, whereas in volunteering, we do expect a certain level of contribution from the volunteers in terms of their time and effort.
Ecoclub: Based on your direct experience with green building and permaculture, what prevents more homeowners from adopting these? Lack of funding, specific knowledge or interest?
Fiona Bakas: Green building is very demanding in terms of person-hours and whilst can be made to last for many years, the more mainstream materials, e.g. concrete are far easier to use and to source. It is also difficult to find technicians/construction workers who know how to work with green building materials such as cob and lime. From my experience until now, whilst green building has advantages in terms of being better for the environment, it is not cheaper, even if you can source your materials, e.g., clay, sand, straw, wood, locally which could reduce your costs, because you then need many hours to collect and prepare these materials. For example, we collected the clay from a source about an hour from the house, so we had to drive there, then walk a distance to the clay source with buckets and spades, dig the clay out, carry it back to that car and drive back. After that, the clay needed to be broken and sifted which is also a time-consuming process. Everything to do with green building takes time and as we know, time is money! In terms of using permaculture techniques in gardening, these can be very useful and time-saving, for example using mulching to build soil and prevent weed growth. Perhaps the lack of uptake is due to lack of knowledge and the belief that since we have always done it this way, we shall continue doing it this way.
Ecoclub: As in nearly all economic sectors, in Tourism there is gender discrimination, a payment gap, and harassment of all sorts. Some argue that Tourism is in fact far worse than other sectors in the way women are treated both at the corporate/hierarchical and the (patriarchal) family-based end. Although women's empowerment is a UN Sustainable Development Goal, one wonders if there has been any genuine progress in the Travel sector in recent years. What key changes need to be made in your view, and by whom, primarily?  
Fiona Bakas: Gender equality has gained a lot of attention in the last decade, partly because of the MeToo movement which sees an increasing number of men being accused of sexual harassment by employees or people they had power over. This is just one way in which the patriarchal gender structure shows its operation, but there are many more ways in gender operates and they are all related to power. Within the tourism industry, gender inequality continues to be a problem, with the majority of tourism leadership positions (and hence highly paid) being held by men. One of the inherent problems of gendered divisions of work is the invisibility of gender, with many leaders in tourism (and other industries), saying that gender inequality does not exist as legally in most EU countries, since legally women with the same qualifications as men are paid the same. But the problem is that until we are able to change the stereotypes of what are 'feminine' tasks and what are 'masculine' tasks or what a correct woman or man does, it will be challenging to ensure that people who identify as female have equal opportunities to men. So, as well as still continuing to fight for more legal rights in terms of gender equality, there needs to be a change in common perception of what is acceptable for a man or woman to do and what their responsibilities are. Because if women continue to be held primarily responsible for social reproduction activities, then they will continue to compete in an unequal arena in terms of job opportunities within the tourism industry. States can help by making parental leave obligatory for both parents so that men also take on caring responsibilities. Tourism companies could offer childcare facilities more frequently and especially between the ages of 0-3 for which there is no provision in most EU countries. NGOs such as Equality in Tourism, are very important in achieving SDG5 (Gender Equality) by fighting for better representation of women in leadership positions in tourism and making visible the various forms that patriarchal power takes in tourism, such as gender-based violence which is experienced by female tourism workers and female tourists.
 
Ecoclub: You have a significant experience, both practical and academic, in the Events (MICE) sub-sector. Do you foresee its full, gradual recovery or has the treble hit of the Pandemic, the Climate Crisis and low-cost videoconferencing technology dealt a fatal blow to mega-events and associated business travel in which case some large conference and trade centres may have to be converted to cater to local, leisure needs (sports/culture/shopping malls)? Are local festivals, and perhaps conference-related academic travel, immune?
Fiona Bakas: As social beings, people will always want to meet and exchange ideas and experiences, which is what conferences and other events capitalise on. During the pandemic, the MICE industry was dealt a very severe blow and some of the companies involved in this industry will not survive unless they adapt to the new 'hybrid' reality which sees a combination of online and offline participation options. Hybridity will be the future of events, which will use technology not only to market their product better (e.g. Virtual Reality), but also to allow participants to join from around the world without having to travel. As people are becoming increasingly concerned about their carbon footprints, these hybrid alternatives will appeal to the more eco-conscious travellers as well conference-attendees who for various reasons find it difficult to travel (e.g. health problems, limited finances, limited free time). During the time of the pandemic, many webinars sprouted up as an alternative to in-person seminars, which have the advantage of having a much wider global reach than in-person events. Whilst the advantage of in-person events in terms of networking is indisputable, which is why I believe in-person events will continue to exist, online versions can be more inclusive and mobilise knowledge wider. However, it is hard to believe that local music and dance festivals will stop existing and I myself am looking forward to them opening again next year! With Tradidanças, Andanças, Sines FMM and Bons Sons festivals here in Portugal we are spoilt for choice each summer.
Ecoclub: In light of the above, and with the benefit of a wide academic and practical knowledge of the Travel industry, what type of academic and vocational training would you recommend to young people? What key selection criteria should they use?
Fiona Bakas: Academic training in the basics of tourism theory is essential, but I would also recommend a focus on academic training on sustainable tourism principles as defined by the 2015 Sustainable Development Goals and how each of these connect to tourism and destination management. Another area that students should aim for is digital marketing and how to use that to market tourism products and services as this is an essential tool to both tourism SMEs and large tourism companies. Regenerative approaches to tourism is another area that I think could be of interest to students as it appeals to a growing market of eco-responsible consumers. In terms of vocational training, as hotels, restaurants and resorts open-up, there will be a need for trained and skilled workers who can be sourced locally, so there may be more opportunities for young people trained in these areas, as migrant workers in tourism decrease because of travel-related restrictions and general uncertainty. Soft skills within tourism will always something that employees are looking for, so training in this area is advisable. Key selection criteria for choosing the type of job they train for should be that it is something they could feel passionate about.
Ecoclub: In the post-pandemic era, whenever that may arrive, and particularly for island and coastal destinations from the Mediterranean to the Caribbean to the South Pacific, that heavily depend on Tourism, which of the following courses of action is more realistic, and which one would be ideal? "Business as usual", "Building back better" or "Tourism Degrowth"?
Fiona Bakas: Tricky and very interesting question. If you look to the Travel Foundation/Future of Tourism network, 'Building back better' is their slogan. If you ask a number of academics who have studied and researched over-tourism, then Tourism Degrowth is the only way to prevent us from completely obliterating and alienating local residents. Then if you ask many tourism business owners, Business as usual would be the least painful and most cost-effective way forward.  Personally, I think that the pandemic has given us the time and space to re-think tourism. At a time when radical, systemic change and transformation have become the order of the day, we need to foster a fertile space for new conceptualisations of alternative tourism to emerge and influence EU tourism policy by influencing current tourism ontology. This will allow for a post-pandemic era where tourism is used as a tool for local development, residents are not displaced but rather are valuable agents and positive social impact is a key objective rather than solely commercial profit.
Ecoclub: We thank you very much for your insight during these difficult times. We hope that your optimism will prove to be realistic, and that the pandemic will transform tourism in a positive manner. 
Written by

Antonis Petropoulos
This was the second live event of our Green Destinations series, where we showcase eco-friendly destinations without glorifying them. We ask accomplished local sustainable tourism practitioners to present their own work and projects at this destination and explain the challenges they and their colleagues are experiencing in the context of the sustainability of the destination as a whole.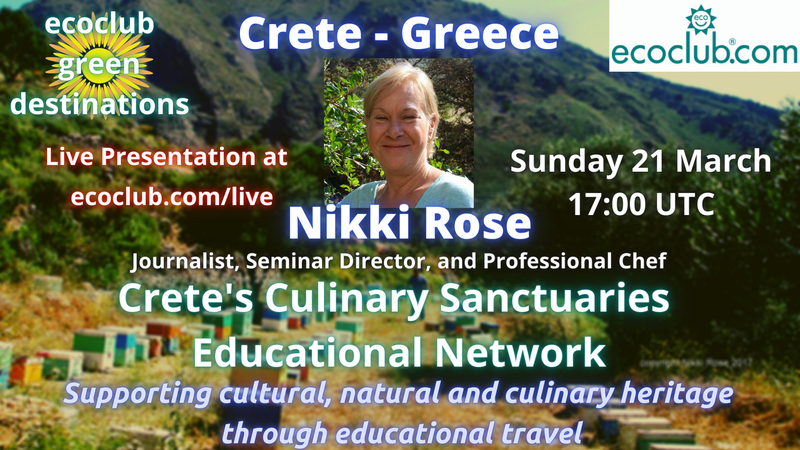 Ecoclub Green Destinations - 2nd Live Event – Crete, Greece
When: Sunday 21 March at 17:00 UTC (19:00 in Crete, Greece) 
Topic: "Crete's Culinary Sanctuaries Educational Network"
Supporting cultural, natural and culinary heritage protection through educational travel 
Speaker: Nikki Rose
Nikki Rose is a Greek-American journalist, seminar director, and professional chef in Crete, Greece. In 1997, Nikki founded Crete's Culinary Sanctuaries Educational Network to support residents working on action programs to protect and share their heritage. CCS teachers are archaeologists, ecologists, organic farmers, heirloom seed savers, chefs, artists, and many others. CCS organizes accredited educational programs on Crete's culture, nature, organic agriculture and cuisine. Over 3,000 students, teachers and journalists have attended their programs. Their upcoming documentary, Heritage Protectors, is a continuation of their work. CCS is an award-winning program for Best Practices in Responsible/Sustainable Travel, and featured in National Geographic, The New York Times, WTTC, UNWTO, UNCBD, IFOAM-Organics, Agroecology Europe, Routledge Handbooks, Food Tank, and many other organizations, publications and media outlets.
Nikki is a consultant on similar initiatives around the world and has been a most valuable Member of Ecoclub since 2004.
For more details visit www.cookingincrete.com 

Written by

Antonis Petropoulos
The Ecoclub Green Destination series: 
Live online events are one of the few positive side effects of the pandemic, beyond helping us maintain our sanity, they can help us plan ahead for the great return of tourism, to give real meaning to the catchphrase "building back better". In this context we inaugurated on 28 February 2021, the Ecoclub Green Destinations series. The meetings are recorded and live streamed and are available on our YouTube channel.
We believe that a green destination is not one that presents a green image to visitors but one that is genuinely green, for visitors and hosts alike, in that its tourism model succeeds in meeting the key needs and aspirations of the local community, supports necessary public infrastructure such as hospitals, schools and public transport without creating an excessive impact on the natural and cultural environment and resources and without becoming a tourism monoculture, crowding out traditional economic sectors such as agriculture, but rather supports it by the exclusive use of local organic products. The destinations that we will be examining in this series are not fully sustainable, very few destinations are if we consider air transport pollution, extra electricity and water consumption by tourists, and waste management, but these destinations, effectively key people in these destinations are making a serious effort. Our intention is to review and encourage these efforts rather than beautify their results. 
Ecoclub wants to showcase eco-friendly destinations without glorifying them, present green accomplishments, remaining challenges and key threats. Highly accomplished local practitioners and green tourism experts are invited to present their projects in the greater context of a particular destination, which also be a route or a village. Thus the presentation is split between what the expert does, where and why for whom and with whom. We are trying to appeal to both discerning tourists and practitioners. We also want to cover how the pandemic has affected the destination and if certain things need to be done differently from now on in the destination, building back truly better!
Ecoclub Green Destinations - 1st Live Event – Kythera Island, Greece   
When: Sunday 28 February at 19:00 Athens time (17:00 UTC) 
Topic: "Kythera Trails - building a sustainable destination at the heart of the Mediterranean" 
Presentation by Rigas Zafeiriou, a consultant/researcher for the Mediterranean Institute for Nature and Anthropos (MedINA) and local manager of Kythera Trails, the trail network & sustainable tourism development programme of Kythera Island. Rigas is also programmes director at the Kytherian Foundation for Culture & Development while he has worked for Paths of Greece on trail research and design on other islands of Greece. As a tour leader, Rigas has designed and facilitated 30+ multiday trail adventures for various agencies, including REI, Trekking Hellas, Ross Holidays and more. 
Written by

Antonis Petropoulos - Ecoclub
"It is clear that we need to reduce the impact of tourism, both on the destinations but also the impact of travel to get there." 
Bob Hale is the new Co-Convenor of the Global Greens, a partnership of Green parties and political movements in over 100 countries, arguably the world's largest and fastest growing political family. Bob has over 20 years of experience as a Senior Project Manager managing teams of around 20 people, and has extensive experience negotiating outcomes that are acceptable to all parties. He has a management style that is inclusive and consultative and prides himself in being honest and open in dealings with colleagues. His strengths lie in organisation, coordination, and following through to make sure tasks get done in a timely manner. 
Ecoclub: Congratulations on assuming the helm of the Global Greens! In addition to your political experience, your professional expertise as a Senior Project Manager and your specialisation in Health Issues and IT will be great assets during this difficult period. What are your key priorities and the goals that would you like to achieve during your tenure?
Bob Hale: The main issue I would like to address is to get more grass root involvement from our members. With our next congress coming up in 2022 it is important we listen to our members and provide them with the organisational structure they need to succeed in their local political environment.
Ecoclub: Is there a distinctly green set of policies to tackle the pandemic, its worse effects on society and the economy and to avoid a repetition? Do we perhaps need a change in our economic/production/growth model, a system change?
Bob Hale: As we emerge from the worst of the pandemic it is important that economic stimulus provided by governments also helps to address climate change and other environmental issues, as well as social justice issues.
Ecoclub: Sustainable and Responsible Tourism had already become mainstream concepts in the last few years, but during the pandemic, with tourism taking a big hit everyone in the industry is now talking about the need to 'build back better', to avoid excesses and returning to 'Overtourism'. Some in the green movement however tend to dismiss the whole idea of a sustainable tourism industry as impossible. What is your view?
Bob Hale: It is clear that we need to reduce the impact of tourism, both on the destinations but also the impact of travel to get there. The impact of air travel on climate change has not been discussed in depth and is currently excluded from discussions on emissions.
Ecoclub: Australia is the cradle of Green political parties, and, probably no coincidence, is also a global leader in Ecotourism with a trusted ecotourism certification system and quality academic institutions offering sustainable tourism degrees. How green is Australia's domestic and international Tourism in your view and what key changes can be applied during and after the pandemic to make it greener?
Bob Hale: I am not aware of certification of ecotourism in Australia. There are certainly many companies who claim to "tread lightly" etc but there are many more building luxury accommodation in environmentally sensitive areas. As tourism restarts it will be very tempting to open up more areas and override or ignore environmental protections.
Ecoclub: Is the sharing economy a trap, or a solution, an escape from wage slavery self-employment? Is it inherently greener through the lack of big hierarchical structures? And how about the tourism sharing economy?
Bob Hale: I am afraid I do not know enough about the sharing economy to comment.
Ecoclub: The first decade of the 21st century saw the rise of far-right populism and even neo-nazism in Europe and other regions. Some still unjustly consider or portray the Greens as a single-issue movement, however a growing number of voters look up to the Greens as the antithesis, the true resistance to the Far-Right in virtually all issues. Do Greens need to build on this, and take clearer, more advanced positions for example to stand for Open Borders?
Bob Hale: Some still see the Greens as single issue environment parties, but only if you don't dig very deep. As progressive parties, we need to ensure that all our policy platforms are recognised and promoted. Of course small parties just starting out will not be able to cover all policies, but as they grow and develop they have mentors from other larger more established parties, as well as the Global Greens Charter to guide them.
Ecoclub: The status quo has the tendency of appropriating any practical, radical idea and the associated vocabulary, and applying it in a de-radicalised way. Do you see this happening with green ideas? Are they in danger of becoming a victim of their own success? When every multinational, major news network and political party is talking 24/7 about the Climate Crisis, what should the Greens do to be heard? Complain about the hypocrisy of others or move to new, radical positions?
Bob Hale: It is important that greens policies are based on science, and are seen to be based in science by voters. Especially with climate change there is a lot of talk of targets and future goals by the old parties, but the greens are the ones who can legitimately stand by their policies that we have been promoting for years, if not decades.
Ecoclub: We may live in a globalised world, but the Global Greens are the only surviving, international and united political family with a true global presence and power. True to green principles, there is no Comintern-style 'democratic centralism' but devolution, one observes there is a great range of Member parties judging from their economic policies, on the right (e.g. Mexico), the centre (Germany?) and the Left (e.g. United States). Is this an accurate assessment? Is pluralism a disadvantage or an advantage?
Bob Hale: The greens are a grassroots organisation and certainly made up of varied groups and opinions. Sometimes politicians get swept up in populist sentiments and policies but with the charter we are able to guide them as appropriate. So overall it is a definite advantage that each party can focus on what is relevant for them at the moment, knowing that what binds us together is the Charter and the fact that this is the baseline by which all parties are guided.
Ecoclub: We thank you for your insight and wish you well in your new important duties. Hopefully the green movement and the green tourism movement will improve, expand and deepen their mutual awareness and cooperation during your tenure.