Ecotourism Features
Details

Written by

UNWTO

Hits: 38
Madrid, Spain, 30 November 2016 (UNWTO):  UNWTO has announced the finalists of the 13th edition of the UNWTO Awards for Excellence and Innovation in Tourism. The 12 finalists were selected among 139 applicants from 55 countries. The winners will be announced on 18 January 2017 at the UNWTO Awards Ceremony, organised for the fourth consecutive year in collaboration with Madrid International Tourism Fair (FITUR / IFEMA).
Details

Written by

ECOCLUB.com Team

Hits: 146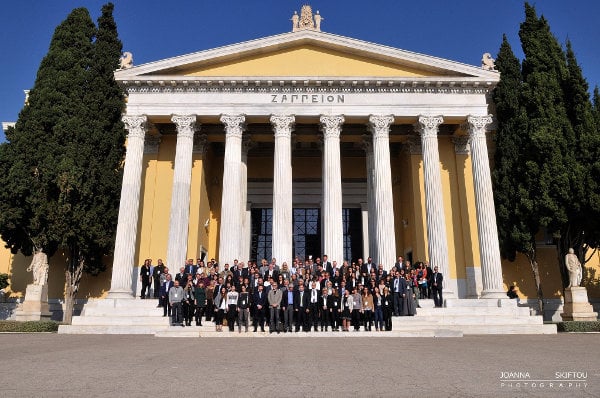 Athens, Greece - 1 December 2016 (ECOCLUB.com): The Global Sustainable Tourism Council (GSTC) European Regional Meeting took place on 23-24 November in Athens. The historic Zappeion Conference & Exhibition Centre (built in 1888 for the first modern Olympics) next to the National Gardens was an inspiring venue for this high-level conference focusing on sustainability, which attracted over 200 participants, including many GSTC members, from 16 countries.
Presenters ranged from international household names like WWF and TUI, to up to date local government representatives and new local grassroots initiatives like the Paths of Greece, a social cooperative engaged in reviving Greece's old pathways. Presentations were also made by experts from leading ecocertification initiatives, recognised by or linked to GSTC including Travelife, Green Destinations, TourCert and FEE Green Key.
Details

Written by

ECOCLUB.com Team

Hits: 135
Beaverton, OR - 26 November 2016 (ECOCLUB.com): "Too Rare To Wear" is a new coalition of conservation organisations, tour operators, and many others. Their goal is to end the sale of turtleshell products to travellers in Latin America to protect the critically endangered hawksbill sea turtle. Hawksbill sea turtles are one of the most beautiful and important species in the ocean. They help coral reefs thrive and are a thrill for divers and snorkelers to see in the wild. But they have been hunted to the edge of extinction for their colourful shell. Their shell (also known as "tortoiseshell") is made into jewellery, guitar picks, combs and other products that are sold in markets across Latin America & the Caribbean. 
Details

Written by

IPS - Inter Press Service

Hits: 181
MARRAKESH, Morocco, Nov 21, 2016 (IPS) - "No country, irrespective of its size or strength, is immune from the impacts of climate change, and no country can afford to tackle the climate challenge alone."

With this warning, the United Nations Secretary-General, Ban Ki-moon, commented on the final conclusions reached at the United Nations Climate Change Conference (COP 22) –which was held in Marrakech, Morocco on Nov. 7-18– to move forward on the implementation of the Paris Agreement that entered into force November 4.
Details

Written by

IUF

Hits: 144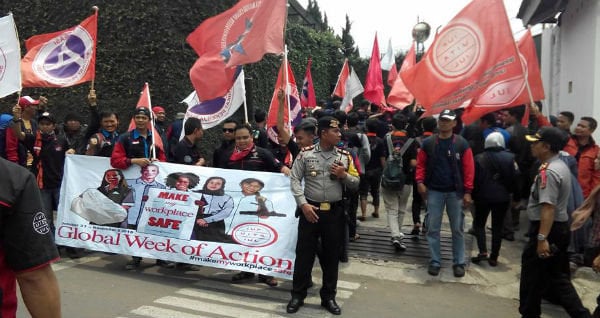 Petit-Lancy, Switzerland - 18 November 2016: Hotel housekeepers and their unions in 34 countries and over 50 cities around the world held a variety of actions to highlight their fight for rights, recognition and better working conditions during the IUF's 2nd Hotel Housekeepers Global Week of Action from October 31 to November 6. Many of the actions this year highlighted the central importance of preventing sexual harassment on the job, a constant threat with which housekeepers have to contend. The varied actions included workshops and seminars with experts and awareness-raising meetings with workers, management and the public, including leafletting at airports. Unions also called for specific language in collective agreements on protecting workers from sexual harassment.
Everywhere, unions demanded improved working conditions, greater job security and more respect for housekeepers at the workplace. Unions also made use of the Global Week of Action to show to workers the important results of the ongoing campaign in bringing about concrete improvements in working conditions and as an organizing tool for building bargaining power in hotels.
You can see photos from the many actions on Flickr and on the "Make My Workplace Safe" Facebook page.
Details

Written by

UNWTO

Hits: 131
Madrid, Spain - 15 November 2016: UNWTO awards Geoffrey Wall the Ulysses Prize for Excellence in the Creation and Dissemination of Knowledge in Tourism
The UNWTO Ulysses Prize for Excellence in the Creation and Dissemination of Knowledge recognizes the remarkable work of Professor Geoffrey Wall on several issues, but particularly on tourism and climate change. The Prize will be bestowed on Professor Wall during the UNWTO Awards Ceremony to be held on 18 January 2017 in Madrid on the occasion of FITUR, the International Tourism Trade Fair in Madrid, Spain.
Professor Wall is a Distinguished Professor Emeritus at the Department of Geography and Environmental Management, University of Waterloo, Canada, where he has been teaching for more than 40 years.
Details

Written by

GSTC

Hits: 138
Athens, Greece  - November 15, 2016: The Global Sustainable Tourism Council (GSTC) has announced a new partnership with Green Evolution SA, supporting the regional development of the GSTC's Sustainable Tourism Training Program (STTP) in Southeastern Europe.
With the aim of increasing sustainability awareness and practice in destinations around the world, the STTP offers practical insights into how industry professionals can apply the GSTC Criteria, the global baseline standards for sustainability in travel and tourism. Led by GSTC-authorized expert trainers, the training program also provides a unique opportunity to gain an in-depth understanding of the roles of accreditation and certification in advancing the sustainability agenda in the tourism industry.
Details

Written by

Global Ecovillage Network

Hits: 162
Marrakesh, Morocco, 14 November 2016:
An inspiring, grassroots-focused COP22 side event took, entitled "Improving Nationally Determined Contributions (NDCs): Ecovillage Development, Energy Access and Zero-Carbon Societies in Africa, Asia and the European Union (EU)" was presented by the Global Ecovillage Network (GEN), the International Network for Sustainable Energy (INFORSE) and the Nordic Folkecenter for Renewable Energy (NFVE) in Marrakesh on 11 November.
It was co-moderated by Kosha Anja Joubert, Executive Director, GEN, Gunnar Boye Olesen, INFORSE, and Preben Maegaard, Executive Director, NFVE, and focused on ways through which local solutions may lead to ambitious NDCs, provide energy access and improve livelihoods.
Highlighting intentional, traditional and urban ecovillages, and noting that GEN reaches out to 100,000 communities worldwide, Joubert urged considering new concepts of wealth, celebrating human culture and rebuilding solidarity in local communities.
Details

Written by

UNWTO

Hits: 227
Madrid, Spain, 11 November 2016: Policy experts and statisticians specialized in sustainable development, environment and tourism gathered to agree on the way forward in developing a statistical framework for sustainable tourism. The meeting was held at UNWTO headquarters in Madrid last 20-21 October.
The first meeting of the Working Group of Experts on Measuring Sustainable Tourism (MST) agreed that developing a statistical framework for sustainable tourism is a priority to support integrated policy responses at national and destination level, and urged UNWTO to lead this effort.
The Group agreed that the core rationale for developing a statistical framework is to support the measurement of sustainable tourism in its various dimensions (economic, environmental and social) and at the relevant spatial levels (global, national, sub-national) by providing a common language and organizing structure for exploiting the richness of data already available and for identifying additional data that may be needed.
Details

Written by

The International Union of Food, Agricultural, Hotel, Restaurant, Catering, Tobacco and Allied Workers' Associations (IUF)

Hits: 147
Switzerland, 28 Oct 2016: Speaking before members of the European Parliament on October 19, two hotel housekeepers who are union shop stewards called for action to put an end to the appalling working conditions in Europe's hospitality industry. Gladys Medina (CC.OO) and Carmen Casin (UGT) described to MEPs the permanent job insecurity, high rate of illness and injury and declining wages stemming from massive outsourcing, increased workloads and austerity-driven labour market deregulation.
The two addressed the parliament at the invitation of Spanish United Left MEP Paloma Lopez of the European United Left/Nordic Green Left group, who together with other MEPs adopted a written declaration on the working conditions of hotel cleaning staff in Europe calling on the European Commission to monitor and evaluate the situation of these workers across the EU, among other measures.
The Written Declaration Text is as follows:
Details

Written by

Ecotourism Kenya

Hits: 212
Nairobi, Kenya - 4 November 2016: Il Ngwesi, a pioneering Maasai-owned and operated lodge in Laikipia, Kenya, is celebrating its 20th anniversary. In 1996, encouraged by leading conservationist Ian Craig of neighboring Lewa, the elders of the Maasai community Il Ngwesi took a leap of faith: to move a large number of cattle - for centuries the traditional lifeblood of the Maasai - off a section of its land, turn it over to wildlife, and build an upmarket eco-lodge.
RSS