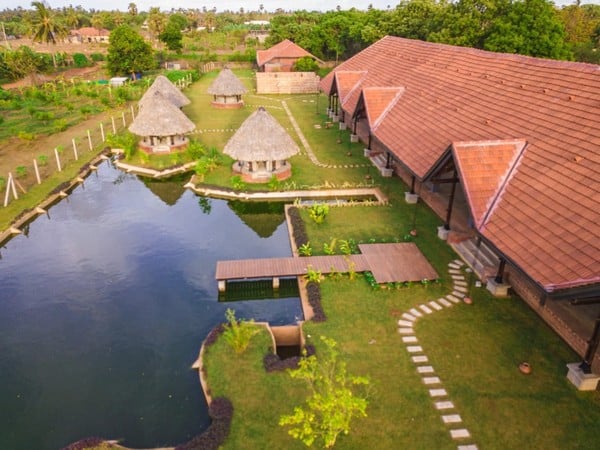 No, 9/10 Puttur Road, Mylankadu, Chunnakam, Jaffna, Sri Lanka, Sri Lanka
Categories:
Details

Map

Gallery

Videos

Sustainability
The Thinnai Organic Farm, sprawled across 10 acres of rich red soil in Chunnakam, Jaffna, produces a variety of healthy green organic vegetables, herbs and fruit. There are cows and goats and free-range chickens. The farm offers accommodation, with a fully fledged farmhouse, a farm room and several tents for glamping. The glamping tents have a bedroom and a verandah and are comfortably appointed with beds, cupboards, a towel/shoe rack and easy chairs. Marutha Manai is the farm's superior farm room with two queen-sized beds, an attached washroom and an open verandah. It offers an immersive experience, located in the farm's organic vegetable gardens. The Pasumai farmhouse is ideal for a more secluded and calming farm stay, with two bedrooms with attached washrooms, a large living space, a private garden and an open verandah. The Saantham Experience Centre, located within the farm, is an open hall where guests can mingle freely and interact with the kitchen's team. Be a farmer for a day, prepare the soil, sow seeds, collect fresh eggs, vegetables, fruit and milk, catch a fish in our pond and our culinary experts will put together a meal for you. There are special activities for kids, yoga and meditation, evening performances, and guided cross-country treks. 
A. Energy Consumption
We have taken measures to ensure sustainable energy management. Following are some examples.
1. We use energy saving LED lights in buildings and rooms.
2. Solar lights are used to light up the garden areas in the hotel and the farm. Limited number of solar lights have been installed at the driver's quarters as well.
3. Timers monitoring electric equipment are being used for garden and room signage lighting.
4. Movement sensors enabled lights are installed at the farm.
5. Twenty (20) units of solar enabled hot water systems are installed at the hotel and the farm.
6. We employ key card energy reduction systems in all guest rooms.
7. VRF system is being used for air conditioning and we use limited number of inverter-based air conditioners.
8. We run laundry with maximum load to reduce electricity and water consumption and the amount of chemicals used.
9. Capacitor banks are used to bring down the energy consumption and sub meters are introduced at different areas.
10. We introduced an initiative called 'I Love Green' to encourage our guests to join us in our sustainability goals. The initiative encourages guests to opt out of having their towels and bed linen laundered for which it rewards them. Thereby the hotel can reduce energy consumption and discharge of water needing treatment. Furthermore, the hotel also rewards guests for opting out of air conditioning which again reduces the use of energy.
B. Water Conservation
1. Thinnai Organic uses sprinklers and drip irrigation system for irrigating the plants instead of traditional Jaffna irrigation system of flooding of the plots. Which helps to save water by more than 50% by reducing the seepage loss.  
2. Mulching is used to reduce the water loss by evaporation. 
3. Waste water from the domestic use is reused for cultivation purposes.
C. Reducing Pollution
1. We have reduced the use of plastics to the maximum:
·        The hotel and farm avoid the purchase of single serve products packed in small plastic containers.
·        We use biodegradable products such as paper straws and glass bottles for drinking water.
·        We have replaced plastic takeaway food containers to biodegradable food containers.
·        Potable water for our guests is produced within our premises and served in sterilized glass bottles.
·        We also use kraft paper packaging for its consumables in guest rooms and moving towards using terracotta containers for shampoo and conditioner.
·        Recyclable materials are used for sanitary bags and single use consumables are not provided.
2. We have also introduced measures to reduce emissions from transportation. We minimize our deliveries and employs a time-specific shuttle service. Purchasing for the hotel is also being done at specific times.
D. Waste Management
1. Treated wastewater from The Thinnai hotel is sent to Thinnai Organic's farms, especially to our satellite farm in Kaithady. The water in Kaithady is highly saline and this treated water plays a crucial role in our efforts to establish a satellite farm there.
2. Food waste and organic materials such as fallen leaves and tree logs from plants in the hotel premises are sent from The Thinnai to the farms to feed the chicken and to make compost. In the long-term, the farm will start supplying cleaned and cut vegetables to the hotel to minimize kitchen waste being transported from the hotel.
3. Dry garbage is being properly segregated and kept for disposal. We keep separate bins for plastics/polythene, paper/cardboard, electronic waste/batteries, glass, and metal along with one for organic waste.
E. Biodiversity, Ecosystem and Landscapes
1. In our Organic Farm, no harmful chemicals are used which not only ensures that the produce is fresh and clean but also results in comparatively less carbon emissions. Moreover, it makes minimal impact to the biodiversity and the ecosystem.
F. Human Rights
1. Proper protection equipment such as Rain Coats, Gum Boots, Hand gloves are provided to all the workers whenever necessary
2. Wages are paid on time.
3. Quality Food and refreshments are provided to all workers.
4. No verbal or physical assault or abuse is permitted at the farm.
5. Sufficient Resting Time and Space are provided to all the workers.
G. Labour Rights
1. All the labour regulations according to Sri Lankan Shop and Office Act are followed.
H. Animal Rights
1. Sufficient free movement and opportunity to express normal patterns of behaviour, such as space to stand naturally, lie down easily, move around freely, groom themselves, sleep and nest comfortably, as well as assume all natural postures and movements such as stretching etc. are ensured to all the animals and birds grown at the farm.
2. All animals and birds grown at the farm have access to sufficient fresh air, water, feed, thermal comfort and natural daylight, to satisfy their needs
3. All animals and birds grown at the farm have access to resting areas, shelter and protection from sunlight, temperature, rain, mud and wind adequate to reduce animal stress
4. All animals and birds grown at the farm have access to suitable materials and areas for exploratory and foraging behaviours;  e. in addition to these general welfare conditions for all animal categories, provisions for specific animal groups are taken into account, e.g. for cattle: social grooming and grazing; for poultry: nesting, wing stretching/flapping, foraging, dust-bathing, perching and preening.
5. No mutilations such as de horning, castration, de beaking, etc. are done to animals and birds