R210105-EC: Apu-Napo Ecolodge - Hotel for Sale - Ecuador
R210105-EC: Apu-Napo Ecolodge - Hotel for Sale - Ecuador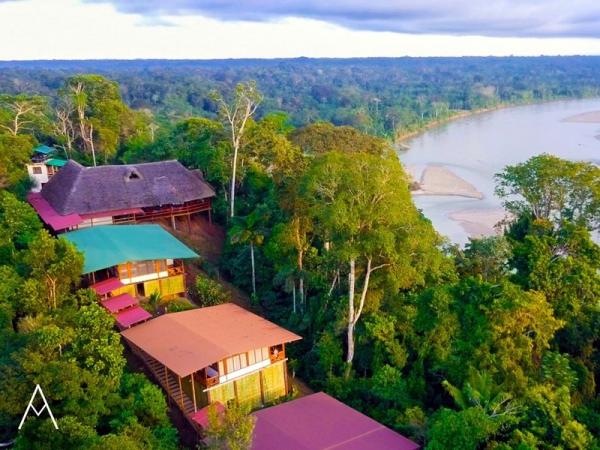 San Vicente de Puerto Rico, Loreto, Ecuador
Categories:
Contact person
Details

Map

Gallery

Videos
Posted: 5 January 2021 - Updated: 23 September 2022
Sale by: Carlos Garcia, Owner
What is being Sold: The property including the associated business
Property Name: Apu-Napo Ecolodge
Company Name: Apu-Napo Ecolodge
Sale Price & Currency: USD 850,000 - Payment facilities are possible such as pay in installments. 
Property Address (actual location): Orellana, 220204 Ecuador Vía Loreto, Vía Agua Santa, San Vicente Puerto Rico, Loreto. 
Fully licensed as an accommodation facility?: Yes
Currently in operation as an accommodation facility?: Yes
Number of Rooms: 13 guestrooms + 8 staff/volunteer-rooms
Number of Bathrooms: 14 bathrooms
Room Facilities:
7 spacious and luxurious cabins with private bathroom each. 
3 standard rooms in the main house "Octagon" with private bathroom each.
3 standard rooms in the main house "Octagon" with shared bathroom (4 toilettes).
8 staff/volunteer rooms with two shared bathrooms.
Restaurant bathroom (4 toilettes)

Details: The 7 luxury cabins:  The luxury cabins are built with fine and durable wood from the Amazon (Cedar, Chonta, Acha). Each cabin has an area of 56m2 with a capacity for up to 5 passengers. Each room consists of a balcony (hammock) with a panoramic view of the Napo River, the treetops of the jungle. The private bathroom has hot water thanks to the solar panels installed. The rooms can be accessed by covered corridors for save and easy entry. | OCTAGON:  The "Octagon" is a construction of cement on two floors with a total area of 344m2.  Ground floor for administrator housing and a space for shelter with capacity for 12 double beds.  Upstairs there are four wooden bedrooms of 16m2 each with a capacity for 12 double passengers. A communal sapce of 60 m2 for meetings therapies sucha as Yoga, Taichi, meditation and viewpoint of 31m2. |  Additionally, 8 wooden rooms separeted into two blocks of four rooms each. 4 rooms for staff. The other 4 additional rooms can be used for volunteers with shared bathrooms and showers.
Common Area Facilities: Dining room and kitchen of 430 m2. The dining room has a capacity of 80 passengers and has a panoramic view of the Napo River. Th dining room infrastructure is made of stone and fine wood like the Black Chonta, its roots is made of straw built with native design. The kitchen is fully equipped. | A complete equipped Bar of 30 m2 is available for tourist to enjoy the view of the Amazonian landscape. It is built with fine and durable wood from the area. It has 4 full bathrooms (4 toilettes). | The three-level tower: The first level used as cellar, the second level as a bedroom and the third level reserved to store three water tanks with a capacity of 75000 liters. They supply the entire place; the water is crystal clear and comes from an eye of water. | OCTAGON:  A communal space of 60 m2 for meetings therapies such as Yoga, Taiichi, meditation and viewpoint of 31m2. | "EL CHOZON": You will find a shack of 80m2 built by natives with a capacity of 50 people for different events, dances, native ceremonies, meditation, etc.
Total Land Area: 58 hectares (144 acres)
Built-up Area: 2146 m2 (23099 ft2)
Is it allowed to add more buildings to the property? The permission to continue building is obtained without difficulty. In front of the Napo River, 15 additional cabins can be built. In the rest of the area 30 or more additional cabins can be built. In summary there is plenty of space for further construction and expansion onsite.
Year of Construction: 2017-2019
Year of last Renovation: In November 2020, the property was well maintained so that it is in excellent condition for sale, this involves painting, lacquering the wood and small repairs. In any case, every month we check that the property is in optimal condition so that it can receive tourists The property is new, it has no damages, therefore it does not need major repairs or small repairs.
Key Materials of Construction:
The main material is resistant wood typical of the area and some fiber cement.

Eco-Architectural Features:
Ayanasha was conceived with the aim of disconnecting us from the daily world and reconnecting us with Mother Earth. 
75% of the construction is wood.
The architecture goes with the environment of Nature.
Free From All Environmental, Sounds And Visual Pollution. And Still Close To Easily Reach Various Tourist Attractions.

Energy Sources & Energy-Saving Features:
The electrical system is powered by a 33 kVA diesel generator, which is enough to supply all services.

Water Sources & Water-Saving Features:
The crystal clear water used by the property comes from a spring located on the property. An electric motor is the one that pumps the water from the water hole to a water tower that has 3 water tanks of 2,500 ml each, that is, in total there is a water reserve of 7,500 liters. This ensures that guests do not run out of water, because the tanks are recharging with water all the time.
Each cabin has solar panels, that is, the shower water has hot and cold water. The solar panels are new (year 2018)

Waste-Management Facilities:
For the waste, a 5m x 4m and 4m high cistern was built around 80m3 enough for more than 50 years.
Separate pipes come out of the cabins.

Awards and Guidebook mentions:
Please find reviews on: https://www.facebook.com/ayanashaec

Description of Location: Ayanasha lodge is in the Ecuadorian Amazon in the heart of the jungle and next to the wonderful Napo river. Of the entire Latin American Amazon, the Ecuadorian jungle is the one with the best access due to travel time, safety and the quality of the roads. Ayanasha is in a strategic and privileged sector, which can be reached from any sector of the country. Ayanasha Lodge has safe trails for walks from 45 minutes to 4 to 6 hours depending on the preference of the tourist, from which you can observe a variety of birds, mammals such as monkeys, guatusas, sainos, among others. In addition, a high variety of trees can be observed (in one hectare of the virgin forest there are more tree species than in the entire US and Canada together). You can also take night walks. After an eight-minute walk from the lodge you will find a wide beach on the banks of the Napo River and a waterfall that is quite enjoyed by tourists. Five minutes away is a tributary of the Napo River, the Huachiyaku River. Here, in the middle of the jungle you can see birds like the Hoatzin (in danger of extinction), Charapas (flat turtles), monkeys and other mammals. Fifteen minutes upriver is the Kichwa indigenous commune called "August 30" that can be visited at any time to learn about their way of life and culture, they have a curandero (shaman) who knows and can explain about medicinal plants. Within 15 minutes, a medical center opening 24 hours every day. We know enough native and settlers from the area for all services and we can put in contact with. Some speak 3 or 4 languages. There is a safe space to leave the vehicles. There is equipment for maintenance: motorized scythe, motorized fumigation pump, etc.

Distance in Km from nearest Beach, type of Beach:
We have a river beach. The closest ocean beaches Pedernales and Esmeraldas are between 500 and 600 km away of the lodge, by vehicle between 10 to 12 hours. (very good transport infrastructure in the country).

Nearby Attractions (within 50 km):
Waterfall and path "De Las Loras"; collection and treatment center for the export of cocoa; 3 native communities: the hamlets of Agua Santa, Cruzchica, Mondana; a virgin of primary forest of 1200 hectares; several tributary rivers of the Napo River.

Nearest Airport: Francisco de Orellana Airport in El Coca (1 hours 30 minutes away from Ayanasha Ecolodge)
Nearest Hospital or Clinic: The Puerto Rico medical center is 15 to 20 minutes away from the lodge.
Nearest School: In Puerto Rico (15 to 20 minutes away)