This was the second live event of the Ecoclub Destinations series, where we showcase eco-friendly destinations without glorifying them. We ask accomplished local sustainable tourism practitioners to present their own work and projects at this destination and explain the challenges they and their colleagues are experiencing in the context of the sustainability of the destination as a whole.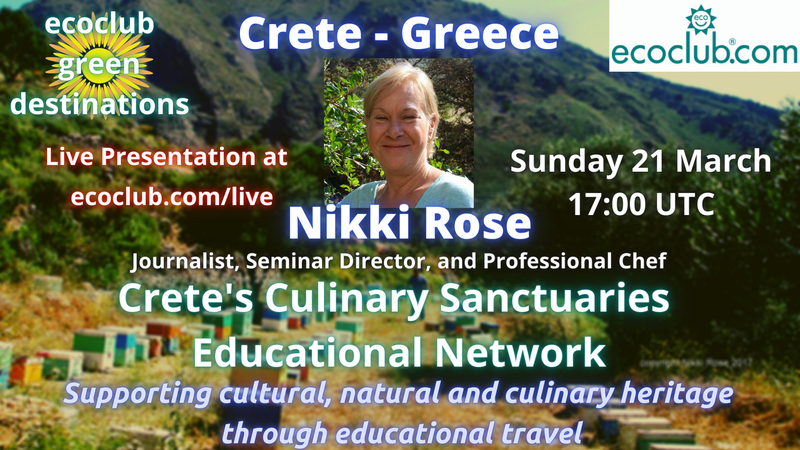 Ecoclub Destinations - 2nd Live Event – Crete, Greece
When: Sunday 21 March at 17:00 UTC (19:00 in Crete, Greece) 
Topic: "Crete's Culinary Sanctuaries Educational Network"
Supporting cultural, natural and culinary heritage protection through educational travel 
Speaker: Nikki Rose
Nikki Rose is a Greek-American journalist, seminar director, and professional chef in Crete, Greece. In 1997, Nikki founded Crete's Culinary Sanctuaries Educational Network to support residents working on action programs to protect and share their heritage. CCS teachers are archaeologists, ecologists, organic farmers, heirloom seed savers, chefs, artists, and many others. CCS organizes accredited educational programs on Crete's culture, nature, organic agriculture and cuisine. Over 3,000 students, teachers and journalists have attended their programs. Their upcoming documentary, Heritage Protectors, is a continuation of their work. CCS is an award-winning program for Best Practices in Responsible/Sustainable Travel, and featured in National Geographic, The New York Times, WTTC, UNWTO, UNCBD, IFOAM-Organics, Agroecology Europe, Routledge Handbooks, Food Tank, and many other organizations, publications and media outlets.
Nikki is a consultant on similar initiatives around the world and has been a most valuable Member of Ecoclub since 2004.
For more details visit www.cookingincrete.com 

Please find background notes below. To watch the presentation please click here
---
Crete, Background Info
Crete, famous in recent years for its healthy diet, the Cretan Diet, is the biggest Greek island, and the fifth in the Mediterannean (8,336 km2). With a permanent population around 650,000, around a quarter of whom work directly in tourism and leisure in the summer months. In 2019 it received around 4.5 million international visitors by charter flights and around 6 million in total. These fell to just over 1 million in 2020.
Crete is a very mountainous island with three peaks above 2,000 meters a.s.l. As a result it has a great diversity of climate and biomes. There are 50 protected areas which belong to the European Natura 2000 network, a Unesco Biosphere reserve (Samaria Gorge, one of 10 major gorges) and a Unesco Geopark (Psiloreitis Mountain). Famous sites include the Minoan era palaces of Knossos and Faistos, tropical Balos Beach and Elafonissi beach, hundreds of caves including the Diktaean Cave on Mt Dikty (Δίκτη) and the Idean Cave on Mt Ida, both claiming fame as the birthplace of Zeus, Byzantine, Venetian and Othoman fortresses and fortified monasteries, the medieval old towns of Chania and Rethymno, the traditional Archanes village and nearby Vathypetro with its 3,500 year old wine press, considered among the worlds oldest. Little known sites include the site of oldest hominid footprints in Europe, 5.6 m y.o. which have been discovered in Trachilos beach, Kissamos and Europe's southernmost glacier, in Mile (η Μηλέ) Lefka Ori at 1,800 m asl (https://www.e-storieskritis.gr/2019/11/1800.html)
Famous but increasingly rare animals include "Kri-kri" the Cretan Ibex, the "Fourogatos" Wild cat, Wild donkey and the caretta sea turtle. In the Southern coast, in Palaiochora dolphin and whale watching is also possible. There are at least 1,893 plant species of which 159 are endemic. Crete has the largest endemism among European islands. There are 11 major rivers including Platanias, Koiliaris, Armyros and Mylopotamos. There are also three lakes of which two are artificial and one, Lake Kourna, is natural. A few years ago it briefly hosted a crocodile, probably an escaped pet, until it was captured.
Evidence of organised setlements goes back to the early neolithic (7000 BCE) in the Knossos area. The the Minoans developed one of the oldest European civilizations on the island, then Crete was colonised by the Mycenean Greeks, Dorian Greeks, followed by the Romans, Byzantines, the Arabs, the Venetians, the Turks, briefly the Egyptians, and again the Turks, and after a 60 year insurrection and 15 years of autonomy Crete joined Greece on 1 December, 1913.
Organised tours on Crete go way back to the start of the 20th century when there were just 8 hotels on the island, but modern Tourism begun in the 1960s with over 40 hotels being built in the northern sandy shores. In 1970 the first large greenhouses were established while in 1971 Heracleion airport started receiving international charter flights. Today around 50% of greenhouses in Greece are in Crete.
Tourist arrivals rapidly grew from 211k in 1973 to 782k in 1980 to 2.5 million in 2003 and 6 Million before the pandemic. Large foreign tour operators control up to 70% of beds which leads to increased leakages and risks when large operators go bust: In 2019 when Thomas Cook collapsed 80% of Cretan hotels had contracts with the operator. The tourism model of Crete is highly seasonal and spatially concentrated as 80% of tourism revenue is produced during the summer months along the northern coast of the Island near the largest cities. At the same time 50% of the Crete's GDP is produced by tourism and leisure.
Uncontrolled development during the 1980s and 1990s led to environmental issues: water pollution and shortages, power cuts, waste management issues, ecosystem damage, congestion, decrease of cultivated land and forest fires. The infamous, illegal Kouroupitos Gorge dumping site near Chania was in operation between 1966 to 2001 when, following heavy daily fines by the EU, it was finally shut and the gorge was restored. Unfortunately there are government pressures to install waste incineration plants on the island.
Famous Cretan products include olive oil, wild greens (Stamnagathi, Papoules, Pentanevro, Ahatzikas and many more) , honey, cheese (Staka, Xygalo, Tiromalama, Xynomyzithra, Graviera), wine (local varieties include Vilana, Vidiano, Dafni, Thrapsathiri, Kotsifali, Liatiko,Malvasia di Candia, Mandilari), Tsikoudia (raki) and bread rusks.
The island has two quality academic institutions, University of Crete in Herakleion and Rethymno, and the Chania Polytechnic. Students have helped boost local incomes during the low winter season.
In 2020 Crete was connected with mainland Greece (Pelopponese) with a 132 km AC electricity submarine cable, the world's longest cable of this type. By 2023 a similar, much longer cable will connect Crete to Attica. Along with the expansion of renewable energy, which is however generating local protests, it is hoped that fossil-fuel electricity power plants on Crete will be made redundant reducing CO2 emissions by 60%.
Despite local protests by environmentalists and after long delays, a new Euros 1bn Airport is currently being built in Kasteli. It will replace the Herakleion airport which before the pandemic was the second busiest in Greece.
---
Presentation, Key Points
A summary of Ms Nikki Rose's presentation appears below:
We started very simply, We built this school without walls 23 years ago to teach travellers how to cook. But then we saw the problems, such as the disappearance of traditional trades such as fishing and small scale farming and bartering in favour of generic tourism and industrial agriculture, we realised we had to do more in terms of educating guests as well as hosts. We wanted to avoid a top bottom approach, and rather have the community develop the program.
Students are taken to archaeological sites to learn about agricultural practices through the ages. They meet fishers, beekepers, botanists, musicians, chefs, artisan food producers, organic farmers, subsistence farmers, rural lodge owners, conservationists, historians, mountaineers and many others.
We even include lessons on Minoan cooking, using replica Minoan era pots.
It took us many years to find the best teachers! It is not easy to find hosts.
There is a great variety of wild plants used in the Cretan cuisine but overharvesting is causing a problem.
As we mainly work with young students (nutritionists and others), we arrange for them to stay in villages, rather than in remote lodges, so that they have more things to do and engage with the local community.
Besides our cooking classes, we teach about heirloom seeds and organic agriculture. We collaborate with international organisations for seed freedom and agroecology. We collect heirloom seeds, package them and give them away in an annual seed exchange festival, covered in our upcoming documentary. We teach students why it is important to save seeds rather than buy them from big companies.
Crete has a significant wine making history, so we include classes on Cretan wine and support young winemakers and small-scale raki makers.
We work with residents on action programs to help preserve Crete's heritage for generations to come.
Crete should follow the example of farmers in California (Napa Valley) who earn a good living after elevating the status of their wine and cuisine to the highest level. Crete can do that too, we just need to work together. On that end we have been working on a documentary 'Heritage Protectors', to record traditions, culture and nature of this island. We are in post-production and will hopefully finish in a year. I have also written hundreds of articles for Slow Tourism and the Culinary Institute of America where I went to school. We are trying to merge organic farming with sustainable tourism.
Crete's heritage and natural resources are still at risk. By rekindling interest in Crete's culture and nature, residents and visitors equally benefit from participating in heritage preservation programs.
Responsible Travel means Respect, Value, Benefits. It involves providing communities with the resources they need to implement programs that work for them.
Travellers should opt for cultural immersion experiences, to spend quality time with residents who are knowledgeable and passionate about Crete's culture, natural beauty and traditional cuisine.
The keys to preserving Crete's heritage are:
Strengthen existing action programs
Direct collaboration with communities
Powerful cultural-natural heritage preservation programs
Protection of our safe, clean food sources
Sustainable organic farming training and expansion
Emphasize the benefits to the local and global community
In the Q & A session, which followed the presentation, the following points were made by Ms Nikki Rose:
- Certification in Agritourism and Sustainable Gastronomy cannot proceed if farmers are protesting on the street and if they are not making a living
- Over the years, the new generation of farmers and vintners are keener on agritourism. When I arrived here there was no Google, no websites. Now young people see the opportunities. Young graduates from Oenology schools in France and Germany, Marketing graduates from English Universities are now reinventing family farms. In the past 10 years, packaging, bottling and marketing have greatly improved.
- Cretans used to sell olive oil in bulk to Italy without any labels. Now they export all over the world.
- Organic agricultural cooperatives are emerging.
- Demand for organic products from discerning travellers in Crete is also increasing.
- It is difficult for small organic producers to export to America. But Germany, Netherlands are already big markets for products from Crete.
- Recovery: Individual travellers will be arriving from June 2021 onwards. Mountaineering and hiking operators may do better this year as will Villa Owners due to social distancing needs.. Nature tour operators do have some bookings. People will hopefully rethink the tourism model.