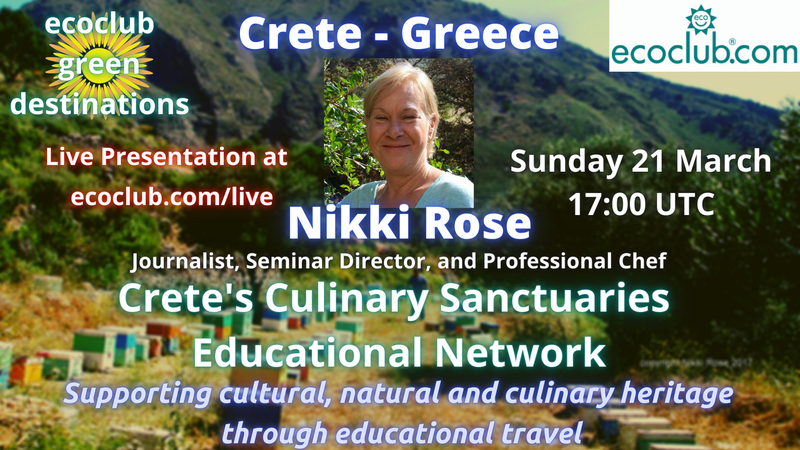 Ecoclub Green Destinations - Live Event – Crete, Greece
When: Sunday 21 March at 17:00 UTC (19:00 in Crete, Greece) 
Where: Participate and ask questions via Zoom or simply watch on Ecoclub at https://ecoclub.com/live
NB. To participate via Zoom, you must register for this event at Zoom 
Topic: "Crete's Culinary Sanctuaries Educational Network"
Supporting cultural, natural and culinary heritage protection through educational travel 
Presentation by Nikki Rose
Nikki Rose is a Greek-American journalist, seminar director, and professional chef in Crete, Greece. In 1997, Nikki founded Crete's Culinary Sanctuaries Educational Network to support residents working on action programs to protect and share their heritage. CCS teachers are archaeologists, ecologists, organic farmers, heirloom seed savers, chefs, artists, and many others. CCS organizes accredited educational programs on Crete's culture, nature, organic agriculture and cuisine. Over 3,000 students, teachers and journalists have attended their programs. Their upcoming documentary, Heritage Protectors, is a continuation of their work. CCS is an award-winning program for Best Practices in Responsible/Sustainable Travel, and featured in National Geographic, The New York Times, WTTC, UNWTO, UNCBD, IFOAM-Organics, Agroecology Europe, Routledge Handbooks, Food Tank, and many other organizations, publications and media outlets.
Nikki is a consultant on similar initiatives around the world. For more details visit www.cookingincrete.com 

Practical info:
Viewers on Zoom may submit questions via Zoom chat during the presentation or in person after the presentation.
We will discuss all questions at the end of the presentation. We allocate up to 30 minutes for the presentation and at least 30 minutes for the discussion section. Cameras and mikes will be switched off during the presentation. They can be opened later by participants who want to ask questions during the discussion section. The presentation and the discussion will be recorded and streamed live on Youtube and Ecoclub. By registering via Zoom you provide your consent to be recorded.  If the Zoom registration link does not work on an Iphone/Android, please try registering from a desktop/laptop.
Event Host: Antonis Petropoulos, Editor, Ecoclub
Language: English.
Entrance: Free of charge - to participate via Zoom please register!
 Questions? Contact us