R200109-FR: L'Orri de Planès - Trailside Ecolodge - Hotel For Sale - France
R200109-FR: L'Orri de Planès - Trailside Ecolodge - Hotel For Sale - France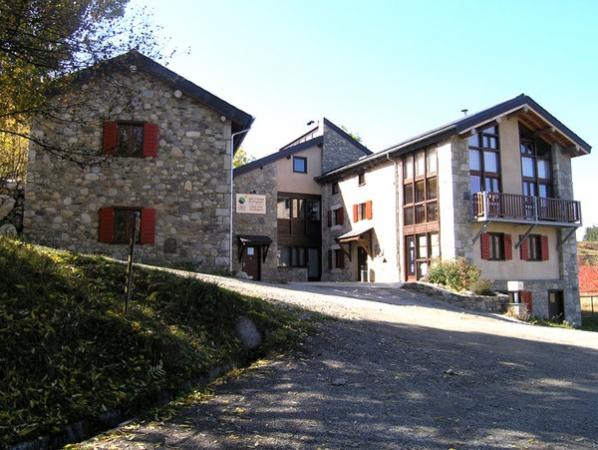 Cases del Mitg, Planès, Pyrénées-Orientales, France
Categories:
Posted: 9 January 2020 Updated: 10 October 2021
Sale by: Mr Arif Qureshi, Co-owner & Co-manager
Company Name: SCI MARIF
Sale Price & Currency: Euros 950,000
Property Address: Cases del Mitg, 66210 Planès, Pyrénées-Orientales, France
Fully licensed as an accommodation facility: Yes
In operation as an accommodation facility: Yes
Number of Rooms: Guesthouse with 9 rooms, Bunkhouse with a dormitory for 16 people, Campground with 4 huts
Number of Bathrooms: 6 in Guesthouse, 2 in Bunkhouse, 2 in Campground 
Room Facilities: Central heating, soundproofed partitions and doors, en suite bathrooms 
Common Area Facilities: Dining room with fireplace, loft sitting area, outdoor pool and terrace, gorgeous site with a mountain stream
Total Land Area: 5000 m2
Built-up Area: 450 m2 
Is it allowed to add more buildings to the property? Not currently 
Year of Construction: Original house over 200 years old. Bunkhouse added in 2005. Huts added in 2014.
Year of last Renovation: 2005
Key Materials of Construction: Our lodge is located in an old farmhouse that was completely remodelled in the 3 years before our opening in 2005. The bunkhouse is a new structure built in 2005-2006; the huts were added in 2014. All renovation and construction work was supervised by an architect specialised in the renovation of older structures and highly sensitive to environmental concerns. Preference was given to the use of natural and locally sourced materials, principally stone and wood, throughout the construction work.
ECO-ARCHITECTURAL FEATURES
Energy Sources & Energy-Saving Features: The complex is a low-energy-use structure that functions principally on renewable energy (solar and wood). Both buildings incorporate double glazing and extensive insulation throughout, along with in floor solar heating. Our "low-energy" classification is based on an energy study carried out by an independent agency using real data recorded over 3 years of operation (total energy consumption less than 50 kwh/m2 per year). A large array of solar panels (both thermal and photovoltaic cells) integrated on the roof structure covers more than half of the total energy needs for the entire structure year round. Solar energy produces hot water, heating and electricity, and serves to heat the pool during Summer.  Other energy sources are propane (2 one ton storage tanks on site) and wood (highly efficient Jotul fireplace insert in the dining room). Detailed energy consumption data (monthly readings and yearly totals) is available on request. A full renovation of the heating system was recently completed (during April and May 2018). Work included installation of two new high efficiency propane heaters and a redesign of the interface between the solar installation and the conventional heating system aimed at improving the productivity of the solar system. A custom designed computer program allows remote access (via Internet) to change desired temperatures in each zone of the lodge.
Water Sources & Water-Saving Features: Village water is sourced from a natural spring located several hundred meters above our lodge, at about 1650m a.s.l. Regularly monitored by health authorities, our water is currently extremely pure and is drinkable without any need for treatment. We have installed low-flow showerheads and faucets and double flush toilets throughout the structure and have two self-composting toilets in the campground.
Waste-Management Facilities: Trash collection and recycling with separate collection bins for glass, packages and cardboard are located in the village; a large wooden composting bin is situated on our property.
Awards and Guidebook mentions: Shortly after opening (in 2007), we received the Ecorismo Sustainable Tourism Award for our environmental initiatives. Over the past 15 years, we have also been certified for our sustainable practices by Gîtes de France (Eco-gîte), the Green Key and the European Eco-label, and we are or have been listed in various guidebooks including the Guide du Routard, the Petit Futé, Alistar Sawday's, etc.
Description of Location: The property is located at 1,550 m a.s.l. in the French Eastern Pyrenees. Part prairie and part forest, it is bordered by a pristine mountain stream and is situated directly on the GR 10 (Trans-Pyrenees walking trail that connects the Mediterranean sea with the Atlantic ocean) and the GR36 (long distance walking trail that traverses France from North to South). Set at the top of the tiny village of Planès, it is just 2 km from the Cambre d'Aze family ski resort, 5 km from Mont Louis and 15 kms from the Font Romeu and les Angles ski resorts.
Distance in Km from nearest Beach: The Matemale lake is located 12 km from the lodge and has a beach and sailing center. The Mediterranean sea is 90 km away and is visible from the hill above the village.
Nearby Attractions (within 50 km): Numerous hiking trails on site. Three hot mineral springs resorts nearby. Numerous alpine and cross-country ski resorts within a radius of 20 km. 
Nearest Airports: Perpignan (France) and Girona (Spain) airports at approximately 90 kms; Toulouse (France) and Barcelona (Spain) airports at 130 km.
Nearest Hospitals or Clinics: Local health clinic at 10 km; Puigcerdà International Hospital at 20 km.
Nearest School: Saint Pierre dels Forcats at 3 km.