2 minutes reading time
(440 words)
An experimental authentic experience of Eco-Tourism in Dana Biosphere Reserve, Jordan (IUCN MEET project)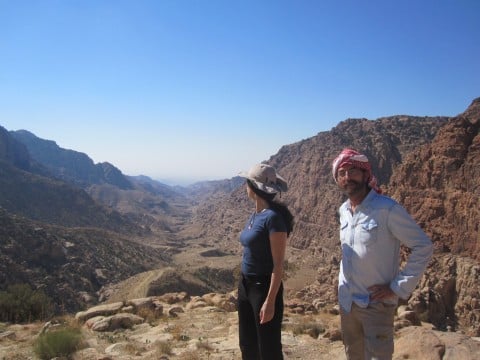 Photo 1. This is Dana Biosphere Reserve and Javier Zapata from Spain, one of my three co-travelers/trip testers/new friends.
The MEET project follows a participatory planning approach, where managers of protected areas, local tour operators and service providers work in close synergy to develop ecotourism activities in Mediterranean protected areas.
I couldn't resist writing about my experience from a recent MEET test-trip in Dana Biosphere Reserve in Jordan, called "Rift Valley Mountain Trek". This package was developed by the managers and the people of the Dana Protected Area, under the coordination of the Royal Society for the Conservation of Nature (RSCN) of Jordan; the tour was conducted by the local tour operator Discovery Circle Tours.
Photo 2. Our guide, Aed
I feel very lucky I took part in such an authentic and in part also adventurous trip – as our team (of four) was the first to try out this new tour. Local Bedouins, pleasant and friendly, guided us around the Dana Biosphere to Petra. After roughly 100km and five days of hiking (4-7 hours every day) in beautiful mountains and valleys (wadis), we definitely earned our way to the magical site of Petra. The ecotourism character of the trip was re-enforced by the night we spent in Feynan, one of the best worldwide eco-lodges according to National Geographic. Placed literally in the middle of nowhere in Dana reserve, it relies exclusively on solar panels for electricity which is used with Spartan discipline. At nightfall, a sea of candles, which are handcrafted by local women, creates a unique atmosphere.
Photo 3. Hiking through wadis and siks (photo by Dennis Van Dijk)
Photo 4. Reaching to Petra by hiking (yes, we have been lost. Here is Dennis from Holland)

Photo 5. Feynan has an impressive ecological and functional design.
Photo 6. Relaxing in Bedouin tents. Next to the fire, our co-traveler Carole Favre from small-matters.
(photo by J.Zapata)
A good start is key to success, but there is still quite some work to be done in order to improve the package so that it can satisfy the demanding eco-tourist. One thing is certain: the scenery is there waiting to be enjoyed, and the wonderful locals and RSCN are ready to work hard for it.
Now, back to Amman, I'm writing these lines, waiting for my flight back home. The first Internet connection since days brings my thoughts to a grinding halt, and down to the realities of our "civilized" world. I read about the Paris attacks, and only wish I could escape again to these isolated and calm, magnificent mountain landscapes.
Photo 7. Shobak area view (photo by Dennis Van Dijk)
Related Posts