By accepting you will be accessing a service provided by a third-party external to https://ecoclub.com/
1 minute reading time
(294 words)
Friday Happiness in Algarve, Portugal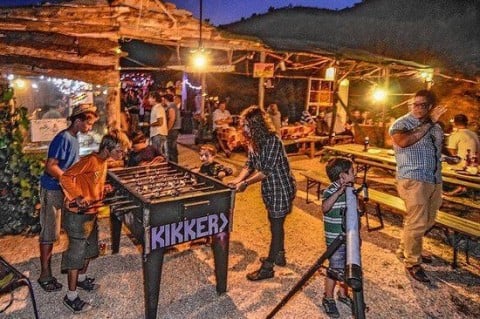 Last summer, I came across a new surreal place in the middle of Algarve, south of Portugal: FridayHappiness in Tojeiro. Located near a small village approximately 300km down south from Lisbon. This charming campsite with a beautiful view in between the mountains, built from recycled and local materials is an association promoting agriculture, art, and consciousness.
A community of people coming from the five corners of the earth are living and staying on this very well-organized campsite, with the objectives and mission to live fully self-sustain. Many volunteers come and stay for a minimum of 3 months up to several years, for some of them.
What began initially as a gathering of some friends a Friday night around a slice of pizza and some music, became an official venue called "Pizza Night Algarve" where children and adults are welcome on the campsite and offered pizza-all-you-can eat and lasagna for 10euros p/p (and free for children below 16). Families and friends are welcome in a very warm and cozy atmosphere, with music, pizza cooked from the stone oven, and a comfortable place to eat and connect with people.
Their ethical values lie in finding an alternative place for self-awareness and cultural exchange excluded from social media. It aims to be a place where people with different ideas and lifestyles gather and help each other. They want to promote values such as being human and care for each other. They respect all beings on earth (human, animal, plants, water, air). It is a non-profit organization where everyone is welcome as soon as they help, contribute and respect individual freedom. The community is based on self-reliance and wants to create an environmentally conscious community where many coexisting individuals generate solutions that can be used in larger contexts