4 minutes reading time
(824 words)
Mano Cambiada, Chocó, Colombia
From 15-18 September, 2012, I accompanied a group of tour operators from Ecuador, the UK and the US who visited Colombia's Pacific coast in the Chocó region. We had been invited to assess the work of a Colombian NGO, Mano Cambiada (http://nuquipacifico.com). The project is based in the town of Nuquí, which can reached only by air from Medellín (1¼ hours) or Quibdó (about 20 minutes; Quibdó is 8-9 hours by bus from Medellín), or by boat from Buenaventura (18-20 hours). The population of the Chocó region is largely Afro-Colombian.
The following is a summary of a presentation to our group by Mano Cambiada and BioRedd+ (www.bioredd.org, the Colombian agency working with Mano Cambiada to implement a grant from USAID) on 17 September 2012.
Mano Cambiada has been operating for six years. Its primary aim is to make the people of Chocó proud of what they have and of their culture. For a long time the people on the coast have lived "in paradise" (it is a beautiful part of the country, with tropical forest and mangroves on the shores of the Pacific), but most of the time those people have been complaining about their poor lot. Mano Cambiada aims to change that using a model for local development and autonomy which includes ecotourism: local communities acting as hosts. It is not possible to implement tourism sustainably with insufficient basic services. As it is the state's duty to provide those services, Mano Cambiada has presented a plan to, and is putting pressure on all levels of government to provide them. The aim is to promote sustainability based on inclusive businesses that are linked together.
Mano Cambiada's main strength is its very existence. At its core are four leaders. Its brand, Nuquí Pacífico, is established and the local communities who are involved have their own guides. The biggest difficulties it faces are: a) to break the paradigm of poverty and lack of self-esteem; b) to end victimisation and "asistencialismo" (paternalism, dependency, hand-outs); c) the overestimation of money and expecting immediate results and profitability (in other words, people cannot wait for results).
It's not a question of money, but ecotourism is a means of bringing in money, and money facilitates lots of things. 20 years ago ecotourism in the region was started by entrepreneurs from Medellín, but now local communities are taking ecotourism into their own hands.
Before 1991 black people were not recognised as an ethnic group in Colombia. In 1993, land was given to local communities, but it cannot be sold. Nevertheless, individuals have sold land to outsiders, which is considered an act of bad faith (for instance, of the 45 km of beach in the area, 43 km are in outsiders' hands).
Mano Cambiada has a 10-year contract with the central government to run the tourist services in the Parque Nacional Natural Utría (www.parquesnacionales.gov.co/PNN/portel/libreria/php/decide.php?patron=01.022918).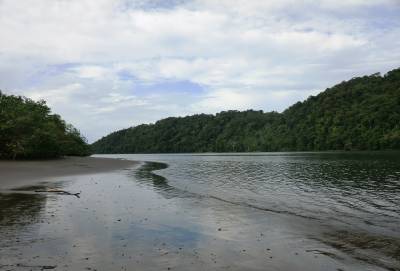 ensenada-de-Utria-01.jpg
The park comprises 54,300 hectares of tropical rainforest, mangroves, estuaries, beaches, cliffs and coral reefs. Activities in the park include swimming, trekking, diving, whale-watching and biological research. The Corporación Mano Cambiada tour operator provides accommodation in a lodge and restaurant in the park, transport and local guides, with complimentary services (in addition to those mentioned above) of fishing, handicrafts, visits to hot springs and assistance before and during the visit. Utría is the primary focus of Mano Cambiada's operations, from which visitors can be encouraged to spread to other areas: the communities of Jobí, Chingo, Coquí and Termales.
They want to avoid the situation where a big hotel is built and the local community becomes subservient and dependent on that hotel.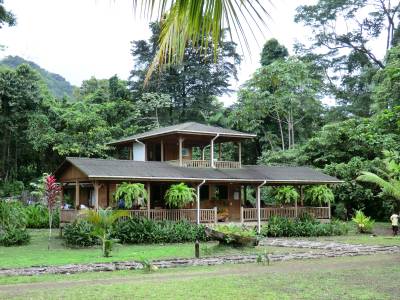 Lodge-at-Utria-01.jpg
Mano Cambiada also promotes the region through a Festival de la Migración Pacífica, 24-29 August, which celebrates the annual migration of birds, turtles and whales. The various species arrive mainly between July and October.
Echoing a point mentioned in my brief report on More Local on the ECOCLUB.com pages, Colombia is still being seen as a risky destination, but the Chocó region, once regarded as a terrorist "hotspot", is now safe to visit. Mano Cambiada wants to encourage international visitors to its project, largely because for most Colombians it is an expensive destination. In the view of the tour operators who went on the trip, there is no reason why this should not be achieved, given a few practical adjustments to accommodate the demands of the international market. Overall, it was felt that Mano Cambiada's approach, looking for long-term sustainable tourism incorporating fair trade principles and eco-consciousness, while not looking for short-term financial gain, is highly recommendable.
Footnote: the meaning of Mano Cambiada:
To uphold the basic tenets of Pacific coastal society, comprised of three basic ancestral traditions:
"El trueque", the exchange of goods; "la minga", communal labour; and "mano cambiada", the exchange of each person's skills (eg the doctor will exchange his time and expertise in return for the skilled labour of the carpenter).
Related Posts