Marinaleda (pop. 2700) a town 100 km east of Seville, in southern Spain near Gibraltar, where:
- local people rent 3-bedroom-houses with garden from the municipality for Euros 15 per month - inhabitants successfully expropriated a 3,000 acre estate a Duke in 1991 enjoy near full employment in a region with over 20% unemployment, with 8 agricultural cooperatives, equal pay (Euros 47 per day) and 6 and a half hour working day!
- Sánchez Gordillo, the keffiye-wearing, 54 year old mayor has been democratically elected every 4 years for the past 30 years! - there are no policemen - 'no need' according to the mayor - nor priests, as all have access to a modern health centre, schools, nursery sports centre, home services for the elderly, a pensioners' centre, a large cultural centre, a swimming pool, a football stadium, a nature park and gardens, and workshops from bricklaying to ecological agriculture.
- Holy Week is celebrated every year as Peace Week with a 5 day partying attracting youths from as far as Madrid
- Direct democracy and solidarity thrive, combining ecology & socialism.
A Utopia? The town thinks so: its official red-green coat of arms clearly states "Marinaleda - a Utopia for Peace"!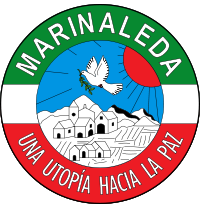 Sources/More Reading:
Official Website: http://www.marinaleda.com
Excellent article: http://douglascuba.blogspot.com/2010/04/marinaleda-another-world-is-possible.html
Video: http://www.youtube.com/watch?v=ZOEG4lmVp7Y
Wikipedia: http://en.wikipedia.org/wiki/Marinaleda