"Certification is required to ensure that greenwashing does not occur and Tour Operators like ourselves are held accountable to processes and procedures"
Rob Rankin is the Founder and Owner of Vagabond, the first Irish tour operator to be gold certified by EcoTourism Ireland. Originally from Scotland, he has lived in Ireland for many happy years. Mr Rankin is an outdoor enthusiast and also a keen amateur historian with an MA in Modern History, thus running Vagabond is the perfect vocation for him. He is married, "with three small children, four goldfish and a snake", which we are told are kept in different rooms!
ecoclub.com: How did you get the inspiration for this novel tour operation model and why did you choose Ireland? 
Rob Rankin: Vagabond Tours were established in February 2002.  Myself and my wife Amy had been travelling in Southern Africa. While there, we saw the safari and 'overland' tours that were so popular and realised that a more adventurous way of seeing Ireland would be a fantastic experience for visitors. Ireland may not have the lions, elephants and deserts of Africa, but it certainly has plenty of great scenery, fascinating history and a few wild creatures running loose. Just what you need for a good safari. Since 2002 Vagabond has grown steadily year on year, building an excellent reputation within the Irish Tourism industry and with customers abroad. We have won several awards and been featured in numerous articles in publications around the world.
ecoclub.com: You recently became the first Irish tour operator to be gold certified by EcoTourism Ireland. In what fundamental ways is your operation greener and what was the main attraction/incentive of certification to you? Proof to the customers? The conventional wisdom is that certification has failed as there is not adequate demand from tourists - do you share this view?
Rob Rankin: Vagabond Tours are extremely proud to be certified at the highest possible level by EcoTourism Ireland, an organisation at the forefront of developing a high-quality ecotourism experience for the tourism market. The main incentive of our certification project was to put in place relevant new policies and procedures to ensure we were being as 'Green' as possible throughout our business. At Vagabond we always thought in terms of sustainability and implemented certain checks but now we have the certification to prove to our peers and guests we are adhering to them. We believe that Sustainable Tourism will become a more important driver in the not so distant future in guests' decisions on how and who to travel with.
Vagabond feels that certification is required to ensure that greenwashing does not occur and Tour Operators like ourselves are held accountable to processes and procedures. In fact, at the Adventure Trade Conference in London earlier this year, one of the keynote speakers pointed out that going forward, sustainable tourism will 'not be an option, it will be a prerequisite'. Reviews and customer feedback are already starting to reflect positively on our green measures and values. It may not always be a deciding factor in people choosing to travel with us, but we are sure it helps. And anyway, it is the right thing to do.
Some of the measures and practises that Vagabond employ to reduce our environmental impact are:
Carbon Neutrality: Last year we completely offset our carbon footprint for 2016 with the planting of 110 trees in conjunction with the Woodland Trust UK. We have great plans for increased planting going forward - more news to follow!
Back at base: We undertook a number of initiatives at our office base. We increased our recycling rate to over 95% of waste, we retrofitted LED lighting, thus reducing our electricity consumption by 60%). We are in the process of installing solar panels to further reduce our carbon footprint.
Team Training: We also firmly believe we have a responsibility to educate our guests and all of our Guides have completed Leave No Trace Ireland awareness training. This helps enable them to instil a love and respect for our environment amongst our guests which we hope they will take home with them. Later this year we will sponsor our guides to undergo Leave No Trace Trainer courses, which we see as the next natural step in the process.
Vehicle Operations: Our vehicles are modern, new and super-efficient Mercedes and Volkswagen models. Our drivers are trained to drive in a smooth, safe and efficient way. Their driving is monitored via GPS systems with alerts set for engine idling, aggressive driving and heavy braking - all factors which increase fuel consumption and vehicle wear. We have even stopped 'washing' our vehicles and now use a biodegradable spray on solution - and lots of elbow grease! We estimate that this will save a minimum of 70,000 litres of water this year. Each vehicle is also equipped with separate recyclable and ordinary waste receptacles.
Composting: We supply completely compostable cups and lids to all our guests. The used cups are brought back to base by guides at the end of the tour, from where we bring them to an industrial compost unit.
ecoclub.com: As you mentioned your tours are Carbon neutral as you engage in tree planting. Do you also consider alternative routes to carbon neutrality, such as introducing more hiking and biking, incorporating public transport, bikes, and, when cost and infrastructure allow, electric or hydrogen/fuel cell mini-vans?
Rob Rankin: For each new tour product created we consider what activities we can include to offer the guest the best experience of that area but also how we can maximise our Natural Landscape. At first glance, you might think that operating larger vehicles is not an eco-friendly way of visitors travelling around Ireland. However, we have invested heavily in our fleet over the last five years and almost all our vehicles are the using the very latest Volkswagen 1.9l turbo diesel or Mercedes 2.2l turbo diesel engines. When you consider that these vehicles can carry up to 17 people and luggage, this is relatively a very small amount of CO2 emitted per person (if you were to compare emission to 2 people in a rental car with 1.3l engine). We do still have our Land Rover's which have larger 2.5l turbo diesel engines, but even these are very fuel efficient per person as they can carry 12 people at a time. Our drivers are trained to drive in a smooth, safe and considerate way. This is not only vital for safety and passenger comfort but smooth driving also significantly reduces fuel consumption and wear and tear on vehicles. We have used public transport as part of the tours, but we have found that it doesn't always fit in the type of customer experience we like to offer. But we are looking into electric vehicles, so watch this space…
ecoclub.com: Looking at the bios of your team on your website, it is clear that you have assembled a stellar guide team. Was it simply a matter of attracting best talent through high wages, through your business success or something else? Do you perhaps offer a career path to shareholding/partnership?
Rob Rankin: A wise man once told me that building a good team is 80% recruitments and 20% training, and I pretty much agree. At Vagabond Tours our motto to guests is 'We want you to love Ireland as much as we do' – we carry this through to our guide team and it shows. We are very lucky at attracting guides who are very passionate about Ireland and its immersive culture. We are extremely selective and our guides are trained to a very high standard when they join the company, and then every year pre-season. We also hold a review weekend at the end of each season to ensure that we listen and take on board feedback from our amazing guide team who are out on the road on a daily basis. Some of our guides have moved up within the company to roles such as Transport and Operations Supervisor, Russell and our General Manager Larry who was also a driver guide. We also mentor other guides who have started their own tour businesses and try and offer advice and support to help them get off the ground.
ecoclub.com: You took the trouble to create an impressive well-designed website, at a time when many businesses think they only need a social media presence. Have you found it worthwhile, is there a measurable benefit from having such a great website?
Rob Rankin: As a predominant B2C Tour Operator our website is our 'Shop Window' and is crucial in showcasing what a Vagabond Tour is all about. At a marketing level we know that having an integrated approach is very important, it is not enough just to have a social media presence. Our website is very informative and allows you to really understand what our tours are about. This level of information we feel would not be possible purely through just a social media presence. We spend a lot of time and effort on our SEO also to rank high for small group tours of Ireland – our website is, therefore, a key destination for our organic traffic.
ecoclub.com: Why should a discerning tourist choose a fully-guided tour over independent travel? Do you mostly appeal to singles or families? Do people start friendships on your tours?
Rob Rankin: Vagabond Tours of Ireland attracts a range of different travellers from solo guests, to couples (we recently had an engagement on tour), small groups of friends and multigenerational groups – our minimum age is 9 for children. At Vagabond we feel our off the beaten track, the fully guided tour allows you to relax, no driving and navigating! As we go off the beaten track we show you lots of hidden gems that you might not find if you were travelling independently. We offer flexibility within the day in terms of activities or things to see and do, so there is a level of choice which we find our guests really appreciate. As the tour size is a maximum of 13 on a Vagabond Tour and 16 on a Driftwood Tour it is an intimate experience that allows friendships to be forged. We have even had a Vagabond marriage when a man from Texas found his future wife from Germany on one of our tours!
ecoclub.com: Is Brexit affecting your business in any way? Are you anticipating any significant changes?
Rob Rankin: Vagabond Tours main market is not Great Britain so in terms of guests choosing Vagabond we have not experienced any changes. We must continue to monitor the Sterling Exchange rate as this would have a direct impact on us. One of our key competitors as a destination from North America is Scotland so as currencies fluctuate we must be vigilant and ensure our destination remains top of mind for our North American visitors. It is unclear as yet how Brexit will affect our tours travelling to Northern Ireland but this region will remain an area we in which we operate.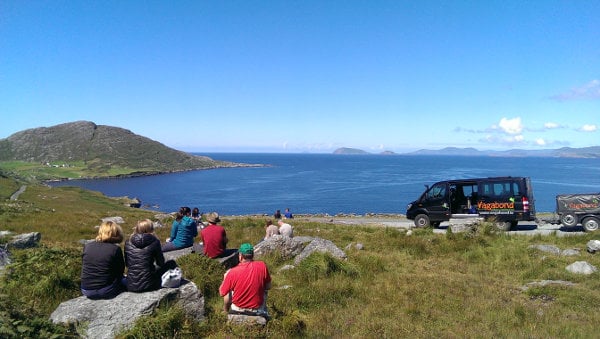 ecoclub.com: From your experience with running tours in both Northern Ireland and the Republic of Ireland, and as a trained Historian, do you have any concrete evidence that small-scale tourism is indeed contributing to peacebuilding and intercommunal trust-building?
Rob Rankin: I don't have any concrete evidence as such, but I am sure that as more people become involved in tourism and hospitality in Northern Ireland and as they cater for more international visitors of all cultures, that this will be good for cross-community relations. The people of Northern Ireland are justifiably very proud of where they live, and the story they have to tell and we find that our passengers are made to feel very welcome there. Plus of course, there are the obvious economic benefits of tourism for a region that has long struggled to attract outside investment. One of the activities we offer to our guests is the famous Belfast Black Taxi Cab Tours – infamous for giving visitors a unique, unpolished real person historical account of the 'Troubles', from both sides of the community and divisive past.
ecoclub.com: What key improvements would you like to see in Ireland's Tourism?
Rob Rankin: Tourism Ireland the marketing body for the island of Ireland does a remarkable job in promoting and marketing our island overseas. Ireland has super potential to be more sustainable overall. To ensure there is support for companies in Ireland who are trying to achieve sustainable tourism practices should be welcomed, supported and rewarded. More work could be done here to include sustainable tourism and environmental best practice as part of official approvals, with accommodation and other such areas.  Ireland is a diverse country with a lot to offer and to encourage regional spread it would be super to see less known spots to being showcased as well as the well-known areas. 
ecoclub.com: Do you have any advice for someone wishing to set up similar small-scale, green adventure and cultural tours in another country on how to avoid common pitfalls?
Rob Rankin: Get lots of good advice! Think about what your customers might want to do, not what you think they want to do. When costing your product, be realistic about your season and occupancy projections. Be organised. Plan ahead!
ecoclub.com: Regarding your future business goals, would you consider expanding vertically - for example, owning accommodation, attractions, pit stops - or expanding overseas - perhaps in your native Scotland? Or are you happy to continue as the leading green small-scale outfit in Ireland?
Rob Rankin: We are looking at various options at the moment, it will be a direction that complements our current operations. And it will be in Ireland!
ecoclub.com: Thank you very much. We wish you further, great success with your green adventure tours!