6 minutes reading time
(1235 words)
Exploring the rich tribal cultures and nature of India's Chhattisgarh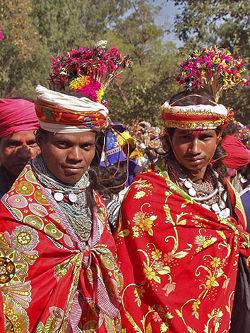 by Saurabh Agrawal, Chinkara Journeys
The newly carved state of Chhattisgarh lies in the heart of the India and is still charting its destiny. Many pleasant surprises await the visitor, in a land where mysteries unfold at every step, where history awaits to be discovered at every turn and where nature pours forth its bounty as the journey progresses. Its remoteness made Chhattisgarh one of the least known parts of the India that, incidentally, still remains relatively unexplored.
In this land you can do countless things but we have chosen the best five for you!
1. Tribal life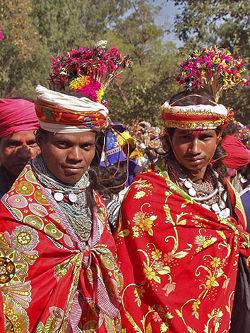 Baiga tribal peopleThe state prides itself on a tribal culture that dates back several millennia and the music, culture and craft of the tribal communities that can still be experienced across the state. There are as many as 42 tribes in Chhattisgarh and make up around a third of the population. The highest tribal concentration is in the districts of Bastar, Dantewada and Jashpur. The main tribal communities of Chhattisgarh are Gonds, Maria, Muria, Bhatra, Baiga and Halba. Despite the push towards modernity in the 21th Century, the tribal communities of Chhattisgarh have managed to retain their unique identity and continue with their age old practices. The forests have always been their friend and they have lived off and given back to the forest. No visit to the tribal areas is complete without a visit to one of the local weekly markets or haats. The haat is the lifeline of the rural economy of Bastar where locals find items for daily needs. It is also a sort of an outing for tribal communities and a chance for them to bring their produce to the open market. The haats are also a place to sample the local brew, mahua and sulfi. The tribal haats offer a unique opportunity and experience to the tourists to meet the locals and get a taste of traditional culture.
2. Nature's Goodness
With a considerable forest cover (44% and 12% share of the total size of India's forests), three national park s and eleven sanctuaries, Chhattisgarh can undoubtedly be branded as India's 'green state'. The forest cover comprises mainly of tropical moist and dry deciduous forests and is very rich in endemic species and medicinal plants with over 500 species identified so far. Wildlife and Nature Tourism are still at nascent stage with low tourist numbers and promise a true wildlife experience.
Barnawapara Wildlife Sanctuary: Covering an area of 245 sq km, a sense of peace prevails here. Close to the state capital Raipur at 100 km, the sanctuary is rich in wildlife with high concentration of Gaur or Indian Bison Bosgaurus and leopard.
Achanakmar Tiger Reserve: Covering an area of 557 sq km it is comprised of hilly terrain Sal (Shorea robusta) forest. The reserve is connected to Kanha National Park in Madhya Pradesh and home to variety of wildlife including tiger, sloth bear, leopard and wild dogs.
Kanger Valley National Park: Located in the Bastar region, it is one of the most beautiful and densest reserve of Chhattisgarh. Lying in a transition zone that connects moist peninsular Sal forests and the South Indian tropical moist deciduous forests, Kanger acts as a corridor for birds where numerous bird species can be found which do not occur elsewhere in Central India.Other attractions inside the park include subterranean limestone caves.
3. Romancing the stone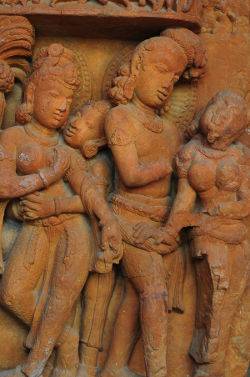 History lies waiting to be discovered at every step in Chhattisgarh, a treasure trove of archaeological finds. Endowed with forest, rich mineral deposits and precious stones, this land held an irresistible allure to a succession of rulers.
Sirpur: It can be best described as an open-air museum and a town of temples. Located on the banks of the Mahanadi, Sirpur is an important historical site that dates back to 7th c. AD. Its remains are associated with Buddhist, Shaiva, Vaishnava and Jain faiths. Excavations have yielded extensive ruins of ancient structures scattered over a vast area. Among the numerous temples and Buddhist monasteries (vihars), the most notable are the Laxman temple, Gandeshwara temple, Anandaprabhu Kutir Vihar and Swastika Vihar.
Bhoramdeo: Built in 1089 AD by Laxman Dev Rai, the Bhoramdeo temple has erotic sculptures similar to those at the world-famous Khajuraho temple. This exquisite temple has some beautiful examples of Vaishnava, Shaiva and Jain sculptures.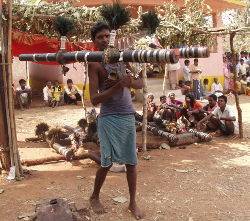 Tribal festival in Chhattisgarh4. Fairs and Festivals
Chhattisgarh Festivals tell the multi-hued tale of cultural ecstasy of the state. The ancient times of Chhattisgarh have scripted the history of many tribal and non-tribal festivals. From Dussera and Madhai in Bastar to RajimKumbh, the state is brimming with a pulsating palate of festivals.
Bastar Dussera: It is the region's most important festival, and all the tribes participate in the 10-day event. Here, the tribal people celebrate Dussehra as a congregation of Devi Maoli (Bastar's native deity) and all her sisters. Bastar Dussehra involves the participation of diverse tribes and castes. Hundreds of priests bring flower-bedecked local deities to the Danteshwari temple in Jagdalpur, arriving with all pomp and show.The important event during dussera is the rathyatra (Chariot procession). The massive chariot is hewn afresh each year, and the sight of 400 Maria tribesmen pulling it leaves a potent impression of tribal faith.
Bastar Madhai: This tribal festival is celebrated by the tribes of Kanker and Bastar regions, to worship the local Goddess. It travels through the year from one place of the state to another from December to March. It is held in a big ground, so that thousands of people can attend the ceremony, which starts with a procession of the local Goddess, followed by worship of the same. The event is celebrated with tribal dances, folk songs, and tribal theatre held in the open grounds to praise the Goddess. The Madai festival is a grand collective festival that connects all the various tribes of Chattisgarh by a common thread.
Rajim Kumbh: Rajim Kumbh is a Hindu pilgrimage held every year in Rajim of Chattisgarh. Located on the holy confluence of the Mahanadi, Pairi and Sondur rivers, Rajim observes thousands of Sadhu and Saints, who come each year to attend the festival. Rajim Kumbh starts from Magh Purnima (Feb- Mar) and continues for 15 days. People start coming to Rajim one day ahead of time, and take part in the special puja.
Bell metal casting5. Fine Art
Gracing homes across the world these artifacts of metal and wood are proof of a fertile imagination and the fine hand of the craftsmen of the state. Using available resources, tribals have evolved a rich craft traditions and continue to create works of art in iron, bell metal and terracotta.
Bell metal: Metal casting is the most distinguished craft of Chhattisgarh. It is practiced in many parts of the state with Bastar being the hub. Made of 60 percent copper and 40 percent zinc, bell metal is cast using cireperdue or the lost wax process, which interestingly continues to be carried out in the same way as it was when first used.
Iron work: Recycled scrap iron forms the main raw material for this craft. It is used to create not just decorative artifacts but also household objects and farm equipment. The production method used for this craft is simple and indigenous as iron is beaten when hot. At Komdagaon almost the entire village is engaged in this craft.
Related Posts