2 minutes reading time
(389 words)
Unique, 5,000 year old Keros artefacts exhibition now on in Athens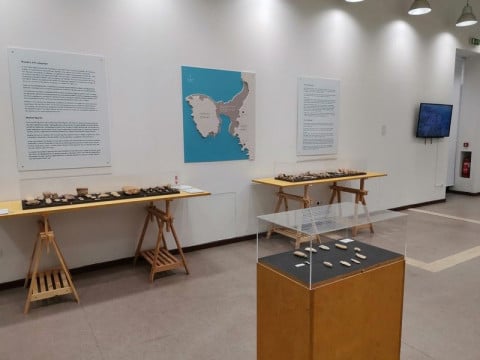 Chances are that, unless you are an archaeology buff, you have not heard about the Greek Aegean island of Keros. 60 km SE of famous Mykonos, it is its antithesis, as it is totally uninhabited, unless you count an endless stream of archaeologists from all over the world (that keep digging during the day and return by boat to nearby Koufonisia island in the evening). Five thousand years ago Keros was bustling, as one of the most important centres of the mysterious Cycladic Civilization (2,700-2,300 BCE), one of the earliest, advanced civilizations in Europe, that left us no written records but fortunately gave us some wonderful art in the form of the characteristic, modern-art looking, white figurines that influenced Picasso and Henry Moore among others. For the time being, nobody else apart from archaeologists is allowed to land, let alone stay, on Keros, which is a great pity. Recently monumental, marble staircases and walls 1.5 metres high have been discovered at Daskalio, an islet, formerly a cape of Keros, now separated by a shallow sea. What you can visit however is a wonderful exhibition about these recent findings, part of the ongoing excavations by The Cambridge Keros Project, led for many years by the famous British Archaeologist Lord Colin Renfrew. The exhibition is housed at the Gallery of the Municipality of Athens, in a listed 19th century building, a silk factory ('Metaxourgeio') which gave its name to the namesake area of central Athens. Among the extremely rare findings, are an early linear script sign on pottery, preserved seeds from figs, olives and wheat, a rare gold earring (?) which is the oldest of its kind in the Aegean and obsidian pieces from Anatolia - all reveal how ancient sea trade is in this part of the world. Do hurry, because a lockdown may return and the exhibits may be hidden in some warehouse for ages until culture bureaucrats get their act together: it is a great pity, incomprehensible really, that Keros is still not developed as a National Park and a World Heritage Site, for everyone to enjoy besides archaeologists! Some close-up pictures of the exhibits can be seen here, while there are also many videos about the excavations on YouTube, such as the one below:
Entrance is free. Open Tuesday to Saturday 11-19:00, Sunday 10-16:00, closed on Mondays.
Athens Municipal Gallery, Building B, Leonidou & Myllerou Street, Avdi Square, Athens. Tel (+30) 210-5202420.