3 minutes reading time
(564 words)
Microplastics or Veganism?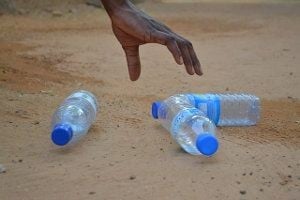 The choice is yours. And it is an urgent one too:
The World Health Organisation today announced 
an urgent review
 into microplastics in drinking water, following a new study by 
Orb Media
 and State University of New York - Fredonia, which found plastic contamination in 242 out of 259 bottles sampled from 11 brands in nine countries, at twice the level of the supposedly inferior, humble tap water. The multinational brands involved, some of whom are keen on privatisation of public water utilities (so that they can sell it back to us at bottled prices?), were, as expected, quick to dispute the accuracy of the results, but what even the most gullible consumers will start realising soon is that microplastics are potentially a threat as serious to human health and the environment as Climate Change, and related to it in various ways. 
The micro-plastic mega-threat is one extra but very serious reason for ecotourists and ecotourism providers to avoid plastic, including plastic water bottles as much as possible. Ecotourists and adventure tourists, in particular, should avoid clothes made from synthetic fibres, as one of the major sources of plastic pollution are microplastics produced each time fancy isothermic and waterproof materials go for washing - up to 1 million fibres for a polyester fleece jacket according to the 
Life+ Mermaids EU project
. Technical solutions are being investigated, such as washing machine filters, milder detergents, fibre additives to delay shedding, and sturdier textiles. But even if microfibres are disposed of properly they will eventually their way to the water, and - gasp - the air, as they are very light. Tap water already contains half the level of plastic fibres according to an earlier study, also by Orb Media.
As microplastics steadily find their way to even the most remote corners of the earth and every link of the food chain, from fish to meat, now is the time for everyone, for the sake of their health, the sake of animals and of the planet, to seriously consider vegan options. It is surprising how few restaurants (and hotels) offer a proper Vegan Menu (as opposed to a token plate) to guests, while their love for plastic/synthetic servings, cups, cutlery, bags, table clothes, menus, brochures and so on continues unabated. But Veganism, like charity, begins at home, and these days it is very easy and affordable for urban dwellers to adopt this civilised diet without any compromises to their taste buds. Anything that can be cooked with milk, butter or cheese, can also be cooked with various types and forms of soya - a tried and tested Chinese healthy food for millennia, now cultivated worldwide, or rice, or almonds. While, you can find anything from ice-cream cones to egg-free mayonnaise, to chorizo-style vegan salami at any decent vegan mini-market. Major retail grocery chains are improving their selection, although here in Athens, they still sell vegan products as "nistissima" - "suitable for fasting" to pious consumers; well, whatever, it is the result that matters!
Each one of us, especially ecotourism proponents, can stop being part of the problem, and lead others by example. And remember, even the most powerful multinational is only as strong as a determined consumer or shareholder minority. In the meantime let us all avoid bottled water, especially water in plastic bottles, or plastic inside the plastic.
Ecotourism or Veganism? The choice is yours. As an ecotourism proponent, it should be an obvious one.
Related Posts