Details

Written by

ECOCLUB.com Team

Hits: 1249
"Voluntourism, if managed correctly, can be a very good way to fund genuine projects. If the project cause is the core, with voluntourism seen as a way to involve people and fund the project, then voluntourism works"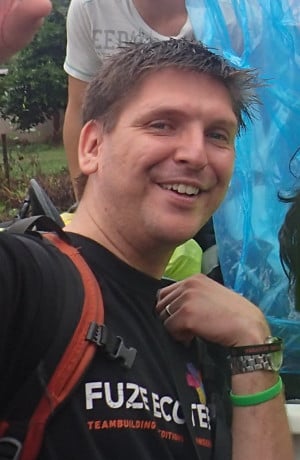 Daniel QuilterDaniel Quilter is the founder of Ecoteer Malaysia Sdn Bhd and Fuze Ecoteer Outdoor Adventures. He holds a BSc (Hons.) Environmental Science (Marine ecology emphasis) and an MRes Coastal and Ocean Policy both from the University of Plymouth, UK. Mr Quilter started Ecoteer in 2005 after his round the world trip led him to Bornean Malaysia. Whilst in Borneo, he worked at Albert Teo's Sukau Rainforest Lodge conducting EIA reports, teaching English to the staff and organising events including the 1st Borneo Ecotourism Conference in 2005. He then worked as a marine researcher for Sabah Parks at Semporna for 14 months conducting Reef and turtle research on Sipadan Island. In 2008 Daniel Quilter opened his first project in Malaysia's Perhentian Islands in collaboration with the Department of Fisheries and Bubbles Dive Resort and five more voluntourism projects have followed since in Malaysia and Indonesia making Ecoteer one of the world's leading voluntourism operators. In 2013, he launched Fuze Ecoteer Outdoor Adventures, an in-country tour operator, which also operates its own conservation and community projects. Daniel Quilter is also a certified Marine Mammal Medic and a PADI Open Water Diver with over 200 dives including Reef check surveys, cave, deep and night dives.
ECOCLUB.com: Based on your extensive experience with setting up sustainable, volunteer and community tourism projects which of the following elements is most often missing? general knowledge, specialist skills, coordination, trust, funds, incentives, altruism? What is the sine qua non for the success of any such tourism project?
Daniel Quilter: Nice question. With most projects the people starting them really have the passion for the cause. I think most projects have a core cause to them, for example our community project at Ipoh in Malaysia is just starting but the core cause behind it is actually to protect the rainforest by trying to get it gazette as a State Park. So I think with passion, trust from the local community is normally something that eventually comes; if your heart is in the right place, the trust follows. I hate to say it, but I think it is often sustainable funds or demand for the project, which are coupled together really. I have seen many projects start well as they get the initial seed funding but then peter out as funds dry up and normally as projects develop they become more money hungry. The startup costs are the easy part. So I think it is so important for people to think seriously, not just about the initial funding, but also about the funds in ten years' time. How will the operational costs be covered? You will need sound business and marketing skills. The tourism industry is forever changing and what worked one year may not be successful the year after. Therefore it is important to develop various revenue streams. For example, our Perhentian Community & Conservation project has been funded by various means over the past ten years. In the first four years it was through voluntourism only, years 5-7 saw a mix of voluntourism and school groups, while in the last three years there was a mix of corporate sponsorship, voluntourism and school groups. In the future I see funding the project via developing high ropes and zip line attractions which are eco and educate the visitors. So when thinking of funding, thinking on your toes and keeping your finger on the pulse of the industry is the key to long term sustainability. If you stick to one way, it is likely you won't be sustainable long term.