Written by

Antonis Petropoulos - Ecoclub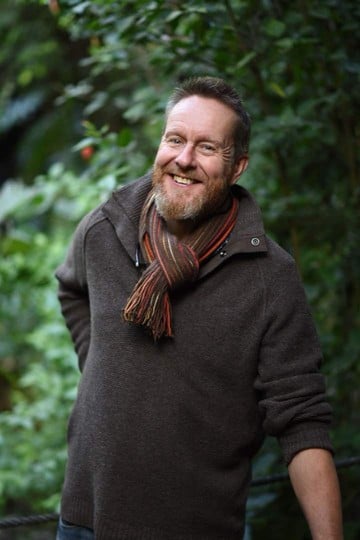 "We wanted something different from a run-of-the-mill or traditional building...we wanted to make a minimum impact on the environment and to create a more sustainable lifestyle, a business that would be small enough to be run entirely by two people but big enough to be able to live a simple life but a good life"
Nigel Thornton was born in Woking, Surrey and grew up in the suburbs in Walton on Thames. He moved to London at 17 and there he had a very varied employment history working with musicians, street trading, estate agency and antique trading. He settled into working with refugees in temporary housing in 1988 and moved through various positions in social housing, dealing with social deprivation, followed by local authority work in North London and East London. He gradually became disillusioned with the political aspects of his work and together with his wife, an Acupuncturist born in Valencia, started looking for other options to make a difference. They decided to create an eco-hotel and bought the land near Valderrobres in Aragon, Spain in 2004. The first two years passed while trying to obtain building permits due to the innovative, environmentally friendly aspects of their project. The construction phase took another three years with Nigel travelling nearly every Friday to Spain and every Monday back to the office in London. Mas del Bot welcomed its first guests in November 2008.
Ecoclub: What attracted you to this profession or vocation and this specific location?
Nigel Thornton: The specific location was chosen following a several week journey through Spain in 2002. We chanced upon Los Puertos de Beceite because my brother-in-law was here with several family members on holiday and we wanted to visit him. I was enchanted by the unspoilt beauty of the area and the people who were open and friendly. We were looking for an opportunity to break away from working in the city; we were living in London, my work involved high levels of stress working with vulnerable people within local government. My wife is an Acupuncturist and Chinese Medicine practitioner and could take her work almost anywhere but mine was difficult to move abroad. I have always been interested in design and architecture, especially indigenous design, my father was a carpenter and builder, and also have always worked with people in one form or other and therefore the hotel / hospitality industry seemed a good fit.
Ecoclub: Why did you decide to build your facility from scratch and, in particular, with straw-bale?
Nigel Thornton: We wanted something different from a run-of-the-mill or traditional building. Firstly, we wanted to make a minimum impact on the environment and to create a more sustainable lifestyle, a business that would be small enough to be run entirely by two people but big enough to be able to live a simple life but a good life. Additionally, we felt that this product, which was at that time pretty much unknown in Spain ,would give us a niche in the hotel world, a market which was just beginning. Finally, we wanted to build something sustainable / ecological that would illustrate to people that living sustainably didn't mean living in a cave with basic amenities but could be a "luxury" lifestyle. Such a property was just not going to be available, certainly not where we wanted to build, so building from scratch was our only option.
We chose straw bale as it interested me, was sustainable and seemed to be something that could be taken on by non-professionals. We did a one week course in the UK and with the naivety of relatively young people decided we could build a house. Initially, I thought it would also be cheaper than a traditional concrete build, something that in reality was not the case. We found a young architects' cooperative in Barcelona who worked with ecological constructions and were keen to experiment. We sourced a local builder who was open to new ideas, researched a lot, downloaded loads of information from the internet and liaised with people with more experience than us in Spain and Germany, and then just went for it.
Read more: Interview: Nigel Thornton, Proprietor, Mas del Bot Hotel, Spain